Erythema Induratum (Nodular Vasculitis) Workup
Author: Noah S Scheinfeld, JD, MD, FAAD; Chief Editor: William D James, MD more...
Updated: Feb 11, 2016
What would you like to print?
Laboratory Studies
A complete blood cell count may be performed.
The erythrocyte sedimentation rate may be increased.
The diagnosis of erythema can be made with the help of polymerase chain reaction testing.[22, 23, 24]
The CDC[25] states that interferon-gamma release assays (IGRAs) are whole-blood tests that can aid in diagnosing infection Mycobacterium tuberculosis. Two IGRAs that the FDA has approved and are commercially available in the United States are the QuantiFERON-TB Gold In-Tube test (QFT-GIT) and the T-SPOT. TB test (T-Spot). The QuantiFERON test can confirm the presence of latent tuberculosis in association with erythema induratum.[26] The utility of this test was stressed in a patient with tender ulcerating nodules of the lower extremity, a normal chest radiograph, and biopsy without acid-fast bacilli, but whose QT was positive, leading to the diagnosis of erythema induratum.[27] Additional reports have stressed the utility of testing for nodular vasculitis, in particular with the QuantiFERON Gold TB test[28] and the interferon-gamma release assay.[29]
Test for hepatitis.[1]
Imaging Studies
Chest radiography may be performed. Search for evidence of active or previous infection.
Other Tests
Polymerase chain reaction provides rapid and sensitive detection of M tuberculosis in formalin-fixed, paraffin-embedded specimens. Polymerase chain reaction can be applied to differentiating nodular vasculitis from erythema induratum of Bazin because the demonstration of mycobacteria emerges as the only reliable criterion in erythema induratum of Bazin type.
Procedures
Some patients are highly sensitive to tuberculin PPD. Patients should be tested with a 1:10,000 dilution Mantoux test, as demonstrated in the image below.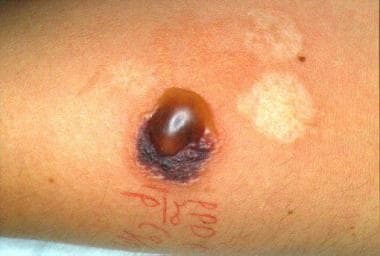 A positive Mantoux test reaction in a patient with erythema induratum.
An excisional biopsy containing adequate subcutaneous fat is recommended. Special stains for bacterial, fungal, and acid-fast organisms, as well as tissue for culture of these organisms, are generally obtained.
Histologic Findings
Findings consist of a mixed septal and lobular granulomatous panniculitis with neutrophilic vasculitis, as demonstrated in the photomicrographs below.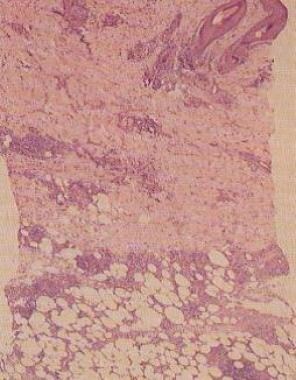 Vasculitis and granulomatous inflammation in the dermis and subcutaneous fat tissues.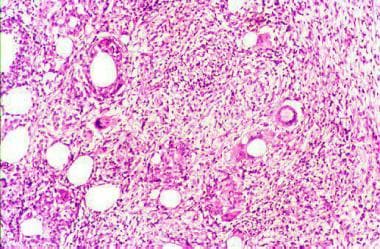 Evidence of panniculitis exhibiting lobular, granulomatous, and lymphohistiocytic inflammation.
Caseationlike necrosis may also be seen in erythema induratum. The histologic features are not specific; they vary depending on the age of the lesion undergoing biopsy and the overlap with other forms of panniculitis. Vasculitis is not always identified and is not a requisite for the diagnosis. The presence of both septal granulomatous inflammation and lobular granulomatous inflammation is, nonetheless, characteristic of erythema induratum and contrasts with erythema nodosum (primarily septal) and polyarteritis nodosa (medium vessel vasculitis with minimal lobular inflammation).
Sequra et al,[30] in a study of 101 cases of erythema induratum, found that erythema induratum had a variety of presentations of vasculitis and that in approximately 10% of cases, clinicopathologic patterns of vasculitis in erythema induratum could not be demonstrated. The location of the erythema induratum–vasculitis in this series of patients, in descending order, was as follows:
Small venules of the fat lobule

Both the venules of the fat lobule and veins of the connective-tissue septa

Only veins contained in connective-tissue septa

Veins and arteries contained in venules of the fat lobule and in the connective-tissue septa

Connective-tissue septa veins and arteries
Stressing the fact that the histology of erythema induratum has a range of presentations and can be a diagnosis of exclusion, Maharaja et al examined 43 cases of erythematous tender nodules, usually occurring on extremities. In 58.5% of cases, a single clinical diagnosis was made, with the remaining cases garnering more than one diagnosis being considered. Fifty-one percent of cases had histological findings concordant with the clinical diagnosis, but 14% had discordant findings and 35% were left undecided.[31]
Medscape Reference © 2011 WebMD, LLC