Infantile Hemangioma
Author: Richard J Antaya, MD; Chief Editor: William D James, MD more...
Updated: Apr 24, 2015
What would you like to print?
Practice Essentials
Infantile hemangiomas are benign vascular neoplasms that have a characteristic clinical course marked by early proliferation and followed by spontaneous involution. Hemangiomas are the most common tumors of infancy and usually are medically insignificant. See the image below.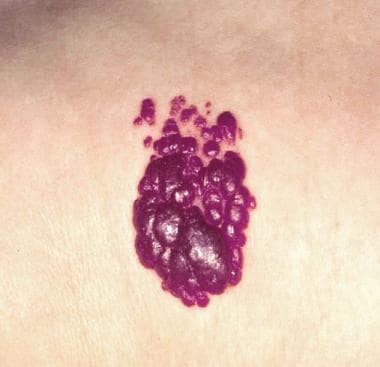 This proliferating superficial infantile hemangioma on the trunk required no therapy.
See 13 Common-to-Rare Infant Skin Conditions, a Critical Images slideshow, to help identify rashes, birthmarks, and other skin conditions encountered in infants.
Signs and symptoms
Infantile hemangiomas may be cutaneous or extracutaneous. Frequency of cutaneous hemangiomas at particular sites is as follows:
Head and neck - 60%

Trunk - 25%

Extremities - 15%
Sites of extracutaneous hemangiomas include the following:
Liver

Gastrointestinal tract

Larynx

Central nervous system

Pancreas

Gallbladder

Thymus

Spleen

Lymph nodes

Lung

Urinary bladder

Adrenal glands
Cutaneous hemangiomas progress sequentially through the following stages:
Blanching of the involved skin

Occasionally (especially with lip and buttock lesions), a shallow ulceration

Fine telangiectasias

A red or crimson macule or papule, often surrounded by a faint halo of vascular blanching
Features are as follows:
Usual maximum size 0.5-5 cm

Range from the size of a pinhead to greater than 20 cm in diameter

Most remain well circumscribed and focal

A minority are segmental in nature and more extensive
Infantile hemangiomas characteristically exhibit early rapid growth followed by slow involution, as follows[1, 2, 3, 4] :
Rapid growth during the neonatal period (birth to 4 wk) is the historical hallmark of infantile hemagiomas

The hemangioma becomes elevated and dome shaped, lobulated, plaquelike, tumoral, or any combination of these morphologies

The most growth occurs during the first 4-6 months of life

Proliferation slows considerably between 6-12 months of life

Complete involution in 50% of infantile hemangiomas by age 5 years and 70% by age 7 years

Complete involution may take an additional 3-5 years in the remainder
See Clinical Presentation for more detail.
Diagnosis
Skin biopsy can be performed if the diagnosis is in question after a thorough history and physical examination. Infantile hemangiomas uniformly stain positively for glucose transporter 1 (GLUT-1) during both the proliferation and the involution phases.
The following laboratory studies have been investigated as possible markers of hemangioma proliferation and differentiation[5, 6] :
Serum and urinary vascular endothelial growth factor (VEGF)

Urinary beta-fibroblast growth factor

Urinary matrix metalloproteinases (MMPs)
Magnetic resonance imaging (MRI) has the following uses:
Delineate the location and extent of cutaneous and extracutaneous hemangiomas

Differentiate proliferating hemangiomas from other high-flow vascular lesions (eg, arteriovenous malformations)
Features of ultrasonography:
Can help differentiate hemangiomas from other deep dermal or subcutaneous structures, (eg, cysts, lymph nodes)

Cannot fully evaluate the magnitude and extent of the hemangioma

High vessel density (>5 vessels/cm

2

) and high peak arterial Doppler shift (>2 kHz) are sensitive and specific for infantile hemangiomas, as compared with other soft tissue masses

[7]
See Workup for more detail.
Management
The vast majority of infantile hemangiomas do not require any medical or surgical intervention.[8] Treatment options for clinically significant hemangiomas include the following:
Laser surgery

Surgical excision

Medication
Features of laser surgery:
Flashlamp-pumped pulsed-dye laser most widely used

Pulsed-dye laser surgery effective for treating ulcerated hemangiomas and thin superficial hemangiomas

Lasers used especially on areas likely to result in significant functional or psychological impact (eg, fingers, eyes, lips, nasal tip, ears, face)

[9, 10]

Many ulcerated hemangiomas respond with decreased pain (sometimes as early as a few days after the initial treatment), rapid reepithelialization, and hastened involution

Laser treatments generally performed every 2-4 weeks until complete healing results

Scarring or residual skin changes may occur

Laser treatment may worsen ulceration, particularly of deep or combined superficial and deep lesions
Features of surgical excision:
Not uncommonly used for correction of cutaneous defects from involuted hemangiomas

[11]

Specially trained surgeons needed for surgical excision of proliferating hemangiomas because of the risk of hemorrhage and damage to vital structures

Early excision may save life, preserve vision, or eliminate a cosmetically disfiguring lesion
Features of pharmacologic treatment:
Corticosteroids can slow the growth and decrease the size of proliferating infantile hemangiomas

Oral corticosteroids preferred over intralesional injection

The FDA has approved an oral pediatric formulation of propranolol hydrochloride (Hemangeol) for the treatment of proliferating infantile hemangioma requiring systemic therapy
See Treatment and Medication for more details.
Background
Infantile hemangiomas are benign vascular neoplasms that have a characteristic clinical course marked by early proliferation and followed by spontaneous involution. During the proliferative phase in the neonatal period or early infancy, a rapidly dividing endothelial cell proliferation is responsible for the enlargement of infantile hemangiomas. Finally, an involutional phase occurs, whereby most infantile hemangiomas are clinically resolved by age 9 years.
Hemangiomas are the most common tumors of infancy, and most infantile hemangiomas are medically insignificant. Occasionally infantile hemangiomas may impinge on vital structures, ulcerate, bleed, cause high-output cardiac failure or significant structural abnormalities or disfigurement. Rarely, a cutaneous infantile hemangioma may be associated with one or more underlying congenital anomalies.
Pathophysiology
Infantile hemangiomas are composed of proliferating, plump endothelial cells. Early in proliferation, the cells are in disarray, but, with time, they form vascular spaces and channels replete with blood cells (see image below).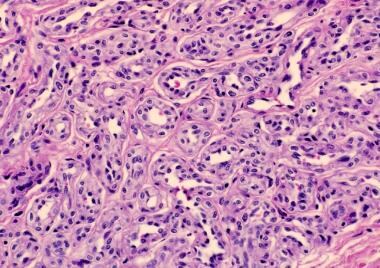 Histopathology of a proliferating infantile hemangioma with plump endothelial cells in the dermis.
These benign-appearing endothelial cells produce limited basement membrane structures. Hemangiomas assume a lobular architecture as proliferation slows and ends. Mast cells appear to affect this process and are implicated in the promotion of feeding arterioles and veins that supply each lobule. They also have been found in high concentrations during involution.
Takahashi hypothesized that during the third trimester of fetal development, immature endothelial cells coexist with immature pericytes, which maintain their proliferative capacity for a limited period during postnatal life.[12] Angiogenic peptides, such as beta-fibroblast growth factor, vascular endothelial growth factor (VEGF), and proliferating cell nuclear antigen, induce proliferation of these immature cells, resulting in the development of the hemangioma. As the endothelial cells differentiate, an influx of mast cells, various myeloid cells, and tissue inhibitors of metalloproteinases (TIMPs) occurs.[15] TIMPs, along with interferon and transforming growth factor produced by the mast cells, terminate the endothelial cell proliferation and passively induce involution by senescence of endothelial cells.
Mortality/Morbidity
Most infantile hemangiomas are benign and do not cause any morbidity or mortality. Occasionally, they may impinge on vital structures and interfere with breathing, vision, eating, or hearing. Ulceration of certain areas (eg, diaper area, neck, mucosal surfaces) is not uncommon. Excessive bleeding is infrequent and rarely, if ever, life threatening. In the past, infantile hemangiomas were confused with other vascular neoplasms, particularly kaposiform hemangioendothelioma and tufted angiomas, which can incite a consumptive coagulopathy that may be life threatening. This is referred to as Kasabach-Merritt phenomenon (KMP). It is now generally accepted that infantile hemangiomas are rarely, if ever, responsible for KMP.[16, 17]
Large cutaneous or visceral hemangiomas (particularly liver) can result in high-output cardiac failure resulting from increased vascular flow. Permanent significant structural abnormalities may result, particularly when facial structures are involved. The highest risk appears to be with involvement of the nasal tip, lips, and ears.[18] Segmental hemangiomas, which cover a particular section or area of skin, may be markers for underlying malformations or developmental anomalies of the heart, blood vessels, or nervous system (PHACE and PELVIS syndromes [see below] and lumbosacral hemangiomas) and, depending on the severity of the associated anomaly, can result in increased morbidity or mortality.[19, 20]
PHACE syndrome (see image below) is posterior fossa structural brain abnormalities (Dandy-Walker malformation and various forms of hypoplasia); hemangiomas of the face, head, and neck (segmental, >5 cm in diameter); arterial lesions (especially carotid, cerebral, and vertebral); cardiac anomalies (coarctation of the aorta in addition to many other structural anomalies); eye abnormalities; and, rarely, associated midline ventral defects such as sternal cleft or supraumbilical raphe). A consensus statement with detailed diagnostic criteria for both PHACE and possible PHACE syndromes was published in 2009.[21]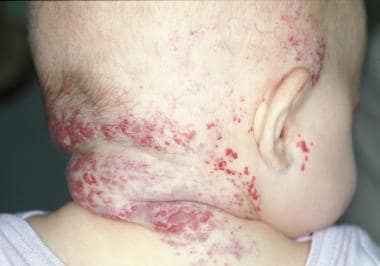 Segmental infantile hemangioma in a female infant with PHACE syndrome involving the posterior neck and right forehead associated with an absent right vertebral artery and a laryngeal hemangioma.
PELVIS syndrome (see image below) is perineal hemangioma with any of the following: external genital malformations, lipomyelomeningocele, vesicorenal abnormalities, imperforate anus, and/or skin tags.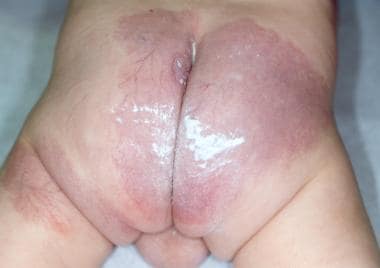 Segmental infantile hemangioma with minimal or arrested growth of the bilateral buttocks and posterior thigh in this male infant with PELVIS syndrome (complicated by cutaneous ulceration, hypospadias, anal stenosis, intraspinal lipoma with tethered cord). The white material is a barrier diaper cream.
Content.
Epidemiology
United States
Infantile hemangiomas occur in approximately 1-2% and 10% of white infants at birth and at age 1 year, respectively.[3, 4] African American and Japanese infants have a similar incidence of 1-2% at birth; however, there are no studies regarding the incidence at age 1 year (the actual incidence since the majority are not present at birth) in other nonwhite populations.[4, 22] The incidence of infantile hemangiomas is approximately 22-30% of preterm infants with birthweight less than 1 kg; for preterm infants with birthweight greater than 1.5 kg,[23] the incidence is the same as for term infants. An increased incidence is recognized in infants from multiple gestations.
The incidence is increased with older maternal age, maternal placenta previa, and preeclampsia.[24] Some, but not all, surveys have demonstrated increased incidence in infants born to mothers who have undergone prenatal chorionic villus sampling.
Race
Hemangiomas occur most commonly in white infants, with an incidence rate 10-12 times that of black and Asian infants.
Sex
Females are affected more often than males by a ratio of 3:1. This disparity is higher (9:1) in those infants with large cervicofacial segmental hemangiomas associated with PHACE syndrome.
Age
Thirty percent of infantile hemangiomas are present at birth, and 70% of them initially appear in the first several weeks of life.
References
Lister WA. The natural history of strawberry naevi. Lancet. 1938. 1:1429.

Bowers RE, Graham EA, Tomlinson KM. The natural history of the strawberry nevus. Arch Dermatol. 1960. 82:667.

Jacobs AH. Strawberry hemangiomas; the natural history of the untreated lesion. Calif Med. 1957 Jan. 86(1):8-10. [Medline].

Pratt AG. Birthmarks in infants. AMA Arch Derm Syphilol. 1953 Mar. 67(3):302-5. [Medline].

Zhang L, Lin X, Wang W, et al. Circulating level of vascular endothelial growth factor in differentiating hemangioma from vascular malformation patients. Plast Reconstr Surg. 2005 Jul. 116(1):200-4. [Medline].

Zhang L, Lin XX, Qi ZL, et al. [Role of urinary basic fibroblast growth factor in differentiating hemangiomas from vascular malformation]. Zhonghua Wai Ke Za Zhi. 2006 Feb 1. 44(3):186-8. [Medline].

Dubois J, Patriquin HB, Garel L, et al. Soft-tissue hemangiomas in infants and children: diagnosis using Doppler sonography. AJR Am J Roentgenol. 1998 Jul. 171(1):247-52. [Medline].

Margileth AM, Museles M. Cutaneous hemangiomas in children. Diagnosis and conservative management. JAMA. 1965 Nov 1. 194(5):523-6. [Medline].

Kim HJ, Colombo M, Frieden IJ. Ulcerated hemangiomas: clinical characteristics and response to therapy. J Am Acad Dermatol. 2001 Jun. 44(6):962-72. [Medline].

Garden JM, Bakus AD, Paller AS. Treatment of cutaneous hemangiomas by the flashlamp-pumped pulsed dye laser: prospective analysis. J Pediatr. 1992 Apr. 120(4 Pt 1):555-60. [Medline].

Achauer BM, Chang CJ, Vander Kam VM. Management of hemangioma of infancy: review of 245 patients. Plast Reconstr Surg. 1997 Apr. 99(5):1301-8. [Medline].

Takahashi K, Mulliken JB, Kozakewich HP, Rogers RA, Folkman J, Ezekowitz RA. Cellular markers that distinguish the phases of hemangioma during infancy and childhood. J Clin Invest. 1994 Jun. 93(6):2357-64. [Medline]. [Full Text].

Brooks M. For Propranolol in Infantile Hemangioma, Only 'Provisional' Guidelines Available. Medscape Medical News. Dec 24, 2012. Available at http://www.medscape.com/viewarticle/776692. Accessed: January 8, 2013.

Drolet BA, Frommelt PC, Chamlin SL, Haggstrom A, et al. Initiation and use of propranolol for infantile hemangioma: report of a consensus conference. Pediatrics. 2013 Jan. 131(1):128-40. [Medline].

Ritter MR, Reinisch J, Friedlander SF, Friedlander M. Myeloid cells in infantile hemangioma. Am J Pathol. 2006 Feb. 168(2):621-8. [Medline].

Enjolras O, Wassef M, Mazoyer E, et al. Infants with Kasabach-Merritt syndrome do not have "true" hemangiomas. J Pediatr. 1997 Apr. 130(4):631-40. [Medline].

Sarkar M, Mulliken JB, Kozakewich HP, Robertson RL, Burrows PE. Thrombocytopenic coagulopathy (Kasabach-Merritt phenomenon) is associated with Kaposiform hemangioendothelioma and not with common infantile hemangioma. Plast Reconstr Surg. 1997 Nov. 100(6):1377-86. [Medline].

Thomson HG, Lanigan M. The Cyrano nose: a clinical review of hemangiomas of the nasal tip. Plast Reconstr Surg. 1979 Feb. 63(2):155-60. [Medline].

Frieden IJ, Reese V, Cohen D. PHACE syndrome. The association of posterior fossa brain malformations, hemangiomas, arterial anomalies, coarctation of the aorta and cardiac defects, and eye abnormalities. Arch Dermatol. 1996 Mar. 132(3):307-11. [Medline].

Girard C, Bigorre M, Guillot B, Bessis D. PELVIS Syndrome. Arch Dermatol. 2006 Jul. 142(7):884-8. [Medline].

[Guideline] Metry D, Heyer G, Hess C, Garzon M, Haggstrom A, Frommelt P, et al. Consensus Statement on Diagnostic Criteria for PHACE Syndrome. Pediatrics. 2009 Nov. 124(5):1447-56. [Medline].

Hidano A, Nakajima S. Earliest features of the strawberry mark in the newborn. Br J Dermatol. 1972 Aug. 87(2):138-44. [Medline].

Amir J, Metzker A, Krikler R, Reisner SH. Strawberry hemangioma in preterm infants. Pediatr Dermatol. 1986 Sep. 3(4):331-2. [Medline].

Haggstrom AN, Drolet BA, Baselga E, et al. Prospective study of infantile hemangiomas: demographic, prenatal, and perinatal characteristics. J Pediatr. 2007 Mar. 150(3):291-4. [Medline].

Waner M, Suen JY. The natural history of hemangiomas. Hemangiomas and Vascular Malformations of the Head and Neck. 1999. 13-45.

Boon LM, Enjolras O, Mulliken JB. Congenital hemangioma: evidence of accelerated involution. J Pediatr. 1996 Mar. 128(3):329-35. [Medline].

Finn MC, Glowacki J, Mulliken JB. Congenital vascular lesions: clinical application of a new classification. J Pediatr Surg. 1983 Dec. 18(6):894-900. [Medline].

Mulliken JB, Marler JJ, Burrows PE, Kozakewich HP. Reticular infantile hemangioma of the limb can be associated with ventral-caudal anomalies, refractory ulceration, and cardiac overload. Pediatr Dermatol. 2007 Jul-Aug. 24(4):356-62. [Medline].

Suh KY, Frieden IJ. Infantile hemangiomas with minimal or arrested growth: a retrospective case series. Arch Dermatol. 2010 Sep. 146(9):971-6. [Medline].

Bischoff J. Progenitor cells in infantile hemangioma. J Craniofac Surg. 2009 Mar. 20 Suppl 1:695-7. [Medline].

Banks RE, Forbes MA, Searles J, et al. Evidence for the existence of a novel pregnancy-associated soluble variant of the vascular endothelial growth factor receptor, Flt-1. Mol Hum Reprod. 1998 Apr. 4(4):377-86. [Medline].

Hornig C, Barleon B, Ahmad S, Vuorela P, Ahmed A, Weich HA. Release and complex formation of soluble VEGFR-1 from endothelial cells and biological fluids. Lab Invest. 2000 Apr. 80(4):443-54. [Medline].

Bree AF, Siegfried E, Sotelo-Avila C, Nahass G. Infantile hemangiomas: speculation on placental trophoblastic origin. Arch Dermatol. 2001 May. 137(5):573-7. [Medline].

Burton BK, Schulz CJ, Angle B, Burd LI. An increased incidence of haemangiomas in infants born following chorionic villus sampling (CVS). Prenat Diagn. 1995 Mar. 15(3):209-14. [Medline].

Kleinman ME, Greives MR, Churgin SS, et al. Hypoxia-induced mediators of stem/progenitor cell trafficking are increased in children with hemangioma. Arterioscler Thromb Vasc Biol. 2007 Dec. 27(12):2664-70. [Medline].

Jinnin M, Medici D, Park L, et al. Suppressed NFAT-dependent VEGFR1 expression and constitutive VEGFR2 signaling in infantile hemangioma. Nat Med. 2008 Nov. 14(11):1236-46. [Medline]. [Full Text].

Khan ZA, Boscolo E, Picard A, et al. Multipotential stem cells recapitulate human infantile hemangioma in immunodeficient mice. J Clin Invest. 2008 Jul. 118(7):2592-9. [Medline]. [Full Text].

Yu Y, Flint AF, Mulliken JB, Wu JK, Bischoff J. Endothelial progenitor cells in infantile hemangioma. Blood. 2004 Feb 15. 103(4):1373-5. [Medline].

Mulliken JB. Update on vascular anomalies. In: Proceedings of the international workshop on vascular anomalies. June 21-24, 2008.

Yu Y, Fuhr J, Boye E, et al. Mesenchymal stem cells and adipogenesis in hemangioma involution. Stem Cells. 2006 Jun. 24(6):1605-12. [Medline].

Blei F, Walter J, Orlow SJ, Marchuk DA. Familial segregation of hemangiomas and vascular malformations as an autosomal dominant trait. Arch Dermatol. 1998 Jun. 134(6):718-22. [Medline].

North PE, Waner M, Mizeracki A, et al. A unique microvascular phenotype shared by juvenile hemangiomas and human placenta. Arch Dermatol. 2001 May. 137(5):559-70. [Medline].

Mulliken JB, Glowacki J. Hemangiomas and vascular malformations in infants and children: a classification based on endothelial characteristics. Plast Reconstr Surg. 1982 Mar. 69(3):412-22. [Medline].

Nakayama H. Clinical and histological studies of the classification and the natural course of the strawberry mark. J Dermatol. 1981 Aug. 8(4):277-91. [Medline].

Frieden IJ, Eichenfield LF, Esterly NB, Geronemus R, Mallory SB. Guidelines of care for hemangiomas of infancy. American Academy of Dermatology Guidelines/Outcomes Committee. J Am Acad Dermatol. 1997 Oct. 37(4):631-7. [Medline].

Price CJ, Lattouf C, Baum B, McLeod M, Schachner LA, Duarte AM, et al. Propranolol vs Corticosteroids for Infantile Hemangiomas: A Multicenter Retrospective Analysis. Arch Dermatol. 2011 Dec. 147(12):1371-6. [Medline].

Leaute-Labreze C, Dumas de la Roque E, Hubiche T, Boralevi F, Thambo JB, Taieb A. Propranolol for severe hemangiomas of infancy. N Engl J Med. 2008 Jun 12. 358(24):2649-51. [Medline].

Siegfried EC, Keenan WJ, Al-Jureidini S. More on propranolol for hemangiomas of infancy. N Engl J Med. 2008 Dec 25. 359(26):2846; author reply 2846-7. [Medline].

Saint-Jean M, Leaute-Labreze C, Mazereeuw-Hautier J, et al. Propranolol for treatment of ulcerated infantile hemangiomas. J Am Acad Dermatol. 2011 May. 64(5):827-32. [Medline].

Hermans DJ, van Beynum IM, Schultze Kool LJ, van de Kerkhof PC, Wijnen MH, van der Vleuten CJ. Propranolol, a very promising treatment for ulceration in infantile hemangiomas: A study of 20 cases with matched historical controls. J Am Acad Dermatol. 2011 May. 64(5):833-8. [Medline].

Poetke M, Philipp C, Berlien HP. Flashlamp-pumped pulsed dye laser for hemangiomas in infancy: treatment of superficial vs mixed hemangiomas. Arch Dermatol. 2000 May. 136(5):628-32. [Medline].

Morelli JG, Tan OT, Yohn JJ, Weston WL. Treatment of ulcerated hemangiomas infancy. Arch Pediatr Adolesc Med. 1994 Oct. 148(10):1104-5. [Medline].

David LR, Malek MM, Argenta LC. Efficacy of pulse dye laser therapy for the treatment of ulcerated haemangiomas: a review of 78 patients. Br J Plast Surg. 2003 Jun. 56(4):317-27. [Medline].

Sie KC, McGill T, Healy GB. Subglottic hemangioma: ten years' experience with the carbon dioxide laser. Ann Otol Rhinol Laryngol. 1994 Mar. 103(3):167-72. [Medline].

Burstein FD, Simms C, Cohen SR, Williams JK, Paschal M. Intralesional laser therapy of extensive hemangiomas in 100 consecutive pediatric patients. Ann Plast Surg. 2000 Feb. 44(2):188-94. [Medline].

Laubach HJ, Anderson RR, Luger T, Manstein D. Fractional photothermolysis for involuted infantile hemangioma. Arch Dermatol. 2009 Jul. 145(7):748-50. [Medline].

Greenberger S, Boscolo E, Adini I, Mulliken JB, Bischoff J. Corticosteroid suppression of VEGF-A in infantile hemangioma-derived stem cells. N Engl J Med. 2010 Mar 18. 362(11):1005-13. [Medline].

Sadan N, Wolach B. Treatment of hemangiomas of infants with high doses of prednisone. J Pediatr. 1996 Jan. 128(1):141-6. [Medline].

Hemangeol [package insert]. Parsippany, NJ.: Pierre Fabre Pharmaceuticals, Inc. 2014.

Pope E, Chakkittakandiyil A. Topical timolol gel for infantile hemangiomas: a pilot study. Arch Dermatol. 2010 May. 146(5):564-5. [Medline].

Khunger N, Pahwa M. Dramatic response to topical timolol lotion of a large hemifacial infantile haemangioma associated with PHACE syndrome. Br J Dermatol. 2011 Apr. 164(4):886-8. [Medline].

Bigorre M, Van Kien AK, Valette H. Beta-blocking agent for treatment of infantile hemangioma. Plast Reconstr Surg. 2009 Jun. 123(6):195e-6e. [Medline].

Truong MT, Chang KW, Berk DR, Heerema-McKenney A, Bruckner AL. Propranolol for the treatment of a life-threatening subglottic and mediastinal infantile hemangioma. J Pediatr. 2010 Feb. 156(2):335-8. [Medline].

Fuchsmann C, Quintal MC, Giguere C, et al. Propranolol as first-line treatment of head and neck hemangiomas. Arch Otolaryngol Head Neck Surg. 2011 May. 137(5):471-8. [Medline].

Perkins JA, Chen BS, Saltzman B, Manning SC, Parikh SR. Propranolol Therapy for Reducing the Number of Nasal Infantile Hemangioma Invasive Procedures. JAMA Otolaryngol Head Neck Surg. 2014 Feb 20. [Medline].

Harding A. Propranolol Associated With Reduced Need for Invasive Hemangioma Treatment. Medscape [serial online]. Available at http://www.medscape.com/viewarticle/821133. Accessed: March 3, 2014.

Sommers Smith SK, Smith DM. Beta blockade induces apoptosis in cultured capillary endothelial cells. In Vitro Cell Dev Biol Anim. 2002 May. 38(5):298-304. [Medline].

[Guideline] Lawley LP, Siegfried E, Todd JL. Propranolol treatment for hemangioma of infancy: risks and recommendations. Pediatr Dermatol. 2009 Sep-Oct. 26(5):610-4. [Medline].

Tamayo L, Ortiz DM, Orozco-Covarrubias L, et al. Therapeutic efficacy of interferon alfa-2b in infants with life-threatening giant hemangiomas. Arch Dermatol. 1997 Dec. 133(12):1567-71. [Medline].

Ezekowitz RA, Mulliken JB, Folkman J. Interferon alfa-2a therapy for life-threatening hemangiomas of infancy. N Engl J Med. 1992 May 28. 326(22):1456-63. [Medline].

Ricketts RR, Hatley RM, Corden BJ, Sabio H, Howell CG. Interferon-alpha-2a for the treatment of complex hemangiomas of infancy and childhood. Ann Surg. 1994 Jun. 219(6):605-12; discussion 612-4. [Medline].

Barlow CF, Priebe CJ, Mulliken JB, et al. Spastic diplegia as a complication of interferon Alfa-2a treatment of hemangiomas of infancy. J Pediatr. 1998 Mar. 132(3 Pt 1):527-30. [Medline].

Dubois J, Hershon L, Carmant L, Belanger S, Leclerc JM, David M. Toxicity profile of interferon alfa-2b in children: A prospective evaluation. J Pediatr. 1999 Dec. 135(6):782-5. [Medline].

Michaud AP, Bauman NM, Burke DK, Manaligod JM, Smith RJ. Spastic diplegia and other motor disturbances in infants receiving interferon-alpha. Laryngoscope. 2004 Jul. 114(7):1231-6. [Medline].

Welsh O, Olazaran Z, Gomez M, Salas J, Berman B. Treatment of infantile hemangiomas with short-term application of imiquimod 5% cream. J Am Acad Dermatol. 2004 Oct. 51(4):639-42. [Medline].

Hazen PG, Carney JF, Engstrom CW, Turgeon KL, Reep MD, Tanphaichitr A. Proliferating hemangioma of infancy: successful treatment with topical 5% imiquimod cream. Pediatr Dermatol. 2005 May-Jun. 22(3):254-6. [Medline].

McCuaig CC, Dubois J, Powell J, Belleville C, David M, Rousseau E. A phase II, open-label study of the efficacy and safety of imiquimod in the treatment of superficial and mixed infantile hemangioma. Pediatr Dermatol. 2009 Mar-Apr. 26(2):203-12. [Medline].

Maguiness SM, Hoffman WY, McCalmont TH, Frieden IJ. Early white discoloration of infantile hemangioma: a sign of impending ulceration. Arch Dermatol. 2010 Nov. 146(11):1235-9. [Medline].

Connelly EA, Viera M, Price C, Waner M. Segmental hemangioma of infancy complicated by life-threatening arterial bleed. Pediatr Dermatol. 2009 Jul-Aug. 26(4):469-72. [Medline].

Metz BJ, Rubenstein MC, Levy ML, Metry DW. Response of ulcerated perineal hemangiomas of infancy to becaplermin gel, a recombinant human platelet-derived growth factor. Arch Dermatol. 2004 Jul. 140(7):867-70. [Medline].

Kaplan M, Paller AS. Clinical pearl: use of self-adhesive, compressive wraps in the treatment of limb hemangiomas. J Am Acad Dermatol. 1995 Jan. 32(1):117-8. [Medline].

Orlow SJ, Isakoff MS, Blei F. Increased risk of symptomatic hemangiomas of the airway in association with cutaneous hemangiomas in a "beard" distribution. J Pediatr. 1997 Oct. 131(4):643-6. [Medline].

Ceisler EJ, Santos L, Blei F. Periocular hemangiomas: what every physician should know. Pediatr Dermatol. 2004 Jan-Feb. 21(1):1-9. [Medline].

Esterly NB. Kasabach-Merritt syndrome in infants. J Am Acad Dermatol. 1983 Apr. 8(4):504-13. [Medline].

Ersoy S, Mancini AJ. Hemifacial infantile hemangioma with intracranial extension: a rare entity. Pediatr Dermatol. 2005 Jul-Aug. 22(4):309-13. [Medline].

Huang SA, Tu HM, Harney JW, et al. Severe hypothyroidism caused by type 3 iodothyronine deiodinase in infantile hemangiomas. N Engl J Med. 2000 Jul 20. 343(3):185-9. [Medline].

Konrad D, Ellis G, Perlman K. Spontaneous regression of severe acquired infantile hypothyroidism associated with multiple liver hemangiomas. Pediatrics. 2003 Dec. 112(6 Pt 1):1424-6. [Medline].

Ho J, Kendrick V, Dewey D, Pacaud D. New insight into the pathophysiology of severe hypothyroidism in an infant with multiple hepatic hemangiomas. J Pediatr Endocrinol Metab. 2005 May. 18(5):511-4. [Medline].

Tanner JL, Dechert MP, Frieden IJ. Growing up with a facial hemangioma: parent and child coping and adaptation. Pediatrics. 1998 Mar. 101(3 Pt 1):446-52. [Medline].
Medscape Reference © 2011 WebMD, LLC