Pseudo-Kaposi Sarcoma (Acroangiodermatitis) Clinical Presentation
Author: Zoltan Trizna, MD, PhD; Chief Editor: Dirk M Elston, MD  more...
Updated: Jan 08, 2016
What would you like to print?
History
A history of venous stasis, arteriovenous shunt for hemodialysis, or a long-standing arteriovenous malformation is usually present. A limb prosthesis may be present. Patients occasionally experience pruritus and pain.
Physical
Confluent, violaceous or brown-black papules cover large areas of the distal parts of the legs. Ulceration and bleeding are sometimes noted. Bilateral lesions are usually associated with chronic venous insufficiency, whereas unilateral lesions suggest an underlying vascular malformation. Note the images below.

The physical findings in this patient who is HIV negative remained the same over a 3-year period.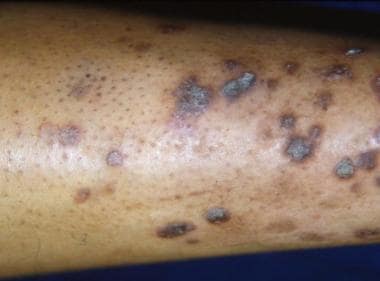 Lesions on the shin of a patient who is HIV negative.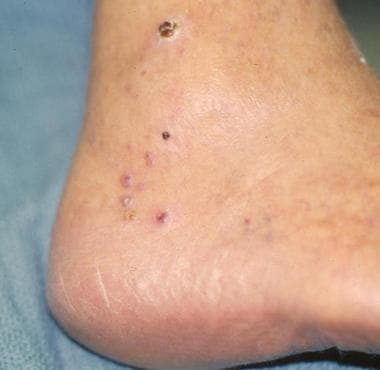 Classic Kaposi sarcoma on the foot of an elderly patient who is HIV negative. Compare this photo to the clinical photos of acroangiodermatitis.
Causes
Severe, chronic venous stasis and the insufficiency of the muscle pump most commonly result in an elevated capillary pressure. Other factors (eg, an arteriovenous shunt for hemodialysis) may increase venous stasis and lead to the formation of arteriovenous channels. A rare case of acroangiodermatitis associated with a congenital arteriovenous malformation of the leg was also described (Stewart-Bluefarb syndrome).
Medscape Reference © 2011 WebMD, LLC