Overview
Background
Intertrigo (intertriginous dermatitis) is an inflammatory condition of skin folds, induced or aggravated by heat, moisture, maceration, friction, and lack of air circulation. Intertrigo frequently is worsened or colonized by infection, which most commonly is candidal but also may be bacterial or viral or due to other fungal infection. Intertrigo commonly affects the axilla, perineum, inframammary creases, and abdominal folds. [1, 2] Diaper dermatitis shows significant overlap with intertrigo. Intertrigo is a common complication of obesity and diabetes. [3]
See the image below.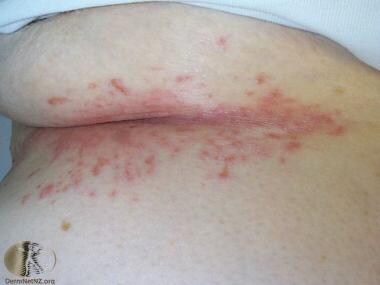 Intertrigo. Courtesy of DermNet New Zealand (http://www.dermnetnz.org/assets/Uploads/fungal/candida-intertrigo/1308.jpg).
Pathophysiology
Intertrigo develops from mechanical factors and secondary infection. Heat and maceration are central to the process. Opposing skin surfaces rub against each other, causing erosions that become inflamed. Sweat, feces, urine, and vaginal discharge may aggravate intertrigo in both adults and infants.
Epidemiology
Frequency
Intertrigo is common, especially in hot humid environments. Intertrigo is a common complication of diabetes, and it affects most infants as a component of diaper dermatitis.
Race
Intertrigo has no racial predilection.
Sex
Intertrigo has no sex predilection, other than that from anatomic differences.
Age
Intertrigo affects people who are very old and very young because of reduced immunity, immobilization, and incontinence.
Prognosis
With therapy, the prognosis for each episode of simple intertrigo is excellent. Recurrence is common. As a complication of more serious disease, intertrigo should be considered a comorbidity. Intertrigo becomes most serious as a source of secondary infection.
Patient Education
During patient instruction, emphasize topics such as weight loss, glucose control (in patients with diabetes), good hygiene, and the need for daily care and monitoring. [4]
What would you like to print?