Overview
Background
Pernio is an inflammatory skin condition presenting after exposure to cold as pruritic and/or painful erythematous-to-violaceous acral lesions. Pernio may be idiopathic or secondary to an underlying disease. Note the image below.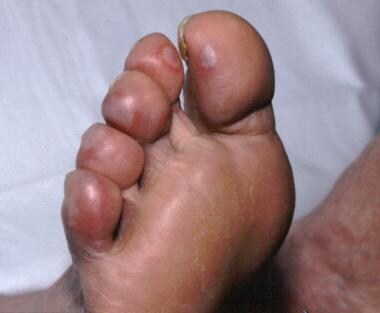 A 63-year-old man with pernio presenting as acral violaceous plaques with bullae.
Pathophysiology
Pernio is due to an abnormal vascular response to cold exposure, [1] and it is most frequent when damp or humid conditions coincide. Minor trauma also may predispose the acral parts to symptomatic pernio lesions in otherwise appropriate weather conditions. Hyperhidrosis and low lody mass index are suggested associations. [2] The response of pernio to vasodilator drugs varies. Keeping acral areas warm and dry best prevents pernio.
Epidemiology
Frequency
United States
The true incidence of pernio is unknown because pernio frequently is unrecognized or misdiagnosed.
International
Rates of pernio vary with climate. England, with its cool damp climate, has an annual incidence rate of pernio of 10%. A clustering of pernio cases has been reported from Hong Kong during January and February, with resolution of most cases within a few weeks when the weather warmed. [3]
Sex
Women are affected by pernio more frequently than men.
Age
Pernio is most frequent in young and middle-aged women and in children. Note the image below.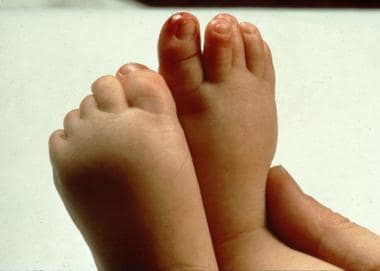 Erythematous macules on distal toes of a 6-month-old girl with pernio.
What would you like to print?