Eumycetoma (Fungal Mycetoma) Clinical Presentation
Author: George Turiansky, MD; Chief Editor: Dirk M Elston, MD more...
Updated: Aug 17, 2015
What would you like to print?
History
Many cases are painless, although painful lesions may prompt the individual to seek medical attention. Gradual enlargement of the affected site and difficulties with ambulation may also prompt affected persons to seek care. Predisposing factors include the following:
History of trauma

Walking barefoot

Agricultural work

Poor personal hygiene

Poor nutrition

Wounds or multiple infections
Physical
The foot is the most common site of infection; 70% of all mycetomas affect the foot. Other reported sites of involvement include the following:
Upper extremities

Trunk

Buttocks

Eyelids

Lacrimal glands

Paranasal sinuses

Mandible

Scalp

Neck

Perineum

Testes
The disease is initially limited to the skin and subcutaneous tissue but may eventually spread through the fascial planes to contiguous structures, as follows:
Muscle

Bone

Blood and lymphatic vessels

Nerves
Rarely, the disease may spread to the regional lymph nodes or viscera.
Eumycetoma is characterized by the clinical triad of tumefaction, draining sinuses, and granules (see images below).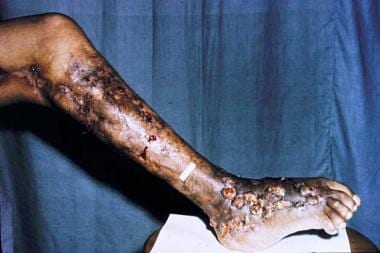 Eumycetoma of the leg with tumefaction, deformity, and multiple sinus tracts in a patient from Costa Rica. Courtesy of Mervyn L. Elgart, MD, Washington, DC.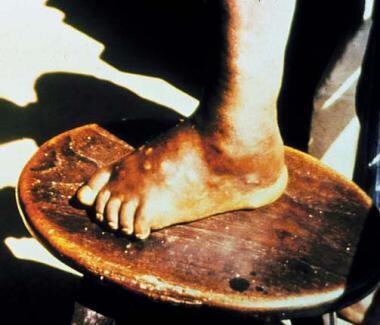 Eumycetoma of the foot with tumefaction, deformity, and multiple sinus tracts. Courtesy of Mervyn L. Elgart, MD, Washington, DC.
The disease usually begins as a painless swelling or thickening of the skin and subcutaneous tissue. As the disease gradually progresses over months or years, the initial lesion enlarges and eventually becomes tumorous. The overlying skin may be smooth, dyspigmented, or shiny.
Abscesses and sinus tracts develop over time and may contain a serosanguineous or seropurulent discharge, which may contain white-to-yellow or black granules. Granules are firm 0.2- to 5-mm aggregates of organized vegetative, septate hyphae, which often are embedded in a matrix cement substance. These granules are usually macroscopic and are observed in the lesional tissue and in sinus tracts. The color of the dark grains is thought to be due to melanin, host protein, and dark debris. Regional lymphadenitis secondary to bacterial superinfection of the lesion may be present.
Causes
Agents that cause eumycetoma are primarily saprophytic microorganisms that are found in the soil and on plant matter. Healthy persons become inoculated with these agents as a result of the traumatic implantation of thorns, splinters, and other plant matter.
Pseudallescheria boydii is the most common etiologic agent of eumycetoma in the United States. Madurella mycetomatis accounts for most cases worldwide. Madurella grisea is a common etiologic agent in South America. Leptosphaeria senegalensis and Leptosphaeria tompkinsii are common causes of eumycetoma in West Africa. In general, the geographic distribution of the various mycetoma agents is related to the amount of rainfall and other climatic conditions. Each geographic region has a different list of most common agents.
Fungi with a white-to-yellow granule that cause eumycetoma include the following:
Acremonium species

Aspergillus nidulans

Aspergillus flavus

Cylindrocarpon cyanescens

Cylindrocarpon destructans

Fusarium species

Neotestudina rosatii

Polycytella hominis

P boydii
Fungi with a black granule that cause eumycetoma include the following:
References
Carter HV. On a new and striking form of fungus disease principally affecting the foot and prevailing endemically in many parts of India. Transactions of the Medical and Physical Society of Bombay. 1860. 6:104-42.

Carter HV. On mycetoma or the fungus disease of India. London, England: J & A Churchill; 1874.

Green WO Jr, Adams TE. Mycetoma in the United States; a review and report of seven additional cases. Am J Clin Pathol. 1964 Jul. 42:75-91. [Medline].

Abbott P. Mycetoma in the Sudan. Trans R Soc Trop Med Hyg. 1956 Jan. 50(1):11-24; discussion, 24-30. [Medline].

Werlinger KD, Yen Moore A. Eumycotic mycetoma caused by Cladophialophora bantiana in a patient with systemic lupus erythematosus. J Am Acad Dermatol. 2005 May. 52(5 Suppl 1):S114-7. [Medline].

Turiansky GW, Benson PM, Sperling LC, Sau P, Salkin IF, McGinnis MR, et al. Phialophora verrucosa: a new cause of mycetoma. J Am Acad Dermatol. 1995 Feb. 32(2 Pt 2):311-5. [Medline].

Mathuram Thiyagarajan U, Bagul A, Nicholson ML. A nodulo-cystic eumycetoma caused by Pyrenochaeta romeroi in a renal transplant recipient: A case report. J Med Case Reports. 2011 Sep 14. 5(1):460. [Medline]. [Full Text].

Ahmed AO, Desplaces N, Leonard P, Goldstein F, De Hoog S, Verbrugh H, et al. Molecular detection and identification of agents of eumycetoma: detailed report of two cases. J Clin Microbiol. 2003 Dec. 41(12):5813-6. [Medline].

Hemalata M, Prasad S, Venkatesh K, Niveditha SR, Kumar SA. Cytological diagnosis of actinomycosis and eumycetoma: a report of two cases. Diagn Cytopathol. 2010 Dec. 38(12):918-20. [Medline].

Gabhane SK, Gangane N, Anshu. Cytodiagnosis of eumycotic mycetoma: a case report. Acta Cytol. 2008 May-Jun. 52(3):354-6. [Medline].

Ahmed M, Sureka J, Chacko G, Eapen A. MRI findings in cranial eumycetoma. Indian J Radiol Imaging. 2011 Oct. 21(4):261-3. [Medline].

Mahgoub ES, Gumaa SA. Ketoconazole in the treatment of eumycetoma due to Madurella mycetomii. Trans R Soc Trop Med Hyg. 1984. 78(3):376-9. [Medline].

Degavre B, Joujoux JM, Dandurand M, Guillot B. First report of mycetoma caused by Arthrographis kalrae: successful treatment with itraconazole. J Am Acad Dermatol. 1997 Aug. 37(2 Pt 2):318-20. [Medline].

Lee MW, Kim JC, Choi JS, Kim KH, Greer DL. Mycetoma caused by Acremonium falciforme: successful treatment with itraconazole. J Am Acad Dermatol. 1995 May. 32(5 Pt 2):897-900. [Medline].

Lacroix C, de Kerviler E, Morel P, Derouin F, Feuilhade de Chavin M. Madurella mycetomatis mycetoma treated successfully with oral voriconazole. Br J Dermatol. 2005 May. 152(5):1067-8. [Medline].

N'diaye B, Dieng MT, Perez A, Stockmeyer M, Bakshi R. Clinical efficacy and safety of oral terbinafine in fungal mycetoma. Int J Dermatol. 2006 Feb. 45(2):154-7. [Medline].

Diaz M, Negroni R, Montero-Gei F, Castro LG, Sampaio SA, Borelli D, et al. A Pan-American 5-year study of fluconazole therapy for deep mycoses in the immunocompetent host. Pan-American Study Group. Clin Infect Dis. 1992 Mar. 14 Suppl 1:S68-76. [Medline].
Medscape Reference © 2011 WebMD, LLC