Malassezia (Pityrosporum) Folliculitis Workup
Author: Sarah Sweeney Pinney, MD; Chief Editor: William D James, MD more...
Updated: Apr 12, 2016
What would you like to print?
Laboratory Studies
A potassium hydroxide (KOH) preparation may be helpful for microscopic identification of the yeasts associated with Pityrosporum folliculitis (PF).
Culturing and identification of the organism are rarely performed, and the tests usually are not available. For Malassezia yeasts to grow, olive oil must be added to the culture media. This is not a routine study for the mycology laboratory.
Shibata et al report the presence of galactomannan on cells of Malassezia species, which they suggest has not previously been reported in the literature. Results of their comparative antibody reaction studies lead them to suggest the potential for antigen detection as a diagnostic tool in Malassezia infection.[27]
Histologic Findings
The basic lesion observed at histologic evaluation is that of folliculitis. The ostium of the hair follicles is dilated, with keratin plugging, cellular debris, and an inflammatory infiltrate including lymphocytes, histiocytes, and neutrophils. Monocytic, perifollicular infiltrate, and mucin deposits are observed around the infundibulum. Some follicles may be cystic and ruptured.
Malassezia yeasts are observed in the central and deep follicle, but they are most densely present in the ostium and pilary canal. Periodic acid–Schiff (PAS) and Grocott-Gomori methenamine-silver staining reveal the oval single-budding yeast; however, these organisms can be observed without stain as well. No mycelial forms are observed with staining. Also detected are 2-4 µm PAS-positive spores in the entire follicle. Most often, spores are observed as aggregates. Both methylene blue and Parker ink staining have been suggested as useful to detect Malassezia; however, Parker ink is a more specific stain for the organism.
High titers of circulating immunoglobulin G antibodies against P ovale can also be detected in persons with this disease.[28]
Skin biopsy is usually reserved for the diagnosis of lesions that resemble Pityrosporum folliculitis but are located on surfaces where Pityrosporum folliculitis less commonly occurs. A diagnosis of Pityrosporum folliculitis in these unusual locations may indicate more severe disease. Early biopsy should be considered in patients with significant immunosuppression, such as those with AIDS, because the differential is much broader in these patients.[29, 30]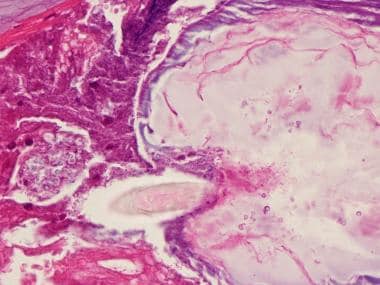 This photo is high-power hematoxylin and eosin staining of a biopsy confirming Pityrosporum folliculitis. There is a hair shaft within a hair follicle with scattered amphophilic staining circular Pityrosporum yeast. Photo courtesy of Ronald Rapini, MD.
References
Potter BS, Burgoon CF Jr, Johnson WC. Pityrosporum folliculitis. Report of seven cases and review of the Pityrosporum organism relative to cutaneous disease. Arch Dermatol. 1973 Mar. 107(3):388-91. [Medline].

Levin NA. Beyond spaghetti and meatballs: skin diseases associated with the Malassezia yeasts. Dermatol Nurs. 2009 Jan-Feb. 21(1):7-13, 51; quiz 14. [Medline].

Gaitanis G, Velegraki A, Mayser P, Bassukas ID. Skin diseases associated with Malassezia yeasts: facts and controversies. Clin Dermatol. 2013 Jul-Aug. 31(4):455-63. [Medline].

Gaitanis G, Magiatis P, Hantschke M, Bassukas ID, Velegraki A. The malassezia genus in skin and systemic diseases. Clin Microbiol Rev. 2012 Jan. 25(1):106-41. [Medline].

Akaza N, Akamatsu H, Sasaki Y, et al. Malassezia folliculitis is caused by cutaneous resident Malassezia species. Med Mycol. 2009. 47(6):618-24. [Medline].

Jacinto-Jamora S, Tamesis J, Katigbak ML. Pityrosporum folliculitis in the Philippines: diagnosis, prevalence, and management. J Am Acad Dermatol. 1991 May. 24(5 Pt 1):693-6. [Medline].

Bulmer GS, Pu XM, Yi LX. Malassezia folliculitis in China. Mycopathologia. 2008 Jun. 165(6):411-2. [Medline].

Back O, Faergemann J, Hornqvist R. Pityrosporum folliculitis: a common disease of the young and middle-aged. J Am Acad Dermatol. 1985 Jan. 12(1 Pt 1):56-61. [Medline].

Archer-Dubon C, Icaza-Chivez ME, Orozco-Topete R, Reyes E, Baez-Martinez R, Ponce de Leon S. An epidemic outbreak of Malassezia folliculitis in three adult patients in an intensive care unit: a previously unrecognized nosocomial infection. Int J Dermatol. 1999 Jun. 38(6):453-6. [Medline].

Gupta AK, Batra R, Bluhm R, Boekhout T, Dawson TL Jr. Skin diseases associated with Malassezia species. J Am Acad Dermatol. 2004 Nov. 51(5):785-98. [Medline].

Levy A, Feuilhade de Chauvin M, Dubertret L, Morel P, Flageul B. [Malassezia folliculitis: characteristics and therapeutic response in 26 patients]. Ann Dermatol Venereol. 2007 Nov. 134(11):823-8. [Medline].

Rubenstein RM, Malerich SA. Malassezia (pityrosporum) folliculitis. J Clin Aesthet Dermatol. 2014 Mar. 7(3):37-41. [Medline]. [Full Text].

Gupta P, Chakrabarti A, Singhi S, Kumar P, Honnavar P, Rudramurthy SM. Skin Colonization by Malassezia spp. in Hospitalized Neonates and Infants in a Tertiary Care Centre in North India. Mycopathologia. 2014 Jul 19. [Medline].

Aytimur D, Sengöz V. Malassezia folliculitis on the scalp of a 12-year-old healthy child. J Dermatol. 2004 Nov. 31(11):936-8. [Medline].

Ayers K, Sweeney SM, Wiss K. Pityrosporum folliculitis: diagnosis and management in 6 female adolescents with acne vulgaris. Arch Pediatr Adolesc Med. 2005 Jan. 159(1):64-7. [Medline].

Helm KF, Lookingbill DP. Pityrosporum folliculitis and severe pruritus in two patients with Hodgkin's disease. Arch Dermatol. 1993 Mar. 129(3):380-1. [Medline].

Cholongitas E, Pipili C, Ioannidou D. Malassezia folliculitis presented as acneiform eruption after cetuximab administration. J Drugs Dermatol. 2009 Mar. 8(3):274-5. [Medline].

Alves EV, Martins JE, Ribeiro EB, Sotto MN. Pityrosporum folliculitis: renal transplantation case report. J Dermatol. 2000 Jan. 27(1):49-51. [Medline].

Bufill JA, Lum LG, Caya JG, et al. Pityrosporum folliculitis after bone marrow transplantation. Clinical observations in five patients. Ann Intern Med. 1988 Apr. 108(4):560-3. [Medline].

Blaes AH, Cavert WP, Morrison VA. Malassezia: is it a pulmonary pathogen in the stem cell transplant population?. Transpl Infect Dis. 2009 Aug. 11(4):313-7. [Medline].

Nasir A, El Bahesh E, Whitten C, Lawson A, Udall JN Jr. Pityrosporum folliculitis in a Crohn's disease patient receiving infliximab. Inflamm Bowel Dis. 2010 Jan. 16(1):7-8. [Medline].

Heymann WR, Wolf DJ. Malassezia (Pityrosporon) folliculitis occurring during pregnancy. Int J Dermatol. 1986 Jan-Feb. 25(1):49-51. [Medline].

Parlak AH, Boran C, Topcuoglu MA. Pityrosporum folliculitis during pregnancy: a possible cause of pruritic folliculitis of pregnancy. J Am Acad Dermatol. 2005 Mar. 52(3 Pt 1):528-9. [Medline].

Kavanagh GM, Leeming JP, Marshman GM, Reynolds NJ, Burton JL. Folliculitis in Down's syndrome. Br J Dermatol. 1993 Dec. 129(6):696-9. [Medline].

Klotz SA, Drutz DJ, Huppert M, Johnson JE. Pityrosporum folliculitis. Its potential for confusion with skin lesions of systemic candidiasis. Arch Intern Med. 1982 Nov. 142(12):2126-9. [Medline].

Yu HJ, Lee SK, Son SJ, Kim YS, Yang HY, Kim JH. Steroid acne vs. Pityrosporum folliculitis: the incidence of Pityrosporum ovale and the effect of antifungal drugs in steroid acne. Int J Dermatol. 1998 Oct. 37(10):772-7. [Medline].

Shibata N, Saitoh T, Tadokoro Y, Okawa Y. The cell wall galactomannan antigen from Malassezia furfur and Malassezia pachydermatis contains beta-1,6-linked linear galactofuranosyl residues and its detection has diagnostic potential. Microbiology. 2009 Oct. 155:3420-9. [Medline].

Faergemann J, Bergbrant IM, Dohse M, Scott A, Westgate G. Seborrhoeic dermatitis and Pityrosporum (Malassezia) folliculitis: characterization of inflammatory cells and mediators in the skin by immunohistochemistry. Br J Dermatol. 2001 Mar. 144(3):549-56. [Medline].

Elmets CA. Management of common superficial fungal infections in patients with AIDS. J Am Acad Dermatol. 1994 Sep. 31(3 Pt 2):S60-3. [Medline].

Ferrandiz C, Ribera M, Barranco JC, Clotet B, Lorenzo JC. Eosinophilic pustular folliculitis in patients with acquired immunodeficiency syndrome. Int J Dermatol. 1992 Mar. 31(3):193-5. [Medline].

Hald M, Arendrup MC, Svejgaard EL, Lindskov R, Foged EK, Saunte DM. Evidence-based Danish Guidelines for the Treatment of Malassezia-related Skin Diseases. Acta Derm Venereol. 2014 Feb 20. [Medline].

Prohic A, Jovovic Sadikovic T, Krupalija-Fazlic M, Kuskunovic-Vlahovljak S. Malassezia species in healthy skin and in dermatological conditions. Int J Dermatol. 2015 Dec 29. [Medline].

Hill MK, Goodfield JD, Rodgers FG, Crowley JL, Saihan EM. Skin surface electron microscopy in Pityrosporum folliculitis. The role of follicular occlusion in disease and the response to oral ketoconazole. Arch Dermatol. 1990 Feb. 126(2):181-4. [Medline].

Ford GP, Ive FA, Midgley G. Pityrosporum folliculitis and ketoconazole. Br J Dermatol. 1982 Dec. 107(6):691-5. [Medline].

Viana de Andrade AC, Pithon MM, Oiticica OM. Pityrosporum folliculitis in an immunocompetent patient: clinical case description. Dermatol Online J. 2013 Aug 15. 19(8):19273. [Medline].

Pedrosa AF, Lisboa C, Gonçalves Rodrigues A. Malassezia infections: a medical conundrum. J Am Acad Dermatol. 2014 Jul. 71 (1):170-6. [Medline].

Friedman SJ. Pityrosporum folliculitis: treatment with isotretinoin. J Am Acad Dermatol. 1987 Mar. 16(3 Pt 1):632-3. [Medline].

Goodfield MJ, Saihan EM. Failure of isotretinoin therapy in Pityrosporum folliculitis. J Am Acad Dermatol. 1988 Jan. 18(1 Pt 1):143-4. [Medline].

Lee JW, Lee HI, Kim MN, Kim BJ, Chun YJ, Kim D. Topical photodynamic therapy with methyl aminolevulinate may be an alternative therapeutic option for the recalcitrant Malassezia folliculitis. Int J Dermatol. 2011 Apr. 50(4):488-90. [Medline].

Longley BJ. Fungal diseases. Elder D, Elenitas R, Jaworsky C, Johnson B, eds. Lever's Histopathology of the Skin. 8th ed. 1997. 522.
Medscape Reference © 2011 WebMD, LLC