Tinea Barbae Clinical Presentation
Author: Robert A Schwartz, MD, MPH; Chief Editor: William D James, MD  more...
Updated: Jun 21, 2016
What would you like to print?
History
Infection often begins on the chin or neck, but in severely affected patients, tinea barbae may cover the entire bearded area of the face and neck, occasionally resulting in indurated verrucous plaques or nodules.
Tinea barbae may be asymptomatic; however, mild pruritus is characteristic. Spontaneous resolution of tinea barbae may occur, especially in inflammatory tinea barbae.
Lupoid sycosis, a deep form of tinea barbae, is so named because it may resemble lupus vulgaris.[7]
Physical
Clinical manifestations of tinea barbae relate to the causative pathogen. Two clinical varieties of the disease are identified: inflammatory and noninflammatory.
Inflammatory deeper tinea barbae is caused primarily by zoophilic dermatophytes. This variety, termed a kerion, is the most common clinical presentation. Most patients show solitary plaques or nodules; however, multiple plaques are relatively common. Usually localized on the chin, cheeks, or neck, involvement of the upper lip is rare. The characteristic lesion is an inflammatory reddish nodule with pustules and draining sinuses on the surface. Hairs are loose or broken, and depilation is easy and painless. Pus-filled whitish masses involve the hair root and follicle. Over time, the surface of the indurated nodule is covered by exudate and crust. This variety of tinea barbae usually is associated with generalized symptoms, such as regional lymphadenopathy, malaise, and fever.
Noninflammatory superficial tinea barbae is caused by anthropophilic dermatophytes. This variety of barbae is less common and resembles common tinea corporis or bacterial folliculitis (sycosiform variety). Typically, erythematous patches show an active border composed of papules, vesicles, and/or crusts. Hairs are broken next to the skin, or they plug the hair follicle. In the sycosiform variety, small follicular pustules are observed. Hairs are broken or loose. This variety represents a chronic variant of tinea barbae. Rarely, one may see tinea blepharociliaris associated with tinea barbae.[8]
See the images below.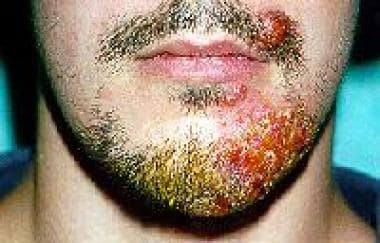 Inflammatory tinea barbae resulting from Trichophyton mentagrophytesvar granulosuminfection.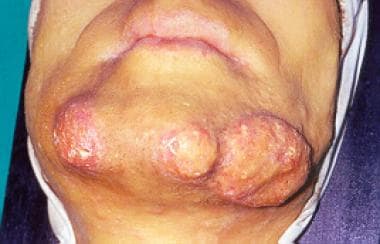 Wax model of kerionlike tinea barbae. Courtesy of the Museum of the Department of Dermatology, University of Medicine, Wroclaw, Poland.
Causes
Tinea barbae is caused by several dermatophytes, including zoophilic and anthropophilic organisms; however, zoophilic dermatophyte infection occurs more commonly. Frequently, animals (eg, cattle, horses, cats, dogs) constitute the source of infection.[9] Trichophyton species are most common, thus the term trichophytosis barbae also is used. Among zoophilic dermatophytes, Trichophyton mentagrophytes var granulosum and Trichophyton verrucosum are the most common causative agents.[10, 11] Microsporum canis and Trichophyton mentagrophytes var erinacei may cause tinea barbae but are rare.[12]
T rubrum and Trichophyton violaceum are the most common anthropophilic dermatophytes responsible for tinea barbae; however, infections from Trichophyton megninii (endemic in Sardinia, Sicily, Portugal) and Trichophyton schoenleinii (endemic in Eurasia, Africa, Brazil) also may occur, especially in endemic regions. Infection of bearded skin by anthropophilic dermatophytes may be the result of autoinoculation from tinea pedis or onychomycosis.[13, 14, 15]
Other reported causative organisms include Trichophyton interdigitale[16] and Microsporum nanum.[17]
References
Beswick SJ, Das S, Lawrence CM, Tan BB. Kerion formation due to Trichophyton rubrum. Br J Dermatol. 1999 Nov. 141(5):953-4. [Medline].

Gupta G, Burden AD, Roberts DT. Acute suppurative ringworm (kerion) caused by Trichophyton rubrum. Br J Dermatol. 1999 Feb. 140(2):369-70. [Medline].

Sidwell RU, Chan I, Francis N, Bunker CB. Trichophyton erinacei kerion barbae from a hedgehog with direct osculatory transfer to another person. Clin Exp Dermatol. 2014 Jan. 39(1):38-40. [Medline].

Braun SA, Jahn K, Westermann A, Bruch-Gerharz D, Reifenberger J. [Tinea barbae profunda by Arthroderma benhamiae. A diagnostic challenge]. Hautarzt. 2013 Oct. 64(10):720-2. [Medline].

Ansari S, Hedayati MT, Zomorodian K, Pakshir K, Badali H, Rafiei A, et al. Molecular Characterization and In Vitro Antifungal Susceptibility of 316 Clinical Isolates of Dermatophytes in Iran. Mycopathologia. 2016 Feb. 181 (1-2):89-95. [Medline].

Rezaei-Matehkolaei A, Rafiei A, Makimura K, Gräser Y, Gharghani M, Sadeghi-Nejad B. Epidemiological Aspects of Dermatophytosis in Khuzestan, southwestern Iran, an Update. Mycopathologia. 2016 Feb 17. [Medline].

Bonifaz A, Ramirez-Tamayo T, Saul A. Tinea barbae (tinea sycosis): experience with nine cases. J Dermatol. 2003 Dec. 30(12):898-903. [Medline].

Buruiana AM, Mihali CV, Popescu C. Sequence-Based Identification of a Zoophilic Strain of Trichophyton interdigitale in a Rare Case of Tinea Blepharo-Ciliaris Associated with Tinea Barbae. Mycopathologia. 2015 Jul 12. [Medline].

Davis DF, Petri WH, Hood AF. Dairy farmer with a rapidly enlarging lip lesion: tinea barbae. Arch Dermatol. 2006 Aug. 142(8):1059-64. [Medline].

Kiska DL, Cynamon MH. Photo quiz. Tinea barbae caused by Trichophyton verrucosum. Clin Infect Dis. 1997 Oct. 25(4):805, 871. [Medline].

Maeda M, Nakashima T, Satho M, Yamada T, Kitajima Y. Tinea barbae due to Trichophyton verrucosum. Eur J Dermatol. 2002 May-Jun. 12(3):272-4. [Medline].

Kick G, Korting HC. Tinea barbae due to Trichophyton mentagrophytes related to persistent child infection. Mycoses. 1998 Nov. 41(9-10):439-41. [Medline].

Kawada A, Aragane Y, Maeda A, Yudate T, Tezuka T, Hiruma M. Tinea barbae due to Trichophyton rubrum with possible involvement of autoinoculation. Br J Dermatol. 2000 May. 142(5):1064-5. [Medline].

Szepietowski JC, Bielicka E, Maj J. Inflammatory tinea barbae due to Trichophyton rubrum infection - autoinnoculation from fingernail onychomycosis?. Case Rep Clin Pract Rev. 2002. 3:254-6. [Full Text].

Szepietowski JC, Matusiak L. Trichophyon rubrum autoinoculation from infected nails is not such a rare phenomenon. Mycoses. 2008. 51:345-346.

Trotha R, Graser Y, Platt J, et al. Tinea barbae caused by a zoophilic strain of Trichophyton interdigitale. Mycoses. 2003 Feb. 46(1-2):60-3. [Medline].

Ratka P, Slusarczyk E, Sloboda T, Kusmierski W. [Case of tinea barbae profunda caused by Microsporum nanum]. Przegl Dermatol. 1983 Sep-Dec. 70(5-6):549-52. [Medline].

Laureano AC, Schwartz RA, Cohen PJ. Facial bacterial infections: folliculitis. Clin Dermatol. 2014 Nov-Dec. 32 (6):711-4. [Medline].

Wall D, Fraher M, O'Connell B, Watson R, Timon C, Stassen LF, et al. Infection of the Beard area. Kerion: a review of 2 cases. Ir Med J. 2014 Jul-Aug. 107(7):219-21. [Medline].

Kapdagli H, Ozturk G, Dereli T, et al. Candida folliculitis mimicking tinea barbae. Int J Dermatol. 1997 Apr. 36(4):295-7. [Medline].

Kurita M, Kishimoto S, Kibe Y, Takenaka H, Yasuno H. Candida folliculitis mimicking tinea barbae. Acta Derm Venereol. 2000 Mar-Apr. 80(2):153-4. [Medline].

Jasterzbski TJ, Schwartz RA. Pseudofolliculitis cutis: a vexing disorder of hair growth. Br J Dermatol. 2015 Apr. 172 (4):878-84. [Medline].

Baran W, Szepietowski JC, Schwartz RA. Tinea barbae. Acta Dermatoven APA. 2004. 13:91-4. [Full Text].

Tanuma H, Doi M, Nishiyama S, Katsuoka K. A case of tinea barbae successfully treated with terbinafine. Mycoses. 1998 Jan-Feb. 41(1-2):77-81. [Medline].

Kwasniewska J. Current antifungal agents in dermatology. Postepy Dermatol (Poznan). 1997. 14:129-35.

Ceburkovas O, Schwartz RA, Janniger CK. Tinea capitis: current concepts. J Dermatol. 2000 Mar. 27(3):144-8. [Medline].
Medscape Reference © 2011 WebMD, LLC