Tinea Versicolor
Author: Craig G Burkhart, MD, MPH; Chief Editor: Dirk M Elston, MD more...
Updated: Feb 08, 2016
What would you like to print?
Background
Tinea versicolor is a common, benign, superficial cutaneous fungal infection usually characterized by hypopigmented or hyperpigmented macules and patches on the chest and the back. In patients with a predisposition, tinea versicolor may chronically recur. The fungal infection is localized to the stratum corneum. Note the image below.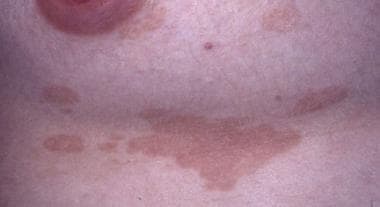 In patients with lighter skin color, lesions frequently are light tan or salmon colored.
Pathophysiology
Tinea versicolor is caused by the dimorphic, lipophilic organisms in the genus Malassezia, formerly known as Pityrosporum. Eleven species are recognized within this classification of yeasts, of which Malassezia globosa and Malassezia furfur are the predominant species isolated in tinea versicolor.[1, 2, 3, 4, 5] Malassezia is extremely difficult to propagate in laboratory culture and is culturable only in media enriched with C12- to C14-sized fatty acids. Malassezia is naturally found on the skin surfaces of many animals, including humans. Indeed, it can be isolated in 18% of infants and 90-100% of adults.
The organism can be found on healthy skin and on skin regions demonstrating cutaneous disease. In patients with clinical disease, the organism is found in both the yeast (spore) stage and the filamentous (hyphal) form. Factors that lead to the conversion of the saprophytic yeast to the parasitic, mycelial morphologic form include a genetic predisposition; warm, humid environments; immunosuppression; malnutrition; and Cushing disease. Human peptide cathelicidin LL-37 plays a role in skin defense against this organism.
Even though Malassezia is a component of the normal flora, it can also be an opportunistic pathogen. The organism is considered to be a factor in other cutaneous diseases, including Pityrosporum folliculitis, confluent and reticulate papillomatosis, seborrheic dermatitis, and some forms of atopic dermatitis. Malassezia species have also been shown to be a pulmonary pathogen in patients with immunosuppression due to stem cell transplantation.[6]
Epidemiology
Frequency
United States
Tinea versicolor occurs more frequently in areas with higher temperatures and higher relative humidities. The national prevalence of this condition is 2-8% of the population. The exact incidence in the United States is difficult to assess because many individuals who are affected may not seek medical attention.
International
Tinea versicolor occurs worldwide, with prevalences reported to be as high as 50% in the humid, hot environment of Western Samoa and as low as 1.1% in the colder temperatures of Sweden.
Race
Although the alteration in skin pigmentation is more apparent in darker-skinned individuals, the incidence of tinea versicolor appears to be the same in all races.
Sex
Several studies have addressed the frequency of tinea versicolor based on sex, and no dominance of either sex is apparent.
Age
In the United States, tinea versicolor is most common in persons aged 15-24 years, when the sebaceous glands are more active. The occurrence of tinea versicolor before puberty or after age 65 years is uncommon.[7] In more tropical countries, age frequency varies; most cases involve people aged 10-19 years who live in warmer, humid countries, such as Liberia and India.
References
Crespo-Erchiga V, Florencio VD. Malassezia yeasts and pityriasis versicolor. Curr Opin Infect Dis. 2006 Apr. 19(2):139-47. [Medline].

Gaitanis G, Velegraki A, Alexopoulos EC, Chasapi V, Tsigonia A, Katsambas A. Distribution of Malassezia species in pityriasis versicolor and seborrhoeic dermatitis in Greece. Typing of the major pityriasis versicolor isolate M. globosa. Br J Dermatol. 2006 May. 154(5):854-9. [Medline].

Morishita N, Sei Y, Sugita T. Molecular analysis of malassezia microflora from patients with pityriasis versicolor. Mycopathologia. 2006 Feb. 161(2):61-5. [Medline].

Rincon S, Celis A, Sopo L, Motta A, Cepero de Garcia MC. Malassezia yeast species isolated from patients with dermatologic lesions. Biomedica. 2005 Jun. 25(2):189-95. [Medline].

Krisanty RI, Bramono K, Made Wisnu I. Identification of Malassezia species from pityriasis versicolor in Indonesia and its relationship with clinical characteristics. Mycoses. 2009 May. 52(3):257-62. [Medline].

Blaes AH, Cavert WP, Morrison VA. Malassezia: is it a pulmonary pathogen in the stem cell transplant population?. Transplant Infectious Disease. August, 2009. 11:313-317. [Medline].

Muhammad N, Kamal M, Islam T, Islam N, Shafiquzzaman M. A study to evaluate the efficacy and safety of oral fluconazole in the treatment of tinea versicolor. Mymensingh Med J. 2009 Jan. 18(1):31-5. [Medline].

He SM, Du WD, Yang S, et al. The genetic epidemiology of tinea versicolor in China. Mycoses. 2008 Jan. 51(1):55-62. [Medline].

Suwattee P, Cham PM, Solomon RK, Kaye VN. Tinea versicolor with interface dermatitis. J Cutan Pathol. 2009 Feb. 36(2):285-6. [Medline].

Burkhart CG, Dvorak N, Stockard H. An unusual case of tinea versicolor in an immunosuppressed patient. Cutis. 1981. 27(1):56-8. [Medline].

Gulec AT, Demirbilek M, Seckin D, et al. Superficial fungal infections in 102 renal transplant recipients: a case-control study. J Am Acad Dermatol. 2003 Aug. 49(2):187-92. [Medline].

Mendez-Tovar LJ. Pathogenesis of dermatophytosis and tinea versicolor. Clinics in Dermatology. 2010. 28:185-188. [Medline].

Kilic M, Oguztuzum S, Karadag S, Cakir E, Aydin M, Ozturk L. Expression of GSTM4 and GSTT1 in patients with Tinea versicolor, Tinea inguinalis, and Tinea pedis infections: a preliminary study. Clinical Dermatology. 2011. 36:590-594. [Medline].

Lim SL, Lim CS. New contrast stain for the rapid diagnosis of pityriasis versicolor. Arch Dermatol. 2008 Aug. 144(8):1058-9. [Medline].

Janaki C, Sentamilselvi G, Janaki VR, Boopalraj JM. Unusual observations in the histology of Pityriasis versicolor. Mycopathologia. 1997. 139(2):71-4. [Medline].

Gupta AK, Lyons DC. Pityriasis versicolor: an update on pharmacological treatment options. Expert Opin Pharmacother. 2014 Aug. 15(12):1707-13. [Medline].

Gupta AK, Skinner AR. Ciclopirox for the treatment of superficial fungal infections: a review. Int J Dermatol. 2003 Sep. 42 Suppl 1:3-9. [Medline].

Hull CA, Johnson SM. A double-blind comparative study of sodium sulfacetamide lotion 10% versus selenium sulfide lotion 2.5% in the treatment of pityriasis (tinea) versicolor. Cutis. 2004 Jun. 73(6):425-9. [Medline].

Vermeer BJ, Staats CC. The efficacy of a topical application of terbinafine 1% solution in subjects with pityriasis versicolor: a placebo-controlled study. Dermatology. 1997. 194 Suppl 1:22-4. [Medline].

Carrillo-Munoz AJ, Giusiano G, Ezkurra PA, Quindos G. Sertaconazole: updated review of a topical antifungal agent. Expert Rev Anti Infect Ther. 2005 Jun. 3(3):333-42. [Medline].

Gold M, Bridges T, Avakian E, Plaum S, Pappert EJ, Fleischer AB, et al. An open-label study of naftifine hydrochloride 1% gel in the treatment of tinea versicolor. Skin Med. Sept 2011. 9:283-6. [Medline].

Croxtall J, Plosker G. Sertaconazole: a reviw of its use in the management of superficial mycoses in dermatology and gynacology. Ingenta/Adis International. Jan 2009. 69:339-359. [Medline].

Cantrell WC, Elewksi BE. Can pityriasis versicolor be treated with 2% ketoconazole foam?. J Drugs Dermatol. 2014 Jul 1. 13(7):855-9. [Medline].

Hickman JG. A double-blind, randomized, placebo-controlled evaluation of short-term treatment with oral itraconazole in patients with tinea versicolor. J Am Acad Dermatol. 1996 May. 34(5 Pt 1):785-7. [Medline].

Karakas M, Durdu M, Memisoglu HR. Oral fluconazole in the treatment of tinea versicolor. J Dermatol. 2005 Jan. 32(1):19-21. [Medline].

Partap R, Kaur I, Chakrabarti A, Kumar B. Single-dose fluconazole versus itraconazole in pityriasis versicolor. Dermatology. 2004. 208(1):55-9. [Medline].

Fernandez-Nava HD, Laya-Cuadra B, Tianco EA. Comparison of single dose 400 mg versus 10-day 200 mg daily dose ketoconazole in the treatment of tinea versicolor. Int J Dermatol. 1997 Jan. 36(1):64-6. [Medline].

Wahab MA, Ali ME, Rahman MH, Chowdhury SA, Monamie NS, Sultana N, et al. Single dose (400mg) versus 7 day (200mg) daily dose itraconazole in the treatment of tinea versicolor: a randomized clinical trial. Mymensingh Med J. 2010 Jan. 19(1):72-6. [Medline].

Faergemann J, Todd G, Pather S, et al. A double-blind, randomized, placebo-controlled, dose-finding study of oral pramiconazole in the treatment of pityriasis versicolor. J Am Acad Dermatol. 2009 Dec. 61(6):971-6. [Medline].

Gupta AK, Lane D, Paquet M. Systematic review of systemic treatments for tinea versicolor and evidence-based dosing regimen recommendations. J Cutan Med Surg. 2014 Mar-Apr. 18(2):79-90. [Medline].

Mellen LA, Vallee J, Feldman SR, Fleischer AB Jr. Treatment of pityriasis versicolor in the United States. J Dermatolog Treat. 2004 Jun. 15(3):189-92. [Medline].

Leeming JP, Sansom JE, Burton JL. Susceptibility of Malassezia furfur subgroups to terbinafine. Br J Dermatol. 1997 Nov. 137(5):764-7. [Medline].

Faergemann J, Gupta AK, Al Mofadi A, Abanami A, Shareaah AA, Marynissen G. Efficacy of itraconazole in the prophylactic treatment of pityriasis (tinea) versicolor. Arch Dermatol. 2002 Jan. 138(1):69-73. [Medline].

Kim YJ, Kim YC. Successful treatment of pityriasis versicolor with 5-aminolevulinic acid photodynamic therapy. Arch Dermatol. 2007 Sep. 143(9):1218-20. [Medline].

Qiao J, Li R, Ding Y, Fang H. Photodynamic therapy in the treatment of superficial mycoses: an evidence-based evaluation. Mycopathologia. 2010. 170:339-343. [Medline].

Burkhart CG. Tinea versicolor. J Dermatol Allergy. 1983. 6:8-12.

U.S. Food and Drug Administration. Nizoral (ketoconazole) oral tablets: Drug Safety Communication - Prescribing for unapproved uses including skin and nail infections continues; linked to patient death. FDA Medwatch. May 19, 2016. Available at http://www.fda.gov/safety/medwatch/safetyinformation/safetyalertsforhumanmedicalproducts/ucm502073.htm.
Medscape Reference © 2011 WebMD, LLC