Majocchi Granuloma Differential Diagnoses
Author: Robert A Schwartz, MD, MPH; Chief Editor: Dirk M Elston, MD  more...
Updated: Jun 22, 2016
What would you like to print?
Diagnostic Considerations
Also consider the following:
Tinea incognito

Bacterial folliculitis (see the image below)

Herpetic folliculitis

Pseudofolliculitis barbae

Nodular scabies

Follicular mucinosis

Poikiloderma with atrophy

Telangiectasia without scaling

Papular rosacea

Indeterminate leprosy

Kerion
Tinea incognito may appear as eczemalike, seborrhoeic dermatitislike, pyodermalike, and folliculitis to alopecia on scalp, trunk, and limbs.[24] The latter form may be represent some patients with Majocchi granuloma.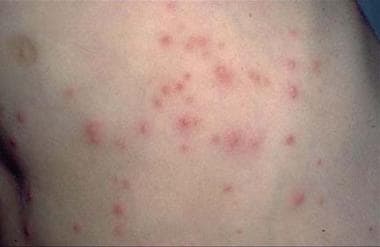 Pseudomonas folliculitis. Courtesy of Hon Pak, MD.
Differential Diagnoses
References
Wilson JW, Plunkett OA, Gregersen A. Nodular granulomatous perifolliculitis of the legs caused by Trichophyton rubrum. AMA Arch Derm Syphilol. 1954 Mar. 63(3):258-77. [Medline].

Coelho WS, Diniz LM, Sousa Filho JB, Castro CM. [Case for diagnosis. Granuloma trichophyticum (Majocchi's granuloma)]. An Bras Dermatol. 2009 Jan-Feb. 84(1):85-6. [Medline].

Meinhof W, Hornstein OP, Scheiffarth F. [Multiple subcutaneous Trichophyton rubrum abscesses. Pathomorphosis of a generalized superficial tinea due to impaired immunological resistance]. Hautarzt. 1976 Jul. 27(7):318-27. [Medline].

Radentz WH, Yanase DJ. Papular lesions in an immunocompromised patient. Trichophyton rubrum granulomas (Majocchi's granuloma). Arch Dermatol. 1993 Sep. 129(9):1189-90, 1192-3. [Medline].

Majocchi D. Sopra una nuova trichofizia (granuloma tricofitico): Studi clinici e micologici. [A new trichophyton granuloma: Clinical and mycological studies]. Bull R Acad Med Roma. 1883.

Nakajima H. [The pathophysiology and defense mechanism against superficial and subcutaneous fungal infection]. Nippon Ishinkin Gakkai Zasshi. 2005. 46(1):5-9. [Medline].

Arenas R, Toussaint S, Isa-Isa R. Kerion and dermatophytic granuloma. Mycological and histopathological findings in 19 children with inflammatory tinea capitis of the scalp. Int J Dermatol. 2006 Mar. 45(3):215-9. [Medline].

Steiner UC, Trüeb RM, Schad K, Kamarashev J, Koch S, French LE, et al. Trichophyton rubrum-induced Majocchi's Granuloma in a heart transplant recipient. A therapeutic challenge. J Dermatol Case Rep. 2012 Sep 28. 6(3):70-2. [Medline]. [Full Text].

Liao YH, Chu SH, Hsiao GH, Chou NK, Wang SS, Chiu HC. Majocchi's granuloma caused by Trichophyton tonsurans in a cardiac transplant recipient. Br J Dermatol. 1999 Jun. 140(6):1194-6. [Medline].

Sequeira M, Burdick AE, Elgart GW, Berman B. New-onset Majocchi's granuloma in two kidney transplant recipients under tacrolimus treatment. J Am Acad Dermatol. 1998 Mar. 38(3):486-8. [Medline].

Tateishi Y, Sato H, Akiyama M, et al. Severe generalized deep dermatophytosis due to Trichophyton rubrum (trichophytic granuloma) in a patient with atopic dermatitis. Arch Dermatol. 2004 May. 140(5):624-5. [Medline].

Wang R, Hu Y, Tang H, Zhang T. Majocchi granuloma in a pregnant woman. Obstet Gynecol. 2014 Aug. 124(2 Pt 2 Suppl 1):423-5. [Medline].

Lourdes LS, Mitchell CL, Glavin FL, Schain DC, Kaye FJ. Recurrent Dermatophytosis (Majocchi granuloma) Associated With Chemotherapy-Induced Neutropenia. J Clin Oncol. 2014 Jan 27. [Medline].

Jacobs PH. Majocchi's granuloma (due to therapy with steroid and occlusion). Cutis. 1986 Jul. 38(1):23. [Medline].

Gill M, Sachdeva B, Gill PS, Arora B, Deep A, Karan J. Majocchi's granuloma of the face in an immunocompetent patient. J Dermatol. 2007 Oct. 34(10):702-4. [Medline].

Rallis E, Katoulis A, Rigopoulos D. Pubic Majocchi's Granuloma Unresponsive to Itraconazole Successfully Treated with Oral Terbinafine. Skin Appendage Disord. 2016 Feb. 1 (3):111-3. [Medline].

Cho HR, Lee MH, Haw CR. Majocchi's granuloma of the scrotum. Mycoses. 2007 Nov. 50(6):520-2. [Medline].

Brod C, Benedix F, Rocken M, Schaller M. Trichophytic Majocchi granuloma mimicking Kaposi sarcoma. J Dtsch Dermatol Ges. 2007 Jul. 5(7):591-3. [Medline].

Kurian A, Haber RM. Tinea corporis gladiatorum presenting as a majocchi granuloma. ISRN Dermatol. 2011. 2011:767589. [Medline]. [Full Text].

Trocoli Drakensjö I, Vassilaki I, Bradley M. Majocchis Granuloma Caused by Trichophyton mentagrophytes in 2 Immunocompetent Patients. Actas Dermosifiliogr. 2016 Mar 4. [Medline].

Chen HH, Chiu HC. Facial Majocchi's granuloma caused by Trichophyton tonsurans in an immunocompetent patient. Acta Derm Venereol. 2003. 83(1):65-6. [Medline].

Sanchez-Castellanos ME, Mayorga-Rodriguez JA, Sandoval-Tress C, Hernandez-Torres M. Tinea incognito due to Trichophyton mentagrophytes. Mycoses. 2007 Jan. 50(1):85-7. [Medline].

Patel GA, Schwartz RA. Tinea capitis: still an unsolved problem?. Mycoses. 2009 Dec 11. [Medline].

Ansar A, Farshchian M, Nazeri H, Ghiasian SA. Clinico-epidemiological and Mycological Aspects of Tinea Incognito in Iran: A 16-Year Study. Nippon Ishinkin Gakkai Zasshi. 2011. 52(1):25-32. [Medline].

Mayser PA. [Majocchi granuloma. Advantages of optical brightener staining in a case report]. Hautarzt. 2014 Aug. 65(8):721-4. [Medline].

Bressan AL, Silva RS, Fonseca JC, Alves Mde F. Majocchi's granuloma. An Bras Dermatol. 2011 Aug. 86(4):797-8. [Medline].

Gupta AK, Prussick R, Sibbald RG, Knowles SR. Terbinafine in the treatment of Majocchi's granuloma. Int J Dermatol. 1995 Jul. 34(7):489. [Medline].

Liu HB, Liu F, Kong QT, Shen YN, Lv GX, Liu WD, et al. Successful Treatment of Refractory Majocchi's Granuloma with Voriconazole and Review of Published Literature. Mycopathologia. 2015 Jun 5. [Medline].

Janniger CK. Majocchi's granuloma. Cutis. 1992 Oct. 50(4):267-8. [Medline].
Medscape Reference © 2011 WebMD, LLC