Dermatologic Manifestations of Glucagonoma Syndrome Clinical Presentation
Author: Sara Flores, MD; Chief Editor: William D James, MD more...
Updated: May 12, 2016
What would you like to print?
History
Patients usually present with nonspecific complaints, such as weight loss, diabetes, diarrhea, and stomatitis. Unexplained weight loss and the onset of necrolytic migratory erythema (NME), especially with new-onset diabetes mellitus, often hasten the correct diagnosis. Still, because mild early lesions may exhibit only subtle changes in histology and because inadequate sampling can miss the diagnostic changes, the skin eruption itself often is interpreted as a nonspecific dermatitis. It is not uncommon for several years to elapse before the correct diagnosis is found.[7]
Physical
NME can be found anywhere on the body, although it has a predilection for the perineum, buttocks, groin, lower abdomen, and lower extremities, areas subject to greater pressure and friction. The lesions wax and wane in a cycle of about 10 days, beginning with an erythematous patch that blisters centrally, erodes, and then crusts over and heals with hyperpigmentation. The lesions are typically annular or polycyclic and may demonstrate confluence in severely affected areas. Patients report intense discomfort because these lesions are pruritic and painful. Other associated mucocutaneous findings include atrophic glossitis, cheilosis, onychoschizia, buccal mucosal inflammation, and, rarely, dyspareunia.[8] Note the images below.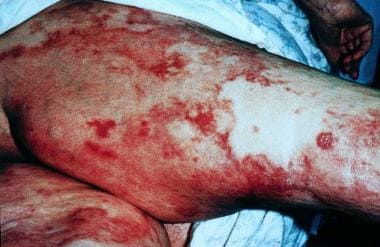 Necrolytic migratory erythema in a patient with glucagonoma syndrome. Annular erythematous plaques, vesicles, and erosions involving the whole perineal area are shown.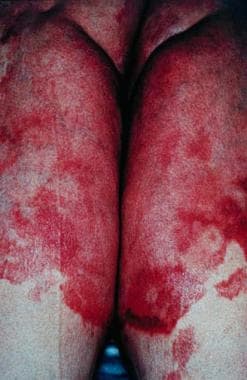 Necrolytic migratory erythema involving the entire buttock and perineal region in a patient with glucagonoma syndrome.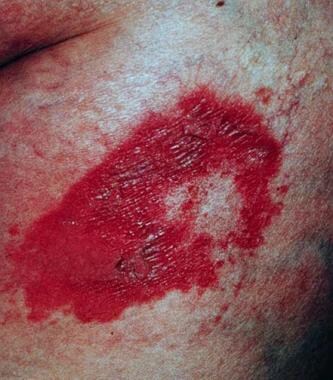 Close-up view of an annular plaque showing necrolytic migratory erythema in a patient with glucagonoma syndrome.
Causes
Hyperglucagonemia can be found as part of a polyfunctional endocrine tumor or an exclusively glucagon-producing tumor. The tumor may be part of a clinical syndrome (eg, Zollinger-Ellison syndrome), or it may be asymptomatic. Although most glucagonomas appear to be sporadic, in about 3% of cases they occur in the setting of multiple endocrine neoplasia type 1. Glucagonoma syndrome typically manifests with very high levels of serum glucagon (up to 1000 times normal levels).
Pancreatic neuroendocrine tumors have also been associated in patients with Von Hippel-Lindau syndrome and p27 germline mutations.
Non-neoplastic pathologies can elevate glucagon levels that are high enough to produce cutaneous manifestations. Hepatic cirrhosis is an example. Since the liver is responsible for glucagon breakdown, cirrhosis may prolong the effective plasma half-life of glucagon and contribute to abnormally high serum levels. A single report describes a case of iatrogenic hyperglucagonemia resulting from glucagon administration for congenital hyperinsulinism.[9] However, markedly elevated levels of glucagon alone do not necessarily produce NME, diabetes mellitus, or hypoaminoacidemia, which are the defining criteria for this syndrome. NME in the context of pseudoglucagonoma may be associated with nonpancreatic malignancy, liver disease, inflammatory bowel disease, pancreatitis, celiac sprue, and zinc and other nutritional deficiencies. Glucagon levels in pseudoglucagonoma are elevated in up to half of patients, but not to the degree as those observed with glucagonoma.[10]
NME with normal glucagon levels has been reported in celiac sprue and pancreatitis; similar skin findings can present with cystic fibrosis. This may be mediated by enteroglucagon, a substance that is produced by the crypt cells of the small intestine in the malabsorptive state. Unabsorbed nutrients in the lumen are a potent stimulator of enteroglucagon, which can cause NME by an undetermined mechanism.
Medscape Reference © 2011 WebMD, LLC