LEOPARD Syndrome
Author: Robert A Schwartz, MD, MPH; Chief Editor: William D James, MD more...
Updated: Jun 22, 2016
What would you like to print?
Background
LEOPARD syndrome is a complex dysmorphogenetic disorder of variable penetrance and expressivity. Gorlin et al introduced the acronym LEOPARD as the name of the syndrome in 1969 to recall the main features of the disorder, as follows:
Electrocardiographic conduction abnormalities

Ocular hypertelorism

Pulmonary stenosis

Abnormalities of genitalia

Retardation of growth

Deafness
Not all of the findings are present in any given patient. Zeisler and Becker first described the syndrome in 1936 in a 24-year-old woman with progressive generalized lentigines, hypertelorism, pectus carinatum, and prognathism. The first familial cases were reported in twins by Rosen and subsequently in 8 persons from a large 3-generation pedigree reported by Pipkin. Subsequent communications added new findings in isolated patients or families. Moynahan first documented the association of the syndrome with cardiac abnormalities and short stature in 1962.
Pathophysiology
Molecular studies have proven that LEOPARD syndrome and Noonan syndrome are allelic disorders caused by different missense mutations in PTPN11, a gene encoding the protein tyrosine phosphatase SHP-2 located at band 12q24.1.[1] SHP2 mutations seem to facilitate melanin synthesis in melanocytes.[2] Variation in SHP2 catalytic activity may have important clinical implications.[3]
In 2005, Ogata and Yoshida documented that PTPN11 mutations can be identified in approximately 40% of Noonan syndrome patients and in greater than 80% of LEOPARD syndrome patients.[4] Because the vast majority of mutations reside in and around the broad intramolecular interaction surface between the N-SH2 and PTP domains of the PTPN11 protein, they have been suggested to affect the intramolecular N-SH2/PTP binding in the absence of a phosphopeptide, leading to excessive phosphatase activities.
In 2006, Hanna et al found that Noonan syndrome mutations enhance SHP-2 catalytic activity, whereas the activity of representative LS mutants is undetectable when assayed using a standard PTP substrate.[5] The results are also supported by studies by Kontaridis et al.[6] They revealed that whereas Noonan syndrome is caused by gain-of-function PTPN11 mutations, LEOPARD syndrome mutants are catalytically defective and act as dominant negative mutations that interfere with growth factor/Erk-mitogen-activated protein kinase–mediated signaling. LEOPARD syndrome may be caused by heterozygous missense mutation of Tyr 279 Cys in the PTPN11 gene.[7] In one Bosnian family, five patients had the same recurrent mutation Y279C in the PTPN11 gene, but had different phenotypes and a variable expression of multiple lentigines.[8]
In 2006, Tartaglia et al reported that germline mutations in the PTPN11 gene cause LEOPARD and Noonan syndromes, whereas somatic mutations in the same gene contribute to leukemogenesis.[9] To date, 2 patients with LEOPARD syndrome and myelomonocytic or acute lymphoblastic leukemias have been reported.[10, 11]
Importantly, however, not all patients with LEOPARD syndrome demonstrate linkage to 12q24.1.
Reported in 2005, Kalidas et al performed mutation screening and linkage analysis of PTPN11 in 3 families, each of which had a history of LEOPARD syndrome for 3 generations.[12] One family was found to carry a novel mutation (Q510P; 176876.0022). No variations in sequence were observed in the other 2 families, and negative lod scores excluded linkage to the PTPN11 locus, showing that LEOPARD syndrome is genetically heterogeneous.
Writzl et al reported a family with molecularly proven (p.Thr468Met in PTPN11) LEOPARD syndrome in a father and his adult son.[13] The father had multiple lentigines equally dispersed over his body as depicted below, whereas his son was devoid of lentigines on the left part of the thorax, back, and left arm. In addition, the son was found to have a mosaic karyotype in lymphocytes (47, XXY/46XY). On skin biopsy, mainly 47,XXY karyotype was present in the pigmented skin and 46,XY karyotype in the unpigmented areas. The authors considered various pathogenetic mechanisms: revertant mosaicism, silencing of a second PTPN11 mutation, genes located on a sex chromosome influencing the phenotype, and epigenetic influences.
See the image below.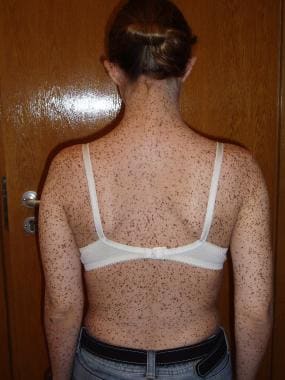 Multiple, small lentigines evenly distributed over the trunk of an adult female with LEOPARD syndrome.
Epidemiology
Frequency
No epidemiologic data are available. The syndrome seems to be rare both in the United States and internationally.
Race
LEOPARD syndrome has no clear racial predilection.
Sex
In a large collected series of 77 patients, a slight preponderance of men has been documented (47 men, 30 women).
Age
Lentigines may be present at birth or develop during childhood. They become more numerous and darker with age. Other skin lesions, such as nevocellular nevi and malignant melanomas, reported sporadically in the LEOPARD syndrome, may undergo depigmentation.
Prognosis
Prognosis is determined mainly by cardiac complications. Most patients with LEOPARD syndrome lead a normal life. Cardiac pathologic findings (eg, obstructive cardiomyopathy, cardiac dysrhythmias) may be a cause of death in selected patients. A 19-year-old woman who died as a result of respiratory insufficiency secondary to thoracic deformities and a congenital heart defect has been reported.
Patient Education
Genetic counseling is recommended.
References
Kim J, Kim MR, Kim HJ, Lee KA, Lee MG. LEOPARD Syndrome with PTPN11 Gene Mutation Showing Six Cardinal Symptoms of LEOPARD. Ann Dermatol. 2011 May. 23(2):232-5. [Medline]. [Full Text].

Motegi SI, Yokoyama Y, Ogino S, Yamada K, Uchiyama A, Takeuchi Y, et al. Pathogenesis of Multiple Lentigines in LEOPARD Syndrome with PTPN11 Gene Mutation. Acta Derm Venereol. 2015 Apr 28. [Medline].

Noda S, Takahashi A, Hayashi T, Tanuma S, Hatakeyama M. Determination of the catalytic activity of LEOPARD syndrome-associated SHP2 mutants toward parafibromin, a bona fide SHP2 substrate involved in Wnt signaling. Biochem Biophys Res Commun. 2016 Jan 22. 469 (4):1133-9. [Medline].

Ogata T, Yoshida R. PTPN11 mutations and genotype-phenotype correlations in Noonan and LEOPARD syndromes. Pediatr Endocrinol Rev. 2005 Jun. 2(4):669-74. [Medline].

Hanna N, Montagner A, Lee WH, Miteva M, Vidal M, Vidaud M, et al. Reduced phosphatase activity of SHP-2 in LEOPARD syndrome: consequences for PI3K binding on Gab1. FEBS Lett. 2006 May 1. 580(10):2477-82. [Medline].

Kontaridis MI, Swanson KD, David FS, Barford D, Neel BG. PTPN11 (Shp2) mutations in LEOPARD syndrome have dominant negative, not activating, effects. J Biol Chem. 2006 Mar 10. 281(10):6785-92. [Medline].

Wang Y, Chen C, Wang DW. Leopard syndrome caused by heterozygous missense mutation of Tyr 279 Cys in the PTPN11 gene in a sporadic case of Chinese Han. Int J Cardiol. 2014 Jul 1. 174(3):e101-4. [Medline].

Begic F, Tahirovic H, Kardaševic M, Kalev I, Muru K. Leopard syndrome: a report of five cases from one family in two generations. Eur J Pediatr. 2014 Jun. 173(6):819-22. [Medline].

Tartaglia M, Martinelli S, Stella L, Bocchinfuso G, Flex E, Cordeddu V, et al. Diversity and functional consequences of germline and somatic PTPN11 mutations in human disease. Am J Hum Genet. 2006 Feb. 78(2):279-90. [Medline].

Ucar C, Calyskan U, Martini S, Heinritz W. Acute myelomonocytic leukemia in a boy with LEOPARD syndrome (PTPN11 gene mutation positive). J Pediatr Hematol Oncol. 2006 Mar. 28(3):123-5. [Medline].

Laux D, Kratz C, Sauerbrey A. Common acute lymphoblastic leukemia in a girl with genetically confirmed LEOPARD syndrome. J Pediatr Hematol Oncol. 2008 Aug. 30(8):602-4. [Medline].

Kalidas K, Shaw AC, Crosby AH, Newbury-Ecob R, Greenhalgh L, Temple IK, et al. Genetic heterogeneity in LEOPARD syndrome: two families with no mutations in PTPN11. J Hum Genet. 2005. 50(1):21-5. [Medline].

Writzl K, Hoovers J, Sistermans EA, Hennekam RC. LEOPARD syndrome with partly normal skin and sex chromosome mosaicism. Am J Med Genet A. 2007 Nov 1. 143A(21):2612-5. [Medline].

Voron DA, Hatfield HH, Kalkhoff RK. Multiple lentigines syndrome. Case report and review of the literature. Am J Med. 1976 Mar. 60(3):447-56. [Medline].

Digilio MC, Sarkozy A, de Zorzi A, Pacileo G, Limongelli G, Mingarelli R, et al. LEOPARD syndrome: clinical diagnosis in the first year of life. Am J Med Genet A. 2006 Apr 1. 140(7):740-6. [Medline].

Bujaldon AR. LEOPARD syndrome: what are café noir spots?. Pediatr Dermatol. 2008 Jul-Aug. 25(4):444-8. [Medline].

Xing Q, Chen X, Wang M, Bai W, Peng X, Gao R, et al. A locus for familial generalized lentiginosis without systemic involvement maps to chromosome 4q21.1-q22.3. Hum Genet. 2005 Jul. 117(2-3):154-9. [Medline].

Aragüés IH, Domínguez MC, Blanco VP, Zubicaray BE, Fernández RS. LEOPARD syndrome and multiple granular cell tumors: An underreported association?. Indian J Dermatol Venereol Leprol. 2016 Jan-Feb. 82 (1):77-9. [Medline].

Limongelli G, Sarkozy A, Pacileo G, Calabro P, Digilio MC, Maddaloni V, et al. Genotype-phenotype analysis and natural history of left ventricular hypertrophy in LEOPARD syndrome. Am J Med Genet A. 2008 Mar 1. 146A(5):620-8. [Medline].

Limongelli G, Pacileo G, Marino B, Digilio MC, Sarkozy A, Elliott P, et al. Prevalence and clinical significance of cardiovascular abnormalities in patients with the LEOPARD syndrome. Am J Cardiol. 2007 Aug 15. 100(4):736-41. [Medline].

Yagubyan M, Panneton JM, Lindor NM, Conti E, Sarkozy A, Pizzuti A. LEOPARD syndrome: a new polyaneurysm association and an update on the molecular genetics of the disease. J Vasc Surg. 2004 Apr. 39(4):897-900. [Medline].

Porciello R, Divona L, Strano S, Carbone A, Calvieri C, Giustini S. Leopard syndrome. Dermatol Online J. 2008 Mar 15. 14(3):7. [Medline].

Rudolph G, Haritoglou C, Kalpadakis P, Boergen KP, Meitinger T. [LEOPARD syndrome with iris-retina-choroid coloboma. Discordant findings in monozygotic twins (MIM # 151 100)]. Ophthalmologe. 2001 Nov. 98(11):1101-3. [Medline].

Spatola M, Wider C, Kuntzer T, Croquelois A. PTPN11 mutation manifesting as LEOPARD syndrome associated with hypertrophic plexi and neuropathic pain. BMC Neurol. 2015 Apr 16. 15:55. [Medline]. [Full Text].

Lodish MB, Stratakis CA. The differential diagnosis of familial lentiginosis syndromes. Fam Cancer. 2011 Sep. 10(3):481-90. [Medline].

Cheng YP, Chiu HY, Hsiao TL, Hsiao CH, Lin CC, Liao YH. Scalp melanoma in a woman with LEOPARD syndrome: possible implication of PTPN11 signaling in melanoma pathogenesis. J Am Acad Dermatol. 2013 Oct. 69(4):e186-7. [Medline].

Jozwiak S, Schwartz RA, Janniger CK. LEOPARD syndrome (cardiocutaneous lentiginosis syndrome). Cutis. 1996 Apr. 57(4):208-14. [Medline].

Jozwiak S, Schwartz RA, Janniger CK, Zaremba J. Familial occurrence of the LEOPARD syndrome. Int J Dermatol. 1998 Jan. 37(1):48-51. [Medline].
Medscape Reference © 2011 WebMD, LLC