Arsenical Keratosis Clinical Presentation
Author: Chih-Shan Jason Chen, MD, PhD; Chief Editor: Dirk M Elston, MD more...
Updated: Mar 30, 2016
What would you like to print?
History
Arsenical keratoses, skin hyperpigmentation, and several types of skin cancers, including basal cell carcinoma, squamous cell carcinoma, and Merkel cell carcinoma,[27] are skin lesions characteristic of long-term arsenic exposure. A long latency period (years to decades) occurs before the development of these cutaneous lesions. A study in West Bengal, India, has shown an average latency for skin lesions was 23 years from first exposure to arsenic.[18, 20] Chronic arsenic exposure usually does not cause symptoms, and the skin lesions are usually the first sign to manifest clinically.
Physical
Arsenical keratoses are usually multiple and typically occur at sites of friction and trauma, especially on the palms and the soles. Keratoses usually manifest as small, punctate, nontender, horny, hard, yellowish, often symmetric, corn-like papules. The diameter of the papule ranges from 0.2-1 cm.
A mild form of the arsenic keratoses may manifest as diffuse thickening or small (<2 mm) keratoses with sand paper–like texture. Moderate-sized lesions (2-5 mm) may coalesce into larger (>5 mm) verrucous papules or plaques. These lesions are most frequently seen on the thenar and lateral borders of the palms; the base and lateral aspect of the digits; the soles, heels, and toes of the feet, as demonstrated in the image below. Keratoses may also develop on the dorsum of the hands, the arms, and the legs.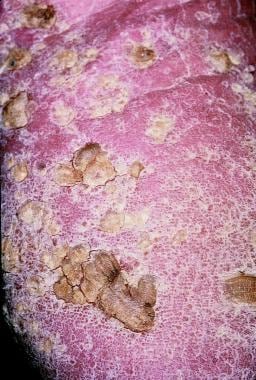 Arsenical keratosis on the sole of a carpenter.
Another type of arsenical keratosis seen in most patients with arsenical cancers manifests as scaly erythematous or pigmented patches on unexposed body areas.
Mee lines (transverse white bands) on the fingernails are seen in acute and chronic arsenic toxicity.
Other skin manifestations of chronic arsenic toxicity include hyperpigmented and hypopigmented macules on the torso and limbs. The pigmented lesions often present as finely freckled or raindroplike macules distributed bilaterally symmetrically. Diffuse hyperpigmented patches in the intertriginous, genital, and acral areas may be an early sign of chronic arsenic toxicity.
References
Tapio S, Grosche B. Arsenic in the aetiology of cancer. Mutat Res. 2006 Jun. 612(3):215-46. [Medline].

Hartwig A, Groblinghoff UD, Beyersmann D, Natarajan AT, Filon R, Mullenders LH. Interaction of arsenic(III) with nucleotide excision repair in UV-irradiated human fibroblasts. Carcinogenesis. 1997 Feb. 18(2):399-405. [Medline].

Jha AN, Noditi M, Nilsson R, Natarajan AT. Genotoxic effects of sodium arsenite on human cells. Mutat Res. 1992 Dec 16. 284(2):215-21. [Medline].

Zhao CQ, Young MR, Diwan BA, Coogan TP, Waalkes MP. Association of arsenic-induced malignant transformation with DNA hypomethylation and aberrant gene expression. Proc Natl Acad Sci U S A. 1997 Sep 30. 94(20):10907-12. [Medline].

Kachinskas DJ, Phillips MA, Qin Q, Stokes JD, Rice RH. Arsenate perturbation of human keratinocyte differentiation. Cell Growth Differ. 1994 Nov. 5(11):1235-41. [Medline].

Germolec DR, Yoshida T, Gaido K, et al. Arsenic induces overexpression of growth factors in human keratinocytes. Toxicol Appl Pharmacol. 1996 Nov. 141(1):308-18. [Medline].

Chen Y, Parvez F, Gamble M, Islam T, Ahmed A, Argos M. Arsenic exposure at low-to-moderate levels and skin lesions, arsenic metabolism, neurological functions, and biomarkers for respiratory and cardiovascular diseases: review of recent findings from the Health Effects of Arsenic Longitudinal Study (HEALS) in Bangladesh. Toxicol Appl Pharmacol. 2009 Sep 1. 239(2):184-92. [Medline].

Ghosh P, Banerjee M, Giri AK, Ray K. Toxicogenomics of arsenic: classical ideas and recent advances. Mutat Res. 2008 Sep-Oct. 659(3):293-301. [Medline].

Banerjee M, Sarma N, Biswas R, Roy J, Mukherjee A, Giri AK. DNA repair deficiency leads to susceptibility to develop arsenic-induced premalignant skin lesions. Int J Cancer. 2008 Jul 15. 123(2):283-7. [Medline].

Mandal BK, Suzuki KT. Arsenic round the world: a review. Talanta. 2002 Aug 16. 58(1):201-35. [Medline].

Tollestrup K, Frost FJ, Cristiani M, McMillan GP, Calderon RL, Padilla RS. Arsenic-induced skin conditions identified in southwest dermatology practices: an epidemiologic tool?. Environ Geochem Health. 2005 Feb. 27(1):47-53. [Medline].

Barati AH, Maleki A, Alasvand M. Multi-trace elements level in drinking water and the prevalence of multi-chronic arsenical poisoning in residents in the west area of Iran. Sci Total Environ. 2010 Mar 1. 408(7):1523-9. [Medline].

Yeh S, How SW, Lin CS. Arsenical cancer of skin. Histologic study with special reference to Bowen's disease. Cancer. 1968 Feb. 21(2):312-39. [Medline].

Tseng WP, Chu HM, How SW, Fong JM, Lin CS, Yeh S. Prevalence of skin cancer in an endemic area of chronic arsenicism in Taiwan. J Natl Cancer Inst. 1968 Mar. 40(3):453-63. [Medline].

Fierz U. [Follow-up studies of the side-effects of the treatment of skin diseases with inorganic arsenic]. Dermatologica. 1965. 131(1):41-58. [Medline].

Rahman MM, Chowdhury UK, Mukherjee SC, et al. Chronic arsenic toxicity in Bangladesh and West Bengal, India--a review and commentary. J Toxicol Clin Toxicol. 2001. 39(7):683-700. [Medline].

Tondel M, Rahman M, Magnuson A, Chowdhury IA, Faruquee MH, Ahmad SA. The relationship of arsenic levels in drinking water and the prevalence rate of skin lesions in Bangladesh. Environ Health Perspect. 1999 Sep. 107(9):727-9. [Medline].

Haque R, Mazumder DN, Samanta S, et al. Arsenic in drinking water and skin lesions: dose-response data from West Bengal, India. Epidemiology. 2003 Mar. 14(2):174-82. [Medline].

Miki Y, Kawatsu T, Matsuda K, Machino H, Kubo K. Cutaneous and pulmonary cancers associated with Bowen's disease. J Am Acad Dermatol. 1982 Jan. 6(1):26-31. [Medline].

Smith AH, Steinmaus CM. Health effects of arsenic and chromium in drinking water: recent human findings. Annu Rev Public Health. 2009 Apr 29. 30:107-22. [Medline].

Merck Pharmaceuticals. Merck's Manual of the Materia Medica. 1st ed. Whitehouse Station, NJ: 1899.

Tay CH. Cutaneous manifestations of arsenic poisoning due to certain Chinese herbal medicine. Australas J Dermatol. 1974 Dec. 15(3):121-31. [Medline].

Tay CH, Seah CS. Arsenic poisoning from anti-asthmatic herbal preparations. Med J Aust. 1975 Sep 13. 2(11):424-8. [Medline].

Chi YW, Chen SL, Yang MH, et al. [Heavy metals in traditional Chinese medicine: ba-pao-neu-hwang-san]. Zhonghua Min Guo Xiao Er Ke Yi Xue Hui Za Zhi. 1993 May-Jun. 34(3):181-90. [Medline].

Guha Mazumder DN. Chronic arsenic toxicity: clinical features, epidemiology, and treatment: experience in West Bengal. J Environ Sci Health A Tox Hazard Subst Environ Eng. 2003 Jan. 38(1):141-63. [Medline].

Morales KH, Ryan L, Kuo TL, Wu MM, Chen CJ. Risk of internal cancers from arsenic in drinking water. Environ Health Perspect. 2000 Jul. 108(7):655-61. [Medline].

Lien HC, Tsai TF, Lee YY, Hsiao CH. Merkel cell carcinoma and chronic arsenicism. J Am Acad Dermatol. 1999 Oct. 41(4):641-3. [Medline].

Yoshida T, Yamauchi H, Fan Sun G. Chronic health effects in people exposed to arsenic via the drinking water: dose-response relationships in review. Toxicol Appl Pharmacol. 2004 Aug 1. 198(3):243-52. [Medline].

WashingtonDeceit. Dermatopathology of arsenical keratosis. YouTube. Available at www.youtube.com/watch?v=xBreXMMHmLU. Accessed: February 26, 2008.

Son SB, Song HJ, Son SW. Successful treatment of palmoplantar arsenical keratosis with a combination of keratolytics and low-dose acitretin. Clin Exp Dermatol. 2008 Mar. 33(2):202-4. [Medline].

Yerebakan O, Ermis O, Yilmaz E, Basaran E. Treatment of arsenical keratosis and Bowen's disease with acitretin. Int J Dermatol. 2002 Feb. 41(2):84-7. [Medline].

Boonchai W. Treatment of precancerous and cancerous lesions of chronic arsenicism with 5% imiquimod cream. Arch Dermatol. 2006 Apr. 142(4):531-2. [Medline].

Kjerkegaard UK, Heje JM, Vestergaard C, Stausbøl-Grøn B, Stolle LB. [Arsenical keratosis treated by dermatome shaving.]. Ugeskr Laeger. 2014 May 5. 176(19):[Medline].

Hsueh YM, Cheng GS, Wu MM, Yu HS, Kuo TL, Chen CJ. Multiple risk factors associated with arsenic-induced skin cancer: effects of chronic liver disease and malnutritional status. Br J Cancer. 1995 Jan. 71(1):109-14. [Medline].

Ahsan H, Steinmaus C. Invited commentary: use of arsenical skin lesions to predict risk of internal cancer: implications for prevention and future research. Am J Epidemiol. 2013 Feb 1. 177(3):213-6. [Medline]. [Full Text].

Sánchez G, Nova J. Risk factors for squamous cell carcinoma, a study by the National Dermatology Centre of Colombia. Actas Dermosifiliogr. 2013 Oct. 104(8):672-8. [Medline].

Shannon RL, Strayer DS. Arsenic-induced skin toxicity. Hum Toxicol. 1989 Mar. 8(2):99-104. [Medline].
Medscape Reference © 2011 WebMD, LLC