Extramammary Paget Disease Workup
Author: Neil Sandhu, MD; Chief Editor: Dirk M Elston, MD more...
Updated: Oct 03, 2014
What would you like to print?
Approach Considerations
The diagnosis of extramammary Paget disease (EMPD) requires a high degree of clinical suspicion followed by skin biopsy with pathologic correlation. Initially, a detailed review of systems and physical examination should be performed in all patients. The examination should include the following:
Full skin examination

Palpation of all lymph nodes

Rectal examination

Sigmoidoscopy

Cystoscopy
Additionally, women require pelvic examination with a Papanicolaou test, breast examination, and colposcopy.
Imaging Studies
Imaging studies in EMPD should be directed by the anatomic location of the involved skin and the sex of the patient. Imaging studies should be used to augment physical and endoscopic examination in assessing possible undetected internal malignancy.[2]
Positron emission tomography (PET) may be helpful in assessing regional lymph nodes and locating distal disease, especially in patients with dermal invasion noted on initial skin biopsy specimens.[4]
Skin Biopsy and Histologic Findings
Because EMPD extends beyond the visibly involved margins, obviously involved skin should be examined by using transverse frozen sections or serial vertical sections. Perform skin biopsy to evaluate possible EMPD in patients in whom ongoing therapy is ineffective. See the image below.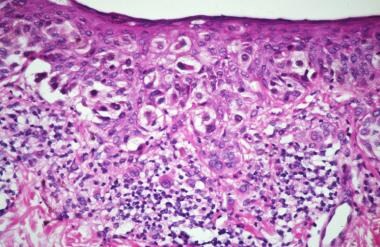 Photomicrograph of malignant melanoma in situ of skin displays prominent intraepidermal pagetoid spread. Note that melanoma cells are present in all layers of epidermis, mostly in single units. Cytoplasm of melanoma cells is vacuolated. Moderate upper dermal chronic inflammatory infiltrate is present (hematoxylin-eosin, original magnification ×250). S-100 protein and homatropine methylbromide immunostains are positive in melanoma cells, whereas carcinoembryonic antigen is negative. No epithelial mucin is seen in these tumor cells.
The epidermis is diffusely infiltrated with large vacuolated cells that have a bluish cytoplasm; these are called Paget cells. These distinctive cells are found in the lower epidermis and may proliferate to the rete ridges and adnexa. The epidermis shows varying degrees of acanthosis, hyperkeratosis, and parakeratosis. With histochemical analysis, Paget cells are stained with sialomucin by using periodic acid–Schiff (PAS) followed by diastase digestion.
It is important to keep in mind the differential diagnosis of tumors with an epidermotropic growth pattern and the importance of immunohistochemical staining in the histologic workup of such tumors. The following should all be considered[5] :
Squamous cell carcinoma in situ

Melanoma

Mycosis fungoides

Eccrine porocarcinoma

Sebaceous carcinoma of the eyelid

Mammary Paget disease (PD) and EMPD

Merkel cell carcinoma

Epidermotropic metastases
Cytokeratin 20 (CK20) and BRST-2 are both positive in large subsets of primary and secondary EMPD. Using HER2/neu and CDX2 may be beneficial to distinguish primary EMPD from secondary EMPD due to anorectal adenocarcinoma but not due to urothelial or prostatic malignancy.[6]
Medscape Reference © 2011 WebMD, LLC