Keratoacanthoma
Author: Tsu-Yi Chuang, MD, MPH, FAAD; Chief Editor: William D James, MD  more...
Updated: Feb 29, 2016
What would you like to print?
Background
Keratoacanthoma (KA) is a relatively common low-grade tumor that originates in the pilosebaceous glands and closely resembles squamous cell carcinoma (SCC). In fact, strong arguments support classifying keratoacanthoma as a variant of invasive SCC.[1, 2] In most pathology/biopsy reports, dermatopathologists refer to the lesion as "squamous cell carcinoma, keratoacanthoma-type." Recently, however, some have argued for a distinction between keratoacanthoma and SCC based on gene expression[3] or cutaneous marker.[4]
Keratoacanthoma is characterized by rapid growth over a few weeks to months, followed by spontaneous resolution over 4-6 months in most cases. Keratoacanthoma may progress rarely to invasive or metastatic carcinoma. Whether these cases were SCC or keratoacanthoma, the reports highlight the difficulty of distinctly classifying individual cases.[5, 6, 7, 8]
The image below depicts keratoacanthoma of the left forehead.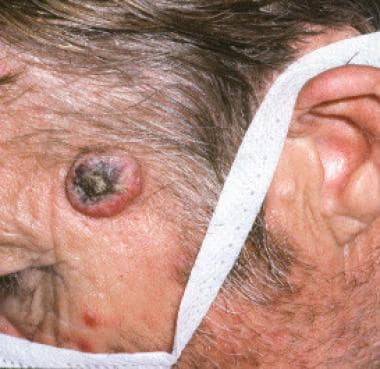 Keratoacanthoma of the left forehead.
See Nonmelanoma Skin Cancers You Need to Know, a Critical Images slideshow, to help correctly identify these lesions.
Pathophysiology
Trauma, ultraviolet light, chemical carcinogens, human papillomavirus, genetic factors, and immunocompromised status have been implicated as etiologic or triggering factors. The introduction of BRAF inhibitor therapy for melanoma and hedgehog pathway inhibitor therapy for advanced basal cell carcinoma have elicited a surge in keratoacanthoma (KA) incidence.[9]
Keratoacanthoma and conventional SCC share very similar epidemiological features, which suggests a possible common pathogenesis, such as actinic damage.[10] Interestingly, in Palm Springs, California, this author has seen more patients with SCC/keratoacanthoma than straightforward SCC. In population-based studies in Kauai, Hawaii, keratoacanthoma and SCC had a comparable incidence (106 cases per 100,000 population for keratoacanthoma and 118.2 cases per 100,000 population for SCC).[10, 11] Most keratoacanthomas and SCCs developed on head/neck and limbs (keratoacanthoma, 78%; SCC, 85%). The incidence of keratoacanthoma and SCC increased significantly after age 64 years. The average age of patients was 67 years in keratoacanthoma and 66 years in SCC. Male-to-female ratios for both conditions were similar, at 2:1.[10]
Epidemiology
Frequency
United States
The sole published study on keratoacanthoma (KA) in a white US population took place in Hawaii and estimated the incidence at 106 cases per 100,000. This study reported keratoacanthoma incidence equal to SCC and challenged the commonly reported incidence ratio of keratoacanthoma to SCC of 1:3. Peak incidence occurs in the seventh decade or beyond. Keratoacanthoma is uncommon in darker-skinned patients.[10, 12, 13, 14]
International
Based on the Hawaiian data, the incidence of keratoacanthoma in ethnic Japanese, Filipino, and Hawaiian populations has been estimated to be 22, 7, and 6 cases per 100,000 population, respectively, approximately one fifth to one sixteenth of the incidence rate found in American whites. In other studies, the ratio of keratoacanthoma to SCC has ranged from 1:0.6 to 1:5 in different geographic locations.[10, 12, 13, 14]
Race
Keratoacanthoma is less common in darker-skinned individuals.
Sex
The male-to-female ratio for keratoacanthoma is 2:1.
Age
Keratoacanthoma has been reported in all age groups, but incidence increases with age. Keratoacanthoma is rare in persons younger than 20 years.
References
Manstein CH, Frauenhoffer CJ, Besden JE. Keratoacanthoma: is it a real entity?. Ann Plast Surg. 1998 May. 40(5):469-72. [Medline].

Gleich T, Chiticariu E, Huber M, Hohl D. Keratoacanthoma: A distinct entity?. Exp Dermatol. 2015 Oct 17. [Medline].

Ra SH, Su A, Li X, Zhou J, Cochran AJ, Kulkarni RP, et al. Keratoacanthoma and squamous cell carcinoma are distinct from a molecular perspective. Mod Pathol. 2015 Jun. 28(6):799-806. [Medline].

Kanzaki A, Kudo M, Ansai S, Peng WX, Ishino K, Yamamoto T, et al. Insulin-like growth factor 2 mRNA-binding protein-3 as a marker for distinguishing between cutaneous squamous cell carcinoma and keratoacanthoma. International journal of oncology. 2016 Mar. 48(3):1007-15. [Medline].

Schwartz RA. Keratoacanthoma. J Am Acad Dermatol. 1994 Jan. 30(1):1-19; quiz 20-2. [Medline].

Magalhaes RF, Cruvinel GT, Cintra GF, Cintra ML, Ismael AP, de Moraes AM. Diagnosis and follow-up of keratoacanthoma-like lesions: clinical-histologic study of 43 cases. J Cutan Med Surg. 2008 Jul-Aug. 12(4):163-73. [Medline].

Kossard S, Tan KB, Choy C. Keratoacanthoma and infundibulocystic squamous cell carcinoma. Am J Dermatopathol. 2008 Apr. 30(2):127-34. [Medline].

Cribier B, Asch P, Grosshans E. Differentiating squamous cell carcinoma from keratoacanthoma using histopathological criteria. Is it possible? A study of 296 cases. Dermatology. 1999. 199(3):208-12. [Medline].

Macdonald JB, Macdonald B, Golitz LE, LoRusso P, Sekulic A. Cutaneous adverse effects of targeted therapies: Part II: Inhibitors of intracellular molecular signaling pathways. J Am Acad Dermatol. 2015 Feb. 72 (2):221-36; quiz 237-8. [Medline].

Chuang TY, Reizner GT, Elpern DJ, Stone JL, Farmer ER. Keratoacanthoma in Kauai, Hawaii. The first documented incidence in a defined population. Arch Dermatol. 1993 Mar. 129(3):317-9. [Medline].

Chuang TY, Reizner GT, Elpern DJ, Stone JL, Farmer ER. Squamous cell carcinoma in Kauai, Hawaii. Int J Dermatol. 1995 Jun. 34(6):393-7. [Medline].

Chuang TY, Reizner GT, Elpern DJ, Stone JL, Farmer ER. Non-melanoma skin cancer and keratoacanthoma in Filipinos: an incidence report from Kauai, Hawaii. Int J Dermatol. 1993 Oct. 32(10):717-8. [Medline].

Reizner GT, Chuang TY, Elpern DJ, Stone JL, Farmer ER. Keratoacanthoma in Japanese Hawaiians in Kauai, Hawaii. Int J Dermatol. 1995 Dec. 34(12):851-3. [Medline].

Reizner GT, Chuang TY, Elpern DJ, Stone JL, Farmer ER. Basal cell carcinoma and keratoacanthoma in Hawaiians: an incidence report. J Am Acad Dermatol. 1993 Nov. 29(5 Pt 1):780-2. [Medline].

Letzel S, Drexler H. Occupationally related tumors in tar refinery workers. J Am Acad Dermatol. 1998 Nov. 39(5 Pt 1):712-20. [Medline].

Miot HA, Miot LD, da Costa AL, Matsuo CY, Stolf HO, Marques ME. Association between solitary keratoacanthoma and cigarette smoking: a case-control study. Dermatol Online J. 2006 Feb 28. 12(2):2. [Medline].

Hsi ED, Svoboda-Newman SM, Stern RA, Nickoloff BJ, Frank TS. Detection of human papillomavirus DNA in keratoacanthomas by polymerase chain reaction. Am J Dermatopathol. 1997 Feb. 19(1):10-5. [Medline].

Lu S, Syrjanen SL, Havu VK, Syrjanen S. Known HPV types have no association with keratoacanthomas. Arch Dermatol Res. 1996 Mar. 288(3):129-32. [Medline].

Wieland U, Scola N, Stolte B, Stucker M, Silling S, Kreuter A. No evidence for a causal role of Merkel cell polyomavirus in keratoacanthoma. J Am Acad Dermatol. 2012 Jul. 67(1):41-6. [Medline].

Alloo A, Garibyan L, LeBoeuf N, et al. Photodynamic therapy for multiple eruptive keratoacanthomas associated with vemurafenib treatment for metastatic melanoma. Arch Dermatol. 2012 Mar. 148(3):363-6. [Medline].

Clausen OP, Beigi M, Bolund L, et al. Keratoacanthomas frequently show chromosomal aberrations as assessed by comparative genomic hybridization. J Invest Dermatol. 2002 Dec. 119(6):1367-72. [Medline].

Kim DK, Kim JY, Kim HT, Han KH, Shon DG. A specific chromosome aberration in a keratoacanthoma. Cancer Genet Cytogenet. 2003 Apr 1. 142(1):70-2. [Medline].

Cabibi D, Conway de Macario E, Ingrao S, Porcasi R, Zucco F, Macario AJ, et al. CD1A-positive cells and HSP60 (HSPD1) levels in keratoacanthoma and squamous cell carcinoma. Cell Stress Chaperones. 2015 Oct 6. [Medline].

Hatta N, Takata A, Ishizawa S, Niida Y. Family with MSH2 mutation presenting with keratoacanthoma and precancerous skin lesions. J Dermatol. 2015 Nov. 42 (11):1087-90. [Medline].

Meffert JJ. Cutaneous sporotrichosis presenting as a keratoacanthoma. Cutis. 1998 Jul. 62(1):37-9. [Medline].

Patel NP, Cervino AL. Treatment of keratoacanthoma: Is intralesional methotrexate an option?. Can J Plastic Surg. Summer 2011. (19)2:e15-8.

Sanders S, Busam KJ, Halpern AC, Nehal KS. Intralesional corticosteroid treatment of multiple eruptive keratoacanthomas: case report and review of a controversial therapy. Dermatol Surg. 2002 Oct. 28(10):954-8. [Medline].

Sayama S, Tagami H. Treatment of keratoacanthoma with intralesional bleomycin. Br J Dermatol. 1983 Oct. 109(4):449-52. [Medline].

Annest NM, VanBeek MJ, Arpey CJ, Whitaker DC. Intralesional methotrexate treatment for keratoacanthoma tumors: a retrospective study and review of the literature. J Am Acad Dermatol. 2007 Jun. 56(6):989-93. [Medline].

Dendorfer M, Oppel T, Wollenberg A, Prinz JC. Topical treatment with imiquimod may induce regression of facial keratoacanthoma. Eur J Dermatol. 2003 Jan-Feb. 13(1):80-2. [Medline].

Grob JJ, Suzini F, Richard MA, et al. Large keratoacanthomas treated with intralesional interferon alfa-2a. J Am Acad Dermatol. 1993 Aug. 29(2 Pt 1):237-41. [Medline].

Canas GC, Robson KJ, Arpey CJ. Persistent keratoacanthoma: challenges in management. Dermatol Surg. 1998 Dec. 24(12):1364-9. [Medline].

Frank TL, Maguire HC Jr, Greenbaum SS. Multiple painful keratoacanthomas. Int J Dermatol. 1996 Sep. 35(9):648-50. [Medline].
Medscape Reference © 2011 WebMD, LLC