Overview
Background
Keratoacanthoma (KA) is a relatively common low-grade tumor that originates in the pilosebaceous glands and closely resembles squamous cell carcinoma (SCC). In fact, strong arguments support classifying keratoacanthoma as a variant of invasive SCC. [1, 2] In most pathology/biopsy reports, dermatopathologists refer to the lesion as "squamous cell carcinoma, keratoacanthoma-type." Recently, however, some have argued for a distinction between keratoacanthoma and SCC based on gene expression [3] or cutaneous marker. [4]
Keratoacanthoma is characterized by rapid growth over a few weeks to months, followed by spontaneous resolution over 4-6 months in most cases. Keratoacanthoma may progress rarely to invasive or metastatic carcinoma. Whether these cases were SCC or keratoacanthoma, the reports highlight the difficulty of distinctly classifying individual cases. [5, 6, 7, 8]
The image below depicts keratoacanthoma of the left forehead.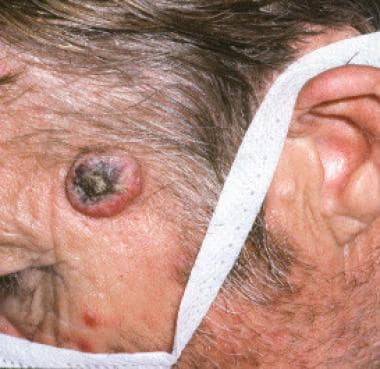 Keratoacanthoma of the left forehead.
See Nonmelanoma Skin Cancers You Need to Know, a Critical Images slideshow, to help correctly identify these lesions.
Pathophysiology
Trauma, ultraviolet light, chemical carcinogens, human papillomavirus, genetic factors, and immunocompromised status have been implicated as etiologic or triggering factors. The introduction of BRAF inhibitor therapy for melanoma and hedgehog pathway inhibitor therapy for advanced basal cell carcinoma have elicited a surge in keratoacanthoma (KA) incidence. [9]
Keratoacanthoma and conventional SCC share very similar epidemiological features, which suggests a possible common pathogenesis, such as actinic damage. [10] Interestingly, in Palm Springs, California, this author has seen more patients with SCC/keratoacanthoma than straightforward SCC. In population-based studies in Kauai, Hawaii, keratoacanthoma and SCC had a comparable incidence (106 cases per 100,000 population for keratoacanthoma and 118.2 cases per 100,000 population for SCC). [10, 11] Most keratoacanthomas and SCCs developed on head/neck and limbs (keratoacanthoma, 78%; SCC, 85%). The incidence of keratoacanthoma and SCC increased significantly after age 64 years. The average age of patients was 67 years in keratoacanthoma and 66 years in SCC. Male-to-female ratios for both conditions were similar, at 2:1. [10]
Epidemiology
Frequency
United States
The sole published study on keratoacanthoma (KA) in a white US population took place in Hawaii and estimated the incidence at 106 cases per 100,000. This study reported keratoacanthoma incidence equal to SCC and challenged the commonly reported incidence ratio of keratoacanthoma to SCC of 1:3. Peak incidence occurs in the seventh decade or beyond. Keratoacanthoma is uncommon in darker-skinned patients. [10, 12, 13, 14]
International
Based on the Hawaiian data, the incidence of keratoacanthoma in ethnic Japanese, Filipino, and Hawaiian populations has been estimated to be 22, 7, and 6 cases per 100,000 population, respectively, approximately one fifth to one sixteenth of the incidence rate found in American whites. In other studies, the ratio of keratoacanthoma to SCC has ranged from 1:0.6 to 1:5 in different geographic locations. [10, 12, 13, 14]
Race
Keratoacanthoma is less common in darker-skinned individuals.
Sex
The male-to-female ratio for keratoacanthoma is 2:1.
Age
Keratoacanthoma has been reported in all age groups, but incidence increases with age. Keratoacanthoma is rare in persons younger than 20 years.
What would you like to print?