Osteoma Cutis Clinical Presentation
Author: Luke Lennox, MD; Chief Editor: William D James, MD more...
Updated: Mar 20, 2015
What would you like to print?
History
Patients may report having hard areas in the skin. A familial occurrence of Albright hereditary osteodystrophy may be present.
Physical
The presentations of osteoma cutis can be highly variable, with clinical entities that are defined by the number, the form, and the location of the lesions. There are four clinical types: isolated, widespread, multiple miliary facial, and platelike osteomas. Hence, they may present as single or multiple hard nodules, miliary tumors, or plaques.[5, 6] The face, scalp, extremities, digits, and subungual areas are most commonly affected.
See the images below.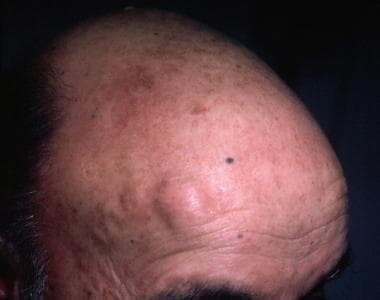 Solitary nodule on the frontal part of the scalp.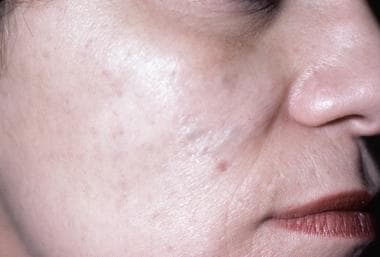 Miliary cutaneous osteomata. Multiple, small, bluish, stony-hard nodules in an acneiform distribution along the cheeks.
Causes
Osteoma cutis can be a feature of several groups of patients. In can be secondary to inflammatory skin diseases, trauma/scars, and cutaneous tumors. It can also occur with genetic syndromes or in isolation.
Albright hereditary osteodystrophy is due to an autosomal dominant defect in the alpha subunit of intracellular G proteins.[7] The characteristic phenotype includes short stature, round facies, defective teeth, mental retardation, brachydactyly (fourth and fifth metacarpals/"knuckle knuckle dimple dimple" of the Archibald sign), and osteomas of the soft tissue and the skin. Classically, it presents with pseudohypoparathyroidism (elevated parathyroid hormone [PTH], hypocalcemia, hyperphosphatemia secondary to renal PTH resistance). Tetany is often the presenting sign, secondary to the low calcium level. Albright hereditary osteodystrophy can cause osteoma cutis without endocrine abnormalities in the pseudo-pseudohypoparathyroidism variant.
Progressive osseous heteroplasia is also, like Albright hereditary osteodystrophy, associated with a defect in the alpha subunit of G proteins (GNAS1 gene). It is characterized by ossification of the dermis in infancy, with progression to the subcutaneous and deeper connective tissues throughout childhood. It is not associated with endocrine changes, but it can have a severe affect on growth and joint mobility.[6]
Congenital platelike osteomatosis, a type of primary osteoma cutis, meets the following criteria:
Lesion present at birth (or within first year of life)

No evidence of abnormal calcium or phosphorous metabolism

No evidence of trauma or infection

Presence of at least one bony plate
Congenital platelike osteomatosis is most commonly found on the scalp. It should be monitored, as its diagnosis could be representative of a slow-evolving progressive osseous heteroplasia (something with much more severe consequences).[8]
Fibrodysplasia ossificans heteroplasia and fibrodysplasia ossificans progressiva (stone man syndrome) are possible causes.
Osteoma cutis can be found in patients with Gardner syndrome, which includes colonic polyposis, retinal hyperplasia, and other osseous and soft tissue growths.
Multiple miliary osteomas of the face often present in patients with a history of severe acne, sunburn, neurotic excoriation, or dermabrasion. These small, hard papules can have a bluish hue, especially in patients who have been exposed to tetracycline treatment.[9, 4]
References
Burgdorf W, Nasemann T. Cutaneous osteomas: a clinical and histopathologic review. Arch Dermatol Res. 1977 Dec 12. 260(2):121-35. [Medline].

Roth SI, Stowell RE, Helwigeb. Cutaneous ossification. Report of 120 cases and review of the literature. Arch Pathol. 1963 Jul. 76:44-54. [Medline].

Talsania N, Jolliffe V, O'Toole EA, Cerio R. Platelike osteoma cutis. J Am Acad Dermatol. 2011 Mar. 64(3):613-5. [Medline].

Chabra IS, Obagi S. Evaluation and management of multiple miliary osteoma cutis: case series of 11 patients and literature review. Dermatol Surg. 2014 Jan. 40(1):66-8. [Medline].

Cohen PR, Tschen JA, Schulze KE, Martinelli PT, Nelson BR. Dermal plaques of the face and scalp. Platelike osteoma cutis. Arch Dermatol. 2007 Jan. 143(1):109-14. [Medline].

Coutinho I, Teixeira V, Cardoso JC, Reis JP. Plate-like osteoma cutis: nothing but skin and bone?. BMJ Case Rep. 2014 May 5. 2014:[Medline].

Ward S, Sugo E, Verge CF, Wargon O. Three cases of osteoma cutis occurring in infancy. A brief overview of osteoma cutis and its association with pseudo-pseudohypoparathyroidism. Australas J Dermatol. 2011 May. 52(2):127-31. [Medline].

Worret WI, Burgdorf W. [Congenital, plaque-like osteoma of the skin in an infant]. Hautarzt. 1978 Nov. 29(11):590-6. [Medline].

Riahi RR, Cohen PR. Multiple miliary osteoma cutis of the face after initiation of alendronate therapy for osteoporosis. Skinmed. 2011 Jul-Aug. 9(4):258-9. [Medline].

Altman JF, Nehal KS, Busam KJ, Halpern AC. Treatment of primary miliary osteoma cutis with incision, curettage, and primary closure. J Am Acad Dermatol. 2001 Jan. 44(1):96-9. [Medline].

Kim SY, Park SB, Lee Y, Seo YJ, Lee JH, Im M. Multiple miliary osteoma cutis: treatment with CO(2) laser and hook. J Cosmet Laser Ther. 2011 Oct. 13(5):227-30. [Medline].

Cohen AD, Chetov T, Cagnano E, Naimer S, Vardy DA. Treatment of multiple miliary osteoma cutis of the face with local application of tretinoin (all-trans-retinoic acid): a case report and review of the literature. J Dermatolog Treat. 2001 Sep. 12(3):171-3. [Medline].

Baskan EB, Turan H, Tunali S, Toker SC, Adim SB, Bolca N. Miliary osteoma cutis of the face: treatment with the needle microincision-extirpation method. J Dermatolog Treat. 2007. 18(4):252-4. [Medline].

Ragsdale BD. Lever's Histopathology of the Skin. Philadelphia, Pa: Lippincott-Raven; 1997. 965-7.

Watsky KL. Arndt KA, ed. Cutaneous Medicine and Surgery. Philadelphia, Pa: WB Saunders; 1996. 1828-31.

Weedon D, ed. Skin Pathology. 2nd ed. New York, NY: Churchill Livingstone; 2002. 355-7.
Medscape Reference © 2011 WebMD, LLC