Protein-Energy Malnutrition
Author: Noah S Scheinfeld, JD, MD, FAAD; Chief Editor: Romesh Khardori, MD, PhD, FACP more...
Updated: Jan 13, 2015
What would you like to print?
Background
The World Health Organization (WHO)[1] defines malnutrition as "the cellular imbalance between the supply of nutrients and energy and the body's demand for them to ensure growth, maintenance, and specific functions." The term protein-energy malnutrition (PEM) applies to a group of related disorders that include marasmus, kwashiorkor (see the images below), and intermediate states of marasmus-kwashiorkor. The term marasmus is derived from the Greek word marasmos, which means withering or wasting. Marasmus involves inadequate intake of protein and calories and is characterized by emaciation. The term kwashiorkor is taken from the Ga language of Ghana and means "the sickness of the weaning." Williams first used the term in 1933, and it refers to an inadequate protein intake with reasonable caloric (energy) intake. Edema is characteristic of kwashiorkor but is absent in marasmus.
This photograph shows children and a nurse attendant at a Nigerian orphanage in the late 1960s. Notice four of the children with gray-blond hair, a symptom of the protein-deficiency disease kwashiorkor. Image courtesy of Dr. Lyle Conrad and the CDC Public Health Image Library.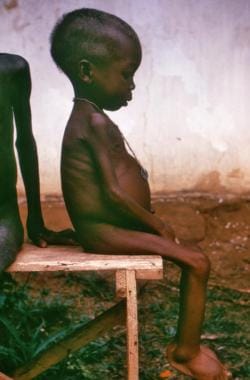 This late 1960s photograph shows a seated, listless child who was among many kwashiorkor cases found in Nigerian relief camps during the Nigerian-Biafran war. Kwashiorkor is a disease brought on due to a severe dietary protein deficiency, and this child, whose diet fit such a deficiency profile, presented with symptoms including edema of legs and feet, light-colored, thinning hair, anemia, a pot-belly, and shiny skin. Image courtesy of Dr. Lyle Conrad and the CDC Public Health Image Library.
Studies suggest that marasmus represents an adaptive response to starvation, whereas kwashiorkor represents a maladaptive response to starvation. Children may present with a mixed picture of marasmus and kwashiorkor, and children may present with milder forms of malnutrition. For this reason, Jelliffe suggested the term protein-calorie (energy) malnutrition to include both entities.
Although protein-energy malnutrition affects virtually every organ system, this article primarily focuses on its cutaneous manifestations. Patients with protein-energy malnutrition may also have deficiencies of vitamins, essential fatty acids, and trace elements, all of which may contribute to their dermatosis.
Pathophysiology
In general, marasmus is an insufficient energy intake to match the body's requirements. As a result, the body draws on its own stores, resulting in emaciation. In kwashiorkor, adequate carbohydrate consumption and decreased protein intake lead to decreased synthesis of visceral proteins. The resulting hypoalbuminemia contributes to extravascular fluid accumulation. Impaired synthesis of B-lipoprotein produces a fatty liver.
Protein-energy malnutrition also involves an inadequate intake of many essential nutrients. Low serum levels of zinc have been implicated as the cause of skin ulceration in many patients. In a 1979 study of 42 children with marasmus, investigators found that only those children with low serum levels of zinc developed skin ulceration. Serum levels of zinc correlated closely with the presence of edema, stunting of growth, and severe wasting. The classic "mosaic skin" and "flaky paint" dermatosis of kwashiorkor bears considerable resemblance to the skin changes of acrodermatitis enteropathica, the dermatosis of zinc deficiency.
In 2007, Lin et al[2] stated that "a prospective assessment of food and nutrient intake in a population of Malawian children at risk for kwashiorkor" found "no association between the development of kwashiorkor and the consumption of any food or nutrient."
Marasmus and kwashiorkor can both be associated with impaired glucose clearance that relates to dysfunction of pancreatic beta-cells.[3] In utero, plastic mechanisms appear to operate, adjusting metabolic physiology and adapting postnatal undernutrition and malnutrition to define whether marasmus and kwashiorkor will develop.[4]
In 2012, a report from Texas noted an 18-month-old infant with type 1 glutaric acidemia who had extensive desquamative plaques, generalized nonpitting edema, and red-tinged sparse hair, with low levels of zinc, alkaline phosphatase, albumin, and iron. This patient has a variation on kwashiorkor, and the authors suggest that it be termed acrodermatitis dysmetabolica.[5] On the same note, a boy aged 18 months with type 1 glutaric academia suffered from zinc deficiency and acquired protein energy malnutrition.[6]
For complex reasons, sickle cell anemia can predispose suffers to protein malnutrition.[7]
Protein energy malnutrition ramps up arginase activity in macrophages and monocytes.[8]
Epidemiology
Frequency
United States
Protein-energy malnutrition is the most common form of nutritional deficiency among patients who are hospitalized in the United States. As many as half of all patients admitted to the hospital have malnutrition to some degree. In a recent survey in a large children's hospital, the prevalence of acute and chronic protein-energy malnutrition was more than one half. This is very much a disease that occurs in 21st century America, and a case in an 8-month-old child in suburban Detroit, Mich, was reported in 2010.[9] Additional cases of kwashiorkor have been noted to occur in the United States. An interesting report of a baby with a clinical picture imitating Stevens-Johnson syndrome but who in fact had kwashiorkor has been noted.[10] Babies solely fed on rice milk can develop kwashiorkor even in the United States.
In a survey focusing on low-income areas of the United States, 22-35% of children aged 2-6 years were below the 15th percentile for weight. Another survey showed that 11% of children in low-income areas had height-for-age measurements below the 5th percentile. Poor growth is seen in 10% of children in rural populations.
In hospitalized elderly persons, up to 55% are undernourished. Up to 85% of institutionalized elderly persons are undernourished. Studies have shown that up to 50% have vitamin and mineral intake that is less than the recommended dietary allowance and up to 30% of elderly persons have below-normal levels of vitamins and minerals.
International
In 2000, the WHO[11] estimated that malnourished children numbered 181.9 million (32%) in developing countries. In addition, an estimated 149.6 million children younger than 5 years are malnourished when measured in terms of weight for age. In south central Asia and eastern Africa, about half the children have growth retardation due to protein-energy malnutrition. This figure is 5 times the prevalence in the western world.
A cross-sectional study of Palestinian adolescents found that 55.66% of boys and 64.81% of girls had inadequate energy intake, with inadequate protein intake in 15.07% of boys and 43.08% of girls. The recommended daily allowance for micronutrients was met by less than 80% of the study subjects.[12]
Mortality/Morbidity
Approximately 50% of the 10 million deaths each year in developing countries occur because of malnutrition in children younger than 5 years. In kwashiorkor, mortality tends to decrease as the age of onset increases.
Race
Dermatologic findings appear more significant and occur more frequently among darker-skinned peoples. This finding is likely explained by the greater prevalence and the increased severity of protein-energy malnutrition in developing countries and not to a difference in racial susceptibility.
Age
Marasmus most commonly occurs in children younger than 5 years. This period is characterized by increased energy requirements and increased susceptibility to viral and bacterial infections. Weaning (the deprivation of breast milk and the commencement of nourishment with other food) occurs during this high-risk period. Weaning is often complicated by geography, economy, hygiene, public health, culture, and dietetics. It can be ineffective when the foods introduced provide inadequate nutrients, when the food and water are contaminated, when the access to health care is inadequate, and/or when the patient cannot access or purchase proper nourishment.
In some studies, the protein-energy malnutrition prevalence among elderly persons is estimated to be as high as 4% for those living in the community, 50% for those hospitalized in acute care units or geriatric rehabilitation units, and 30-40% for those in long-term care facilities. Protein-energy malnutrition has also been found to be a primary factor of poor prognosis in elderly persons.
References
Onis M de, Monteiro C, Clugston G. The worldwide magnitude of protein-energy malnutrition: an overview from the WHO Global Database on Child Growth. Bulletin of the World Health Organization. 1993. 71(6):

Lin CA, Boslaugh S, Ciliberto HM, et al. A prospective assessment of food and nutrient intake in a population of Malawian children at risk for kwashiorkor. J Pediatr Gastroenterol Nutr. 2007 Apr. 44(4):487-93. [Medline].

Spoelstra MN, Mari A, Mendel M, et al. Kwashiorkor and marasmus are both associated with impaired glucose clearance related to pancreatic beta-cell dysfunction. Metabolism. 2012 Mar 2. [Medline].

Forrester TE, Badaloo AV, Boyne MS, Osmond C, Thompson D, Green C, et al. Prenatal factors contribute to the emergence of kwashiorkor or marasmus in severe undernutrition: evidence for the predictive adaptation model. PLoS One. 2012. 7(4):e35907.

Ma L, Savory S, Agim NG. Acquired Protein Energy Malnutrition in Glutaric Acidemia. Pediatr Dermatol. 2013 Jan 17. [Medline].

Ma L, Savory S, Agim NG. Acquired protein energy malnutrition in glutaric acidemia. Pediatr Dermatol. 2013 Jul-Aug. 30(4):502-4. [Medline].

Hyacinth HI, Adekeye OA, Yilgwan CS. Malnutrition in Sickle Cell Anemia: Implications for Infection, Growth, and Maturation. J Soc Behav Health Sci. 2013 Jan. 1:7(1).

Corware K, Yardley V, Mack C, Schuster S, Al-Hassi H, Herath S, et al. Protein energy malnutrition increases arginase activity in monocytes and macrophages. Nutr Metab (Lond). 11(1). 2014 Oct 24:51. [Medline].

Tierney EP, Sage RJ, Shwayder T. Kwashiorkor from a severe dietary restriction in an 8-month infant in suburban Detroit, Michigan: case report and review of the literature. Int J Dermatol. 2010 May. 49(5):500-6. [Medline].

Boyd KP, Andea A, Hughey LC. 3.Acute Inpatient Presentation of Kwashiorkor: Not Just a Diagnosis of the Developing World. Pediatr Dermatol. 2012 Apr 3. [Medline].

World Health Organization, Dept of Nutrition for Health and Development. Nutrition for health and development: a global agenda for combating malnutrition. World Health Organization. Available at http://whqlibdoc.who.int/hq/2000/WHO_NHD_00.6.pdf.

Jildeh C, Papandreou C, Abu Mourad T, et al. Assessing the Nutritional Status of Palestinian Adolescents from East Jerusalem: a School-based Study 2002-03. J Trop Pediatr. 2010 Jul 31. [Medline].

Jen M, Yan AC. Syndromes associated with nutritional deficiency and excess. Clin Dermatol. 2010 Nov-Dec. 28(6):669-85. [Medline].

Lewandowski H, Breen TL, Huang EY. Kwashiorkor and an acrodermatitis enteropathica-like eruption after a distal gastric bypass surgical procedure. Endocr Pract. 2007 May-Jun. 13(3):277-82. [Medline].

Al-Mubarak L, Al-Khenaizan S, Al Goufi T. Cutaneous presentation of kwashiorkor due to infantile Crohn's disease. Eur J Pediatr. 2010 Jan. 169(1):117-9. [Medline].

Sander CS, Hertecant J, Abdulrazzaq YM, Berger TG. Severe exfoliative erythema of malnutrition in a child with coexisting coeliac and Hartnup's disease. Clin Exp Dermatol. 2009 Mar. 34(2):178-82. [Medline].

Franco G, Calcaterra R, Valenzano M, Padovese V, Fazio R, Morrone A. Cupping-related skin lesions. Skinmed. 2012 Sep-Oct. 10(5):315-8. [Medline].

Tavarela Veloso F. Review article: skin complications associated with inflammatory bowel disease. Aliment Pharmacol Ther. 2004 Oct. 20 Suppl 4:50-3. [Medline].

Harima Y, Yamasaki T, Hamabe S, et al. Effect of a late evening snack using branched-chain amino acid-enriched nutrients in patients undergoing hepatic arterial infusion chemotherapy for advanced hepatocellular carcinoma. Hepatol Res. 2010 Jun. 40(6):574-84. [Medline].

Demling RH. The incidence and impact of pre-existing protein energy malnutrition on outcome in the elderly burn patient population. J Burn Care Rehabil. 2005 Jan-Feb. 26(1):94-100. [Medline].

William JH, Tapper EB, Yee EU, Robson SC. Secondary Kwashiorkor: A Rare Complication of Gastric Bypass Surgery. Am J Med. 2014 Dec 8. [Medline].

Ghorbel HH, Broussard JF, Lacour JP, Passeron T. Iatrogenic kwashiorkor developing after bypass surgery. Clin Exp Dermatol. 2014 Jan;. 39(1):113-4. [Medline].

Thavaraj V, Sesikeran B. Histopathological changes in skin of children with clinical protein energy malnutrition before and after recovery. J Trop Pediatr. 1989 Jun. 35(3):105-8. [Medline].

McKenzie CA, Wakamatsu K, Hanchard NA, Forrester T, Ito S. Childhood malnutrition is associated with a reduction in the total melanin content of scalp hair. Br J Nutr. 2007 Jul. 98(1):159-64. [Medline].

Chung SH, Stenvinkel P, Lindholm B, Avesani CM. Identifying and managing malnutrition stemming from different causes. Perit Dial Int. 2007 Jun. 27 Suppl 2:S239-44. [Medline].

Dorner TE, Lackinger C, Haider S, Luger E, Kapan A, Luger M, et al. Nutritional intervention and physical training in malnourished frail community-dwelling elderly persons carried out by trained lay "buddies": study protocol of a randomized controlled trial. BMC Public Health. 2013 Dec. 13(1):1232. [Medline].

[Guideline] US Department of Health and Human Services, US Department of Agriculture. Dietary guidelines for Americans, 2005. National Guideline Clearinghouse. 2005.

Walmsley RS. Refeeding syndrome: screening, incidence, and treatment during parenteral nutrition. J Gastroenterol Hepatol. 2013 Dec. 28 Suppl 4:113-7. [Medline].

Al Sharkawy I, Ramadan D, El-Tantawy A. Refeeding syndrome' in a Kuwaiti child: clinical diagnosis and management. Med Princ Pract. 2010. 19(3):240-3. [Medline].

Melchior JC. From malnutrition to refeeding during anorexia nervosa. Curr Opin Clin Nutr Metab Care. 1998 Nov. 1(6):481-5. [Medline].

Garber AK, Mauldin K, Michihata N, Buckelew SM, Shafer MA, Moscicki AB. Higher calorie diets increase rate of weight gain and shorten hospital stay in hospitalized adolescents with anorexia nervosa. J Adolesc Health. 2013 Nov. 53(5):579-84. [Medline].

Takeda E, Ikeda S, Nakahashi O. [Lack of phosphorus intake and nutrition]. Clin Calcium. 2012 Oct. 22(10):1487-91. [Medline].

Balint JP. Physical findings in nutritional deficiencies. Pediatr Clin North Am. 1998 Feb. 45(1):245-60. [Medline].

Beers MH, Berkow R, eds. Nutritional Disorders: Malnutrition. The Merck Manual. 17th ed. Merck; 1999. 28-32.

Caksen H, Kendirci M, Kandemir O, Patiroglu T. A case of malignant histiocytosis associated with skin involvement mimicking kwashiorkor. Pediatr Dermatol. 2001 Nov-Dec. 18(6):545-6. [Medline].

Collins N. Protein-energy malnutrition and involuntary weight loss: nutritional and pharmacological strategies to enhance wound healing. Expert Opin Pharmacother. 2003 Jul. 4(7):1121-40. [Medline].

Constans T, Alix E, Dardaine V. [Protein-energy malnutrition. Diagnostic methods and epidemiology]. Presse Med. 2000 Dec 16. 29(39):2171-6. [Medline].

De Caprio C, Alfano A, Senatore I, Zarrella L, Pasanisi F, Contaldo F. Severe acute liver damage in anorexia nervosa: two case reports. Nutrition. 2006 May. 22(5):572-5. [Medline].

Delahoussaye AR, Jorizzo JL. Cutaneous manifestations of nutritional disorders. Dermatol Clin. 1989 Jul. 7(3):559-70. [Medline].

Glaser, KL. Pediatrics: Malnutrition. Medstudents. Available at http://www.medstudents.com.br/pedia/pedia1.htm.

Golden MHN. Severe malnutrition. Weatherall DJ, Ledingham JGG, Warrell DA, eds. Oxford Textbook of Medicine. 3rd ed. 1996. 1278-96.

Goskowicz M, Eichenfield LF. Cutaneous findings of nutritional deficiencies in children. Curr Opin Pediatr. 1993 Aug. 5(4):441-5. [Medline].

Gupta MA, Gupta AK, Haberman HF. Dermatologic signs in anorexia nervosa and bulimia nervosa. Arch Dermatol. 1987 Oct. 123(10):1386-90. [Medline].

Gurski RR, Schirmer CC, Rosa AR, Brentano L. Nutritional assessment in patients with squamous cell carcinoma of the esophagus. Hepatogastroenterology. 2003 Nov-Dec. 50(54):1943-7. [Medline].

Harris CL, Fraser C. Malnutrition in the institutionalized elderly: the effects on wound healing. Ostomy Wound Manage. 2004 Oct. 50(10):54-63. [Medline].

Hendricks KM, Duggan C, Gallagher L, et al. Malnutrition in hospitalized pediatric patients. Current prevalence. Arch Pediatr Adolesc Med. 1995 Oct. 149(10):1118-22. [Medline].

Jilcott SB, Masso KL, Ickes SB, Myhre SD, Myhre JA. Surviving but not quite thriving: anthropometric survey of children aged 6 to 59 months in a rural Western Uganda district. J Am Diet Assoc. 2007 Nov. 107(11):1983-8. [Medline].

Kuhl J, Davis MD, Kalaaji AN, Kamath PS, Hand JL, Peine CJ. Skin signs as the presenting manifestation of severe nutritional deficiency: report of 2 cases. Arch Dermatol. 2004 May. 140(5):521-4. [Medline].

Lyder CH. Assessing risk and preventing pressure ulcers in patients with cancer. Semin Oncol Nurs. 2006 Aug. 22(3):178-84. [Medline].

Manguso F, D'Ambra G, Menchise A, Sollazzo R, D'Agostino L. Effects of an appropriate oral diet on the nutritional status of patients with HCV-related liver cirrhosis: a prospective study. Clin Nutr. 2005 Oct. 24(5):751-9. [Medline].

McLaren DS. Skin in protein energy malnutrition. Arch Dermatol. 1987 Dec. 123(12):1674-1676a. [Medline].

Miller SJ. Nutritional deficiency and the skin. J Am Acad Dermatol. 1989 Jul. 21(1):1-30. [Medline].

Neldner KH. Nutrition, aging and the skin. Geriatrics. 1984 Feb. 39(2):69-82, 87-8. [Medline].

Pelly TF, Santillan CF, Gilman RH, et al. Tuberculosis skin testing, anergy and protein malnutrition in Peru. Int J Tuberc Lung Dis. 2005 Sep. 9(9):977-84. [Medline].

Prendiville JS, Manfredi LN. Skin signs of nutritional disorders. Semin Dermatol. 1992 Mar. 11(1):88-97. [Medline].

Rabinowitz SS, Gehri M, Stettler N, Di Paolo ER. Marasmus. Medscape Reference. May 20, 2009. [Full Text].

Roongpisuthipong C, Sobhonslidsuk A, Nantiruj K, Songchitsomboon S. Nutritional assessment in various stages of liver cirrhosis. Nutrition. 2001 Sep. 17(9):761-5. [Medline].

Ryan AS, Goldsmith LA. Nutrition and the skin. Clin Dermatol. 1996 Jul-Aug. 14(4):389-406. [Medline].

Schneider JB, Norman RA. Cutaneous manifestations of endocrine-metabolic disease and nutritional deficiency in the elderly. Dermatol Clin. 2004 Jan. 22(1):23-31, vi. [Medline].

Shah S, Kannikeswaran N, Kamat D. A rash. Clin Pediatr (Phila). 2007 Sep. 46(7):650-4. [Medline].

Shashidhar HR, Grigsby DG. Malnutrition. Medscape Reference. April 9, 2009. [Full Text].

Soni BP, McLaren DS, Sherertz EF. Skin lesions in nutritional, metabolic and heritable disorders: cutaneous changes in nutritional disease. Fitzpatrick's Dermatology in General Medicine. 1999. Vol 2: 1725-37.

Tirmentajn-Jankovic B, Dimkovic N. [Simple methods for nutritional status assessment in patients treated with repeated hemodialysis]. Med Pregl. 2004 Sep-Oct. 57(9-10):439-44. [Medline].

Wilmer WA, Magro CM. Calciphylaxis: emerging concepts in prevention, diagnosis, and treatment. Semin Dial. 2002 May-Jun. 15(3):172-86. [Medline].
Medscape Reference © 2011 WebMD, LLC