Scabies Workup
Author: Megan Barry, MD; Chief Editor: Dirk M Elston, MD more...
Updated: Jun 30, 2016
What would you like to print?
Approach Considerations
The diagnosis of scabies can often be made clinically in patients with a pruritic rash and characteristic linear burrows. The diagnosis is confirmed by light microscopic identification of mites, larvae, ova, or scybala (feces) in skin scrapings.
In rare cases, mites are identified in biopsy specimens obtained to rule out other dermatoses. Characteristic histopathology in the absence of actual mites also may suggest the diagnosis of scabies.
Clinically inapparent infection can be detected by amplification of Sarcoptes DNA in epidermal scale by polymerase chain reaction (PCR) assay.[4] In addition, elevated IgE titers and eosinophilia may be demonstrated in some patients with scabies.
A simple, cheap, sensitive, and specific test for routine diagnosis of active scabies is desirable.[39] The expression and purification of S scabiei recombinant antigens have identified numerous molecules with diagnostic potential. Current studies are assessing the accuracy of these recombinant proteins in identifying antibodies in individuals with active scabies and in differentiating them from individuals with past exposure.
Locating Mite Burrows
Burrow ink test
A burrow can be located by rubbing a washable felt-tip marker across the suspected site and removing the ink with an alcohol wipe. When a burrow is present, the ink penetrates the stratum corneum and delineates the site. This technique is particularly useful in children and in individuals with very few burrows.
Tetracycline
Topical tetracycline solution is an alternative to the burrow ink test. After application and removal of the excess tetracycline solution with alcohol, the burrow is examined under a Wood light. The remaining tetracycline within the burrow fluoresces a greenish color. This method is preferred because tetracycline is a colorless solution and large areas of skin can be examined.
Skin Scraping
Definitive testing relies on the identification of mites or their eggs, eggshell fragments, or scybala.[19] This is best undertaken by placing a drop of mineral oil directly over the burrow on the skin and then superficially scraping longitudinally and laterally across the skin with a scalpel blade. (Avoid causing bleeding.) Scraping 15 or more burrows often produces only 1 or 2 eggs or mites, except in a case of crusted scabies, in which many mites will be present.[40]
The sample is placed on a microscope slide and examined under low and high power. Potassium hydroxide should not be used, since it can dissolve mite pellets. Failure to find mites is common and does not rule out the diagnosis of scabies.
Superficial cyanoacrylate biopsy (SCAB) combined with conventional transillumination light microscopy reveals the anatomic features of the scabies mite in detail. It can also distinguish living mites from dead ones, because living mites are mobile on the slide.[41] Scabies mites are seen in the images below.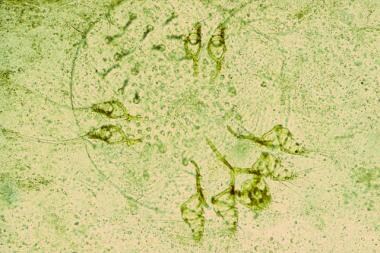 Scabies mite scraped from a burrow (original magnification, 400X).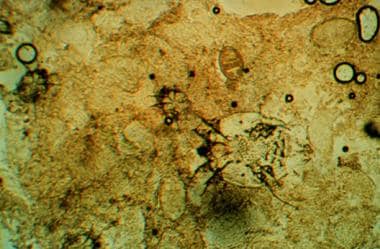 Scabies preparation demonstrating a mite and ova. Courtesy of William D. James, MD.
Crusted scabies
Add 10% potassium hydroxide to the skin scraping. This dissolves excess keratin and permits adequate microscopic examination.
Adhesive Tape Test
Strips of tape are applied to areas suspected of being burrows and then rapidly pulled off. These are then applied to microscope slides and examined. The adhesive tape test is easy to perform and had high positive and negative predictive values, making it a good screening test. The sensitivity of skin scraping was judged to be low.
Dermatoscopy-guided tape testing may be beneficial and should be evaluated.[42] Dermatoscopy was compared with the microscopic examination of a skin scraping and with the adhesive tape test, in patients with a presumptive diagnosis of scabies.[43] The sensitivity of dermatoscopy was 0.83, which was significantly higher than that of the adhesive tape test.
Histologic Findings
The histologic features of scabies are distinctive enough to suggest the diagnosis, although they are common to a variety of arthropod reactions. If a burrow is excised, mites, larvae, ova, and feces may be identified within the stratum corneum, as in the images below.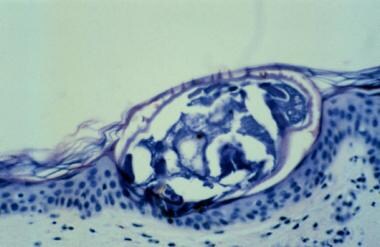 Scabies mite in the stratum corneum. Courtesy of William D. James, MD.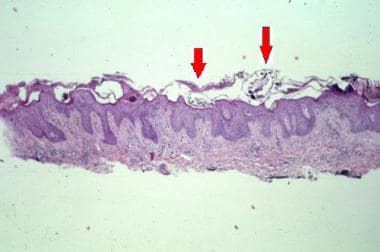 In crusted scabies, sections show multiple mites (arrows) within the hyperkeratotic stratum corneum. The epidermis is spongiotic (hematoxylin and eosin; original magnification, 100X).
A superficial and deep dermal infiltrate composed of lymphocytes, histiocytes, mast cells, and eosinophils is characteristic. Spongiosis and vesicle formation with exocytosis of eosinophils and occasional neutrophils are present, as in the image below. Biopsy of older lesions is nondiagnostic, demonstrating only excoriation and scale crusts.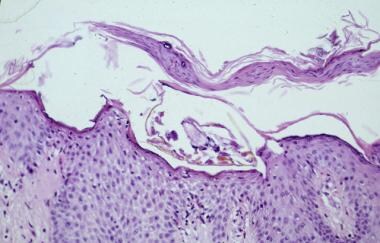 In routine scabies, a single mite is seen. Eosinophilic spongiosis may be present (hematoxylin and eosin; original magnification, 400X).
Crusted scabies
Crusted scabies demonstrates massive hyperkeratosis of the stratum corneum, with innumerable mites in all stages of development. Psoriasiform hyperplasia of the underlying epidermis with spongiotic foci and occasional epidermal microabscesses is present. The dermis shows a superficial and deep, chronic inflammatory infiltrate with admixed interstitial eosinophils.
Nodular scabies
Nodular scabies reveals a dense, mixed, superficial and deep dermal inflammatory cell infiltrate. Lymphoid follicles may be present, and the infiltrate occasionally extends into the subcutaneous fat. Mite parts may be seen on serial sectioning in up to 20% of cases.
References
Mehta V, Balachandran C, Monga P, Rao R, Rao L. Images in clinical practice. Norwegian scabies presenting as erythroderma. Indian J Dermatol Venereol Leprol. 2009 Nov-Dec. 75(6):609-10. [Medline].

Hay RJ. Scabies and pyodermas--diagnosis and treatment. Dermatol Ther. 2009 Nov-Dec. 22(6):466-74. [Medline].

Kapadia N. Dermatology. Tschudy MM, Arcara KM, eds. The Johns Hopkins Hospital: The Harriet Lane Handbook. 19th ed. Philadelphia, Pa: Mosby Elsevier; 2012. 201-25.

Bezold G, Lange M, Schiener R, Palmedo G, Sander CA, Kerscher M, et al. Hidden scabies: diagnosis by polymerase chain reaction. Br J Dermatol. 2001 Mar. 144(3):614-8. [Medline].

Hicks MI, Elston DM. Scabies. Dermatol Ther. 2009 Jul-Aug. 22(4):279-92. [Medline].

Centers for Disease Control and Prevention. Parasites - Scabies. Available at http://www.cdc.gov/parasites/scabies/index.html. Accessed: July 25, 2013.

Currie BJ, McCarthy JS. Permethrin and ivermectin for scabies. N Engl J Med. 2010 Feb 25. 362(8):717-25. [Medline].

Chosidow O. Clinical practices. Scabies. N Engl J Med. 2006 Apr 20. 354(16):1718-27. [Medline].

Galadari I, Sheriff MO. Cell typing of the scabetic lesion and its clinical correlation. Eur Ann Allergy Clin Immunol. 2006 Feb. 38(2):55-8. [Medline].

Bongiorno MR, Ferro G, Aricò M. Norwegian (crusted) scabies of glans penis in an immunocompetent patient. Br J Dermatol. 2009 Jul. 161(1):195-7. [Medline].

Gladstone HB, Darmstadt GL. Crusted scabies in an immunocompetent child: treatment with ivermectin. Pediatr Dermatol. 2000 Mar-Apr. 17(2):144-8. [Medline].

Feldmeier H, Jackson A, Ariza L, Calheiros CM, Soares Vde L, Oliveira FA, et al. The epidemiology of scabies in an impoverished community in rural Brazil: presence and severity of disease are associated with poor living conditions and illiteracy. J Am Acad Dermatol. 2009 Mar. 60(3):436-43. [Medline].

Accorsi S, Barnabas GA, Farese P, Padovese V, Terranova M, Racalbuto V, et al. Skin disorders and disease profile of poverty: analysis of medical records in Tigray, northern Ethiopia, 2005-2007. Trans R Soc Trop Med Hyg. 2009 May. 103(5):469-75. [Medline].

Amro A, Hamarsheh O. Epidemiology of scabies in the West Bank, Palestinian Territories (Occupied). Int J Infect Dis. 2012 Feb. 16(2):e117-20. [Medline].

Makigami K, Ohtaki N, Ishii N, Yasumura S. Risk factors of scabies in psychiatric and long-term care hospitals: a nationwide mail-in survey in Japan. J Dermatol. 2009 Sep. 36(9):491-8. [Medline].

Jack AR, Spence AA, Nichols BJ, Chong S, Williams DT, Swadron SP, et al. Cutaneous conditions leading to dermatology consultations in the emergency department. West J Emerg Med. 2011 Nov. 12(4):551-5. [Medline]. [Full Text].

Makigami K, Ohtaki N, Yasumura S. A 35-month prospective study on onset of scabies in a psychiatric hospital: discussion on patient transfer and incubation period. J Dermatol. 2012 Feb. 39(2):160-3. [Medline].

Muhammad Zayyid M, Saidatul Saadah R, Adil AR, Rohela M, Jamaiah I. Prevalence of scabies and head lice among children in a welfare home in Pulau Pinang, Malaysia. Trop Biomed. 2010 Dec. 27(3):442-6. [Medline].

Gilmore SJ. Control strategies for endemic childhood scabies. PLoS One. 2011 Jan 25. 6(1):e15990. [Medline]. [Full Text].

Feldmeier H, Heukelbach J. Epidermal parasitic skin diseases: a neglected category of poverty-associated plagues. Bull World Health Organ. 2009 Feb. 87(2):152-9. [Medline]. [Full Text].

Heukelbach J, Wilcke T, Winter B, Feldmeier H. Epidemiology and morbidity of scabies and pediculosis capitis in resource-poor communities in Brazil. Br J Dermatol. 2005 Jul. 153(1):150-6. [Medline].

Lokuge B, Kopczynski A, Woltmann A, et al. Crusted scabies in remote Australia, a new way forward: lessons and outcomes from the East Arnhem Scabies Control Program. Med J Aust. 2014 Jun 16. 200(11):644-8. [Medline].

Sardana K, Mahajan S, Sarkar R, Mendiratta V, Bhushan P, Koranne RV, et al. The spectrum of skin disease among Indian children. Pediatr Dermatol. 2009 Jan-Feb. 26(1):6-13. [Medline].

Cydulka RK, Garber B. Dermatologic Presentations. Marx JA, Hockberger RS, Walls RM, eds. Rosen's Emergency Medicine Concepts and Clinical Practice. 7th ed. Philadelphia, Pa: Elsevier's Health Sciences; 2010. Vol 2: 1545-6.

Swe PM, Zakrzewski M, Kelly A, Krause L, Fischer K. Scabies mites alter the skin microbiome and promote growth of opportunistic pathogens in a porcine model. PLoS Negl Trop Dis. 2014 May. 8(5):e2897. [Medline]. [Full Text].

Edison L, Beaudoin A, Goh L, Introcaso CE, Martin D, Dubray C, et al. Scabies and Bacterial Superinfection among American Samoan Children, 2011-2012. PLoS One. 2015. 10 (10):e0139336. [Medline].

Brook I. Microbiology of secondary bacterial infection in scabies lesions. J Clin Microbiol. 1995 Aug. 33(8):2139-40. [Medline]. [Full Text].

Chung SD, Wang KH, Huang CC, Lin HC. Scabies increased the risk of chronic kidney disease: a 5-year follow-up study. J Eur Acad Dermatol Venereol. 2013 Feb 1. [Medline].

Chung SD, Lin HC, Wang KH. Increased risk of pemphigoid following scabies: a population-based matched-cohort study. J Eur Acad Dermatol Venereol. 2013 Mar 18. [Medline].

Hewitt KA, Nalabanda A, Cassell JA. Scabies outbreaks in residential care homes: factors associated with late recognition, burden and impact. A mixed methods study in England. Epidemiol Infect. 2014 Sep 8. 1-10. [Medline].

Arya V, Molinaro MJ, Majewski SS, Schwartz RA. Pediatric scabies. Cutis. 2003 Mar. 71(3):193-6. [Medline].

Cestari TF, Martignago BF. Scabies, pediculosis, bedbugs, and stinkbugs: uncommon presentations. Clin Dermatol. 2005 Nov-Dec. 23(6):545-54. [Medline].

Lewin J, Liang C, Pomeranz M. A critical oversight: an irksome ailment became life-threatening after misdiagnosis. Am J Obstet Gynecol. 2010 Aug. 203(2):188.e1-2. [Medline].

Scheinfeld N. Controlling scabies in institutional settings: a review of medications, treatment models, and implementation. Am J Clin Dermatol. 2004. 5(1):31-7. [Medline].

Hong MY, Lee CC, Chuang MC, Chao SC, Tsai MC, Chi CH. Factors related to missed diagnosis of incidental scabies infestations in patients admitted through the emergency department to inpatient services. Acad Emerg Med. 2010 Sep. 17(9):958-64. [Medline].

Svecova D, Chmurova N, Pallova A, Babal P. Norwegian scabies in immunosuppressed patient misdiagnosed as an adverse drug reaction. Epidemiol Mikrobiol Imunol. 2009 Aug. 58(3):121-3. [Medline].

Bakker CV, Terra JB, Pas HH, Jonkman MF. Bullous pemphigoid as pruritus in the elderly: a common presentation. JAMA Dermatol. 2013 Aug 1. 149(8):950-3. [Medline].

Phan A, Dalle S, Balme B, Thomas L. Scabies with clinical features and positive darier sign mimicking mastocytosis. Pediatr Dermatol. 2009 May-Jun. 26(3):363-4. [Medline].

Walton SF, Currie BJ. Problems in diagnosing scabies, a global disease in human and animal populations. Clin Microbiol Rev. 2007 Apr. 20(2):268-79. [Medline]. [Full Text].

Clyti E, Deligny C, Versapuech J, Couppie P, Gessain A, Pradinaud R. [Acral crusted scabies in two HTLV1-infected patients]. Ann Dermatol Venereol. 2010 Mar. 137(3):232-3. [Medline].

Neynaber S, Muehlstaedt M, Flaig MJ, Herzinger T. Use of Superficial Cyanoacrylate Biopsy (SCAB) as an alternative for mite identification in scabies. Arch Dermatol. 2008 Jan. 144(1):114-5. [Medline].

Albrecht J, Bigby M. Testing a test: critical appraisal of tests for diagnosing scabies. Arch Dermatol. 2011 Apr. 147(4):494-7. [Medline].

Walter B, Heukelbach J, Fengler G, Worth C, Hengge U, Feldmeier H. Comparison of dermoscopy, skin scraping, and the adhesive tape test for the diagnosis of scabies in a resource-poor setting. Arch Dermatol. 2011 Apr. 147(4):468-73. [Medline].

Lawrence G, Leafasia J, Sheridan J, Hills S, Wate J, Wate C, et al. Control of scabies, skin sores and haematuria in children in the Solomon Islands: another role for ivermectin. Bull World Health Organ. 2005 Jan. 83(1):34-42. [Medline]. [Full Text].

Kearns TM, Speare R, Cheng AC, McCarthy J, Carapetis JR, Holt DC, et al. Impact of an Ivermectin Mass Drug Administration on Scabies Prevalence in a Remote Australian Aboriginal Community. PLoS Negl Trop Dis. 2015 Oct. 9 (10):e0004151. [Medline].

Karthikeyan K. Treatment of scabies: newer perspectives. Postgrad Med J. 2005 Jan. 81(951):7-11. [Medline]. [Full Text].

Centers for Disease Control and Prevention. Parasites - Scabies - Workplace Frequently Asked Questions (FAQs). Available at http://www.cdc.gov/parasites/scabies/gen_info/faq_workplace.html. Accessed: September 16, 2013.

Micali G, Lacarrubba F, Lo Guzzo G. Scraping versus videodermatoscopy for the diagnosis of scabies: a comparative study. Acta Derm Venereol. 1999 Sep. 79(5):396. [Medline].

[Guideline] Centers for Disease Control and Prevention. Parasites - Scabies. Suggested General Guidelines. Available at http://www.cdc.gov/parasites/scabies/treatment.html. September 3, 2015; Accessed: April 30, 2016.

Strong M, Johnstone P. Interventions for treating scabies. Cochrane Database Syst Rev. 2007 Jul 18. CD000320. [Medline].

Ayoub N, Merhy M, Tomb R. Treatment of scabies with albendazole. Dermatology. 2009. 218(2):175. [Medline].

Aubin F, Humbert P. Ivermectin for crusted (Norwegian) scabies. N Engl J Med. 1995 Mar 2. 332(9):612. [Medline].

Huffam SE, Currie BJ. Ivermectin for Sarcoptes scabiei hyperinfestation. Int J Infect Dis. 1998 Jan-Mar. 2(3):152-4. [Medline].

Worth C, Heukelbach J, Fengler G, Walter B, Liesenfeld O, Hengge U, et al. Acute morbidity associated with scabies and other ectoparasitoses rapidly improves after treatment with ivermectin. Pediatr Dermatol. 2012 Jul-Aug. 29(4):430-6. [Medline].

Flinders DC, De Schweinitz P. Pediculosis and scabies. Am Fam Physician. 2004 Jan 15. 69(2):341-8. [Medline].

Tjioe M, Vissers WH. Scabies outbreaks in nursing homes for the elderly: recognition, treatment options and control of reinfestation. Drugs Aging. 2008. 25(4):299-306. [Medline].

Galvany Rossell L, Salleras Redonnet M, Umbert Millet P. [Bullous scabies responding to ivermectin therapy]. Actas Dermosifiliogr. 2010 Jan-Feb. 101(1):81-4. [Medline].

Mounsey KE, Holt DC, McCarthy J, Currie BJ, Walton SF. Scabies: molecular perspectives and therapeutic implications in the face of emerging drug resistance. Future Microbiol. 2008 Feb. 3(1):57-66. [Medline].

Castillo AL, Osi MO, Ramos JD, De Francia JL, Dujunco MU, Quilala PF. Efficacy and safety of Tinospora cordifolia lotion in Sarcoptes scabiei var hominis-infected pediatric patients: A single blind, randomized controlled trial. J Pharmacol Pharmacother. 2013 Jan. 4(1):39-46. [Medline]. [Full Text].
Medscape Reference © 2011 WebMD, LLC