Lamellar Ichthyosis
Author: Heather Kiraly Orkwis; Chief Editor: William D James, MD more...
Updated: Sep 22, 2014
What would you like to print?
Background
Lamellar ichthyosis (LI) is an autosomal recessive disorder that is apparent at birth and is present throughout life. The newborn is born encased in a collodion membrane that sheds within 10-14 days. The shedding of the membrane reveals generalized scaling with variable redness of the skin. The scaling may be fine or platelike, resembling fish skin. Although the disorder is not life threatening, it is quite disfiguring and causes considerable psychological stress to affected patients.
See the image below.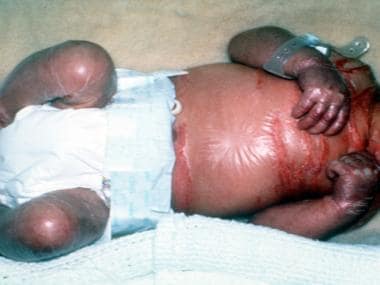 Collodion baby with translucent membrane of the body.
Pathophysiology
Patients with lamellar ichthyosis have accelerated epidermal turnover with proliferative hyperkeratosis, in contrast to retention hyperkeratosis. This involves a mutation in the gene for transglutaminase 1 (TGM1). There are at least 14 identified different TGM1 mutations.[1] The transglutaminase 1 enzyme is involved in the formation of the cornified cell envelope. The formation of the cornified cell envelope is an essential scaffold upon which normal intercellular lipid layer formation in the stratum corneum occurs. Thus, mutations in the TGM1 secondarily cause defects in the intercellular lipid layers in the stratum corneum, leading to defective barrier function of the stratum corneum and to the ichthyotic phenotype seen in lamellar ichthyosis patients and in transglutaminase 1 knockout mice. How much a defective cornified cell envelope alone contributes to the barrier abnormality in ichthyoses remains unclear.[2]
To date, 6 genes for lamellar ichthyosis have been localized and 5 of them identified, as follows[3] :
TGM1 (14q11)

ABCA12 (2q34)

19p12-q12

19p13

ALOXE3-ALOX12B (17p13)

ichthyin (5q33)
Epidemiology
Frequency
United States
Prevalence is less than 1 case per 300,000 individuals.
Mortality/Morbidity
In the neonatal period, following the shedding of the collodion membrane, the newborn is at risk for secondary sepsis and hypernatremic dehydration.
As the child ages, the hyperkeratosis can interfere with normal sweat gland function, which can predispose to heat intolerance and possible heat shock. Ectropion may result in the inability to fully close the eyelids and can cause exposure keratitis.
External auditory canal stenosis and tympanic membrane blunting may result in a conductive hearing loss. Osseointegrated hearing devices may effectively bypass this hearing defect.
Less common associations include orthopedic abnormalities such as genu valgum, other ocular problems such as corneal perforation, and rickets.
Like other ichthyoses, lamellar ichthyosis may be especially prone to widespread, severe, and chronic Trichophyton rubrum infections.[4]
Race
Lamellar ichthyosis affects all populations.
Sex
Incidence in males and females is equal.
Age
The disease is present at birth and continues throughout life.
A rare phenotype of lamellar ichthyosis has been described in South Africa. The term bathing-suit ichthyosis describes the characteristic distribution of the lesions, which involve the trunk, the proximal parts of the upper limbs, the scalp, and the neck, with sparing of the central face and extremities. This form of lamellar ichthyosis is caused by a homozygous missense mutation in TGM1.[5, 6]
References
Liu JJ, Yuan YY, Zhang XQ, Li ZM, Xu YS, Gao SM, et al. Mutations of transglutaminase-1 in Chinese patients with autosomal recessive congenital ichthyosis: a case report with clinical and genetic analysis of Chinese cases reported in literature. Clin Exp Dermatol. 2014 Aug 22. [Medline].

Akiyama M, Shimizu H. An update on molecular aspects of the non-syndromic ichthyoses. Experimental Dermatology. March 13, 2008. 17:373-382. [Medline]. [Full Text].

Oji V, Traupe H. Ichthyoses: differential diagnosis and molecular genetics. Eur J Dermatol. 2006 Jul-Aug. 16(4):349-59. [Medline].

Scheers C, Andre J, Thompson C, Rebuffat E, Harag S, Kolivras A. Refractory Trichophyton rubrum infection in lamellar ichthyosis. Pediatr Dermatol. 2013. 30(6):e200-3. [Medline].

Arita K, Jacyk WK, Wessagowit V, et al. The South African "bathing suit ichthyosis" is a form of lamellar ichthyosis caused by a homozygous missense mutation, p.R315L, in transglutaminase 1. J Invest Dermatol. 2007 Feb. 127(2):490-3. [Medline].

Jacyk WK. Bathing-suit ichthyosis. A peculiar phenotype of lamellar ichthyosis in South African blacks. Eur J Dermatol. 2005 Nov-Dec. 15(6):433-6. [Medline].

Alavi A, Shahshahani MM, Klotzle B, Fan JB, Ronaghi M, Elahi E. Manifestation of diffuse yellowish keratoderma on the palms and soles in autosomal recessive congenital ichthyosis patients may be indicative of mutations in NIPAL4. J Dermatol. 2011 Nov 21. [Medline].

Huber M, Rettler I, Bernasconi K, et al. Mutations of keratinocyte transglutaminase in lamellar ichthyosis. Science. 1995 Jan 27. 267(5197):525-8. [Medline].

Hernández-Martín A, Garcia-Doval I, Aranegui B, de Unamuno P, Rodríguez-Pazos L, González-Enseñat MA, et al. Prevalence of autosomal recessive congenital ichthyosis: A population-based study using the capture-recapture method in Spain. J Am Acad Dermatol. 2011 Oct 13. [Medline].

Sandler B, Hashimoto K. Collodion baby and lamellar ichthyosis. J Cutan Pathol. 1998 Feb. 25(2):116-21. [Medline].

Sigurdsson H, Baldursson BT. Inverting Sutures With Systemic Retinoids and Lubrication Can Correct Ectropion in Ichthyosis. Ophthal Plast Reconstr Surg. 2014 Sep 11. [Medline].

Ganemo A, Virtanen M, Vahlquist A. Improved topical treatment of lamellar ichthyosis: a double-blind study of four different cream formulations. Br J Dermatol. 1999 Dec. 141(6):1027-32. [Medline].

Davila-Seijo P, Flórez A, Davila-Pousa C, No N, Ferreira C, De la Torre C. Topical N-acetylcysteine for the treatment of lamellar ichthyosis: an improved formula. Pediatr Dermatol. 2014 May-Jun. 31(3):395-7. [Medline].

Redondo P, Bauza A. Topical N-acetylcysteine for lamellar ichthyosis. Lancet. 1999 Nov 27. 354(9193):1880. [Medline].

Bassotti A, Moreno S, Criado E. Successful treatment with topical N-acetylcysteine in urea in five children with congenital lamellar ichthyosis. Pediatr Dermatol. 2011 Jul-Aug. 28(4):451-5. [Medline].

Stege H, Hofmann B, Ruzicka T, Lehmann P. Topical application of tazarotene in the treatment of nonerythrodermic lamellar ichthyosis. Arch Dermatol. 1998 May. 134(5):640. [Medline].

Kragballe K, Steijlen PM, Ibsen HH, et al. Efficacy, tolerability, and safety of calcipotriol ointment in disorders of keratinization. Results of a randomized, double-blind, vehicle-controlled, right/left comparative study. Arch Dermatol. 1995 May. 131(5):556-60. [Medline].

Vahlquist A, Blockhuys S, Steijlen P, van Rossem K, Didona B, Blanco D, et al. Oral liarozole in the treatment of patients with moderate/severe lamellar ichthyosis: results of a randomized, double-blind, multinational, placebo-controlled phase II/III trial. Br J Dermatol. 2014 Jan. 170(1):173-81. [Medline].

Abdel-Magid EH, el-Awad Ahmed FR. Salicylate intoxication in an infant with ichthyosis transmitted through skin ointment--a case report. Pediatrics. 1994 Dec. 94(6 Pt 1):939-40. [Medline].

Ramirez ME, Youseef WF, Romero RG, et al. Acute percutaneous lactic acid poisoning in a child. Pediatr Dermatol. 2006 May-Jun. 23(3):282-5. [Medline].

Allen DM, Esterly NB. Significant systemic absorption of tacrolimus after topical application in a patient with lamellar ichthyosis. Arch Dermatol. 2002 Sep. 138(9):1259-60. [Medline].

Basgul AY, Kavak ZN, Guducu N, Durukan B, Isci H. Prenatal diagnosis of congenital harlequin ichthyosis with 2D, 3D, and 4D ultrasonography. Clin Exp Obstet Gynecol. 2011. 38(3):283-5. [Medline].

DiGiovanna JJ. Ichthyosiform Dermatoses. Freedberg IM, Eisen AZ, Wolff K, Austen KF, Goldsmith LA, Katz SI, Fitzpatrick TB, eds. Fitzpatrick's Dermatology in General Medicine. 5th ed. New York, NY: McGraw-Hill; 1999. Vol 1: 587-8.

Novice FM, Collison DW, Burgdorf WHC, Esterly N, eds. Lamellar ichthyosis. Handbook of Genetic Skin Disorders. Philadelphia, Pa: WB Saunders; 1994. 9-12.

Spitz JL. Lamellar ichthyosis. Spitz JL, ed. Genodermatoses. Baltimore, Md: Williams & Wilkins; 1996. 8-9.

Sybert VP. Lamellar Ichthyosis. Sybert VP, ed. Genetic Skin Disorders. 1st ed. New York, NY: Oxford University Press; 1997. 27-30.
Medscape Reference © 2011 WebMD, LLC