Ataxia-Telangiectasia Workup
Author: Camila K Janniger, MD; Chief Editor: Dirk M Elston, MD more...
Updated: Jun 09, 2016
What would you like to print?
Laboratory Studies
Laboratory markers are important for both diagnosis and prognosis. The most constant markers are elevated levels of alpha-fetoprotein (AFP) and carcinoembryonic antigen and chromosomal abnormalities, especially inversions and translocations involving chromosomes 7 and 14, though neither of these abnormalities is always found and their demonstration requires specific techniques available in only a few centers.
The demonstration of humoral or cellular immunologic defects may also permit an early diagnosis, although such defects are nonspecific and present less frequently.
The dysgammaglobulinemia of ataxia-telangiectasia includes an absent or low level of immunoglobulin A (IgA), including secretory IgA; a normal or low level of immunoglobulin G (IgG); and an elevated or normal level of immunoglobulin M (IgM). Elevated IgM is evident in only 60% of patients.[7] IgA deficiency is found in about 70% of patients with ataxia-telangiectasia syndrome. A deficit in IgG2 and IgG4 subclasses has been demonstrated in several patients, and IgE may also be absent or low.
Defects of cellular immunity include a low lymphocyte count, a poor response to skin tests to common antigens, low T-lymphocyte proliferation in the presence of mitogens, and deficient antibody production to viral or bacterial antigens. Excessive T-cell suppressor activity and intrinsic B-cell defects have been described in some patients, suggesting disturbances of immunoregulatory mechanisms. The incidence of immunologic abnormalities increases with the age of the patients.
Genetic testing
Increased chromosomal breakage after exposure of cell cultures to ionizing radiation is rapidly increasing diagnostic importance, though not yet a routine procedure. Such tests have been considered for the prenatal diagnosis of ataxia-telangiectasia but are being supplanted by DNA diagnosis.
Protein-truncation testing of the entire ATM complementary DNA (cDNA) reveals as much as 66% of truncating mutations in the group with mutant alleles. These rapid assays detected mutations in 76% of Costa Rican patients, 50% of Norwegian patients, 25% of Polish patients, and 14% of Italian patients.
Identification of the disease gene for ataxia-telangiectasia has opened a number of avenues for research. While further mutation analysis will provide insight into the defect and genotype-phenotype correlations, it is also possible to contemplate correction of the abnormal phenotype by using full-length ATM (A-T, mutated) cDNA transfer. Full-length constructs that have been cloned and introduced into other vectors may allow for the correct radiosensitive phenotype. Insertion of the full-length cDNA into other vectors may allow for correction in vivo. Antibodies against the ATM protein are being used for screening tumor samples for loss of expression. Other approaches, such as the yeast 2-hybrid system, will be used to identify additional cellular proteins that associate with ATM.
Because ataxia-telangiectasia heterozygotes appear to be predisposed to a number of tumors, including breast cancer, it may become useful in the future to screen selected at-risk individuals for ATM mutations. Such persons might include members of families with a history of breast cancer or individuals who show an adverse reaction to radiation therapy. The observation that approximately 70% of mutations in the ATM gene known to date appear to encode truncated proteins with premature stop codons will allow for application of such assays as the protein truncation test, which is capable of detecting a single mutated allele. It may also be possible to carry out rapid screening with antibodies to detect ataxia-telangiectasia heterozygotes with ATM of both normal size and reduced size.
Imaging Studies
MRI and sporadically made CT scan often show evidence of nonspecific cerebellar atrophy with widened cerebellar sulci and enlargement of the fourth ventricle. According to Tavani et al, cerebellar atrophy found on MRIs progresses with age, starting from early childhood.[43] Cerebral white matter dysmyelination or demyelination, microhemorrhages and teleangiectases also are reported.[40] See image shown below.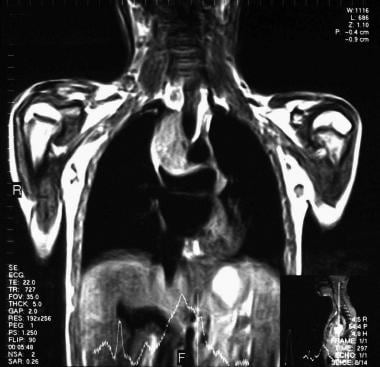 Chest MRI showing a hyperintense lesion in the right mediastinum corresponding to lymphoma.
Radiologic findings of decreased or absent adenoidal tissue in the nasopharynx on lateral skull radiographs are so typical in ataxia-telangiectasia that they are of value in confirming the diagnosis. Chest radiographs may show a small or absent thymic shadow, decreased mediastinal lymphoid tissue, and pulmonary changes similar to those seen in cystic fibrosis. Hypoplastic peripheral lymphoid tissue is such a consistent clinical finding in ataxia-telangiectasia that the appearance of lymphadenopathy or even easily palpable lymph nodes has been highly suggestive of lymphoma.
Other Tests
Electromyogram (EMG) and nerve conduction velocities are frequently normal in small children. In later stages of the disease, when the anterior horn cells are involved and peripheral neuropathy has occurred, the EMG shows signs of denervation and the nerve conduction velocity is reduced, especially in sensory fibers.
Electrooculography is valuable in corroborating the characteristic oculomotor abnormality of ataxia-telangiectasia and differentiating ataxia-telangiectasia from Friedreich ataxia.
Histologic Findings
The major pathological marker of ataxia-telangiectasia in the CNS is degeneration of Purkinje and granule cells in the cerebellum. No vascular abnormalities are usually found, except late degenerative gliovascular nodules in the white matter. Lesions of the basal ganglia are found only occasionally. Degeneration of spinal tracts and anterior horn cells is often present in late cases. Nucleocytomegaly is a feature of several cell types throughout the body.
Biopsy specimens have shown that the typical skin changes in ataxia-telangiectasia are similar to those seen in cumulative actinic damage and, thus, are suggestive of progeric changes. The predilection of both the progeric skin changes and the oculocutaneous telangiectases for sun-exposed areas further suggests increased propensity to actinic damage.
References
Ziv Y, Rotman G, Frydman M, Dagan J, Cohen T, Foroud T, et al. The ATC (ataxia-telangiectasia complementation group C) locus localizes to 11q22-q23. Genomics. 1991 Feb. 9(2):373-5. [Medline].

Soresina A, Meini A, Lougaris V, Cattaneo G, Pellegrino S, Piane M, et al. Different clinical and immunological presentation of ataxia-telangiectasia within the same family. Neuropediatrics. 2008 Feb. 39(1):43-5. [Medline].

Syllaba L, Henner K. Contribution a l'independance de l'athetose double idiopathique et congenitale. Rev Neurol (Paris). 1926. 1:541-62.

Louis-Bar D. Sur syndrome progressif comprenant des telangiectasies capillaires cutanees et conjonctivales symetriques, a disposition naevoide et de troubles cerebelleux. Confin Neurol (Basel). 1941. 4:32-42.

Sedgwick RP, Boder E. Progressive ataxia in childhood with particular reference to ataxia-telangiectasia. Neurology. 1960 Jul. 10:705-15. [Medline].

Biemond A. Paleocerebellar atrophy with extrapyramidal manifestations in association with bronchiectasis and telangiectasis of the conjunctiva bulbi as a familial syndrome. van Bogaert L, Radermecker J, eds. Proceedings of the First International Congress. 1957. 206.

Azarsiz E, Karaca NE, Gunaydin NC, Gulez N, Ozturk C, Aksu G, et al. Do elevated serum IgM levels have to be included in probable diagnosis criteria of patients with ataxia-telangiectasia?. Int J Immunopathol Pharmacol. 2014 Jul-Sep. 27(3):421-427. [Medline].

Biton S, Barzilai A, Shiloh Y. The neurological phenotype of ataxia-telangiectasia: solving a persistent puzzle. DNA Repair (Amst). 2008 Jul 1. 7(7):1028-38. [Medline].

Zhan H, Suzuki T, Aizawa K, Miyagawa K, Nagai R. Ataxia telangiectasia mutated (ATM)-mediated DNA damage response in oxidative stress-induced vascular endothelial cell senescence. J Biol Chem. 2010 Sep 17. 285(38):29662-70. [Medline]. [Full Text].

Verhagen MM, Last JI, Hogervorst FB, Smeets DF, Roeleveld N, Verheijen F, et al. Presence of ATM protein and residual kinase activity correlates with the phenotype in ataxia-telangiectasia: A genotype - phenotype study. Hum Mutat. 2011 Dec 29. [Medline].

Guerra-Maranhao MC, Costa-Carvalho BT, Nudelman V, Barros-Nunes P, Carneiro-Sampaio MM, Arslanian C, et al. Response to polysaccharide antigens in patients with ataxia-telangiectasia. J Pediatr (Rio J). 2006 Mar-Apr. 82(2):132-6. [Medline].

Lee KM, Choi JY, Park SK, Chung HW, Ahn B, Yoo KY, et al. Genetic polymorphisms of ataxia telangiectasia mutated and breast cancer risk. Cancer Epidemiol Biomarkers Prev. 2005 Apr. 14(4):821-5. [Medline].

Byrd PJ, Srinivasan V, Last JI, Smith A, Biggs P, Carney EF, et al. Severe reaction to radiotherapy for breast cancer as the presenting feature of ataxia telangiectasia. Br J Cancer. 2011 Dec 6. [Medline].

Xing J, Wu X, Vaporciyan AA, Spitz MR, Gu J. Prognostic significance of ataxia-telangiectasia mutated, DNA-dependent protein kinase catalytic subunit, and Ku heterodimeric regulatory complex 86-kD subunit expression in patients with nonsmall cell lung cancer. Cancer. 2008 Jun 15. 112(12):2756-64. [Medline].

Senior K. DNA damage mechanisms in ataxia telangiectasia. Lancet Neurol. 2003. 2(3):139.

Qi L, Strong MA, Karim BO, Armanios M, Huso DL, Greider CW. Short telomeres and ataxia-telangiectasia mutated deficiency cooperatively increase telomere dysfunction and suppress tumorigenesis. Cancer Res. 2003 Dec 1. 63(23):8188-96. [Medline].

Lee Y, Chong MJ, McKinnon PJ. Ataxia telangiectasia mutated-dependent apoptosis after genotoxic stress in the developing nervous system is determined by cellular differentiation status. J Neurosci. 2001 Sep 1. 21(17):6687-93. [Medline].

Frappart PO, McKinnon PJ. Mouse models of DNA double-strand break repair and neurological disease. DNA Repair (Amst). 2008 Jul 1. 7(7):1051-60. [Medline].

Edwin Shackelford R, Manuszak RP, Heard SC, Link CJ, Wang S. Pharmacological manipulation of ataxia-telangiectasia kinase activity as a treatment for Parkinson's disease. Med Hypotheses. 2005. 64(4):736-41. [Medline].

Chen Z, Ye W, Long Z, Ding D, Peng H, Hou X, et al. Targeted Next-Generation Sequencing Revealed Novel Mutations in Chinese Ataxia Telangiectasia Patients: A Precision Medicine Perspective. PLoS One. 2015. 10 (10):e0139738. [Medline].

Swift M, Morrell D, Cromartie E, Chamberlin AR, Skolnick MH, Bishop DT. The incidence and gene frequency of ataxia-telangiectasia in the United States. Am J Hum Genet. 1986 Nov. 39(5):573-83. [Medline].

Su Y, Swift M. Mortality rates among carriers of ataxia-telangiectasia mutant alleles. Ann Intern Med. 2000 Nov 21. 133(10):770-8. [Medline].

Trimis GG, Athanassaki CK, Kanariou MM, Giannoulia-Karantana AA. Unusual absence of neurologic symptoms in a six-year old girl with ataxia-telangiectasia. J Postgrad Med. 2004 Oct-Dec. 50(4):270-1. [Medline].

Chaudhary MW, Al-Baradie RS. Ataxia-telangiectasia: future prospects. Appl Clin Genet. 2014. 7:159-67. [Medline]. [Full Text].

Hersby DS, Sehested A, Kristensen K, Schmiegelow K. T-cell ALL in Ataxia Telangiectasia Cured With Only 7 Weeks of Anti-leukemic Therapy. J Pediatr Hematol Oncol. 2014 Mar 21. [Medline].

Opeskin K, Waterston J, Nirenberg A, Hare WS. Ataxia telangiectasia with long survival. J Clin Neurosci. 1998 Oct. 5(4):471-3. [Medline].

Morrell D, Cromartie E, Swift M. Mortality and cancer incidence in 263 patients with ataxia-telangiectasia. J Natl Cancer Inst. 1986 Jul. 77(1):89-92. [Medline].

Boder E. Ataxia-Telangiectasia. Gomez MR, ed. Neurocutaneous Diseases: A Practical Approach. Boston, Mass: Butterworth-Heinemann; 1987. 95-117.

Olsen JH, Hahnemann JM, Borresen-Dale AL, Brondum-Nielsen K, Hammarstrom L, Kleinerman R, et al. Cancer in patients with ataxia-telangiectasia and in their relatives in the nordic countries. J Natl Cancer Inst. 2001 Jan 17. 93(2):121-7. [Medline].

Morrell D, Chase CL, Swift M. Cancers in 44 families with ataxia-telangiectasia. Cancer Genet Cytogenet. 1990 Nov 1. 50(1):119-23. [Medline].

Spector BD, Filipovich AH, Perry GS, et al. Epidemiology of cancer in ataxia-telangiectasia. Bridges BA, Harnden DG, eds. Ataxia-Telangiectasia: A Cellular and Molecular Link Between Cancer, Neuropathology, and Immune Deficiency. New York, NY: Wiley; 1982. 103-37.

Carrillo F, Schneider SA, Taylor AM, Srinivasan V, Kapoor R, Bhatia KP. Prominent Oromandibular Dystonia and Pharyngeal Telangiectasia in Atypical Ataxia Telangiectasia. Cerebellum. 2008 Oct 10. [Medline].

Shiloh Y, Lederman HM. Ataxia-telangiectasia (A-T): An emerging dimension of premature ageing. Ageing Res Rev. 2016 May 12. [Medline].

Harp J, Coggshall K, Ruben BS, Ramírez-Valle F, He SY, Berger TG. Cutaneous granulomas in the setting of primary immunodeficiency: a report of four cases and review of the literature. Int J Dermatol. 2015 Jun. 54 (6):617-25. [Medline].

Privette ED, Ram G, Treat JR, Yan AC, Heimall JR. Healing of granulomatous skin changes in ataxia-telangiectasia after treatment with intravenous immunoglobulin and topical mometasone 0.1% ointment. Pediatr Dermatol. 2014 Nov-Dec. 31 (6):703-7. [Medline].

Sandoval C, Swift M. Hodgkin disease in ataxia-telangiectasia patients with poor outcomes. Med Pediatr Oncol. 2003 Mar. 40(3):162-6. [Medline].

Hecht F, Hecht BK. Cancer in ataxia-telangiectasia patients. Cancer Genet Cytogenet. 1990 May. 46(1):9-19. [Medline].

Sandoval C, Schantz S, Posey D, Swift M. Parotid and thyroid gland cancers in patients with ataxia-telangiectasia. Pediatr Hematol Oncol. 2001 Dec. 18(8):485-90. [Medline].

Swift M, Morrell D, Massey RB, Chase CL. Incidence of cancer in 161 families affected by ataxia-telangiectasia. N Engl J Med. 1991 Dec 26. 325(26):1831-6. [Medline].

Habek M, Brinar VV, Rados M, Zadro I, Zarkovic K. Brain MRI abnormalities in ataxia-telangiectasia. Neurologist. 2008 May. 14(3):192-5. [Medline].

Kim JH, Kim H, Lee KY, Choe KH, Ryu JS, Yoon HI, et al. Genetic polymorphisms of ataxia telangiectasia mutated affect lung cancer risk. Hum Mol Genet. 2006 Apr 1. 15(7):1181-6. [Medline].

Cantarutti N, Claps A, Angelino G, Chessa L, Callea F, El Hachem M, et al. Multi-drugs resistant acne rosacea in a child affected by Ataxia-Telangiectasia: successful treatment with Isotretinoin. Ital J Pediatr. 2015 Mar 28. 41:23. [Medline].

Tavani F, Zimmerman RA, Berry GT, Sullivan K, Gatti R, Bingham P. Ataxia-telangiectasia: the pattern of cerebellar atrophy on MRI. Neuroradiology. 2003 May. 45(5):315-9. [Medline].

Sandoval C, Swift M. Treatment of lymphoid malignancies in patients with ataxia-telangiectasia. Med Pediatr Oncol. 1998 Dec. 31(6):491-7. [Medline].

Seidemann K, Henze G, Beck JD, Sauerbrey A, Kühl J, Mann G, et al. Non-Hodgkin's lymphoma in pediatric patients with chromosomal breakage syndromes (AT and NBS): experience from the BFM trials. Ann Oncol. 2000. 11 Suppl 1:141-5. [Medline].

Swift M, Reitnauer PJ, Morrell D, Chase CL. Breast and other cancers in families with ataxia-telangiectasia. N Engl J Med. 1987 May 21. 316(21):1289-94. [Medline].

Shackelford RE, Manuszak RP, Johnson CD, Hellrung DJ, Steele TA, Link CJ, et al. Desferrioxamine treatment increases the genomic stability of Ataxia-telangiectasia cells. DNA Repair (Amst). 2003 Sep 18. 2(9):971-81. [Medline].

Lavin MF, Gueven N, Bottle S, Gatti RA. Current and potential therapeutic strategies for the treatment of ataxia-telangiectasia. Br Med Bull. 2007. 81-82:129-47. [Medline].
Medscape Reference © 2011 WebMD, LLC