Dermatologic Manifestations of Wiskott-Aldrich Syndrome Clinical Presentation
Author: Akimichi Morita, MD, PhD; Chief Editor: Dirk M Elston, MD more...
Updated: Sep 05, 2014
What would you like to print?
History
Thrombocytopenia and platelet dysfunction are often present from birth in Wiskott-Aldrich syndrome.
Wiskott-Aldrich syndrome patients usually develop bleeding and bloody diarrhea during the first weeks or months of life. Hematuria, epistaxis, and cutaneous petechiae may appear.
The characteristic triad of thrombocytopenia, eczema, and recurrent infections generally becomes apparent during the first year of life.
Eczema usually appears during the first month and fulfills the Rajka and Hanifin diagnostic criteria for atopic dermatitis.
Recurrent bacterial infections begin in infancy as placentally transmitted maternal antibody levels diminish. Patients are susceptible to a wide variety of bacterial infections, including septicemia, pneumonia, meningitis, pansinusitis, conjunctivitis, furunculosis, otitis externa, and otitis media.
Physical
Eczema commonly develops in the scalp, on the face, in the flexures, and in the diaper area, although patients commonly have widespread involvement with progressive lichenification. The lesion is essentially indistinguishable from atopic dermatitis apart from the frequent presence of purpura and/or petechiae and excessive bleeding from excoriations. Serosanguineous crust may appear. (See images below.)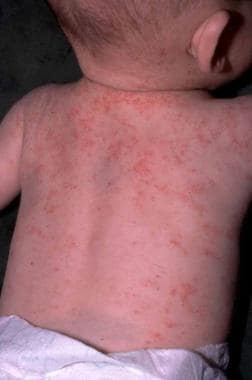 Eczematous lesions in Wiskott-Aldrich syndrome. The lesion is essentially indistinguishable from that of atopic dermatitis except for the presence of purpura and petechiae.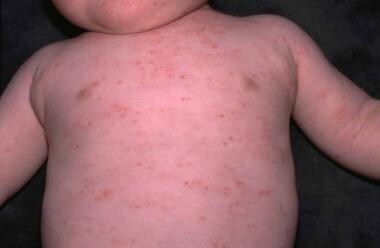 A bloody crust can be seen on the red papules.
Immunoglobulin E (IgE)–mediated allergic diseases (eg, urticaria, food allergies, asthma) may appear.
Mucocutaneous petechiae may appear.
Spontaneous bleeding from the oral cavity and hematuria are common in Wiskott-Aldrich syndrome.
Secondary bacterial infection of eczematous lesions is common.
Hepatosplenomegaly is common in Wiskott-Aldrich syndrome.
Lymphadenopathy, transient arthritis, nephropathy, and nodular vasculitis are occasionally present in Wiskott-Aldrich syndrome.
Causes
Sialylated glycoprotein (CD43), a component of the T-cell activation pathway that binds intercellular adhesion molecule-1 (ICAM-1), is not stably expressed by lymphocytes and platelets; it was suspected to be the primary cause.[5]
Several mutations in the WASP gene, which consists of 12 exons and encodes 502 amino acids, have been identified in patients with Wiskott-Aldrich syndrome. WASP is an important transcription factor of lymphocyte and platelet function. It has been also shown that activating mutations of WASP are responsible for X-linked thrombocytopenia or myelodysplasia.
The Wiskott-Aldrich syndrome protein (WASp) is a key regulator of actin polymerization in hematopoietic cells. Mutations in WASp cause a severe immunodeficiency characterized by defective initiation of primary immune response and autoimmunity. WASp expression in dendritic cells regulates both the ability to traffic to secondary lymphoid organs and to activate naive T cells in lymph nodes.[6, 7]
Eczema appears to be related to the abnormal function of the T cells.
Medscape Reference © 2011 WebMD, LLC