Alezzandrini Syndrome Clinical Presentation
Author: Camila K Janniger, MD; Chief Editor: William D James, MD more...
Updated: Jun 21, 2016
What would you like to print?
History
A gradual loss of visual acuity initially occurs, predominantly in one eye. The hair and skin in affected areas lose their pigmentation. In one patient, ipsilateral hypoacusis was a late finding. Bilateral deafness developed in one patient. This disorder may be first evident with unilateral vitiligo on the cheek and partial loss of hearing and vision on the same side.[15]
Alopecia areata is a common disorder that has been described in association with Vogt-Koyanagi-Harada syndrome.[16] One should delineate the alopecia and poliosis linked with Vogt-Koyanagi-Harada syndrome from alopecia areata. Vogt-Koyanagi-Harada disease may be first evident as a headache.[17, 18]
Physical
Alezzandrini syndrome is characterized by unilateral tapetoretinal (retinal pigmented epithelia) degeneration with the ipsilateral appearance of facial vitiligo and poliosis, as shown in the image below.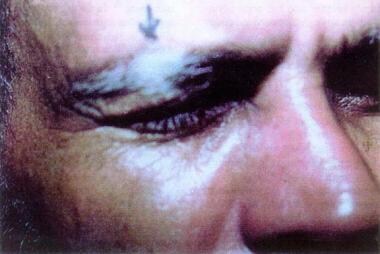 Gray forelock and vitiligo on the forehead in a patient with Alezzandrini syndrome.
Ipsilateral perceptual deafness may be an additional finding. Unilateral cutaneous and retinal disease also characterize Alezzandrini syndrome. The symptom originally described was a gradual loss of visual acuity, which predominantly affected one eye. Lorincz[19] believes that the gradual loss of visual acuity on the ipsilateral side is the criterion that should be used to diagnosis Alezzandrini syndrome.
After 3-13 years, vitiligo and poliosis develop on the head, on the side ipsilateral to the retinal lesions. Two most highly specific, at least in those with Vogt-Koyanagi-Harada disease, are exudative retinal detachment during acute disease and sunset glow fundus during the chronic phase of the disease.[20]
Congenital leukoderma suggests the need for evaluation of ocular, auditory, and/or neurologic abnormalities.[21] Poliosis may be acquired in vitiligo, Vogt-Koyanagi-Harada syndrome, Alezzandrini syndrome, and sarcoidosis. However, vitiligo patients have more lenticular and retinal changes than one should anticipate.[22]
A patient was described with a large hyperpigmented macule suggestive of an ipsilateral café-au-lait spot on the neck.[23]
Causes
The condition has an unknown etiology. Several theories, including those involving viral or autoimmune processes, are postulated.
References
Casala AM, Alezzandrini AA. Vitiligo, poliosis unilateral con retinitis pigmentaria y hypoacusia. Arch Argent Dermatol. 1959. 9:449.

Alezzandrini AA. [Unilateral manifestations of tapeto-retinal degeneration, vitiligo, poliosis, grey hair and hypoacousia]. Ophthalmologica. 1964. 147:409-19. [Medline].

Barnes L. Vitiligo and the Vogt-Koyanagi-Harada syndrome. Dermatol Clin. 1988 Apr. 6(2):229-39. [Medline].

Vogt A. Fruhzeities ergraven der zilien und bemerkungen uber den sogenannten plotzlichen einendieser veranderugn. Klin Monatsbl Augenheilkd. 1906. 44:228.

Gilbert W. Vitiligo und Auge, ein Beitrag zur Kenntnis der herpetischen augeenerkran kunger. Klin Monatsbl Augenheilkd. 1910. 48:24.

Harada E. Clinical study of nonsuppurative choroiditis: A report of acute diffuse choroiditis. Acta Soc Opthalmol Jpn. 1926. 30:356.

Koyanagi Y. Dysakusis, Alopecia, und Poliosis beschwerer Uveitis nicht traumatischen Ursprunge. Klin Monatsbl Augenheilkd. 1929. 82:194.

Kodjikian L, Seve P, Le Hoang P, Garweg JG. Atypical Vogt-Koyanagi-Harada disease or new uveomeningitic syndrome?. Graefes Arch Clin Exp Ophthalmol. 2005 Mar. 243(3):263-5. [Medline].

Du L, Yang P, Hou S, Lin X, Zhou H, Huang X, et al. Association of the CTLA-4 gene with Vogt-Koyanagi-Harada syndrome. Clin Immunol. 2008 Apr. 127(1):43-8. [Medline].

Li H, Liu Q, Hou S, Du L, Zhou Q, Zhou Y, et al. TNFAIP3 gene polymorphisms in a Chinese Han population with Vogt-Koyanagi-Harada syndrome. PLoS One. 2013. 8(3):e59515. [Medline]. [Full Text].

Hoffman MD, Dudley C. Suspected Alezzandrini's syndrome in a diabetic patient with unilateral retinal detachment and ipsilateral vitiligo and poliosis. J Am Acad Dermatol. 1992 Mar. 26(3 Pt 2):496-7. [Medline].

Shamsadini S, Meshkat MR, Mozzafarinia K. Bilateral retinal detachment in Alezzandrini's syndrome. Int J Dermatol. 1994 Dec. 33(12):885-6. [Medline].

Greco A, Fusconi M, Gallo A, Turchetta R, Marinelli C, Macri GF, et al. Vogt-Koyanagi-Harada syndrome. Autoimmun Rev. 2013 Sep. 12(11):1033-8. [Medline].

Chee SP, Jap A, Bacsal K. Prognostic factors of Vogt-Koyanagi-Harada disease in Singapore. Am J Ophthalmol. 2009 Jan. 147(1):154-161.e1. [Medline].

Andrade A, Pithon M. Alezzandrini syndrome: report of a sixth clinical case. Dermatology. 2011 Feb. 222(1):8-9. [Medline].

Haque WM, Mir MR, Hsu S. Vogt-Koyanagi-Harada syndrome: Association with alopecia areata. Dermatol Online J. 2009. 15(12):10. [Medline].

A V P, Kumar J S A, K N N, Rao S, Shetty S. Unusual Case of Vogt-Koyanagi-Harada Syndrome Presenting as Non-specific Headache. J Clin Diagn Res. 2014 Apr. 8(4):VD06-VD07. [Medline]. [Full Text].

Khairallah AS. Headache as an initial manifestation of Vogt-Koyanagi-Harada disease. Saudi J Ophthalmol. 2014 Jul. 28(3):239-42. [Medline]. [Full Text].

Lorincz AL. Disturbances of melanin pigmentation. Moschella SL, Hurley JH, eds. Dermatology. Philadelphia, Pa: WB Saunders; 1985.

Rao NA, Gupta A, Dustin L, Chee SP, Okada AA, Khairallah M, et al. Frequency of distinguishing clinical features in Vogt-Koyanagi-Harada disease. Ophthalmology. 2010 Mar. 117(3):591-9, 599.e1. [Medline]. [Full Text].

Grob A, Grekin S. Piebaldism in children. Cutis. 2016 Feb. 97 (2):90-2. [Medline].

Karadag R, Esmer O, Karadag AS, Bilgili SG, Cakici O, Demircan YT, et al. Evaluation of ocular findings in patients with vitiligo. Int J Dermatol. 2016 Mar. 55 (3):351-5. [Medline].

Gupta M, Pande D, Lehl SS, Sachdev A. Alezzandrini syndrome. BMJ Case Rep. 2011 Aug 17. 2011:[Medline].

Huggins RH, Janusz CA, Schwartz RA. Vitiligo: a sign of systemic disease. Indian J Dermatol Venereol Leprol. 2006 Jan-Feb. 72(1):68-71. [Medline].

Vasconcelos-Santos DV, Sohn EH, Sadda S, Rao NA. Retinal pigment epithelial changes in chronic Vogt-Koyanagi-Harada disease: fundus autofluorescence and spectral domain-optical coherence tomography findings. Retina. 2010 Jan. 30(1):33-41. [Medline].

Zamecki KJ, Jabs DA. HLA typing in uveitis: use and misuse. Am J Ophthalmol. 2010 Feb. 149(2):189-193.e2. [Medline].

Lin P. Targeting interleukin-6 for noninfectious uveitis. Clin Ophthalmol. 2015. 9:1697-702. [Medline].

Raffa L, Bawazeer A. Intravitreal bevacizumab injection in a 14-year-old Vogt-Koyanagi-Harada patient with choroidal neovascular membrane. Can J Ophthalmol. 2009. 44:615-6. [Medline].

Khalifa YM, Bailony MR, Acharya NR. Treatment of pediatric vogt-koyanagi-harada syndrome with infliximab. Ocul Immunol Inflamm. 2010 Jun. 18(3):218-22. [Medline].

Arcinue CA, Radwan A, Lebanan MO, Foster CS. Comparison of two different combination immunosuppressive therapies in the treatment of Vogt-Koyonagi-Harada syndrome. Ocul Immunol Inflamm. 2013. 21(1):47-52. [Medline].

Wand K, Abraham S, Loos D, Stumpfe S, Lohmann C, Maier M, et al. [Long-term course of immunosuppressive therapy of Vogt-Koyanagi-Harada syndrome]. Ophthalmologe. 2015 Oct. 112 (10):857-60. [Medline].
Medscape Reference © 2011 WebMD, LLC