Phytophotodermatitis Clinical Presentation
Author: William P Baugh, MD; Chief Editor: William D James, MD more...
Updated: Jul 24, 2014
What would you like to print?
History
The history is essential in making the correct diagnosis of phytophotodermatitis. The clinician must be aware that this entity exists and inquire about contact with fruits or plants. This is particularly true if the patient complains of a painful or burning sensation rather than pruritus (which is commonly associated with allergic contact dermatitis). The patient's hobbies, recreational activities, and/or occupation may give essential clues to the most likely culprits.
Phytophotodermatitis most commonly occurs in the spring and the summer when furocoumarins are at their highest concentration in plants and when UV exposure is greatest for patients. For instance, children playing outdoors may come in contact with meadow grass of the Umbelliferae family.
Agricultural workers may develop phytophotodermatitis when picking parsley (Cymopteris watsonii), parsnips (Pastinaca sativa), celery (Apium graveolens), and/or carrots (Daucus carota). The resulting photocutaneous reaction in this group has been called harvester's dermatitis and is primarily due to exposure to Umbellifers. Another report describes an outbreak of "strimmer rash" in several grounds operatives who had all undertaken grass-cutting duties. The affecting agent was likely giant hogweed, also from the Umbellifers.
Cneoridium dumosum is a plant found along the southwestern coastal United States to which hikers may be exposed, resulting in phytophotodermatitis. Patients are often attracted to this plant by its scented white flower and red berries.
Bartenders and grocers classically develop phytophotodermatitis due to exposure to limes and celery, respectively.[2, 3]
Several reports describe patients creating fig leaf decoctions to use as "tanning lotions" or "suntan promoters." Fig leaves (Ficus carica or Ficus benjamina) are either ground up, boiled, or mixed with oil and then applied on the skin.[4, 5] Patients reported having found these decoction recipes from magazines and/or friends.
One report describes a patient rubbing the juice of medicinal limes (Citrus hystrix) onto the skin as a treatment for insect bites and as an insect repellent, which subsequently resulted in phytophotodermatitis.
Another report describes a patient rubbing the juice of medicinal lime (C hystrix) onto the scalp hair to dye his hair. The juice trickled in between his fingers onto the back of his hands and down the arms to the elbows, where the patient developed phytophotodermatitis.
One case of iatrogenic phytophotodermatitis resulted from ingestion of an herbal remedy prescribed for chronic hand dermatitis.[6] Plant fragments contained in the herbal mix included extracts from Compositae, a member of the daisy family. No reports describe phytophotodermatitis after contact with members of the Compositae family. However, the action of boiling the plant mix may have possibly released high concentrations of intracellular furocoumarins.
One study assessed the potential of a small amount of psoralen in a normal diet to provoke phototoxicity in volunteers with skin types I and II. The study concluded that threshold erythema and phytophotodermatitis was unaffected by ingestion of this normal dietary amount of fresh parsnips.[7]
Another study reports on a 30-year-old man who trimmed the stems of a F pumila shrub while exposing his forearms, antecubital fossae, neck, and forehead. Within the following 3 days, the patient noticed eruptions appearing on the exposed areas. Six weeks following, the patient experienced confettilike hypomelanosis over the prior-unprotected areas of the skin. He was treated with clobetasol propionate cream.
Physical
The primary skin lesion of phytophotodermatitis may range from delayed erythema (24-48 h) to frank blisters. The skin lesions are limited to the areas in contact with furocoumarin and with sunlight exposure. The primary lesion is often not seen by the physician because of the transient nature of the reaction. Rather, the patient presents with late skin changes that become apparent after 72 hours.
Late skin lesions

Bizarre inflammatory patterns and linear streaks of hyperpigmentation are key clues to diagnosing phytophotodermatitis. These patterns often result from brushing against a plant's stems or leaves while outdoors or from the liquid spread of lime juice over the hand or down the forearm. A handprint pattern from lime juice contact is not uncommon. See the images below.

A 37-year-old white woman presented to the clinic complaining of a rash on the medial part of her right thigh and left arm that was acquired after clearing some weeds in her yard. A phototoxic combination of sunlight and a psoralen-containing plant produced this bizarre linear vesicular eruption.

Closer clinical view of bizarre angulated vesicular streaks, which occurred after contact with a plant and ultraviolet light exposure.

A 26-year-old female airline flight attendant exposed to lime while serving drinks en route to the Caribbean. During the Caribbean layover, she had significant sun exposure. The combination of lime juice and sun exposure led to a drip-pattern blister formation on the dorsal forearm consistent with phytophotodermatitis. This picture clearly delineates the potential severity of phytophotodermatitis with extensive blister formation.

Furthermore, a buckshot spray over exposed surfaces is commonly seen in association with the use of string trimmers (weed-whackers) when unwanted weeds possessing furocoumarins are cleared from a field or a yard.

Skin distribution: Phytophotodermatitis is most commonly found on skin sites exposed to plants and sunlight; these include such areas as the arms and the legs, but it may occur anywhere.

Skin color: Skin color varies depending on the patient's underlying skin tone and the degree of the reaction. However, as previously stated, the acute phase of phytophotodermatitis manifests as erythema, and the end stage manifests as postinflammatory hyperpigmentation, as shown below.

The 2-month follow-up picture of a patient with a drip-pattern blister formation on the dorsal forearm demonstrates the potential postinflammatory pigmentation changes and scarring that may occur with severe blistering of phytophotodermatitis.
Causes
The most common plant family to cause phytophotodermatitis is the Umbelliferae family. See the images below.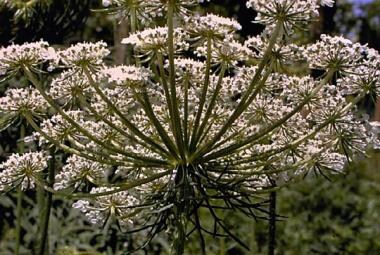 Queen Anne's lace, a member of the Umbelliferae family of plants, is well known to produce a furocoumarin-induced phototoxic eruption.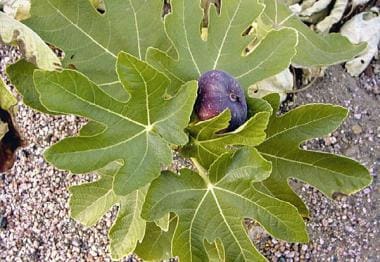 Ficus. The common fig contains furocoumarins and should be considered amidst the list of potential offending agents that cause phytophotodermatitis.
Phytophotodermatitis is most commonly caused by ingestion of or topical exposure to psoralens (furocoumarins). Psoralens have been isolated from at least 4 different plant families: Umbelliferae,[8] Rutaceae,[9] Moraceae, and Leguminosae.
Table. Common Causes of Phytophotodermatitis (Open Table in a new window)
Family
Genus
Species
Common Names
Main Compounds
Umbelliferae
Amni
majus
Queen Anne's lace, Bishop's weed
8-methoxypsoralen (8-MOP), 5-methoxypsoralen (5-MOP), imperatorin
Heracleum
sphondylium
Cow parsnip
8-MOP, 5-MOP, imperatorin, phellopterin
Heracleum
mantegazzianum
Giant hogweed, Cartwheel flower
8-MOP, 5-MOP, imperatorin, phellopterin
Pastinaca
sativa
Parsnip
8-MOP, 5-MOP, imperatorin, isopimpinellin
Apium
graveolens
Celery
Psoralens, 8-MOP, 5-MOP
Rutaceae
Citrus
bergamia
Bergamot lime
5-MOP
Citrus
maxima
Zabon[10]
5-MOP
Dictamnus
albus
Gas plant, "Burning bush of Moses"
8-MOP, 5-MOP
Moracea
Ficus
carica
Fig
Psoralens, 5-MOP
Leguminosae
Psoralea
corylifolia
Bavchi, Scurf pea
Psoralens
Chart modified from Plants and the Skin. 1993:70-71.[11]
References
Smith E, Kiss F, Porter RM, Anstey AV. A review of UVA-mediated photosensitivity disorders. Photochem Photobiol Sci. 2011 Dec 16. 11(1):199-206. [Medline].

Berkley SF, Hightower AW, Beier RC, et al. Dermatitis in grocery workers associated with high natural concentrations of furanocoumarins in celery. Ann Intern Med. 1986 Sep. 105(3):351-5. [Medline].

Maso MJ, Ruszkowski AM, Bauerle J, DeLeo VA, Gasparro FP. Celery phytophotodermatitis in a chef. Arch Dermatol. 1991 Jun. 127(6):912-3. [Medline].

Bassioukas K, Stergiopoulou C, Hatzis J. Erythrodermic phytophotodermatitis after application of aqueous fig-leaf extract as an artificial suntan promoter and sunbathing. Contact Dermatitis. 2004 Aug. 51(2):94-5. [Medline].

Bollero D, Stella M, Rivolin A, Cassano P, Risso D, Vanzetti M. Fig leaf tanning lotion and sun-related burns: case reports. Burns. 2001 Nov. 27(7):777-9. [Medline].

Moloney FJ, Parnell J, Buckley CC. Iatrogenic phytophotodermatitis resulting from herbal treatment of an allergic contact dermatitis. Clin Exp Dermatol. 2006 Jan. 31(1):39-41. [Medline].

Beattie PE, Wilkie MJ, Smith G, Ferguson J, Ibbotson SH. Can dietary furanocoumarin ingestion enhance the erythemal response during high-dose UVA1 therapy?. J Am Acad Dermatol. 2007 Jan. 56(1):84-7. [Medline].

Kavli G, Volden G, Raa J. Accidental induction of photocontact allergy to Heracleum laciniatum. Acta Derm Venereol. 1982. 62(5):435-8. [Medline].

Morlière P, Hüppe G, Averbeck D, Young AR, Santus R, Dubertret L. In vitro photostability and photosensitizing properties of bergamot oil. Effects of a cinnamate sunscreen. J Photochem Photobiol B. 1990 Nov. 7(2-4):199-208. [Medline].

Izumi AK, Dawson KL. Zabon phytophotodermatitis: first case reports due to Citrus maxima. J Am Acad Dermatol. 2002 May. 46(5 Suppl):S146-7. [Medline].

Lovell CR. Plants and the Skin. London, England: Blackwell Science; 1993. 64-95.

Coffman K, Boyce WT, Hansen RC. Phytophotodermatitis simulating child abuse. Am J Dis Child. 1985 Mar. 139(3):239-40. [Medline].

Kos L, Shwayder T. Cutaneous manifestations of child abuse. Pediatr Dermatol. 2006 Jul-Aug. 23(4):311-20. [Medline].

Carlsen K, Weismann K. Phytophotodermatitis in 19 children admitted to hospital and their differential diagnoses: Child abuse and herpes simplex virus infection. J Am Acad Dermatol. 2007 Nov. 57(5 Suppl):S88-91. [Medline].

Koh D, Ong CN. Phytophotodermatitis due to the application of citrus hystrix as a folk remedy. Br J Dermatol. 1999 Apr. 140(4):737-8. [Medline].

Burnett JW, Nguyen TV. Phytophotodermatitis: differentiation from jellyfish stings. Australas J Dermatol. 1989. 30(2):101-2. [Medline].

Ahmed I, Charles-Holmes R. Phytophotodermatitis mimicking superficial lymphangitis. Br J Dermatol. 2000 May. 142(5):1069. [Medline].

Tunget CL, Turchen SG, Manoguerra AS, Clark RF, Pudoff DE. Sunlight and the plant: a toxic combination: severe phytophotodermatitis from Cneoridium dumosum. Cutis. 1994 Dec. 54(6):400-2. [Medline].

Almeida HL Jr, Sotto MN, Castro LA, Rocha NM. Transmission electron microscopy of the preclinical phase of experimental phytophotodermatitis. Clinics (Sao Paulo). 2008 Jun. 63(3):371-4. [Medline]. [Full Text].

Jorge VM, de Almeida HL Jr, Amado M. Serial light microscopy of experimental phytophotodermatitis in animal model. J Cutan Pathol. 2009 Mar. 36(3):338-41. [Medline].

Bensasson RV, Land EJ, Salet C. Triplet excited state of furocoumarins: reaction with nucleic acid bases and amino acids. Photochem Photobiol. 1978 Mar. 27(3):273-80. [Medline].

Furniss D, Adams T. Herb of grace: an unusual cause of phytophotodermatitis mimicking burn injury. J Burn Care Res. 2007 Sep-Oct. 28(5):767-9. [Medline].

Hipkin CR. Phytophotodermatitis, a botanical view. Lancet. 1991 Oct 5. 338(8771):892-3. [Medline].

Klaber RE. Phytophotodermatitis. Arch Dis Child. 2006 May. 91(5):385. [Medline].

Musajo L, Rodighiero G. Studies on the photo-C4-cyclo-addition reactions between skin-photosensitizing furocoumarins and nucleic acids. Photochem Photobiol. 1970 Jan. 11(1):27-35. [Medline].

Oakley AM, Ive FA, Harrison MA. String trimmer's dermatitis. J Soc Occup Med. 1986 Winter. 36(4):143-4. [Medline].

Ozdamar E, Ozbek S, Akin S. An unusual cause of burn injury: fig leaf decoction used as a remedy for a dermatitis of unknown etiology. J Burn Care Rehabil. 2003 Jul-Aug. 24(4):229-33; discussion 228. [Medline].

Pathak MA. Phytophotodermatitis. Clin Dermatol. 1986 Apr-Jun. 4(2):102-21. [Medline].

Santucci B, Picardo M. Occupational contact dermatitis to plants. Clin Dermatol. 1992 Apr-Jun. 10(2):157-65. [Medline].

Stoner JG, Rasmussen JE. Plant dermatitis. J Am Acad Dermatol. 1983 Jul. 9(1):1-15. [Medline].

Wagner AM, Wu JJ, Hansen RC, Nigg HN, Beiere RC. Bullous phytophotodermatitis associated with high natural concentrations of furanocoumarins in limes. Am J Contact Dermat. 2002 Mar. 13(1):10-4. [Medline].

Wang L, Sterling B, Don P. Berloque dermatitis induced by "Florida water". Cutis. 2002 Jul. 70(1):29-30. [Medline].

Wynn P, Bell S. Phytophotodermatitis in grounds operatives. Occup Med (Lond). 2005 Aug. 55(5):393-5. [Medline].

Young AR, Magnus IA. An action spectrum for 8-MOP induced sunburn cells in mammalian epidermis. Br J Dermatol. 1981 May. 104(5):541-8. [Medline].

Zaynoun ST, Aftimos BG, Abi Ali L, Tenekjian KK, Khalidi U, Kurban AK. Ficus carica; isolation and quantification of the photoactive components. Contact Dermatitis. 1984 Jul. 11(1):21-5. [Medline].
Table. Common Causes of Phytophotodermatitis
Family
Genus
Species
Common Names
Main Compounds
Umbelliferae
Amni
majus
Queen Anne's lace, Bishop's weed
8-methoxypsoralen (8-MOP), 5-methoxypsoralen (5-MOP), imperatorin
Heracleum
sphondylium
Cow parsnip
8-MOP, 5-MOP, imperatorin, phellopterin
Heracleum
mantegazzianum
Giant hogweed, Cartwheel flower
8-MOP, 5-MOP, imperatorin, phellopterin
Pastinaca
sativa
Parsnip
8-MOP, 5-MOP, imperatorin, isopimpinellin
Apium
graveolens
Celery
Psoralens, 8-MOP, 5-MOP
Rutaceae
Citrus
bergamia
Bergamot lime
5-MOP
Citrus
maxima
Zabon[10]
5-MOP
Dictamnus
albus
Gas plant, "Burning bush of Moses"
8-MOP, 5-MOP
Moracea
Ficus
carica
Fig
Psoralens, 5-MOP
Leguminosae
Psoralea
corylifolia
Bavchi, Scurf pea
Psoralens
Medscape Reference © 2011 WebMD, LLC