Poikiloderma of Civatte Clinical Presentation
Author: Lana H Hawayek, MD; Chief Editor: Dirk M Elston, MD more...
Updated: Sep 02, 2014
What would you like to print?
History
Patients usually complain of chronic reddish-brown discoloration on the lateral cheeks and neck. Lesions usually are asymptomatic, but occasionally, patients report mild burning, itching, and hyperesthesia.
Physical
Reddish-brown, reticulate pigmentation with atrophy and telangiectasia is usually present in symmetric patches on the lateral cheeks and sides of the neck. Lesions appear to run in line with the normal skin creases of the neck. The submental area shaded by the chin usually is spared (note the image below).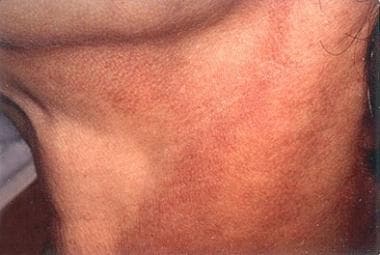 Poikiloderma of Civatte over the neck. Notice sparing of the area under the chin. Courtesy of Dr. Shukrallah Zaynoun.
Causes
Chronic exposure to ultraviolet light appears to be a primary etiologic factor, which is supported by the finding that lesions occur on sun-exposed areas.[2, 3] In addition, solar elastosis is a frequent histopathologic finding.
Photosensitizing chemicals in perfumes or cosmetics have been implicated in the pathogenesis of poikiloderma of Civatte, including fragrances used in aroma therapy.[4]
Possibly, hormonal changes related to menopause or low estrogen levels may be a factor. Most patients are middle-aged or elderly women.
Genetic predisposition may exist. This is supported by the presence of the condition in successive generations, and in individuals of both sexes, consistent with an autosomal dominant inheritance with variable penetrance.[5] The genetically determined predisposition may be expressed as an increased susceptibility of the skin to ultraviolet radiation.
A classification system suggested to help with the diagnosis and treatment of specific causes of poikiloderma has been suggested.[6]
Medscape Reference © 2011 WebMD, LLC