Erythema Multiforme Workup
Author: Jose A Plaza, MD; Chief Editor: William D James, MD more...
Updated: May 24, 2016
What would you like to print?
Approach Considerations
No specific laboratory tests are indicated to make the diagnosis of erythema multiforme (EM), which should be arrived at clinically. The clinical picture can guide laboratory testing in severe cases.
Cultures are indicated in severe cases and should be obtained from blood, sputum, and mucosal lesions.
No specific imaging studies are necessary in most cases, although chest radiography may be useful in cases with respiratory symptoms or signs, particularly if an underlying pulmonary infection is suspected.
CBC Count
The complete blood cell (CBC) count with differential usually reveals moderate leukocytosis with atypical lymphocytes and lymphopenia, possibly secondary to the depletion of CD4 lymphocytes (90% of patients). An eosinophil count greater than 1000/mm3 may also be seen. Neutropenia (30% of patients) may occur and indicates a poor prognosis. A severely elevated total white blood cell (WBC) counts indicate infection. Mild anemia may be present, and thrombocytopenia is found in 15% of patients.
Chemistries and Other Laboratory Tests
Electrolytes values may be abnormal with severe skin and mucous membrane involvement due to fluid losses. These values are useful to guide volume and electrolyte replacement therapy.
Blood urea nitrogen (BUN) and creatinine tests are indicated to screen for renal involvement and dehydration in severe cases requiring hospitalization. Prerenal azotemia and elevated serum urea nitrogen levels may be found and indicate a poor prognosis.
Also in severe cases, the erythrocyte sedimentation (ESR) rate may be elevated, but this is a nonspecific finding. Mildly elevated liver transaminase levels may be found with hepatic involvement.
Immunofluorescence and PCR
Specific herpes simplex virus (HSV) antigens have been detected within keratinocytes by immunofluorescence study. The HSV DNA has been identified primarily within the keratinocytes by polymerase chain reaction (PCR) amplification.
Direct immunofluorescence staining and examination may also identify an alternative diagnosis (eg, pemphigoid, immunoglobulin A [IgA] linear dermatosis.
Biopsy and Histologic Features
Histopathologic examination of a cutaneous punch biopsy may be used to confirm the diagnosis of erythema multiforme (EM) and to rule out the differential diagnosis (see Differentials).A skin biopsy of the cutaneous lesions may also exclude the presence of other blistering disorders, such as in equivocal cases, particularly in absence of target lesions.
Erythema multiforme
Histologically, erythema multiforme is the prototypical vacuolar interface dermatitis showing a lymphocytic infiltrate along the dermoepidermal junction associated with hydropic changes and dyskeratosis of basal keratinocytes (see the following image). This vacuolar change represents individual or small groups of necrotic (apoptotic) keratinocytes. In addition, a characteristic sparse-to-moderate lymphocytic infiltrate is present around the superficial vascular plexuses.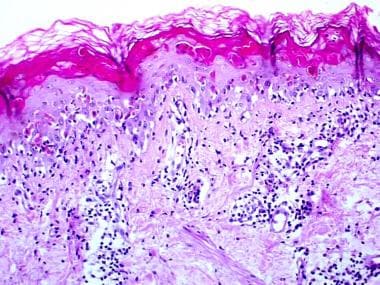 Interface dermatitis with prominent dyskeratotic cells in epidermis.
As the lesions progress, partial-to-full-thickness epidermal necrosis, intraepidermal vesiculation, or subepidermal blisters may appear, owing to spongiosis and to the cellular damage of the basal layer of the epidermis. Occasionally, severe papillary edema is present. The dermal inflammatory infiltrate is characterized by high-density lichenoid infiltrate rich in T cells, composed of lymphocytes (CD4+ more abundant than CD8+ in the papillary dermis; in the epidermis, there is a predominance of CD8 T cells and macrophages) and macrophages, with a few neutrophils and occasional eosinophils (particularly in those cases associated with medications).
Erythema multiforme vs SJS/TEN and SSS
Histology and immunochemistry studies have shown that inflammatory infiltrates of erythema multiforme and Steven-Johnson syndrome / toxic epidermal necrolysis (SJS/TEN) are strikingly different in density and nature. Erythema multiforme has a high density of cell infiltrate rich in T-lymphocytes. By contrast, SJS/TEN is characterized by a cell-poor infiltrate of macrophages and dendrocytes with strong tumor necrosis factor (TNF)–alpha immunoreactivity. Immune complex deposition is variable and nonspecific. In severe cases, fibrinoid necrosis can occur in the stomach, spleen, trachea, and bronchi.
Histologic examination of skin biopsies in staphylococcal scalded skin syndrome (SSSS) reveals cleavage of cell layers within the epidermis.
References
Sokumbi O, Wetter DA. Clinical features, diagnosis, and treatment of erythema multiforme: a review for the practicing dermatologist. Int J Dermatol. 2012 Aug. 51(8):889-902. [Medline].

Assier H, Bastuji-Garin S, Revuz J, Roujeau JC. Erythema multiforme with mucous membrane involvement and Stevens-Johnson syndrome are clinically different disorders with distinct causes. Arch Dermatol. 1995 May. 131(5):539-43. [Medline].

Bastuji-Garin S, Rzany B, Stern RS, Shear NH, Naldi L, Roujeau JC. Clinical classification of cases of toxic epidermal necrolysis, Stevens-Johnson syndrome, and erythema multiforme. Arch Dermatol. 1993 Jan. 129(1):92-6. [Medline].

Cote B, Wechsler J, Bastuji-Garin S, Assier H, Revuz J, Roujeau JC. Clinicopathologic correlation in erythema multiforme and Stevens-Johnson syndrome. Arch Dermatol. 1995 Nov. 131(11):1268-72. [Medline].

Fritsch PO, Ruiz-Maldonado R, Erythema multiforme. Stevens-Johnson syndrome and toxic epidermal necrolysis. Freedberg IM, Irwin M, Eisen AZ, Wolff K, Austen KF, Goldsmith LA, Katz SI, editors. Fitzpatrick's Dermatology in General Medicine. 6th edition. New York: McGraw-Hill; 2003. 543-57.

Fritsh PO, Elias PM. Erythema multiforme and toxic epidermal necrolysis. Fitzpatrick TB, et al, eds. Fitzpatrick's Dermatology in General Medicine. New York: McGraw-Hill; 1993. 585-600.

Roujeau JC. Stevens-Johnson syndrome and toxic epidermal necrolysis are severity variants of the same disease which differs from erythema multiforme. J Dermatol. 1997 Nov. 24(11):726-9. [Medline].

Huff JC. Erythema multiforme and latent herpes simplex infection. Semin Dermatol. 1992 Sep. 11(3):207-10. [Medline].

Orton PW, Huff JC, Tonnesen MG, Weston WL. Detection of a herpes simplex viral antigen in skin lesions of erythema multiforme. Ann Intern Med. 1984 Jul. 101(1):48-50. [Medline].

Schofield JK, Tatnall FM, Brown J, McCloskey D, Navarrete C, Leigh IM. Recurrent erythema multiforme: tissue typing in a large series of patients. Br J Dermatol. 1994 Oct. 131(4):532-5. [Medline].

Kämpgen E, Burg G, Wank R. Association of herpes simplex virus-induced erythema multiforme with the human leukocyte antigen DQw3. Arch Dermatol. 1988 Sep. 124(9):1372-5. [Medline].

Martire B, Foti C, Cassano N, Buquicchio R, Del Vecchio GC, De Mattia D. Persistent B-cell lymphopenia, multiorgan disease, and erythema multiforme caused by Mycoplasma pneumoniae infection. Pediatr Dermatol. 2005 Nov-Dec. 22(6):558-60. [Medline].

Grosber M, Alexandre M, Poszepczynska-Guigne E, Revuz J, Roujeau JC. Recurrent erythema multiforme in association with recurrent Mycoplasma pneumoniae infections. J Am Acad Dermatol. 2007 May. 56(5 Suppl):S118-9. [Medline].

Wu CC, Tsai CN, Wong WR, Hong HS, Chuang YH. Early congenital syphilis and erythema multiforme-like bullous targetoid lesions in a 1-day-old newborn: detection of Treponema pallidum genomic DNA from the targetoid plaque using nested polymerase chain reaction. J Am Acad Dermatol. 2006 Aug. 55(2 Suppl):S11-5. [Medline].

Pavlovic MD, Karadaglic DM, Kandolf LO, Mijuskovic ZP. Persistent erythema multiforme: a report of three cases. J Eur Acad Dermatol Venereol. 2001 Jan. 15(1):54-8. [Medline].

Carducci M, Latini A, Acierno F, Amantea A, Capitanio B, Santucci B. Erythema multiforme during cytomegalovirus infection and oral therapy with terbinafine: a virus-drug interaction. J Eur Acad Dermatol Venereol. 2004 Mar. 18(2):201-3. [Medline].

Gonzalez-Delgado P, Blanes M, Soriano V, Montoro D, Loeda C, Niveiro E. Erythema multiforme to amoxicillin with concurrent infection by Epstein-Barr virus. Allergol Immunopathol (Madr). 2006 Mar-Apr. 34(2):76-8. [Medline].

Wolkenstein P, Carriere V, Charue D, et al. A slow acetylator genotype is a risk factor for sulphonamide-induced toxic epidermal necrolysis and Stevens-Johnson syndrome. Pharmacogenetics. 1995 Aug. 5(4):255-8. [Medline].

Mockenhaupt M, Viboud C, Dunant A, et al. Stevens-Johnson syndrome and toxic epidermal necrolysis: assessment of medication risks with emphasis on recently marketed drugs. The EuroSCAR-study. J Invest Dermatol. 2008 Jan. 128(1):35-44. [Medline].

Khafaga YM, Jamshed A, Allam AA, et al. Stevens-Johnson syndrome in patients on phenytoin and cranial radiotherapy. Acta Oncol. 1999. 38(1):111-6. [Medline].

Nettis E, Giordano D, Pierluigi T, Ferrannini A, Tursi A. Erythema multiforme-like rash in a patient sensitive to ofloxacin. Acta Derm Venereol. 2002. 82(5):395-6. [Medline].

Thami GP, Kaur S, Kanwar AJ. Erythema multiforme due to griseofulvin with positive re-exposure test. Dermatology. 2001. 203(1):84-5. [Medline].

Caro-Gutiérrez D, Floristán Muruzábal MU, Gómez de la Fuente E, Franco AP, López Estebaranz JL. Photo-induced erythema multiforme associated with vandetanib administration. J Am Acad Dermatol. 2014 Oct. 71(4):e142-4. [Medline].

Matsuzawa Y, Fujishima S, Nakada T, Iijima M. Erythema multiforme major putatively induced by dihydrocodeine phosphate. Clin Exp Dermatol. 2010 Mar 19. [Medline].

Hong SJ, Chang CH. Erythema multiforme-like generalized allergic contact dermatitis caused by Alpinia galanga. Contact Dermatitis. 2006 Feb. 54(2):118-20. [Medline].

Werchniak AE, Schwarzenberger K. Poison ivy: an underreported cause of erythema multiforme. J Am Acad Dermatol. 2004 Nov. 51(5 Suppl):S159-60. [Medline].

Cohen DM, Bhattacharyya I. Cinnamon-induced oral erythema multiformelike sensitivity reaction. J Am Dent Assoc. 2000 Jul. 131(7):929-34. [Medline].

Mayumi M, Heike T, Mikawa H. Transient selective C4 deficiency of infancy. Lancet. 1992 Mar 21. 339(8795):752. [Medline].

Lam NS, Yang YH, Wang LC, Lin YT, Chiang BL. Clinical characteristics of childhood erythema multiforme, Stevens-Johnson syndrome and toxic epidermal necrolysis in Taiwanese children. J Microbiol Immunol Infect. 2004 Dec. 37(6):366-70. [Medline].

Aydogan K, Karadogan S, Balaban Adim S, Tunali S. Lupus erythematosus associated with erythema multiforme: report of two cases and review of the literature. J Eur Acad Dermatol Venereol. 2005 Sep. 19(5):621-7. [Medline].

Kerob D, Assier-Bonnet H, Esnault-Gelly P, Blanc F, Saiag P. Recurrent erythema multiforme unresponsive to acyclovir prophylaxis and responsive to valacyclovir continuous therapy. Arch Dermatol. 1998 Jul. 134(7):876-7. [Medline].

Huff JC. Acyclovir for recurrent erythema multiforme caused by herpes simplex. J Am Acad Dermatol. 1988 Jan. 18(1 Pt 2):197-9. [Medline].

Lynn WA, Davidson RN, Wansbrough-Jones MH. Successful use of oral acyclovir to prevent herpes simplex-associated erythema multiforme. J Infect. 1987 Sep. 15(2):192-3. [Medline].

Tatnall FM, Schofield JK, Leigh IM. A double-blind, placebo-controlled trial of continuous acyclovir therapy in recurrent erythema multiforme. Br J Dermatol. 1995 Feb. 132(2):267-70. [Medline].

Kürkçüoglu N, Alli N. Cimetidine prevents recurrent erythema multiforme major resulting from herpes simplex virus infection. J Am Acad Dermatol. 1989 Oct. 21(4 Pt 1):814-5. [Medline].
Medscape Reference © 2011 WebMD, LLC