Giant Condylomata Acuminata of Buschke and Lowenstein Clinical Presentation
Author: Catharine Lisa Kauffman, MD, FACP; Chief Editor: Dirk M Elston, MD more...
Updated: Jul 21, 2016
What would you like to print?
Physical
Giant condyloma of Buschke and Löwenstein (GCBL) typically starts on the prepuce as a keratotic plaque and slowly expands into a cauliflowerlike mass, as large as 15 cm. The slow growth of the tumor, which may span as long as 20 years, is typical for immune competent individuals. The lesion may ulcerate or form a penile horn and typically is associated with a foul odor. Expansion to the corpus cavernosum and urethra may occur, with subsequent fistulation. Regional lymphadenopathy is common, primarily due to secondary infection, not metastases.
Similar slow progression is noted on perianal lesions, where it disseminates circumferentially from the mucocutaneous transitional zone to the perianal area. The anal canal itself is commonly, but not universally, uninvolved. Presenting symptoms of perirectal GCBL include perianal mass (47%),[6] fistula or abscess (32%), and bleeding (18%).The more recent advent of acquired and iatrogenic immune suppression tends to shift the occurrence of Buschke-Löwenstein tumor more towards immune-suppressed individuals, in whom the growth is commonly more rapid.
See the image below.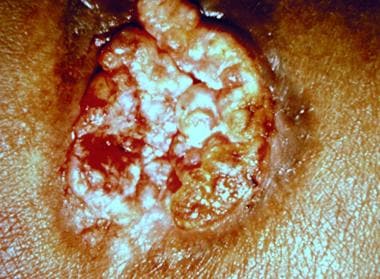 Giant condylomata acuminata of Buschke and Lowenstein of the perianal region, consisting of a slow-growing, ulcerated, cauliflowerlike mass.
During pregnancy, giant condyloma has a tendency to proliferate, which represents a treatment challenge owing to the limited therapeutic options. Successful management was obtained in one case by surgical excision alone, which was performed one month after childbirth. In rare cases, an evolution from HPV-induced vulvoperineal lesions into Buschke-Löwenstein tumor has been noted.[7]
Unusual locations, such as axillary areas, have been described.
Causes
Chronic phimosis and poor penile hygiene have been postulated as inciting or contributing events. This may account for the higher incidence in males who are uncircumcised. Populations with a higher incidence of circumcision have a lower rate of GCBL. In general, newborn circumcision has been estimated to be 99.9% effective in eliminating cancer of the penis. Chronic irritation, produced by a perianal fistula and ulcerative colitis, has been implicated as a causative factor. Immunosuppression secondary to HIV disease or due to immunosuppressive medication may be a predisposing factor.
Other risk factors for GCBL are low socioeconomic status, drug abuse, use of oral contraceptives, presence of other sexually transmitted diseases, diabetes, smoking, and, possibly, pregnancy,[8] which may be associated with an impaired immune response.[9] The dependency of Buschke-Löwenstein tumor growth to a state of decreased immune responsiveness is exemplified by the development of new penile and perianal lesions in a male with chronic lymphocytic leukemia at the time he received chemotherapy.[10]
References
Wiedemann A, Diekmann WP, Holtmann G, Kracht H. Report of a case with giant condyloma (Buschke-Lowenstein tumor) localized in the bladder. J Urol. 1995 Apr. 153(4):1222-4. [Medline].

Dianzani C, Bucci M, Pierangeli A, Calvieri S, Degener AM. Association of human papillomavirus type 11 with carcinoma of the penis. Urology. 1998 Jun. 51(6):1046-8. [Medline].

Braga JC, Nadal SR, Stiepcich M, Framil VM, Muller H. Buschke -Loewenstein tumor: identification of HPV type 6 and 11. An Bras Dermatol. 2012 Jan-Feb. 87(1):131-4. [Medline].

del Pino M, Bleeker MC, Quint WG, Snijders PJ, Meijer CJ, Steenbergen RD. Comprehensive analysis of human papillomavirus prevalence and the potential role of low-risk types in verrucous carcinoma. Mod Pathol. 2012 Oct. 25(10):1354-63. [Medline].

Chu QD, Vezeridis MP, Libbey NP, Wanebo HJ. Giant condyloma acuminatum (Buschke-Lowenstein tumor) of the anorectal and perianal regions. Analysis of 42 cases. Dis Colon Rectum. 1994 Sep. 37 (9):950-7. [Medline].

Papiu HS, Dumnici A, Olariu T, Onita M, Hornung E, Goldis D, et al. Perianal giant condyloma acuminatum (Buschke-Löwenstein tumor). Case report and review of the literature. Chirurgia (Bucur). 2011 Jul-Aug. 106(4):535-9. [Medline].

Malek-Mellouli M, Ben Amara F, Fatnassi A, Reziga H. Giant condyloma in pregnancy. Tunis Med. 2013 Jun. 91(6):422-3. [Medline].

Crespo R, Puig F, Lanzon A, Borell A. Buschke-Lowenstein tumor and pregnancy: a case report. Eur J Gynaecol Oncol. 2007. 28(4):328-9. [Medline].

Trombetta LJ, Place RJ. Giant condyloma acuminatum of the anorectum: trends in epidemiology and management: report of a case and review of the literature. Dis Colon Rectum. 2001 Dec. 44(12):1878-86. [Medline].

Nambudiri VE, Mutyambizi K, Walls AC, Fisher DC, Bleday R, Saavedra AP. Successful treatment of perianal giant condyloma acuminatum in an immunocompromised host with systemic interleukin 2 and topical cidofovir. JAMA Dermatol. 2013 Sep. 149(9):1068-70. [Medline].

Long CA, Lewis JM, Orucevic A. Primary rectal adenocarcinoma presenting as a giant perianal mass mimicking giant condyloma of Buschke-Lowenstein. Am Surg. 2013 Jun. 79(6):E228-30. [Medline].

Dinleyici M, Saracoglu N, Eren M, Kiliç Ö, Ciftci E, Dinleyici EC, et al. Giant Condyloma Acuminate Due to Human Papillomavirus Type 16 in an Infant Successfully Treated with Topical Imiquimod Therapy. Dermatol Reports. 2015 Dec 3. 7 (3):6134. [Medline].

Zhu JW, Lu ZF, Zheng M. Acquired progressive lymphangioma in the inguinal area mimicking giant condyloma acuminatum. Cutis. 2014 Jun. 93 (6):316-9. [Medline].

Takezawa Y, Shimizu N, Kurokawa K, Suzuki K, Yamanaka H. Appearance on magnetic resonance imaging of Buschke-Lowenstein tumour. Br J Urol. 1996 Aug. 78(2):308-9. [Medline].

Pinto AR, Guedes-Martins L, Marques C, Cabral JM. Buschke-Lowenstein Tumor. Acta Med Port. 2012 Sep-Oct. 25(5):345-7. [Medline].

Renzi A, Giordano P, Renzi G, Landolfi V, Del Genio A, Weiss EG. Buschke-Lowenstein tumor successful treatment by surgical excision alone: a case report. Surg Innov. 2006 Mar. 13(1):69-72. [Medline].

Fathi R, Tsoukas MM. Genital warts and other HPV infections: established and novel therapies. Clin Dermatol. 2014 Mar-Apr. 32(2):299-306. [Medline].

Ambriz-González G, Escobedo-Zavala LC, Carrillo de la Mora F, Ortiz-Arriaga A, Cordero-Zamora A, Corona-Nakamura A, et al. Buschke-Löwenstein tumor in childhood: a case report. J Pediatr Surg. 2005 Sep. 40(9):e25-7. [Medline].

Hengge UR, Tietze G. Successful treatment of recalcitrant condyloma with topical cidofovir. Sex Transm Infect. 2000 Apr. 76(2):143. [Medline]. [Full Text].

Toro JR, Sanchez S, Turiansky G, Blauvelt A. Topical cidofovir for the treatment of dermatologic conditions: verruca, condyloma, intraepithelial neoplasia, herpes simplex and its potential use in smallpox. Dermatol Clin. 2003 Apr. 21(2):301-9. [Medline].

Geusau A, Heinz-Peer G, Volc-Platzer B, Stingl G, Kirnbauer R. Regression of deeply infiltrating giant condyloma (Buschke-Löwenstein tumor) following long-term intralesional interferon alfa therapy. Arch Dermatol. 2000 Jun. 136(6):707-10. [Medline].

Heinzerling LM, Kempf W, Kamarashev J, Hafner J, Nestle FO. Treatment of verrucous carcinoma with imiquimod and CO2 laser ablation. Dermatology. 2003. 207(1):119-22. [Medline].

Ilkay AK, Chodak GW, Vogelzang NJ, Gerber GS. Buschke-Lowenstein tumor: therapeutic options including systemic chemotherapy. Urology. 1993 Nov. 42(5):599-602. [Medline].

Butler TW, Gefter J, Kleto D, Shuck EH 3rd, Ruffner BW. Squamous-cell carcinoma of the anus in condyloma acuminatum. Successful treatment with preoperative chemotherapy and radiation. Dis Colon Rectum. 1987 Apr. 30(4):293-5. [Medline].

Sobrado CW, Mester M, Nadalin W, Nahas SC, Bocchini SF, Habr-Gama A. Radiation-induced total regression of a highly recurrent giant perianal condyloma: report of case. Dis Colon Rectum. 2000 Feb. 43(2):257-60. [Medline].

Wiltz OH, Torregrosa M, Wiltz O. Autogenous vaccine: the best therapy for perianal condyloma acuminata?. Dis Colon Rectum. 1995 Aug. 38(8):838-41. [Medline].

Tian YP, Yao L, Malla P, Song Y, Li SS. Successful treatment of giant condyloma acuminatum with combination retinoid and interferon-? therapy. Int J STD AIDS. 2012 Jun. 23(6):445-7. [Medline].

Hatzichristou DG, Apostolidis A, Tzortzis V, Hatzimouratidis K, Ioannides E, Yannakoyorgos K. Glansectomy: an alternative surgical treatment for Buschke-Löwenstein tumors of the penis. Urology. 2001 May. 57(5):966-9. [Medline].

Talwar A, Puri N, Singh M. Giant condyloma acuminatum of Buschke and Lowenstein: successful surgical treatment. Int J STD AIDS. 2010 Jun. 21(6):446-8. [Medline].

Hemper E, Wittau M, Lemke J, Kornmann M, Henne-Bruns D. Management of a giant perineal condylomata acuminata. GMS Interdiscip Plast Reconstr Surg DGPW. 2016. 5:Doc07. [Medline].

Niazy F, Rostami K, Motabar AR. Giant Condyloma Acuminatum of Vulva Frustrating Treatment Challenge. World J Plast Surg. 2015 Jul. 4 (2):159-62. [Medline].

Akhavizadegan H. Electrocautery resection, shaving with a scalpel, and podophyllin: a combination therapy for giant condyloma acuminatum. World J Mens Health. 2015 Apr. 33 (1):39-41. [Medline].

Parise P, Sarzo G, Finco C, Marino F, Savastano S, Merigliano S. Giant condyloma acuminatum of the anorectum (Buschke-Lowenstein tumour): a case report of conservative surgery. Chir Ital. 2004 Jan-Feb. 56 (1):157-61. [Medline].

Renzi A, Brusciano L, Giordano P, Rossetti G, Izzo D, Del Genio A. Buschke-Löwenstein tumor. Successful treatment by surgical electrocautery excision alone: a case report. Chir Ital. 2004 Mar-Apr. 56(2):297-300. [Medline].

Tripoli M, Cordova A, Maggì F, Moschella F. Giant condylomata (Buschke-Löwenstein tumours): our case load in surgical treatment and review of the current therapies. Eur Rev Med Pharmacol Sci. 2012 Jun. 16(6):747-51. [Medline].

Perniola G, d'Itri F, Di Donato V, Achilli C, Lo Prete E, Panici PB. Recurrent Buschke-Löwenstein tumor treated using CO(2) laser vaporization. J Minim Invasive Gynecol. 2010 Sep-Oct. 17(5):662-4. [Medline].

Mavrogianni P, Fallidas E, Nicolaidou E, Villias K, Stefanaki I, Katsambas A, et al. Therapeutic combination of radiofrequency surgical dissection and oral acitretin in the management of perianal Buschke-Lowenstein tumour: a case report. Int J STD AIDS. 2012 May. 23(5):362-4. [Medline].
Medscape Reference © 2011 WebMD, LLC