Kaposi Varicelliform Eruption Clinical Presentation
Author: David T Robles, MD, PhD; Chief Editor: William D James, MD more...
Updated: Aug 20, 2015
What would you like to print?
History
Kaposi varicelliform eruption (KVE) begins as a sudden eruption of painful; edematous; often crusted or hemorrhagic vesicles, pustules, or erosions in areas of the preexisting dermatosis. A delay in diagnosis often occurs because the eruption is confused with the underlying disease. The eruption continues to spread over 7-10 days and may be associated with a high temperature, malaise, and lymphadenopathy
The primary episode of KVE runs its course and heals in 2-6 weeks. The average duration of illness is 16 days.
Transmission occurs through contact with a person who is infected or by dissemination of primary or recurrent herpes. Recurrent episodes may also occur but are milder and not usually associated with systemic symptoms. Some studies have shown a high frequency of HSV DNA in the oral cavity of patients with KVE.[22] In severe cases of KVE, lesions may heal with scarring.
Physical
Umbilicated vesiculopustules that progress to punched-out erosions in the setting of a widespread dermatosis, as shown below, is virtually pathognomonic for Kaposi varicelliform eruption (KVE).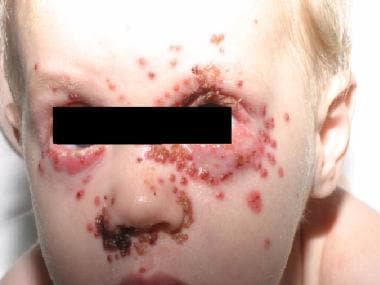 Infant with crusted, erythematous, umbilicated vesicles of eczema herpeticum and associated periorbital edema.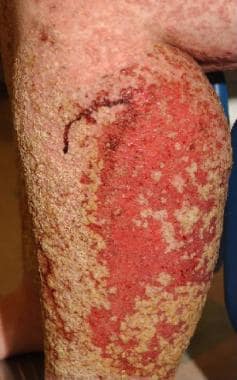 Kaposi varicelliform eruption occurring with underlying Darier disease.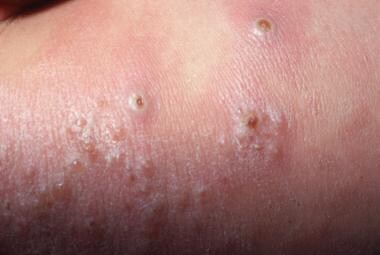 Characteristic umbilicated vesiculopustules on the thigh of a child with a preexisting atopic dermatitis.
The eruption is most commonly disseminated in the areas of dermatitis, with a predilection for the upper body and the head. Localized forms also exist.[23] The vesicles often become hemorrhagic and crusted and can evolve into extremely painful erosions with a punched-out appearance. These erosions may coalesce to form large denuded areas that frequently bleed and can become secondarily infected with bacteria.
Causes
Kaposi varicelliform eruption (KVE) is caused primarily by HSV-1, but can also be caused by HSV-2, coxsackievirus A16, or vaccinia virus infecting a preexisting dermatosis. Most commonly, it is caused by a disseminated HSV infection in patients with AD. For this reason, it is also referred to as EH.
KVE has also been associated with the following:
Neurodermatitis

Congenital ichthyosiform erythroderma

Sézary syndrome

Skin grafts

Burns
Case reports have stated that KVE occurred as a drug reaction without a previous dermatosis, once to phenytoin and the other post everolimus treatment for metastatic renal cell carcinoma.[1, 26]
Medscape Reference © 2011 WebMD, LLC