Dermatologic Manifestations of Rubella Clinical Presentation
Author: Peter C Lombardo, MD; Chief Editor: Dirk M Elston, MD more...
Updated: Oct 13, 2015
What would you like to print?
History
Studies on children at the New York Willowbrook State School in 1963, shortly after the isolation of the rubella virus, have shown that the disease is spread by nasal droplet infection and has an incubation period of 14-19 days, with onset of a rash usually on the 15th day.[6] The disease can be spread from a few days before to 5-7 days after the appearance of the exanthem. The virus can be detected in the pharynx from 7 days before until 7 days after the rash. A viremia was detected from 7 days before until the day of the rash, and the virus was present in the stool from 4 days before until 4 days after the rash. Isolating the virus from children with subclinical infections was also possible.
Patients are most contagious when the rash is erupting. Rarely, the virus may be shed from the pharynx up to 15 days after the appearance of the rash, in rapidly diminishing amounts, and it is very difficult to detect by culture after 5-7 days. Patients are not considered clinically contagious after 7 days.
Infection usually confers lifelong immunity, but reinfection is occasionally detected serologically after the natural disease or a vaccination upon reexposure to the virus and rarely results in clinical disease.
Physical
In children, a prodrome may not be present. The rash may be the first manifestation. In adults, fever, sore throat, and rhinitis may be present. The exanthem begins as discrete macules on the face that spread to the neck, the trunk, and the extremities. The macules may coalesce on the trunk. Appearance of the rash corresponds with the appearance of the rubella-specific antibody. The exanthem lasts 1-3 days, first leaving the face, and may be followed by desquamation. On occasion, a nonspecific enanthem (Forchheimer spots) of pinpoint red macules and petechiae can be seen over the soft palate and the uvula just before or with the exanthem. Note the images below.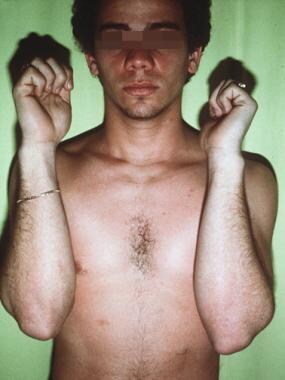 Young adult with macular rash.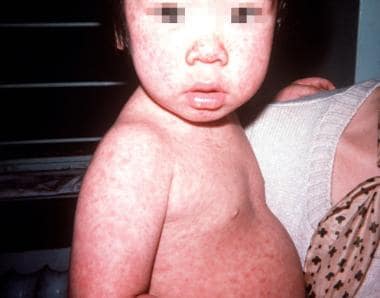 Child with generalized eruption.
The hallmark of rubella is the generalized, tender lymphadenopathy that involves all nodes, but which is most striking in the suboccipital, postauricular, and anterior and posterior cervical nodes. It is most prevalent at the time of appearance of the exanthem but may precede it by a week. The tenderness that accompanies this lymphadenopathy subsides rapidly; however, the enlargement may last days or weeks.
Although less common in children, in adults, polyarthralgia and even polyarthritis may occur and rarely may persist longer than 2 weeks. It may resemble rheumatic fever or rheumatoid arthritis, with small and large joints being involved bilaterally with or without swelling. The swelling can be very marked. Fifty percent of women may have arthralgias, and 10% have arthritis, 3 days post rash with the natural infection or within 2-6 weeks after a vaccination.
Rarely, recurrent episodes of inflammation of the fingers, the wrists, and the knees can continue for more than a year. Very rarely, a syndrome of low-grade fever, chronic fatigue, and myalgias can persist for months or years. The pathogenesis of the arthritis is not known. The virus can be isolated from joint effusions in acute and recurrent cases. Peripheral blood mononuclear cells may harbor the rubella virus in chronic arthritis. Test results for rheumatoid arthritis are negative.
Causes
Rubella is an RNA virus classified as a Rubivirus in the Togaviridae family.
References
[Guideline] Centers for Disease Control and Prevention. Recommendations from an Ad Hoc Meeting of the WHO Measles and Rubella Laboratory Network (LabNet) on Use of Alternative Diagnostic Samples for Measles and Rubella Surveillance. MMWR Morb Mort Wkly Rpt. 2008 Jun. 57(24):657-660. [Full Text].

Danovaro-Holliday MC, LeBaron CW, Allensworth C, et al. A large rubella outbreak with spread from the workplace to the community. JAMA. 2000 Dec 6. 284(21):2733-9. [Medline].

Centers for Disease Control and Prevention. Rubella Outbreak-Westchester County, New York 1997-1998. MMWR Morb Mort Wkly Rpt. 1999 Jul. 48(26):560-563. [Full Text].

Schluter WW, Reef SE, Redd SC, Dykewicz CA. Changing epidemiology of congenital rubella syndrome in the United States. J Infect Dis. 1998 Sep. 178(3):636-41. [Medline].

Youngdahl K. Rubella Elimination in the Americas. History of Vaccines.org. Available at http://www.historyofvaccines.org/content/blog/rubella-elimination-americas. April 30, 2015; Accessed: October 10, 2015.

Giles JP, Balsamo MR, Green RH, et al. Rubella: Studies on the Natural History and Prevention of the Disease. J Pediatr. 1963. 63:816-7.

American Association for Clinical Chemistry. Rubella. Lab Tests Online. Available at http://www.labtestsonline.org/. Accessed: April 8, 2009.

Jensen V. Measles on the rise as vaccinations fall, study reports. Royal Holloway, University of London. August 8, 2003.

Madsen KM, Hviid A, Vestergaard M, et al. A population-based study of measles, mumps, and rubella vaccination and autism. N Engl J Med. 2002 Nov 7. 347(19):1477-82. [Medline].

DeStefano F, Bhasin TK, Thompson WW, Yeargin-Allsopp M, Boyle C. Age at first measles-mumps-rubella vaccination in children with autism and school-matched control subjects: a population-based study in metropolitan atlanta. Pediatrics. 2004 Feb. 113(2):259-66. [Medline].

Hitti M. Vaccine Court Rejects Autism Claims. WebMD Health News. February 1, 2009. [Full Text].

Omer SB, Salmon DA, Orenstein WA, deHart MP, Halsey N. Vaccine refusal, mandatory immunization, and the risks of vaccine-preventable diseases. N Engl J Med. 2009 May 7. 360(19):1981-8. [Medline].

American Red Cross, Centers for Disease Control and Prevention, UN Children's Fund, UN Foundation, World Health Organization. Global Measles and Rubella Strategic Plan, 2012-2020. Global Measles and Rubella Strategic Plan, 2012-2020. c2012. Available at http://www.measlesrubellainitiative.org/wp-content/uploads/2013/06/Measles-Rubella-Strategic-Plan.pdf.

Shinefield H, Black S, Digilio L, et al. Evaluation of a quadrivalent measles, mumps, rubella and varicella vaccine in healthy children. Pediatr Infect Dis J. 2005 Aug. 24(8):665-9. [Medline].

[Guideline] Centers for Disease Control and Prevention. Recommended adult immunization schedule---United States, 2009. MMWR Morb Mortal Wkly Rep. 2008. 57(53):[Full Text].

Klein NP, Fireman B, Yih WK, Lewis E, Kulldorff M, Ray P, et al. Measles-mumps-rubella-varicella combination vaccine and the risk of febrile seizures. Pediatrics. 2010 Jul. 126(1):e1-8. [Medline].

Hviid A. Measles-mumps-rubella-varicella combination vaccine increases risk of febrile seizure. J Pediatr. 2011 Jan. 158(1):170. [Medline]. [Full Text].

[Guideline] Marin M, Broder KR, Temte JL, Snider DE, Seward JF. Use of combination measles, mumps, rubella, and varicella vaccine: recommendations of the Advisory Committee on Immunization Practices (ACIP). MMWR Recomm Rep. 2010 May 7. 59:1-12. [Medline]. [Full Text].

Gellis SE. Rubella (German measles). Fitzpatrick's Dermatology in General Medicine. New York, NY: McGraw-Hill; 1999. Vol 2: 2395-8.

Georges P, ed. Rubella. 1997 Redbook: Report of the Committee on Infectious Diseases. Elk Grove Village, Ill: American Academy of Pediatrics; 1997. 456-62.

Lennette EH, Schmidt NJ. Diagnostic Procedures for Viral and Rickettsial Infections. 7th ed. Washington, DC: American Public Health Association; 1979. 725-66.

Mandell GL, Bennett JE, Dolan R, eds. Principles and Practice of Infectious Diseases. 5th ed. Philadelphia, Pa: WB Saunders; 2000. 1708-14.

Weedon D, Strutton G. Skin Pathology. Edinburgh, Scotland: Churchill Livingston; 1997. 597.
Medscape Reference © 2011 WebMD, LLC