Nongenital Warts Clinical Presentation
Author: Philip D Shenefelt, MD, MS; Chief Editor: William D James, MD more...
Updated: Feb 25, 2016
What would you like to print?
History
HPV is spread by direct or indirect contact. It can resist desiccation, freezing, and prolonged storage outside of host cells. Autoinoculation also may occur, causing local spread of lesions. The incubation period for HPV ranges from 1-6 months; however, latency periods of up to 3 years or more are suspected.
Physical
Common warts
Common warts also are termed verruca vulgaris. They appear as hyperkeratotic papules with a rough, irregular surface. They range from smaller than 1 mm to larger than 1 cm. They can occur on any part of the body but are seen most commonly on the hands and knees (see image below).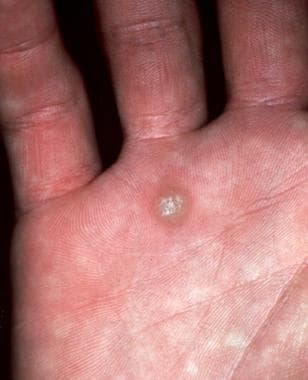 Common wart on the hand.
Filiform warts
Filiform warts are long slender growths, usually seen on the face around the lips, eyelids, or nares.
Deep palmoplantar warts (myrmecia)
Deep palmoplantar warts also are termed myrmecia.[4] They begin as small shiny papules and progress to deep endophytic, sharply defined, round lesions with a rough keratotic surface, surrounded by a smooth collar of calloused skin (see the image below). Because they grow deep, they tend to be more painful than common warts. Myrmecia warts that occur on the plantar surface usually are found on weight-bearing areas, such as the metatarsal head and heel. When they occur on the hand, they tend to be subungual or periungual.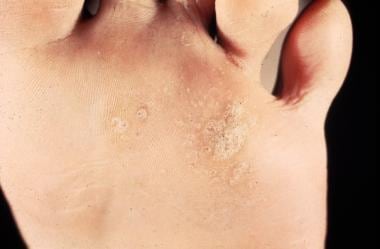 Plantar warts.
Flat warts
Flat warts also are termed plane warts or verruca plana. They are characterized as flat or slightly elevated flesh-colored papules that may be smooth or slightly hyperkeratotic. They range from 1-5 mm or more, and numbers range from a few to hundreds of lesions that may become grouped or confluent. These warts may occur anywhere; however, the face, hands, and shins tend to be the most common areas. They may appear in a linear distribution as a result of scratching or trauma (Koebner phenomenon). Regression of these lesions may occur, which usually is heralded by inflammation.
Butcher's warts
Butcher's warts are seen in people who frequently handle raw meat. Their morphology is similar to common warts, with a higher prevalence of hyperproliferative cauliflowerlike lesions. They are seen most commonly on the hands.
Mosaic warts
A mosaic wart is a plaque of closely grouped warts. When the surface is pared, the angular outlines of tightly compressed individual warts can be seen. These usually are seen on the palms and soles.
Focal epithelial hyperplasia (Heck disease)
Focal epithelial hyperplasia, also termed Heck disease,[1] is an HPV infection occurring in the oral cavity, usually on the lower labial mucosa. It also can be seen on the buccal or gingival mucosa and rarely, on the tongue. The lesions appear as multiple flat-topped or dome-shaped pink-white papules. They usually are 1-5 mm, with some lesions coalescing into plaques. They are seen most frequently in children of American Indian or Inuit descent.
Cystic warts (plantar epidermoid cysts)
A cystic wart appears as a nodule on the weight-bearing surface of the sole. The nodule usually is smooth with visible rete ridges but may become hyperkeratotic. If the lesion is incised, cheesy material may be expressed. The etiology of these lesions is uncertain. One theory is that a cyst forms, originating from the eccrine duct, and secondary HPV infection occurs. Another theory is that the epidermis infected with HPV becomes implanted into the dermis, forming an epidermal inclusion cyst.
Causes
Warts are caused by HPV, which is a double-stranded, circular, supercoiled DNA virus enclosed in an icosahedral capsid and comprising 72 capsomers. More than 100 types of HPV have been identified. Note the following wart types and HPV types:
Common warts - HPV types 2 and 4 (most common), followed by types 1, 3, 27, 29, and 57

Deep palmoplantar warts (myrmecia) - HPV type 1 (most common), followed by types 2, 3, 4, 27, 29, and 57

Flat warts - HPV types 3, 10, and 28

Butcher's warts - HPV type 7 (although some data suggest the association may be weak)

Focal epithelial hyperplasia (Heck disease) - HPV types 13 and 32

Cystic warts - HPV type 60
References
Cohen PR, Hebert AA, Adler-Storthz K. Focal epithelial hyperplasia: Heck disease. Pediatr Dermatol. 1993 Sep. 10(3):245-51. [Medline].

Mallory SB, Baugh LS, Parker RK. Warts in blacks versus whites. Pediatr Dermatol. 1991 Mar. 8(1):91. [Medline].

Silverberg NB. Human papillomavirus infections in children. Curr Opin Pediatr. 2004 Aug. 16(4):402-9. [Medline].

Holland TT, Weber CB, James WD. Tender periungual nodules. Myrmecia (deep palmoplantar warts). Arch Dermatol. 1992 Jan. 128(1):105-6, 108-9. [Medline].

Bellew SG, Quartarolo N, Janniger CK. Childhood warts: an update. Cutis. 2004 Jun. 73(6):379-84. [Medline].

Goldfarb MT, Gupta AK, Gupta MA, Sawchuk WS. Office therapy for human papillomavirus infection in nongenital sites. Dermatol Clin. 1991 Apr. 9(2):287-96. [Medline].

[Guideline] Sterling JC, Gibbs S, Haque Hussain SS, Mohd Mustapa MF, Handfield-Jones SE. British Association of Dermatologists' guidelines for the management of cutaneous warts 2014. Br J Dermatol. 2014 Oct. 171(4):696-712. [Medline].

Kwok CS, Gibbs S, Bennett C, Holland R, Abbott R. Topical treatments for cutaneous warts. Cochrane Database Syst Rev. 2012 Sep 12. 9:CD001781. [Medline].

Cockayne S, Hewitt C, Hicks K, et al. Cryotherapy versus salicylic acid for the treatment of plantar warts (verrucae): a randomised controlled trial. BMJ. 2011 Jun 7. 342:d3271. [Medline]. [Full Text].

Mizuki D, Kaneko T, Hanada K. Successful treatment of topical photodynamic therapy using 5-aminolevulinic acid for plane warts. Br J Dermatol. 2003 Nov. 149(5):1087-8. [Medline].

Perrett CM, Harwood C, Brown V. Topical 5% imiquimod treatment for refractory cutaneous warts. J Am Acad Dermatol. 2004. 50(3):P41.

Padilla España L, Del Boz J, Fernández-Morano T, Escudero-Santos I, Arenas-Villafranca J, de Troya M. Recalcitrant warts and topical cidofovir: predictive factors of good response. J Eur Acad Dermatol Venereol. 2015 Apr 10. [Medline].

Padilla España L, Del Boz J, Fernández Morano T, Arenas-Villafranca J, de Troya M. Successful treatment of periungual warts with topical cidofovir. Dermatol Ther. 2014 Nov-Dec. 27 (6):337-42. [Medline].

Cleary A, Watson R, McMahon CJ. Successful treatment of refractory cutaneous warts using topical 3% cidofovir in a child after heart transplant. J Heart Lung Transplant. 2014 Sep. 33 (9):971-2. [Medline].

Padilla España L, Del Boz J, Fernández Morano T, Arenas Villafranca J, de Troya Martín M. Topical cidofovir for plantar warts. Dermatol Ther. 2014 Mar-Apr. 27 (2):89-93. [Medline].

Gupta M, Bayliss SJ, Berk DR. Topical cidofovir for refractory verrucae in children. Pediatr Dermatol. 2013 Jan-Feb. 30 (1):131-4. [Medline].

Gladsjo JA, Alio Saenz AB, Bergman J, Krikorian G, Cunninghan BB. 5% 5-fluorouracil cream for treatment of verruca vulgaris in children. Pediat Dermatol. 2009. 26:279-285.

Horn TD, Johnson SM, Helm RM, Roberson PK. Intralesional immunotherapy of warts with mumps, Candida, and Trichophyton skin test antigens: a single-blinded, randomized, and controlled trial. Arch Dermatol. 2005 May. 141(5):589-94. [Medline].

James MP, Collier PM, Aherne W, et al. Histologic, pharmacologic, and immunocytochemical effects of injection of bleomycin into viral warts. J Am Acad Dermatol. 1993 Jun. 28(6):933-7. [Medline].

Munn SE, Higgins E, Marshall M, Clement M. A new method of intralesional bleomycin therapy in the treatment of recalcitrant warts. Br J Dermatol. 1996 Dec. 135(6):969-71. [Medline].

Ohtsuki A, Hasegawa T, Hirasawa Y, Tsuchihashi H, Ikeda S. Photodynamic therapy using light-emitting diodes for the treatment of viral warts. J Dermatol. 2009. 36:525-528.

Yilmaz E, Alpsoy E, Basaran E. Cimetidine therapy for warts: a placebo-controlled, double-blind study. J Am Acad Dermatol. 1996 Jun. 34(6):1005-7. [Medline].

Kottke MD, Parker SR. Intravenous cidofovir-induced resolution of disfiguring cutaneous human papillomavirus infection. J Am Acad Dermatol. 2006 Sep. 55(3):533-6. [Medline].

McAleer MA, Bourke J. Intravenous cidofovir for resistant cutaneous warts in a patient with psoriasis treated with monoclonal antibodies. Clin Exp Dermatol. 2011 Aug. 36 (6):638-40. [Medline].

Cusack C, Fitzgerald D, Clayton TM, Irvine AD. Successful treatment of florid cutaneous warts with intravenous cidofovir in an 11-year-old girl. Pediatr Dermatol. 2008 May-Jun. 25 (3):387-9. [Medline].

Potthoff A, Wieland U, Kreuter A. Failure of intravenous cidofovir for generalized verrucosis in a patient with severe combined immunodeficiency. Arch Dermatol. 2012 May. 148 (5):659-60. [Medline].

Focht DR 3rd, Spicer C, Fairchok MP. The efficacy of duct tape vs cryotherapy in the treatment of verruca vulgaris (the common wart). Arch Pediatr Adolesc Med. 2002 Oct. 156(10):971-4. [Medline].

Wenner R, Askari SK, Cham PM, Kedrowski DA, Liu A, Warshaw EM. Duct tape for the treatment of common warts in adults: a double-blind randomized controlled trial. Arch Dermatol. 2007 Mar. 143(3):309-13. [Medline].

Ewin DM. Hypnotherapy for warts (verruca vulgaris): 41 consecutive cases with 33 cures. Am J Clin Hypn. 1992 Jul. 35(1):1-10. [Medline].

Zedan H, Hofney ERM, Ismail SA. Propolis as an alternative treatment for cutaneous warts. Internat J Dermatol. 2009. 48:1246-1249.

Silverberg NB. Garlic cloves for verruca vulgaris. Pediatr Dermatol. 2002 Mar-Apr. 19(2):183. [Medline].

Millar BC, Moore JE. Successful topical treatment of hand warts in a paediatric patient with tea tree oil (Melaleuca alternifolia). Complement Ther Clin Pract. 2008 Nov. 14(4):225-7. [Medline].

Bourke JF, Berth-Jones J, Hutchinson PE. Cryotherapy of common viral warts at intervals of 1, 2 and 3 weeks. Br J Dermatol. 1995 Mar. 132(3):433-6. [Medline].

Berth-Jones J, Hutchinson PE. Modern treatment of warts: cure rates at 3 and 6 months. Br J Dermatol. 1992 Sep. 127(3):262-5. [Medline].

Gloster HM Jr, Roenigk RK. Risk of acquiring human papillomavirus from the plume produced by the carbon dioxide laser in the treatment of warts. J Am Acad Dermatol. 1995 Mar. 32(3):436-41. [Medline].

Sloan K, Haberman H, Lynde CW. Carbon dioxide laser-treatment of resistant verrucae vulgaris: retrospective analysis. J Cutan Med Surg. 1998 Jan. 2(3):142-5. [Medline].

Hughes PS, Hughes AP. Absence of human papillomavirus DNA in the plume of erbium:YAG laser-treated warts. J Am Acad Dermatol. 1998 Mar. 38(3):426-8. [Medline].

Rivera A, Tyring SK. Therapy of cutaneous human Papillomavirus infections. Dermatol Ther. 2004. 17(6):441-8. [Medline].

Guadara J, Sergi A, Labruna V, Welch M, Gazivoda PL. Transformation of plantar verruca into squamous cell carcinoma. J Foot Surg. 1992 Nov-Dec. 31(6):611-4. [Medline].

Kolker AR, Wolfort FG, Upton J, Tahan SR, Hein KD, Zewert TE. Plantar verrucous carcinoma following transmetatarsal amputation and renal transplantation. Ann Plast Surg. 1998 May. 40(5):515-9. [Medline].

Noel JC, Detremmerie O, Peny MO, et al. Transformation of common warts into squamous cell carcinoma on sun-exposed areas in an immunosuppressed patient. Dermatology. 1994. 189(3):308-11. [Medline].
Medscape Reference © 2011 WebMD, LLC