Epidural Hematoma
Author: David S Liebeskind, MD; Chief Editor: Helmi L Lutsep, MD more...
Updated: Apr 08, 2014
What would you like to print?
Background
Epidural hematoma (ie, accumulation of blood in the potential space between dura and bone) may be intracranial (EDH) or spinal (SEDH) (see the image below). Intracranial epidural hematoma occurs in approximately 2% of patients with head injuries and 5-15% of patients with fatal head injuries. Intracranial epidural hematoma is considered to be the most serious complication of head injury, requiring immediate diagnosis and surgical intervention. Intracranial epidural hematoma may be acute (58%), subacute (31%), or chronic (11%). Spinal epidural hematoma may also be traumatic, though it may occur spontaneously.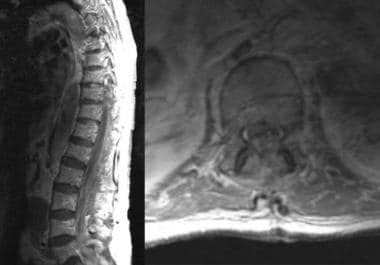 This MRI demonstrates spinal epidural hematoma.
Pathophysiology
Epidural hematoma usually results from a brief linear contact force to the calvaria that causes separation of the periosteal dura from bone and disruption of interposed vessels due to shearing stress. Skull fractures occur in 85-95% of adult cases, but they are much less common in children because of the plasticity of the immature calvaria. Arterial or venous structures may be compromised, causing rapid expansion of the hematoma; however, chronic or delayed manifestations may occur when venous sources are involved. Extension of the hematoma usually is limited by suture lines owing to the tight attachment of the dura at these locations. Recent analyses have revealed that epidural hematomas may actually traverse suture lines in a minority of cases.[1]
The temporoparietal region and the middle meningeal artery are involved most commonly (66%), although the anterior ethmoidal artery may be involved in frontal injuries, the transverse or sigmoid sinus in occipital injuries, and the superior sagittal sinus in trauma to the vertex. Bilateral epidural hematomas account for 2-10% of all acute epidural hematomas in adults but are exceedingly rare in children. Posterior fossa epidural hematomas represent 5% of all cases of epidural hematomas.
Spinal epidural hematoma may be spontaneous or may follow minor trauma, such as lumbar puncture or epidural anesthesia. Spontaneous spinal epidural hematoma may be associated with anticoagulation, thrombolysis, blood dyscrasias, coagulopathies, thrombocytopenia, neoplasms, or vascular malformations. The peridural venous plexus usually is involved, though arterial sources of hemorrhage also occur. The dorsal aspect of the thoracic or lumbar region is involved most commonly, with expansion limited to a few vertebral levels.
Epidemiology
Frequency
United States
Epidural hematoma complicates 2% of cases of head trauma (approximately 40,000 cases per year). Spinal epidural hematoma affects 1 per 1,000,000 people annually. Alcohol and other forms of intoxication have been associated with a higher incidence of epidural hematoma.
International
International frequency is unknown, though it is likely to parallel the frequency in the United States.
Mortality/Morbidity
Mortality rate associated with epidural hematoma has been estimated to be 5-50%.
The level of consciousness prior to surgery has been correlated with mortality rate: 0% for awake patients, 9% for obtunded patients, and 20% for comatose patients.

Bilateral intracranial epidural hematoma has a mortality rate of 15-20%.

Posterior fossa epidural hematoma has a mortality rate of 26%.
Race
No racial predilection has been reported.
Sex
Intracranial and spinal epidural hematomas are more frequent in men, with a male-to-female ratio of 4:1.
Age
See the list below:
Intracranial epidural hematoma is rare in individuals younger than 2 years.

Intracranial epidural hematoma is also rare in individuals older than 60 years because the dura is tightly adherent to the calvaria.

Spinal epidural hematoma has a bimodal distribution with peaks during childhood and during the fifth and sixth decades of life. Increasing age has been noted as a risk factor for postoperative spinal epidural hematoma.
References
Huisman TA, Tschirch FT. Epidural hematoma in children: Do cranial sutures act as a barrier?. J Neuroradiol. 2008 Aug 11. [Medline].

Gouveia LO, Castanho P, Ferreira JJ, Guedes MM, Falcao F, e Melo TP. Chiropractic manipulation: reasons for concern?. Clin Neurol Neurosurg. 2007 Dec. 109(10):922-5. [Medline].

Fujiwara H, Oki K, Momoshima S. PROPELLER diffusion-weighted magnetic resonance imaging of acute spinal epidural hematoma. Acta Radiol. 2005 Aug. 46(5):539-42. [Medline].

Liu JT, Tyan YS, Lee YK. Emergency management of epidural haematoma through burr hole evacuation and drainage. A preliminary report. Acta Neurochir (Wien). 2006 Mar. 148(3):313-7. [Medline].

Chang FC, Lirng JF, Luo CB. Evaluation of clinical and MR findings for the prognosis of spinal epidural haematomas. Clin Radiol. 2005 Jul. 60(7):762-70. [Medline].

Arrese I, Lobato RD, Gomez PA. Hyperacute epidural haematoma isodense with the brain on computed tomography. Acta Neurochir (Wien). 2004 Feb. 146(2):193-4. [Medline].

Awad JN, Kebaish KM, Donigan J. Analysis of the risk factors for the development of post-operative spinal epidural haematoma. J Bone Joint Surg Br. 2005 Sep. 87(9):1248-52. [Medline].

Bailey KC, Sochor MR, Wintermark M, Huff JS. Spontaneous cervical epidural hematoma mimicking stroke. J Neuroradiol. 2012 May. 39(2):132-4. [Medline].

Bejjani GK, Donahue DJ, Rusin J, Broemeling LD. Radiological and clinical criteria for the management of epidural hematomas in children. Pediatr Neurosurg. 1996 Dec. 25(6):302-8. [Medline].

Berry C, Sandberg DI, Hoh DJ, Krieger MD, McComb JG. Use of cranial fixation pins in pediatric neurosurgery. Neurosurgery. 2008 Apr. 62(4):913-8; discussion 918-9. [Medline].

Bezircioglu H, Ersahin Y, Demircivi F, et al. Nonoperative treatment of acute extradural hematomas: analysis of 80 cases. J Trauma. 1996 Oct. 41(4):696-8. [Medline].

Borovich B, Braun J, Guilburd JN, et al. Delayed onset of traumatic extradural hematoma. J Neurosurg. 1985 Jul. 63(1):30-4. [Medline].

Bozbuga M, Izgi N, Polat G, Gurel I. Posterior fossa epidural hematomas: observations on a series of 73 cases. Neurosurg Rev. 1999. 22(1):34-40. [Medline].

Cohen JE, Montero A, Israel ZH. Prognosis and clinical relevance of anisocoria-craniotomy latency for epidural hematoma in comatose patients. J Trauma. 1996 Jul. 41(1):120-2. [Medline].

de Andrade AF, Figueiredo EG, Caldas JG, Paiva WS, De Amorim RL, Puglia P, et al. Intracranial vascular lesions associated with small epidural hematomas. Neurosurgery. 2008 Feb. 62(2):416-20; discussion 420-1. [Medline].

De Souza M, Moncure M, Lansford T, Albaugh G, Tarnoff M, Goodman M, et al. Nonoperative management of epidural hematomas and subdural hematomas: is it safe in lesions measuring one centimeter or less?. J Trauma. 2007 Aug. 63(2):370-2. [Medline].

Durand P, Adamson GJ. On-the-field management of athletic head injuries. J Am Acad Orthop Surg. 2004 May-Jun. 12(3):191-5. [Medline].

Fukui MB, Swarnkar AS, Williams RL. Acute spontaneous spinal epidural hematomas. Am J Neuroradiol. 1999 Aug. 20(7):1365-72. [Medline].

Guay J. Estimating the incidence of epidural hematoma - is there enough information?. Can J Anaesth. 2004 May. 51(5):514-5. [Medline].

Habibi Z, Meybodi AT, Haji Mirsadeghi SM, Miri SM. Burr-Hole Drainage for the Treatment of Acute Epidural Hematoma in Coagulopathic Patients: A Report of Eight Cases. J Neurotrauma. 2012 May 11. [Medline].

Heyman R, Heckly A, Magagi J. Intracranial epidural hematoma in newborn infants: clinical study of 15 cases. Neurosurgery. 2005 Nov. 57(5):924-9; discussion 924-9. [Medline].

Holtas S, Heiling M, Lonntoft M. Spontaneous spinal epidural hematoma: findings at MR imaging and clinical correlation. Radiology. 1996 May. 199(2):409-13. [Medline].

Ibanez J, Arikan F, Pedraza S. Reliability of clinical guidelines in the detection of patients at risk following mild head injury: results of a prospective study. J Neurosurg. 2004 May. 100(5):825-34. [Medline].

Knopman J, Tsiouris AJ, Souweidane MM. Atraumatic epidural hematoma secondary to a venous sinus thrombosis: a novel finding. J Neurosurg Pediatrics. 2008 Dec. 2(6):416-9. [Medline].

Koch BL, Moosbrugger EA, Egelhoff JC. Symptomatic spinal epidural collections after lumbar puncture in children. AJNR Am J Neuroradiol. 2007 Oct. 28(9):1811-6. [Medline].

Koenig MA, Bryan M, Lewin JL 3rd, Mirski MA, Geocadin RG, Stevens RD. Reversal of transtentorial herniation with hypertonic saline. Neurology. 2008 Mar 25. 70(13):1023-9. [Medline].

Layton KF, Kallmes DF, Horlocker TT. Recommendations for anticoagulated patients undergoing image-guided spinal procedures. AJNR Am J Neuroradiol. 2006 Mar. 27(3):468-70. [Medline].

Lee EJ, Hung YC, Wang LC, et al. Factors influencing the functional outcome of patients with acute epidural hematomas: analysis of 200 patients undergoing surgery. J Trauma. 1998 Nov. 45(5):946-52. [Medline].

Liu W, Ma L, Wen L, Shen F, Sheng H, Zhou B, et al. Drilling skull plus injection of urokinase in the treatment of epidural haematoma: a preliminary study. Brain Inj. 2008 Feb. 22(2):199-204. [Medline].

McClelland S 3rd, Won EK, Lam CH. Utilization of recombinant activated factor VII for intracranial hematoma evacuation in coagulopathic nonhemophilic neurosurgical patients with normal international normalized ratios. Neurocrit Care. 2007. 7(2):136-9. [Medline].

Miller DJ, Steinmetz M, McCutcheon IE. Vertex epidural hematoma: surgical versus conservative management: two case reports and review of the literature. Neurosurgery. 1999 Sep. 45(3):621-4; discussion 624-5. [Medline].

Muench MV, Zheng M, Bilica PM, Canterino JC. Prenatal diagnosis of a fetal epidural hematoma using 2- and 3-dimensional sonography and magnetic resonance imaging. J Ultrasound Med. 2008 Sep. 27(9):1369-73. [Medline].

Narayan RK, Wilberger JE Jr, Povlishock JT, eds. Neurotrauma. First ed. New York: McGraw Hill; 1996.

Pahapill PA, Lownie SP. Conservative treatment of acute spontaneous spinal epidural hematoma. Can J Neurol Sci. 1998 May. 25(2):159-63. [Medline].

Park J, Kim GJ, Hwang SK. Thrombolytic evacuation of post-craniotomy epidural haematomas using closed suction drains: a pilot study. Acta Neurochir (Wien). 2008 Apr. 150(4):359-66; discussion 366. [Medline].

Rivas JJ, Lobato RD, Sarabia R, et al. Extradural hematoma: analysis of factors influencing the courses of 161 patients. Neurosurgery. 1988 Jul. 23(1):44-51. [Medline].

Ruppen W, Derry S, McQuay HJ, Moore RA. Incidence of epidural haematoma and neurological injury in cardiovascular patients with epidural analgesia/anaesthesia: systematic review and meta-analysis. BMC Anesthesiol. 2006 Sep 12. 6:10. [Medline].

Schievink WI, Maya MM, Pikul BK, Louy C. Spontaneous spinal cerebrospinal fluid leaks as the cause of subdural hematomas in elderly patients on anticoagulation. J Neurosurg. 2010 Feb. 112(2):295-9. [Medline].

Sencer A, Aras Y, Akcakaya MO, Goker B, Kiris T, Canbolat AT. Posterior fossa epidural hematomas in children: clinical experience with 40 cases. J Neurosurg Pediatr. 2012 Feb. 9(2):139-43. [Medline].

Servadei F. Prognostic factors in severely head injured adult patients with epidural haematoma's. Acta Neurochir (Wien). 1997. 139(4):273-8. [Medline].

Sokolowski MJ, Garvey TA, Perl J 2nd, Sokolowski MS, Cho W, Mehbod AA, et al. Prospective study of postoperative lumbar epidural hematoma: incidence and risk factors. Spine. 2008 Jan 1. 33(1):108-13. [Medline].

Su IC, Wang KC, Huang SH, Li CH, Kuo LT, Lee JE, et al. Differential CT features of acute lentiform subdural hematoma and epidural hematoma. Clin Neurol Neurosurg. 2010 May 17. [Medline].

Suzuki S, Endo M, Kurata A. Efficacy of endovascular surgery for the treatment of acute epidural hematomas. AJNR Am J Neuroradiol. 2004 Aug. 25(7):1177-80. [Medline].

Tallon JM, Ackroyd-Stolarz S, Karim SA, Clarke DB. The epidemiology of surgically treated acute subdural and epidural hematomas in patients with head injuries: a population-based study. Can J Surg. 2008 Oct. 51(5):339-45. [Medline].

Toner A, Prabhu P. Reliable detection of epidural haematomas. Br J Anaesth. 2009 Jan. 102(1):140; author reply 140-1. [Medline].

Vitali AM, Steinbok P. Depressed skull fracture and epidural hematoma from head fixation with pins for craniotomy in children. Childs Nerv Syst. 2008 Aug. 24(8):917-23; discussion 925. [Medline].

Wester K. Decompressive surgery for "pure" epidural hematomas: does neurosurgical expertise improve the outcome?. Neurosurgery. 1999 Mar. 44(3):495-500; discussion 500-2. [Medline].

Whedon JM. Lumbar epidural hematoma after chiropractic manipulation for lower-back pain: case report. Neurosurgery. 2008 Aug. 63(2):E376; author reply E376. [Medline].

Wysowski DK, Talarico L, Bacsanyi J, Botstein P. Spinal and epidural hematoma and low-molecular-weight heparin. N Engl J Med. 1998 Jun 11. 338(24):1774-5. [Medline].

Yilmazlar S, Kocaeli H, Dogan S. Traumatic epidural haematomas of nonarterial origin: analysis of 30 consecutive cases. Acta Neurochir (Wien). 2005 Dec. 147(12):1241-8; discussion 1248. [Medline].

Yuh EL, Gean AD, Manley GT, Callen AL, Wintermark M. Computer-aided assessment of head computed tomography (CT) studies in patients with suspected traumatic brain injury. J Neurotrauma. 2008 Oct. 25(10):1163-72. [Medline].
Medscape Reference © 2011 WebMD, LLC