Radial Mononeuropathy
Author: Wayne E Anderson, DO, FAHS, FAAN; Chief Editor: Nicholas Lorenzo, MD, MHA, CPE  more...
Updated: Mar 30, 2016
What would you like to print?
Background
Radial neuropathies result from injury due to penetrating wounds or fractures of the arm, compression, or ischemia. Most commonly, they present with a wrist drop. The pattern of clinical involvement is dependent on the level of injury.
Radial neuropathies can occur from surgical procedures such as humeral nailing performed to stabilize an acute humeral fracture.[1]
The terms Saturday night palsy and honeymooner's palsy refer to the concept of placing one's arm over another chair, with the resultant pressure causing injury to the radial nerve.
Pathophysiology
An introduction to radial nerve anatomy is essential for understanding the common mechanisms and location of its injury. The radial nerve branches from the posterior cord of the brachial plexus. It receives root innervation from C5-T1 spinal roots. In the upper arm, the radial nerve gives off a branch to the triceps muscle before it wraps around the humerus at the spiral groove. Three sensory branches, which supply the skin over the triceps and posterior forearm, also are given off at this level. Here, its proximity to the humerus makes it susceptible to compression and/or trauma.
After exiting the spiral groove, the radial nerve supplies the brachioradialis muscle before dividing into the posterior interosseous branch and a sensory branch. The posterior interosseous branch is a pure motor nerve that supplies the supinator. It then dives into the supinator through the fascia to supply the muscles of the wrist and finger extension. This fascia is another common site for nerve damage to occur. The sensory branch that arises approximately at the elbow travels down the forearm, becoming superficial at the wrist before it supplies the lateral aspect of the dorsum of the hand. See the image below.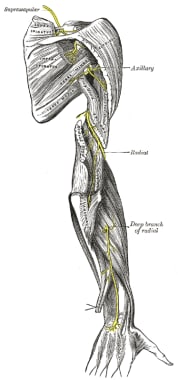 The Radial Nerve from Gray's Anatomy (published 1918, public domain, copyright expired).
Epidemiology
Frequency
United States
Radial neuropathy is the fourth most common mononeuropathy.
Race
No racial preponderance is known.
Sex
No gender predilection has been observed.
Age
Radial neuropathy is reported in all age groups.
References
Rommens PM, Kuechle R, Bord T, Lewens T, Engelmann R, Blum J. Humeral nailing revisited. Injury. 2008 Apr 14. [Medline].

Pidhorz L. Acute and chronic humeral shaft fractures in adults. Orthop Traumatol Surg Res. 2015 Feb. 101 (1 Suppl):S41-9. [Medline].

Moore FG. Radial neuropathies in wheelchair users. Am J Phys Med Rehabil. 2009 Dec. 88(12):1017-9. [Medline].

Furuta T, Okamoto Y, Tohno E, Minami M, Nishiura Y, Ohtomo K. Magnetic resonance microscopy imaging of posterior interosseous nerve palsy. Jpn J Radiol. 2009 Jan. 27(1):41-4. [Medline].

Jou IM, Wang HN, Wang PH, Yong IS, Su WR. Compression of the radial nerve at the elbow by a ganglion: two case reports. J Med Case Reports. 2009 Jun 5. 3:7258. [Medline]. [Full Text].

Shobha N, Taly AB, Sinha S, Venkatesh T. Radial neuropathy due to occupational lead exposure: Phenotypic and electrophysiological characteristics of five patients. Ann Indian Acad Neurol. 2009 Apr. 12(2):111-5. [Medline]. [Full Text].

Lo YL, Fook-Chong S, Leoh TH, Dan YF, Tan YE, Lee MP. Rapid ultrasonographic diagnosis of radial entrapment neuropathy at the spiral groove. J Neurol Sci. 2008 May 10. [Medline].

Liotta G, Granata G, Librante A, Di Pasquale A, Caliandro P, Martinoli C, et al. Atypical double nerve lesion after humeral fracture: diagnosis by ultrasound. Muscle Nerve. 2010 Feb. 41(2):287-8. [Medline].

Visser LH. High-resolution sonography of the superficial radial nerve with two case reports. Muscle Nerve. 2009 Mar. 39(3):392-5. [Medline].

Lee FC, Singh H, Nazarian LN, Ratliff JK. High-resolution ultrasonography in the diagnosis and intraoperative management of peripheral nerve lesions. J Neurosurg. 2010 Mar 12. [Medline].

Bumbasirevic M, Lesic A, Bumbasirevic V, Cobeljic G, Milosevic I, Atkinson HD. The management of humeral shaft fractures with associated radial nerve palsy: a review of 117 cases. Arch Orthop Trauma Surg. 2009 Aug 11. [Medline].

Krishnan KG, Schackert G. An analysis of results after selective tendon transfers through the interosseous membrane to provide selective finger and thumb extension in chronic irreparable radial nerve lesions. J Hand Surg [Am]. 2008 Feb. 33(2):223-31. [Medline].

Dabas V, Suri T, Surapuraju PK, Sural S, Dhal A. Functional restoration after early tendon transfer in high radial nerve paralysis. J Hand Surg Eur Vol. 2011 Feb. 36(2):135-40. [Medline].

Bishop J, Ring D. Management of radial nerve palsy associated with humeral shaft fracture: a decision analysis model. J Hand Surg Am. 2009 Jul-Aug. 34(6):991-6.e1. [Medline].

Hak DJ. Radial nerve palsy associated with humeral shaft fractures. Orthopedics. 2009 Feb. 32(2):111. [Medline].

Wang JP, Shen WJ, Chen WM, Huang CK, Shen YS, Chen TH. Iatrogenic radial nerve palsy after operative management of humeral shaft fractures. J Trauma. 2009 Mar. 66(3):800-3. [Medline].

Venouziou AI, Dailiana ZH, Varitimidis SE, Hantes ME, Gougoulias NE, Malizos KN. Radial nerve palsy associated with humeral shaft fracture. Is the energy of trauma a prognostic factor?. Injury. 2011 Nov. 42(11):1289-93. [Medline].

Campbell WW. Focal neuropathies. Campbell WW, ed. Essentials of Electrodiagnostic Medicine. Baltimore, Md: Williams & Wilkins; 1999. 255-278.

Fardin P, Negrin P, Sparta S, et al. Posterior interosseous nerve neuropathy. Clinical and electromyographical aspects. Electromyogr Clin Neurophysiol. 1992 Apr-May. 32(4-5):229-34. [Medline].

Fluri F, Lyrer P, Gratwohl A, Raetz-Bravo AE, Steck AJ. Lead poisoning from the beauty case: neurologic manifestations in an elderly woman. Neurology. 2007 Aug 28. 69(9):929-30. [Medline].

Hanz KR, Saint-Cyr M, Semmler MJ, Rohrich RJ. Extensor tendon injuries: acute management and secondary reconstruction. Plast Reconstr Surg. 2008 Mar. 121(3):109e-120e. [Medline].

Leis AA, Wells KJ. Radial nerve cutaneous innervation to the ulnar dorsum of the hand. Clin Neurophysiol. 2008 Mar. 119(3):662-6. [Medline].

Malikowski T, Micklesen PJ, Robinson LR. Prognostic values of electrodiagnostic studies in traumatic radial neuropathy. Muscle Nerve. 2007 Sep. 36(3):364-7. [Medline].

Pollock FH, Drake D, Bovill EG, et al. Treatment of radial neuropathy associated with fractures of the humerus. J Bone Joint Surg Am. 1981 Feb. 63(2):239-43. [Medline].

Shapiro BE, Preston DC. Entrapment and compressive neuropathies. Med Clin North Am. 2003 May. 87(3):663-96, viii. [Medline].

Stone DA, Laureno R. Handcuff neuropathies. Neurology. 1991 Jan. 41(1):145-7. [Medline].

Toros T, Ozaksar K, Sügün TS, Kayalar M, Bal E, Ada S. The effect of medial side repair in terrible triad injury of the elbow. Acta Orthop Traumatol Turc. 2012. 46(2):96-101. [Medline].

Turner OA, Taslitz N, Ward S. The radial nerve. Handbook of Peripheral Nerve Entrapments. Clifton, NJ: Humana Press; 1990. 79-91.

Walczyk S, Pieniazek M, Pelczar-Pieniazek M, Tabasz M. Appropriateness and effectiveness of physiotherapeutic treatment procedure after tendon transfer in patients with irreversible radial nerve injury. Ortop Traumatol Rehabil. 2005 Apr 30. 7(2):187-97. [Medline].
Medscape Reference © 2011 WebMD, LLC