Postherpetic Neuralgia
Author: W Alvin McElveen, MD; Chief Editor: Robert A Egan, MD more...
Updated: Dec 24, 2015
What would you like to print?
Background
Herpes zoster (HZ) is a viral infection that usually presents as a childhood infection of varicella (ie, chicken pox). The pathogen is human herpesvirus-3 (HHV-3), also known as the varicella zoster virus (VZV). Following the acute phase, the virus enters the sensory nervous system, where it is harbored in the geniculate, trigeminal, or dorsal root ganglia and remains dormant for many years. With advancing age or immunocompromised states, the virus reactivates and an eruption (ie, shingles) occurs. Even after the acute rash subsides, pain can persist or recur in shingles-affected areas. This condition is known as postherpetic neuralgia (PHN).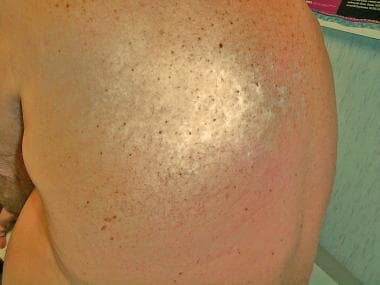 Hypopigmented rash in thoracic dermatome of postherpetic lesion.
Pathophysiology
Some patients with postherpetic neuralgia (PHN) appear to have abnormal function of unmyelinated nociceptors and sensory loss (usually minimal). Pain and temperature detection systems are hypersensitive to light mechanical stimulation, leading to severe pain (allodynia). Allodynia may be related to formation of new connections involving central pain transmission neurons. Other patients with PHN may have severe, spontaneous pain without allodynia, possibly secondary to increased spontaneous activity in deafferented central neurons or reorganization of central connections. An imbalance involving loss of large inhibitory fibers and an intact or increased number of small excitatory fibers has been suggested. This input on an abnormal dorsal horn containing deafferented hypersensitive neurons supports the clinical observation that both central and peripheral areas are involved in the production of pain.
Epidemiology
Frequency
United States
Frequency 1 month after onset of shingles is 9-14.3% and at 3 months is about 5%. At 1 year, 3% continue to have severe pain.
Family history as a risk factor for herpes zoster has been described. In a case-control study of 504 patients and 523 controls, Hicks et al found that the patients were more likely to report blood relatives with herpes zoster than the controls (39% vs 11%, p< .001). This risk was higher in patients with multiple blood relatives with herpes zoster compared with those with a single blood relative with herpes zoster.[1]
International
A study from Iceland demonstrated variations in risk of PHN associated with different age groups. No patient younger than 50 years described severe pain at any time. Patients older than 60 years described severe pain: 6% at 1 month and 4% at 3 months from the onset of shingles.[2]
Mortality/Morbidity
See the list below:
Postherpetic neuralgia is not fatal.

Patients may experience significant pain for a prolonged period of time.

Older age appears to be the most significant risk factor for developing PHN.
Sex
No predilection for developing PHN is known. Although 65% of patients in a study by Watson et al were women, this was believed to mirror the usual predominance of women in this age group.
Age
The association between greater age and PHN is strong.[3] At age 60 years, approximately 60% of patients with shingles develop PHN, and at age 70 years, 75% develop PHN.
References
Hicks LD, Cook-Norris RH, Mendoza N, Madkan V, Arora A, Tyring SK. Family history as a risk factor for herpes zoster: a case-control study. Arch Dermatol. 2008 May. 144(5):603-8. [Medline].

Helgason S, Petursson G, Gudmundsson S, Sigurdsson JA. Prevalence of postherpetic neuralgia after a first episode of herpes zoster: prospective study with long term follow up. BMJ. 2000 Sep 30. 321(7264):794-6. [Medline].

Delaney A, Colvin LA, Fallon MT, et al. Postherpetic neuralgia: from preclinical models to the clinic. Neurotherapeutics. 2009 Oct. 6(4):630-7. [Medline].

Gilden D, Nagel MA, Mahalingam R, et al. Clinical and molecular aspects of varicella zoster virus infection. Future Neurol. 2009 Jan 1. 4(1):103-117. [Medline]. [Full Text].

Spiegel R, Miron D, Lumelsky D, Horovitz Y. Severe Meningoencephalitis Due to Late Reactivation of Varicella-Zoster Virus in an Immunocompetent Child. J Child Neurol. 2009 Jun 3. [Medline].

Haanpaa M, Dastidar P, Weinberg A, et al. CSF and MRI findings in patients with acute herpes zoster. Neurology. 1998 Nov. 51(5):1405-11. [Medline].

Dworkin RH, White R, O'Connor AB, Hawkins K. Health care expenditure burden of persisting herpes zoster pain. Pain Med. 2008 Apr. 9(3):348-53. [Medline].

Brisson M. Estimating the number needed to vaccinate to prevent herpes zoster-related disease, health care resource use and mortality. Can J Public Health. 2008 Sep-Oct. 99(5):383-6. [Medline].

Schmader K, Levin M, Gnann J, McNeil S, Vesikari T, et al. Efficacy, immunogenicity, safety, and tolerability of zoster vaccine (ZV) in subjects 50 to 59 years of age (Poster/Abstract). Infectious Diseases Society of America. The 48th Annual Meeting of the Infectious Diseases Society of America. 10-21-2010. Vancouver, British Columbia, Canada:Ref Type: Abstract: 3363.

Chen JY, Chang CY, Feng PH, Chu CC, So EC, Hu ML. Plasma vitamin C is lower in postherpetic neuralgia patients and administration of vitamin C reduces spontaneous pain but not brush-evoked pain. Clin J Pain. 2009 Sep. 25(7):562-9. [Medline].

Kanai A, Okamoto T, Suzuki K, Niki Y, Okamoto H. Lidocaine eye drops attenuate pain associated with ophthalmic postherpetic neuralgia. Anesth Analg. 2010 May 1. 110(5):1457-60. [Medline].

Benzon HT, Chekka K, Darnule A, Chung B, Wille O, Malik K. Evidence-based case report: the prevention and management of postherpetic neuralgia with emphasis on interventional procedures. Reg Anesth Pain Med. 2009 Sep-Oct. 34(5):514-21. [Medline].

Gilron I, Bailey JM, Tu D, Holden RR, Jackson AC, Houlden RL. Nortriptyline and gabapentin, alone and in combination for neuropathic pain: a double-blind, randomised controlled crossover trial. Lancet. 2009 Oct 10. 374(9697):1252-61. [Medline].

Irving GA, Backonja M, Rauck R, Webster LR, Tobias JK, Vanhove GF. NGX-4010, a Capsaicin 8% Dermal Patch, Administered Alone or in Combination With Systemic Neuropathic Pain Medications, Reduces Pain in Patients With Postherpetic Neuralgia. Clin J Pain. 2011 Jul 12. [Medline].

Baron R, Saguer M. Mechanical allodynia in postherpetic neuralgia: evidence for central mechanisms depending on nociceptive C-fiber degeneration. Neurology. 1995 Dec. 45(12 Suppl 8):S63-5. [Medline].

Bowsher D. The management of postherpetic neuralgia. Postgrad Med J. 1997 Oct. 73(864):623-9. [Medline].

Choo PW, Galil K, Donahue JG, et al. Risk factors for postherpetic neuralgia. Arch Intern Med. 1997 Jun 9. 157(11):1217-24. [Medline].

Freynhagen R, Strojek K, Griesing T, et al. Efficacy of pregabalin in neuropathic pain evaluated in a 12-week, randomised, double-blind, multicentre, placebo-controlled trial of flexible- and fixed-dose regimens. Pain. 2005 Jun. 115(3):254-63. [Medline].

Johnson RW. Herpes zoster and postherpetic neuralgia. Optimal treatment. Drugs Aging. 1997 Feb. 10(2):80-94. [Medline].

Kotani N, Kushikata T, Hashimoto H, et al. Intrathecal methylprednisolone for intractable postherpetic neuralgia. N Engl J Med. 2000 Nov 23. 343(21):1514-9. [Medline].

Merritt HH. A Textbook of Neurology. 1979. 90.

Nurmikko T. Clinical features and pathophysiologic mechanisms of postherpetic neuralgia. Neurology. 1995 Dec. 45(12 Suppl 8):S54-5. [Medline].

Oxman MN, Levin MJ, Johnson GR, et al. A vaccine to prevent herpes zoster and postherpetic neuralgia in older adults. N Engl J Med. 2005 Jun 2. 352(22):2271-84. [Medline].

Rath SA, Braun V, Soliman N, et al. Results of DREZ coagulations for pain related to plexus lesions, spinal cord injuries and postherpetic neuralgia. Acta Neurochir (Wien). 1996. 138(4):364-9. [Medline].

Rowbotham M, Harden N, Stacey B, et al. Gabapentin for the treatment of postherpetic neuralgia: a randomized controlled trial. JAMA. 1998 Dec 2. 280(21):1837-42. [Medline].

Rowbotham MC, Davies PS, Fields HL. Topical lidocaine gel relieves postherpetic neuralgia. Ann Neurol. 1995 Feb. 37(2):246-53. [Medline].

Tyring S, Barbarash RA, Nahlik JE, et al. Famciclovir for the treatment of acute herpes zoster: effects on acute disease and postherpetic neuralgia. A randomized, double-blind, placebo-controlled trial. Collaborative Famciclovir Herpes Zoster Study Group. Ann Intern Med. 1995 Jul 15. 123(2):89-96. [Medline].

Watson CP. Postherpetic neuralgia. Neurol Clin. 1989 May. 7(2):231-48. [Medline].

Watson CP, Vernich L, Chipman M, Reed K. Nortriptyline versus amitriptyline in postherpetic neuralgia: a randomized trial. Neurology. 1998 Oct. 51(4):1166-71. [Medline].

Watson CPN, Gershon AA. Herpes Zoster and Post Herpetic Neuralgia. Vol 11. 2001:90-93, 108-109.

Whitley RJ, Shukla S, Crooks RJ. The identification of risk factors associated with persistent pain following herpes zoster. J Infect Dis. 1998 Nov. 178 Suppl 1:S71-5. [Medline].
Medscape Reference © 2011 WebMD, LLC