Meningioma
Author: Georges Haddad, MD; Chief Editor: Tarakad S Ramachandran, MBBS, MBA, MPH, FAAN, FACP, FAHA, FRCP, FRCPC, FRS, LRCP, MRCP, MRCS more...
Updated: Jan 27, 2016
What would you like to print?
Background
Meningioma, the term coined by Harvey Cushing, refers to a set of tumors that arise contiguously to the meninges (see the image below).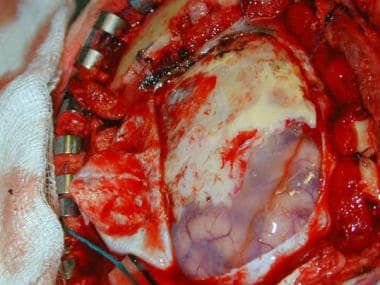 Case 1: Surgical view of the tumor. The dura is opened, and the meningioma can be seen extending en plaque over the surface of the brain.
See Brain Lesions: 9 Cases to Test Your Management Skills, a Critical Images slideshow, to review cases including meningiomas, glioblastomas and craniopharyngiomas, and to determine the best treatment options based on the case history and the associated images.
Pathophysiology
Meningiomas may occur intracranially or within the spinal canal. They are thought to arise from arachnoidal cap cells, which reside in the arachnoid layer covering the surface of the brain. See the images below.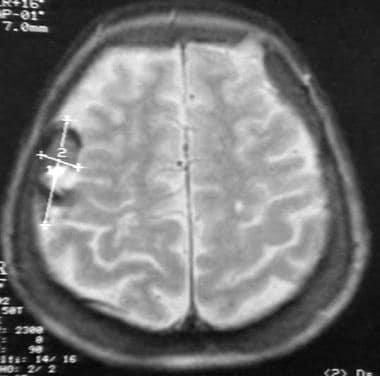 Case 1: MRI of a meningioma on plaque.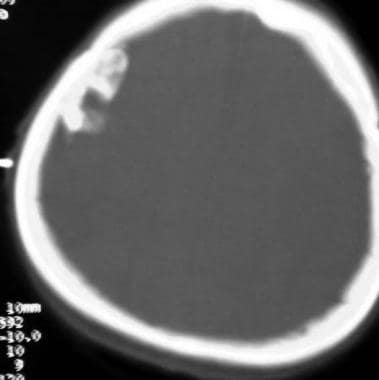 Case 1: Bone-window CT reveals calcification of the meningioma.
Meningiomas commonly are found at the surface of the brain, either over the convexity or at the skull base. In rare cases, meningiomas occur in an intraventricular or intraosseous location. The problem of classifying meningioma is that arachnoidal cells may express both mesenchymal and epithelial characteristics. Other mesodermal structures also may give rise to similar tumors (eg, hemangiopericytomas or sarcomas). The classification of all of these tumors together is controversial. The current trend is to separate unequivocal meningiomas from other less well-defined neoplasms. Undoubtedly, advances in molecular biology will allow scientists to determine the exact genomic aberration responsible for each specific neoplasm.
Epidemiology
Frequency
United States
The annual incidence of symptomatic meningiomas is approximately 2 cases per 100,000 individuals. Meningiomas account for approximately 20% of all primary intracranial neoplasms. However, the true prevalence is likely higher than this because autopsy studies reveal that 2.3% of individuals have undiagnosed asymptomatic meningiomas. Meningiomas are multiple in 5-40% of cases, particularly when they associated with neurofibromatosis type 2 (NF2). Familial meningiomas are rare unless associated with NF2.[1]
International
The frequency of meningiomas in Africa is nearly 30% of all primary intracranial tumors.[2]
Mortality/Morbidity
Mortality and morbidity rates for meningiomas are difficult to assess. Some meningiomas are discovered fortuitously when CT or MRI is done to assess for unrelated diseases or conditions. Therefore, some patients die with meningioma and not from it. Estimates of the 5-year survival usually range from 73-94%.
A systematic review of the literature regarding the clinical behavior of small, untreated meningiomas suggests that most meningiomas 2.5 cm or less in diameter do not proceed to cause symptoms in the 5 years following their discovery. Patients with tumors 2.5-3 cm in initial size went on to develop new or worsened symptoms 17% of the time. Those that do cause symptoms can usually be predicted with close radiographic follow-up.[3]
Meningiomas usually grow slowly, and they may produce severe morbidity before causing death.
Factors that may be predictive of a high postoperative morbidity rate include patient-related factors (eg, advanced age, comorbid states such as diabetes or coronary artery disease, preoperative neurological status), tumor factors (eg, location, size, consistency, vascularity, vascular or neural involvement), previous surgery, or previous radiation therapy.
Race
Meningiomas are more prevalent in Africa than in North America or Europe. In Los Angeles County, meningioma is reported more commonly in African Americans than in others.
Sex
Meningiomas afflict women more often than men. The male-to-female ratio ranges from 1:1.4 to 1:2.8.
The female preponderance may be less pronounced in the black population than in other groups.

Meningiomas are equally distributed between boys and girls.
Age
The incidence increases with age. Ages and corresponding incidence rates reported from 2002 are as follows:
Age 0-19 years - 0.12

Age 20-34 years - 0.74

Age 35-44 years - 2.62

Age 45-54 years - 4.89

Age 55-64 years - 7.89

Age 65-74 years - 12.79

Age 75-84 years - 17.04

Age 85 years and older - 18.86
References
Evans DG. Neurofibromatosis type 2: genetic and clinical features. Ear Nose Throat J. 1999 Feb. 78(2):97-100. [Medline].

Ibebuike K, Ouma J, Gopal R. Meningiomas among intracranial neoplasms in Johannesburg, South Africa: prevalence, clinical observations and review of the literature. Afr Health Sci. 2013 Mar. 13(1):118-21. [Medline].

Sughrue ME, Rutkowski MJ, Aranda D, Barani IJ, McDermott MW, Parsa AT. Treatment decision making based on the published natural history and growth rate of small meningiomas. J Neurosurg. 2010 Apr 30. [Medline].

Pieper DR, Al-Mefty O, Hanada Y, Buechner D. Hyperostosis associated with meningioma of the cranial base: secondary changes or tumor invasion. Neurosurgery. 1999 Apr. 44(4):742-6; discussion 746-7. [Medline].

Hallinan JT, Hegde AN, Lim WE. Dilemmas and diagnostic difficulties in meningioma. Clin Radiol. 2013 Aug. 68(8):837-44. [Medline].

Majchrzak K, Tymowski M. Surgical treatment of the tentorial and falco-tentorial junction meningiomas. Minim Invasive Neurosurg. 2009 Apr. 52(2):93-7. [Medline].

Arima T, Natsume A, Hatano H, et al. Intraventricular chordoid meningioma presenting with Castleman disease due to overproduction of interleukin-6. Case report. J Neurosurg. 2005 Apr. 102(4):733-7. [Medline].

Ragel BT, Jensen RL, Couldwell WT. Inflammatory response and meningioma tumorigenesis and the effect of cyclooxygenase-2 inhibitors. Neurosurg Focus. 2007. 23(4):E7. [Medline].

Kim JH, Lee SH, Rhee CH, et al. Loss of heterozygosity on chromosome 22q and 17p correlates with aggressiveness of meningiomas. J Neurooncol. 1998 Nov. 40(2):101-6. [Medline].

Albrecht S, Goodman JC, Rajagopolan S, Levy M, Cech DA, Cooley LD. Malignant meningioma in Gorlin's syndrome: cytogenetic and p53 gene analysis. Case report. J Neurosurg. 1994 Sep. 81(3):466-71. [Medline].

Verstegen MJ, van den Munckhof P, Troost D, Bouma GJ. Multiple meningiomas in a patient with Rubinstein-Taybi syndrome. Case report. J Neurosurg. 2005 Jan. 102(1):167-8. [Medline].

Hao S, Smith TW, Chu PG, et al. The oncofetal protein IMP3: a novel molecular marker to predict aggressive meningioma. Arch Pathol Lab Med. 2011 Aug. 135(8):1032-6. [Medline].

Niedermaier T, Behrens G, Schmid D, Schlecht I, Fischer B, Leitzmann MF. Body mass index, physical activity, and risk of adult meningioma and glioma: A meta-analysis. Neurology. 2015 Oct 13. 85 (15):1342-50. [Medline].

Hughes, S. Overweight and Lack of Exercise Linked to Meningioma. Medscape Medical News. Available at http://www.medscape.com/viewarticle/851300. September 22, 2015; Accessed: December 7, 2015.

Milham S. Meningioma and mobile phone use. Int J Epidemiol. 2010 Aug. 39(4):1117; author reply 1119. [Medline].

Lee JW, Kang KW, Park SH, et al. 18F-FDG PET in the assessment of tumor grade and prediction of tumor recurrence in intracranial meningioma. Eur J Nucl Med Mol Imaging. 2009 Oct. 36(10):1574-82. [Medline].

Abdel Kerim A, Bonneville F, Jean B, Cornu P, LeJean L, Chiras J. Balloon-assisted embolization of skull base meningioma with liquid embolic agent. J Neurosurg. 2010 Jan. 112(1):70-2. [Medline].

Zielinski G, Grala B, Koziarski A, Kozlowski W. Skull base secretory meningioma. Value of histological and immunohistochemical findings for peritumoral brain edema formation. Neuro Endocrinol Lett. 2013 Apr 5. 34(2):111-117. [Medline].

Wang S, Yang W, Deng J, Zhang J, Ma F, Wang J. Correlation between 99mTc-HYNIC-octreotide SPECT/CT somatostatin receptor scintigraphy and pathological grading of meningioma. J Neurooncol. 2013 Jul. 113(3):519-26. [Medline].

Rosenberg LA, Prayson RA, Lee J, Reddy C, Chao ST, Barnett GH, et al. Long-term experience with World Health Organization grade III (malignant) meningiomas at a single institution. Int J Radiat Oncol Biol Phys. 2009 Jun 1. 74(2):427-32. [Medline].

Wang DJ, Zheng MZ, Gong Y, et al. Papillary meningioma: clinical and histopathological observations. Int J Clin Exp Pathol. 2013. 6(5):878-88. [Medline]. [Full Text].

Dutta D, Lee HN, Munshi A, et al. Intracerebral cystic rhabdoid meningioma. J Clin Neurosci. 2009 Aug. 16(8):1073-4. [Medline].

Zhou K, Wang G, Wang Y, Jin H, Yang S, Liu C. The potential involvement of E-cadherin and beta-catenins in meningioma. PLoS One. 2010. 5(6):e11231. [Medline].

Lakhdar F, Arkha Y, El Ouahabi A, et al. Intracranial meningioma in children: different from adult forms? A series of 21 cases. Neurochirurgie. 2010 Aug. 56(4):309-14. [Medline].

Norden AD, Drappatz J, Wen PY. Advances in meningioma therapy. Curr Neurol Neurosci Rep. 2009 May. 9(3):231-40. [Medline].

Chamberlain MC, Tsao-Wei DD, Groshen S. Temozolomide for treatment-resistant recurrent meningioma. Neurology. 2004 Apr 13. 62(7):1210-2. [Medline].

Milker-Zabel S, Huber P, Schlegel W, Debus J, Zabel-du Bois A. Fractionated stereotactic radiation therapy in the management of primary optic nerve sheath meningiomas. J Neurooncol. 2009 Sep. 94(3):419-24. [Medline].

Haase D, Schmidl S, Ewald C, Kalff R, Huebner C, Firsching R, et al. Fatty acid synthase as a novel target for meningioma therapy. Neuro Oncol. 2010 Aug. 12(8):844-54. [Medline].

Oya S, Kim SH, Sade B, Lee JH. The natural history of intracranial meningiomas. J Neurosurg. 2011 May. 114(5):1250-6. [Medline].

Smith JL, Vuksanovic MM, Yates BM, Bienfang DC. Radiation therapy for primary optic nerve meninigiomas. J Clin Neuroph. 1981. 1:85-99. [Medline].

Mirimanoff RO. New radiotherapy technologies for meningiomas: 3D conformal radiotherapy? Radiosurgery? Stereotactic radiotherapy? Intensity-modulated radiotherapy? Proton beam radiotherapy? Spot scanning proton radiation therapy. . or nothing at all?. Radiother Oncol. 2004 Jun. 71(3):247-9. [Medline].

Nutting C, Brada M, Brazil L, et al. Radiotherapy in the treatment of benign meningioma of the skull base. J Neurosurg. 1999 May. 90(5):823-7. [Medline].

Hasegawa T, Kida Y, Yoshimoto M, Iizuka H, Ishii D, Yoshida K. Gamma Knife surgery for convexity, parasagittal, and falcine meningiomas. J Neurosurg. 2011 May. 114(5):1392-8. [Medline].

Kondziolka D, Levy EI, Niranjan A, et al. Long-term outcomes after meningioma radiosurgery: physician and patient perspectives. J Neurosurg. 1999 Jul. 91(1):44-50. [Medline].

Kondziolka D, Niranjan A, Lunsford LD, Flickinger JC. Stereotactic radiosurgery for meningiomas. Neurosurg Clin N Am. 1999 Apr. 10(2):317-25. [Medline].

Williams BJ, Yen CP, Starke RM, et al. Gamma Knife surgery for parasellar meningiomas: long-term results including complications, predictive factors, and progression-free survival. J Neurosurg. 2011 Jun. 114(6):1571-7. [Medline].

Strassner C, Buhl R, Mehdorn HM. Recurrence of intracranial meningiomas: did better methods of diagnosis and surgical treatment change the outcome in the last 30 years?. Neurol Res. 2009 Jun. 31(5):478-82. [Medline].

Agarwal V, Babu R, Grier J, et al. Cerebellopontine angle meningiomas: postoperative outcomes in a modern cohort. Neurosurg Focus. 2013 Dec. 35(6):E10. [Medline].

Al-Mefty O, Smith R. Clival and petroclival meningiomas. Al-Mefty O, ed. Meningiomas. New York, NY: Raven; 1991.

Alexiou GA, Vartholomatos G, Tsiouris S, et al. Evaluation of meningioma aggressiveness by (99m)Tc-Tetrofosmin SPECT. Clin Neurol Neurosurg. 2008 Jul. 110(7):645-8. [Medline].

Black P, Kathiresan S, Chung W. Meningioma surgery in the elderly: a case-control study assessing morbidity and mortality. Acta Neurochir (Wien). 1998. 140(10):1013-6; discussion 1016-7. [Medline].

Cappabianca P, Cirillo S, Alfieri A, et al. Pituitary macroadenoma and diaphragma sellae meningioma: differential diagnosis on MRI. Neuroradiology. 1999 Jan. 41(1):22-6. [Medline].

De Monte F, Al-Mefty O. Meningiomas. Kaye AH, Laws ER, eds. Brain Tumors: An Encyclopedic Approach. Ediburgh, Scotland: Churchill Livingstone; 1995: 675-704.

Drummond KJ, Zhu JJ, Black PM. Meningiomas: updating basic science, management, and outcome. Neurologist. 2004 May. 10(3):113-30. [Medline].

Feldman RP, Marcovici A, Suarez M, Goodrich JT. Foreign body granuloma mimicking intracranial meningioma: case report and review of the literature. Neurosurgery. 1999 Apr. 44(4):855-8. [Medline].

Haddad GF, Al-Mefty O. Approaches to petroclival tumors. Wilkins RH, Rengachary SS, eds. Neurosurgery. 2nd ed. New York, NY: McGraw-Hill; 1996. Vol 2: 1695-706.

Haddad GF, Al-Mefty O. Meningiomas: an overview. Wilkins RH, Rengachary SS, eds. Neurosurgery. 2nd ed. New York, NY: McGraw-Hill; 1996. Vol 1: 833-42.

Haddad GF, Al-Mefty O. The road less traveled: transtemporal access to the CPA. Clinical Neurosurgery. 1994. 41:150-167.

Iwai Y, Yamanaka K, Yasui T, et al. Gamma knife surgery for skull base meningiomas. The effectiveness of low-dose treatment. Surg Neurol. 1999 Jul. 52(1):40-4; discussion 44-5. [Medline].

Jaffrain-Rea ML, Minniti G, Santoro A, et al. Visual improvement during octreotide therapy in a case of episellar meningioma. Clin Neurol Neurosurg. 1998 Mar. 100(1):40-3. [Medline].

Kleihues P, Cavanee W. World Health Organization Classification of Tumours: Pathology and Genetics: Tumours of the Nervous System. Lyon, France: IARC; 2000.

Klutmann S, Bohuslavizki KH, Tietje N, et al. Clinical value of 24-hour delayed imaging in somatostatin receptor scintigraphy for meningioma. J Nucl Med. 1999 Aug. 40(8):1246-51. [Medline].

Kotzen RM, Swanson RM, Milhorat TH, Boockvar JA. Post-traumatic meningioma: case report and historical perspective. J Neurol Neurosurg Psychiatry. 1999 Jun. 66(6):796, 798. [Medline].

Larner AJ, Ball JA, Howard RS. Sarcoid tumour: continuing diagnostic problems in the MRI era. J Neurol Neurosurg Psychiatry. 1999 Apr. 66(4):510-2. [Medline].

Lee GK, Coel M, Ko J, Tom B. Two meningiomas detected incidentally by Tc-99m HDP bone scintigraphy during a work-up for breast cancer. Clin Nucl Med. 1999 Jul. 24(7):525-6. [Medline].

Liu M, Liu Y, Li X, Zhu S, Wu C. Cystic meninigioma. J Clin Neurosci. 2007 Sep. 14(9):856-9. [Medline].

Lusis E, Gutmann DH. Meningioma: an update. Curr Opin Neurol. 2004 Dec. 17(6):687-92. [Medline].

Nakasu S, Nakasu Y, Nakajima M, et al. Preoperative identification of meningiomas that are highly likely to recur. J Neurosurg. 1999 Mar. 90(3):455-62. [Medline].

Norden AD, Drappatz J, Wen PY. Targeted drug therapy for meningiomas. Neurosurg Focus. 2007. 23(4):E12. [Medline].

Perry A, et al. Meningiomas. Louis DN, Ohgaki H, Wiestler OD, Cavenee WK, Burger PC, Jouvet A, et al. World Health Organization Classification of Tumours of the Central Nervous System. 4th ed. Lyon: IARC; 164-172.

Rempel SA, Ge S, Gutierrez JA. SPARC: a potential diagnostic marker of invasive meningiomas. Clin Cancer Res. 1999 Feb. 5(2):237-41. [Medline].

Runzi MW, Jaspers C, Windeck R. Successful treatment of meningioma with octreotide [letter]. Lancet. 1989 May 13. 1(8646):1074. [Medline].

Sharif S, Brennan P, Rawluk D. Non-surgical treatment of meningioma: a case report and review. Br J Neurosurg. 1998 Aug. 12(4):369-72. [Medline].

Vaicys C, Schulder M, Wolansky LJ, Fromowitz FB. Falcotentorial plasmacytoma: case report. J Neurosurg. 1999 Jul. 91(1):132-5. [Medline].

Whittle IR, Smith C, Navoo P, Collie D. Meningiomas. Lancet. 2004 May 8. 363(9420):1535-43. [Medline].
Table.
| | |
| --- | --- |
| Location | Symptoms |
| Parasagittal | Monoparesis of the contralateral leg |
| Subfrontal | Change in mentation, apathy or disinhibited behavior, urinary incontinence |
| Olfactory groove | Anosmia with possible ipsilateral optic atrophy and contralateral papilledema (this triad termed Kennedy-Foster syndrome) |
| Cavernous sinus | Multiple cranial nerve deficits (II, III, IV, V, VI), leading to decreased vision and diplopia with associated facial numbness |
| Occipital lobe | Contralateral hemianopsia |
| Cerebellopontine angle | Decreased hearing with possible facial weakness and facial numbness |
| Spinal cord | Localized spinal pain, Brown-Sequard (hemispinal cord) syndrome |
| Optic nerve | Exophthalmos, monocular loss of vision or blindness, ipsilateral dilated pupil that does not react to direct light stimulation but might contract on consensual light stimulation; often, monocular optic nerve swelling with optociliary shunt vessels |
| Sphenoid wing | Seizures; multiple cranial nerve palsies if the superior orbital fissure involved |
| Tentorial | May protrude within supratentorial and infratentorial compartments, producing symptoms by compressing specific structures within these 2 compartments[6] |
| Foramen magnum | Paraparesis, sphincteric troubles, tongue atrophy associated with fasciculation |
Table. Summary of the 2007 WHO Grading Scheme for Meningiomas
| | | |
| --- | --- | --- |
| WHO Grade | Histological Subtype | Histological Features |
| I | Meningothelial, fibroblastic, transitional, angiomatous, microcystic, secretory, lymphoplasmacytic metaplastic, psammomatous | Does not fulfill criteria for grade II or III |
| II (Atypical) | Chordoid, clear cell | 4 or more mitotic cells per 10 hpf and/or 3 or more of the following: increased cellularity, small cells, necrosis, prominent nucleoli, sheeting, and/or brain invasion in an otherwise Grade I tumor |
| III (Anaplastic) | Papillary, rhabdoid[22] | 20 or more mitoses per 10 hpf and/or obviously malignant cytological characteristics such that tumor cell resembles carcinoma, sarcoma, or melanoma |
Medscape Reference © 2011 WebMD, LLC