Pituitary Tumors Clinical Presentation
Author: Jorge C Kattah, MD; Chief Editor: Robert A Egan, MD  more...
Updated: Oct 26, 2015
What would you like to print?
History
See the list below:
The presentation of a pituitary macroadenoma relates to its mass effect and pressure on surrounding structures.

Fifty to sixty percent present with visual symptoms due to compression of optic nerve structures.

Nonspecific headache can be seen.

Lateral extension can result in compression of the cavernous sinuses and may cause ophthalmoplegia, diplopia, and/or ptosis. Talkad et al recently reported an isolated, painful, postganglionic Horner syndrome as the initial sign of lateral extension of a large prolactinoma.

[9]

Extension into the sphenoid sinuses can cause spontaneous cerebrospinal fluid (CSF) rhinorrhea.

In addition to visual symptoms, endocrine dysfunction, as described in Pathophysiology, can result.
Physical
Macroadenomas can compress optic nerve structures. The optic chiasm is the most frequently affected structure, and bitemporal field defects are the most common findings.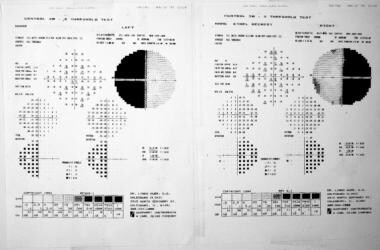 This is a characteristic bitemporal hemianopic visual field defect.
See the list below:
Neuro-ophthalmologic examination

Visual acuity can be decreased in one or both eyes.
Pupillary light reaction can be abnormal.
Color vision can be affected. Bitemporal hemiachromatopsia to red may be localized to the optic chiasm. This can be tested easily at bedside.
Visual fields

The hallmark abnormality associated with chiasmal compression is a bitemporal superior quadrantanopsia.
Larger lesions may be associated with a bitemporal hemianopsia.
Since the optic chiasm is usually adjacent to the tuberculum sellae, chiasmal compression is seen commonly.
Less frequently, the chiasm may be anterior or posterior to the tuberculum sellae (ie, prefixed or postfixed chiasm). Thus, the pattern of visual field defect can be variable. Any form of temporal field defect, even if monocular, can result from chiasmal compression.
The anterior chiasmal syndrome is not caused often by pituitary adenomas. However, bitemporal scotomata and, infrequently, homonymous defects due to optic tract compression may be seen

This visual field was plotted using a Goldman perimeter (ie, kinetic perimetry). It was obtained from a patient who reported visual loss and had a normal endocrine workup. The dark areas correspond to the impaired peripheral visual field. This visual field defect is consistent with an intrasellar lesion.

Ophthalmoscopic examination

Optic atrophy is seen frequently. It is generally a horizontal-oriented atrophy (ie, bow-tie) that corresponds to the topographic localization of the nasal retina within the optic nerve. Dropout of the nerve fiber layer in the nasal retina also may be noted.
Papilledema is exceptional, seen only in patients with pituitary apoplexy.
Less frequent optic atrophy with increased cup-to-disk ratio resembling glaucomatous optic atrophy can occur.

These abnormalities may be present in isolation or in association with physical changes associated with endocrine dysfunction.

Prolactinomas

In females, galactorrhea may be present on clinical examination. Women undergoing an infertility evaluation may be found to have a prolactinoma.
In males, galactorrhea is infrequent; testicles may be decreased in size and may be soft to palpation.

Acromegaly

A multitude of clinical signs can be appreciated by comparing the current facial appearance with prior photographs.
These changes include large hands and feet (with thick fingers and toes) and coarse facial features with frontal bossing. Women may appear masculinized. Other findings might include prognathism, carpal tunnel syndrome, and voice quality changes.

Cushing disease: Findings are prominent and include obesity, centripetal fat deposition, proximal myopathy, moon facies, buffalo hump, posterior subcapsular cataracts, arterial hypertension, bruises, and skin striae.
Hypopituitarism

Chronic hypopituitarism results in hypotension, generalized weakness, hypothermia, malaise, and depression.
Acute sudden hypopituitarism (ie, pituitary apoplexy) is associated with shock, coma, and death.
References
Chahal HS, Stals K, Unterländer M, et al. AIP mutation in pituitary adenomas in the 18th century and today. N Engl J Med. 2011 Jan 6. 364(1):43-50. [Medline].

Villwock JA, Villwock M, Deshaies E, Goyal P. Significant increases of pituitary tumors and resections from 1993 to 2011. Int Forum Allergy Rhinol. 2014 Sep. 4(9):767-70. [Medline].

Vlotides G, Eigler T, Melmed S. Pituitary tumor-transforming gene: physiology and implications for tumorigenesis. Endocr Rev. 2007 Apr. 28(2):165-86. [Medline].

Riss D, Jin L, Qian X, et al. Differential expression of galectin-3 in pituitary tumors. Cancer Res. 2003 May 1. 63(9):2251-5. [Medline].

Zhang X, Horwitz GA, Heaney AP, Nakashima M, Prezant TR, Bronstein MD, et al. Pituitary tumor transforming gene (PTTG) expression in pituitary adenomas. J Clin Endocrinol Metab. 1999 Feb. 84(2):761-7. [Medline].

Kosmorsky GS, Dupps WJ Jr, Drake RL. Nonuniform pressure generation in the optic chiasm may explain bitemporal hemianopsia. Ophthalmology. 2008 Mar. 115(3):560-5. [Medline].

Thomas ST. Finite Element Modleing of Chiasmal Compression. J of Undergraduate Engineering Res. 2009. 12:1-30.

Ambrosi B, Dall'Asta C, Cannavo S, et al. Effects of chronic administration of PPAR-gamma ligand rosiglitazone in Cushing's disease. Eur J Endocrinol. 2004 Aug. 151(2):173-8. [Medline].

Talkad AV, Kattah JC, Xu MY, et al. Prolactinoma presenting as painful postganglionic Horner syndrome. Neurology. 2004 Apr 27. 62(8):1440-1. [Medline].

Paterno' V, Fahlbusch R. High-Field iMRI in transsphenoidal pituitary adenoma surgery with special respect to typical localization of residual tumor. Acta Neurochir (Wien). 2014 Mar. 156(3):463-74; discussion 474. [Medline].

Kreutzer J, Fahlbusch R. Diagnosis and treatment of pituitary tumors. Curr Opin Neurol. 2004 Dec. 17(6):693-703. [Medline].

Giustina A, Barkan A, Casanueva FF, et al. Criteria for cure of acromegaly: a consensus statement. J Clin Endocrinol Metab. 2000 Feb. 85(2):526-9. [Medline].

Semple PL, Webb MK, de Villiers JC, Laws ER Jr. Pituitary apoplexy. Neurosurgery. 2005. 56(1):65-72; discussion 72-3. [Medline].

Biousse V, Newman NJ, Oyesiku NM. Precipitating factors in pituitary apoplexy. J Neurol Neurosurg Psychiatry. 2001 Oct. 71(4):542-5. [Medline].

Rotenberg BW, Saunders S, Duggal N. Olfactory outcomes after endoscopic transsphenoidal pituitary surgery. Laryngoscope. 2011 Aug. 121(8):1611-3. [Medline].

Gnanalingham KK, Bhattacharjee S, Pennington R, et al. The time course of visual field recovery following transphenoidal surgery for pituitary adenomas: predictive factors for a good outcome. J Neurol Neurosurg Psychiatry. 2005 Mar. 76(3):415-9. [Medline].

Alameda C, Lucas T, Pineda E, et al. Experience in management of 51 non-functioning pituitary adenomas: indications for post-operative radiotherapy. J Endocrinol Invest. 2005 Jan. 28(1):18-22. [Medline].

Castinetti F, Régis J, Dufour H, Brue T. Role of stereotactic radiosurgery in the management of pituitary adenomas. Nat Rev Endocrinol. 2010 Apr. 6(4):214-23. [Medline].

Ciric I, Zhao JC, Du H, Findling JW, Molitch ME, Weiss RE, et al. Transsphenoidal surgery for Cushing disease: experience with 136 patients. Neurosurgery. 2012 Jan. 70(1):70-80; discussion 80-1. [Medline].

Colin P, Jovenin N, Delemer B, et al. Treatment of pituitary adenomas by fractionated stereotactic radiotherapy: a prospective study of 110 patients. Int J Radiat Oncol Biol Phys. 2005 Jun 1. 62(2):333-41. [Medline].

Conomy JP, Ferguson JH, Brodkey JS, Mitsumoto H. Spontaneous infarction in pituitary tumors: neurologic and therapeutic aspects. Neurology. 1975 Jun. 25(6):580-7. [Medline].

David, NJ, Gargano FP, Glaser JS. Pituitary apoplexy in clinical perspective. Neurophthalmology Symposium. St Louis: CV Mosby; 1975. Vol 8: 140-165.

Dawson BH, Kothandaram P. Acute massive infarction of pituitary adenomas. A study of five patients. J Neurosurg. 1972 Sep. 37(3):275-9. [Medline].

Gharib H, Frey HM, Laws ER, et al. Coexistent primary empty sella syndrome and hyperprolactinemia. Report of 11 cases. Arch Intern Med. 1983 Jul. 143(7):1383-6. [Medline].

Greenberg HS, Chandler WF, Ensminger WD. Radiosensitization with carotid intra-arterial bromodeoxyuridine +/- 5-fluorouracil biomodulation for malignant gliomas. Neurology. 1994 Sep. 44(9):1715-20. [Medline].

Jagannathan J, Yen CP, Pouratian N, Laws ER, Sheehan JP. Stereotactic radiosurgery for pituitary adenomas: a comprehensive review of indications, techniques and long-term results using the Gamma Knife. J Neurooncol. 2009 May. 92(3):345-56. [Medline].

Jho HD. Endoscopic endonasal pituitary surgery: Technical aspects. Contemporary Neurosurgery. 1997. 19:1-8.

Jho HD, Carrau RL, Ko Y, Daly MA. Endoscopic pituitary surgery: an early experience. Surg Neurol. 1997 Mar. 47(3):213-22; discussion 222-3. [Medline].

Koutourousiou M, Gardner PA, Fernandez-Miranda JC, Paluzzi A, Wang EW, Snyderman CH. Endoscopic endonasal surgery for Giant Pituitary adenomas: Advantages and Limitations. J of Neursurg. January/2013. E Pubahead of print:

Levy A, Lightman SL. Diagnosis and management of pituitary tumours. BMJ. 1994 Apr 23. 308(6936):1087-91. [Medline].

Melmed S. Acromegaly. N Engl J Med. 1990 Apr 5. 322(14):966-77. [Medline].

Molitch ME. Pregnancy and the hyperprolactinemic woman. N Engl J Med. 1985 May 23. 312(21):1364-70. [Medline].

Oldfield EH, Doppman JL, Nieman LK, Chrousos GP, Miller DL, Katz DA, et al. Petrosal sinus sampling with and without corticotropin-releasing hormone for the differential diagnosis of Cushing's syndrome. N Engl J Med. 1991 Sep 26. 325(13):897-905. [Medline].

Orth DN. Cushing's syndrome. N Engl J Med. 1995 Mar 23. 332(12):791-803. [Medline].

Rotenberg BW, Saunders S, Duggal N. Olfactory outcomes after Endoscopic Transphenoidal Pituitary surgery. The Laryngoscope. 2011. 121:1611-1613.

Thorner MO, Vance ML, Laws ER. The anterior pituitary. Williams, ed. Textbook of Endocrinology. Philadelphia: WB Saunders; 1998. 249-340.

Zhang X, Horwitz GA, Heaney AP, Nakashima M, Prezant TR, Bronstein MD, et al. Pituitary tumor transforming gene (PTTG) expression in pituitary adenomas. J Clin Endocrinol Metab. 1999 Feb. 84(2):761-7. [Medline].
Medscape Reference © 2011 WebMD, LLC