Pituitary Tumors Workup
Author: Jorge C Kattah, MD; Chief Editor: Robert A Egan, MD  more...
Updated: Oct 26, 2015
What would you like to print?
Laboratory Studies
See the list below:
Pituitary mass

Visual fields and ophthalmologic evaluation are critical in defining the presence of a chiasmal syndrome.
Neuroimaging would be appropriate (see Imaging Studies).

Prolactinomas

Serum prolactin levels should be measured in any patient with a suspected sellar or suprasellar mass. If elevated, investigate the possibility of pharmacologic and other factors prior to ordering extensive neuroimaging studies.
Generally, a single elevated prolactin level may confirm the diagnosis. Minor elevations may be somewhat difficult to interpret, since breast manipulation can elevate the serum level. The first level obtained serves as a baseline and guides the course of dopamine-agonist therapy.
Serum prolactin level >200 mcg/L in a patient with a macroadenoma greater than 10 mm in size is diagnostic of a prolactinoma. Levels below that range in a macroadenoma suggest hyperprolactinemia secondary to hypothalamic compression.

Growth hormone abnormalities

Growth hormone (GH) levels are elevated in acromegaly but can fluctuate significantly.
Intravenous (IV) GH levels every 5 minutes for 24 hours may show consistent elevation of GH. This is not a practical diagnostic method, but does indicate that a single GH value is not sufficient to make a diagnosis.
Serum insulinlike growth factor 1 (IGF-1) level is the best endocrinologic test for acromegaly. IGF-1 reflects GH concentration in the last 24 hours. Technical factors may limit its usefulness in some laboratories.
Oral glucose tolerance test is the definitive test for the diagnosis of acromegaly; a positive result is the failure of GH to decrease to < 1 mcg/L after ingesting 50-100 g of glucose.

Thyrotrophin-releasing hormone (TRH), 200 mcg, can be given to increase the test's accuracy. A GH level > 5 mcg/L suggests acromegaly.
Failure to decrease the GH concentration to < 2 mcg/L after a glucose load and after TRH stimulation is highly suggestive of acromegaly.

Cushing disease and Cushing syndrome

Twenty-four hour urine is collected for free cortisol. Usually 2 baseline values are obtained.
Dexamethasone suppression test: The physiological basis of this test is a decrease in adrenocorticotropic hormone (ACTH) secretion by the pituitary because of exogenous glucocorticoid administration. One mg of dexamethasone is administered. Serum cortisol level is measured the next morning; it should be < 138 nmol/L (ie, < 5 mcg/dL).
Standard low-dose dexamethasone: Two-day baseline serum and urine cortisol levels are determined. The patient is then given 4 doses of 0.5 mg of dexamethasone at 6-hour intervals. Normal suppression is a serum cortisol level of < 138 nmol/L or a urine level of less than 55 nmol/L.
If cortisol levels are increased abnormally, corticotrophin-releasing factor (CRF) in a dose of 100 mcg can be given to differentiate between Cushing disease and other causes of hypercortisolism (ie, Cushing syndrome). With pituitary adenomas, cortisol secretion is increased over the baseline.
High-dose dexamethasone suppression confirms diagnosis of a pituitary adenoma. It suppresses the pituitary gland even in the presence of an adenoma. If cortisol levels remain unchanged, the cause of increased cortisol is not a pituitary adenoma.
Metyrapone test: Metyrapone inhibits synthesis of cortisol. Patients with pituitary tumors remain responsive to low levels of cortisol, prompted by metyrapone administration, with increased secretion of cortisol precursors (ie, 11-deoxycortisol).
Serum levels of ACTH: The serum concentration of ACTH is higher than normal (>5.5 pmol/L at 9 am and >2.2 pmol/L at midnight).
At times, venous sampling of ACTH from the petrosal sinuses by means of cerebral venography may be valuable when making the diagnosis is difficult.
Baseline petrosal sinus levels of CRF distinguish patients with Cushing disease from those with ectopic ACTH secretion.

Glycoprotein hormones -

Thyroid-stimulating hormone

,

follicle-stimulating hormone

,

luteinizing hormone

Pituitary adenomas that are associated with thyroid-stimulating hormone (TSH) hypersecretion are uncommon. These patients have increased T3 and T4 levels, hyperthyroidism, and goiter with inappropriately high levels of TSH.
Increased follicle-stimulating hormone (FSH) levels may be apparent in the histologic examination of a pituitary adenoma in patients without apparent preoperative endocrine abnormalities and in some patients with hypogonadism.
Increased luteinizing hormone (LH) levels also may be seen in patients with hypogonadism. The secreted hormone is not intact LH, and serum testosterone levels are not increased.
Free alpha and beta subunits of FSH are secreted by pituitary tumors that are thought to be inactive. A high percentage of these tumors have a paradoxical release of FSH subunits in response to TRH stimulation (200 mcg). Rarely, these tumors are associated with precocious puberty or resumption of bleeding in a postmenopausal woman.
The initial screening endocrine tests should include levels of prolactin, IGF-1, LH, FSH, TRH and alpha subunit, cortisol, and T4; men should have testosterone level checked.

Pituitary apoplexy: CSF may be xanthochromic, with crenated RBCs and high protein level.
Imaging Studies
MRI of the brain and sellar region with multiplanar thin sections is of critical importance. This provides axial, coronal, and sagittal sections of the sellar contents. Generally, the relationship between the lesion and the optic chiasm and visual pathways is recognized easily. Pregadolinium and postgadolinium images are recommended to ensure that primarily isointense lesions do not escape detection. See the images below.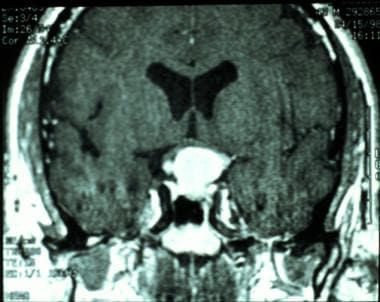 This contrast-enhanced coronal MRI was obtained in a patient who complained of visual loss.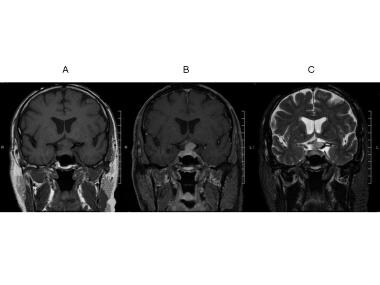 Coronal T1 precontrast MRI A (left panel), B postcontrast (middle panel) and T2 (right panel) showing a sellar mass causing obvious left and upward displacement of the optic chiasm. The mass is a histologically proven pituitary macroadenoma, which presented initially with a large cystic subfrontal extension that was successfully resected in April of 2006. This patient has been observed closely for 2.5 years and despite obvious mass effect, he has no visual complaints and the neuro-ophthalmologic evaluation is normal. Although infrequent, clinicians should be aware of this possibility. Close follow-up is required.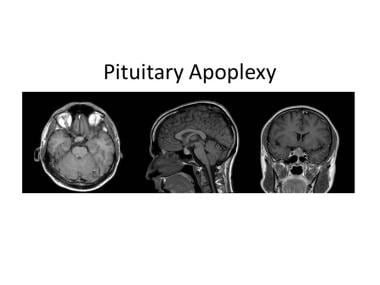 Axial, sagittal, and coronal MRI of the sellae in a patient with a severe headache, normal neuro-ophthalmologic examination, and no evidence of endocrine failure. A hyperintense mass is observed in the sella with suprasellar extension. This case illustrates the clinical spectrum of pituitary apoplexy. Transsphenoidal resection confirmed the diagnosis of pituitary apoplexy.
In a study by Paterno and Fahlbusch of patients who underwent transsphenoidal pituitary adenoma surgery, intraoperative high-field magnetic resonance imaging (iMRI) was used for immediate intraoperative quality control to evaluate extent of tumor removal during the surgical procedure. Use of iMRI allowed resections to be extended in cases in which tumor remnants could be documented as suspicious after total resection. According to the authors, incomplete removal of resectable pituitary adenomas could be avoided in many cases by identifying the location of the tumor remnants. In cases in which it is not possible to achieve complete resection of an adenoma, further treatment can be planned earlier, without having to wait 2-3 months after surgery for conventional postoperative MRI scans to be performed.[10]
CT scan of the brain with sellar images may be sufficiently specific and can detect tumor calcifications. However, the detail is generally inferior to that of MRI.
Cerebral angiography is not performed routinely in the workup of sellar mass lesions. It generally is performed when vascular lesions are suspected.
Other Tests
See the list below:
A final diagnosis generally is not made until the lesion is resected.

If a granulomatous or infectious process is the primary concern, other systemic and neurological testing may be required.
Procedures
See the list below:
Visual field testing

Petrosal sinus venous sampling for ACTH- or TSH-producing adenomas in selective cases
Histologic Findings
The role of pathologic examination of pituitary tumors is critical. Routinely perform standard histologic examination, electromicroscopy, and immunohistochemistry for these lesions. Findings then are correlated with clinical and imaging results. The histologic characteristics of these lesions are discussed in Pathophysiology. At times, the differentiation of hyperplasia from adenoma may be difficult. Other nonpituitary mass lesions may be identified easily by pathologic examination.
References
Chahal HS, Stals K, Unterländer M, et al. AIP mutation in pituitary adenomas in the 18th century and today. N Engl J Med. 2011 Jan 6. 364(1):43-50. [Medline].

Villwock JA, Villwock M, Deshaies E, Goyal P. Significant increases of pituitary tumors and resections from 1993 to 2011. Int Forum Allergy Rhinol. 2014 Sep. 4(9):767-70. [Medline].

Vlotides G, Eigler T, Melmed S. Pituitary tumor-transforming gene: physiology and implications for tumorigenesis. Endocr Rev. 2007 Apr. 28(2):165-86. [Medline].

Riss D, Jin L, Qian X, et al. Differential expression of galectin-3 in pituitary tumors. Cancer Res. 2003 May 1. 63(9):2251-5. [Medline].

Zhang X, Horwitz GA, Heaney AP, Nakashima M, Prezant TR, Bronstein MD, et al. Pituitary tumor transforming gene (PTTG) expression in pituitary adenomas. J Clin Endocrinol Metab. 1999 Feb. 84(2):761-7. [Medline].

Kosmorsky GS, Dupps WJ Jr, Drake RL. Nonuniform pressure generation in the optic chiasm may explain bitemporal hemianopsia. Ophthalmology. 2008 Mar. 115(3):560-5. [Medline].

Thomas ST. Finite Element Modleing of Chiasmal Compression. J of Undergraduate Engineering Res. 2009. 12:1-30.

Ambrosi B, Dall'Asta C, Cannavo S, et al. Effects of chronic administration of PPAR-gamma ligand rosiglitazone in Cushing's disease. Eur J Endocrinol. 2004 Aug. 151(2):173-8. [Medline].

Talkad AV, Kattah JC, Xu MY, et al. Prolactinoma presenting as painful postganglionic Horner syndrome. Neurology. 2004 Apr 27. 62(8):1440-1. [Medline].

Paterno' V, Fahlbusch R. High-Field iMRI in transsphenoidal pituitary adenoma surgery with special respect to typical localization of residual tumor. Acta Neurochir (Wien). 2014 Mar. 156(3):463-74; discussion 474. [Medline].

Kreutzer J, Fahlbusch R. Diagnosis and treatment of pituitary tumors. Curr Opin Neurol. 2004 Dec. 17(6):693-703. [Medline].

Giustina A, Barkan A, Casanueva FF, et al. Criteria for cure of acromegaly: a consensus statement. J Clin Endocrinol Metab. 2000 Feb. 85(2):526-9. [Medline].

Semple PL, Webb MK, de Villiers JC, Laws ER Jr. Pituitary apoplexy. Neurosurgery. 2005. 56(1):65-72; discussion 72-3. [Medline].

Biousse V, Newman NJ, Oyesiku NM. Precipitating factors in pituitary apoplexy. J Neurol Neurosurg Psychiatry. 2001 Oct. 71(4):542-5. [Medline].

Rotenberg BW, Saunders S, Duggal N. Olfactory outcomes after endoscopic transsphenoidal pituitary surgery. Laryngoscope. 2011 Aug. 121(8):1611-3. [Medline].

Gnanalingham KK, Bhattacharjee S, Pennington R, et al. The time course of visual field recovery following transphenoidal surgery for pituitary adenomas: predictive factors for a good outcome. J Neurol Neurosurg Psychiatry. 2005 Mar. 76(3):415-9. [Medline].

Alameda C, Lucas T, Pineda E, et al. Experience in management of 51 non-functioning pituitary adenomas: indications for post-operative radiotherapy. J Endocrinol Invest. 2005 Jan. 28(1):18-22. [Medline].

Castinetti F, Régis J, Dufour H, Brue T. Role of stereotactic radiosurgery in the management of pituitary adenomas. Nat Rev Endocrinol. 2010 Apr. 6(4):214-23. [Medline].

Ciric I, Zhao JC, Du H, Findling JW, Molitch ME, Weiss RE, et al. Transsphenoidal surgery for Cushing disease: experience with 136 patients. Neurosurgery. 2012 Jan. 70(1):70-80; discussion 80-1. [Medline].

Colin P, Jovenin N, Delemer B, et al. Treatment of pituitary adenomas by fractionated stereotactic radiotherapy: a prospective study of 110 patients. Int J Radiat Oncol Biol Phys. 2005 Jun 1. 62(2):333-41. [Medline].

Conomy JP, Ferguson JH, Brodkey JS, Mitsumoto H. Spontaneous infarction in pituitary tumors: neurologic and therapeutic aspects. Neurology. 1975 Jun. 25(6):580-7. [Medline].

David, NJ, Gargano FP, Glaser JS. Pituitary apoplexy in clinical perspective. Neurophthalmology Symposium. St Louis: CV Mosby; 1975. Vol 8: 140-165.

Dawson BH, Kothandaram P. Acute massive infarction of pituitary adenomas. A study of five patients. J Neurosurg. 1972 Sep. 37(3):275-9. [Medline].

Gharib H, Frey HM, Laws ER, et al. Coexistent primary empty sella syndrome and hyperprolactinemia. Report of 11 cases. Arch Intern Med. 1983 Jul. 143(7):1383-6. [Medline].

Greenberg HS, Chandler WF, Ensminger WD. Radiosensitization with carotid intra-arterial bromodeoxyuridine +/- 5-fluorouracil biomodulation for malignant gliomas. Neurology. 1994 Sep. 44(9):1715-20. [Medline].

Jagannathan J, Yen CP, Pouratian N, Laws ER, Sheehan JP. Stereotactic radiosurgery for pituitary adenomas: a comprehensive review of indications, techniques and long-term results using the Gamma Knife. J Neurooncol. 2009 May. 92(3):345-56. [Medline].

Jho HD. Endoscopic endonasal pituitary surgery: Technical aspects. Contemporary Neurosurgery. 1997. 19:1-8.

Jho HD, Carrau RL, Ko Y, Daly MA. Endoscopic pituitary surgery: an early experience. Surg Neurol. 1997 Mar. 47(3):213-22; discussion 222-3. [Medline].

Koutourousiou M, Gardner PA, Fernandez-Miranda JC, Paluzzi A, Wang EW, Snyderman CH. Endoscopic endonasal surgery for Giant Pituitary adenomas: Advantages and Limitations. J of Neursurg. January/2013. E Pubahead of print:

Levy A, Lightman SL. Diagnosis and management of pituitary tumours. BMJ. 1994 Apr 23. 308(6936):1087-91. [Medline].

Melmed S. Acromegaly. N Engl J Med. 1990 Apr 5. 322(14):966-77. [Medline].

Molitch ME. Pregnancy and the hyperprolactinemic woman. N Engl J Med. 1985 May 23. 312(21):1364-70. [Medline].

Oldfield EH, Doppman JL, Nieman LK, Chrousos GP, Miller DL, Katz DA, et al. Petrosal sinus sampling with and without corticotropin-releasing hormone for the differential diagnosis of Cushing's syndrome. N Engl J Med. 1991 Sep 26. 325(13):897-905. [Medline].

Orth DN. Cushing's syndrome. N Engl J Med. 1995 Mar 23. 332(12):791-803. [Medline].

Rotenberg BW, Saunders S, Duggal N. Olfactory outcomes after Endoscopic Transphenoidal Pituitary surgery. The Laryngoscope. 2011. 121:1611-1613.

Thorner MO, Vance ML, Laws ER. The anterior pituitary. Williams, ed. Textbook of Endocrinology. Philadelphia: WB Saunders; 1998. 249-340.

Zhang X, Horwitz GA, Heaney AP, Nakashima M, Prezant TR, Bronstein MD, et al. Pituitary tumor transforming gene (PTTG) expression in pituitary adenomas. J Clin Endocrinol Metab. 1999 Feb. 84(2):761-7. [Medline].
Medscape Reference © 2011 WebMD, LLC