Spinal Metastasis Workup
Author: Victor Tse, MD, PhD; Chief Editor: Stephen A Berman, MD, PhD, MBA more...
Updated: Mar 31, 2014
What would you like to print?
Imaging Studies
Diagnostic procedures in evaluation of spinal metastatic disease
Thorough metastatic workup is paramount in patients with spinal metastasis. This helps to delineate the nature and the extent of the systemic disease. However, the appropriateness of diagnostic tests depends on the time available. In patients with rapidly progressing symptoms, chest radiography and physical examination is all that is warranted. Plain radiography and, whenever possible, a CT of the entire spine should then be performed, followed by MRI with and without contrast enhancement.
Plain radiography is used to show erosion of the pedicles or the vertebral body. Owl-eye erosion of the pedicles in the anteroposterior (AP) view of lumbar spine is characteristic of metastatic disease and is observed in 90% of symptomatic patients. However, radiologic findings become apparent only when bone destruction reaches 30-50%. Osteoblastic or osteosclerotic changes are common in prostate cancer and Hodgkin disease; they are occasionally seen in breast cancer and lymphoma.
CT scanning is useful in determining the integrity of the vertebral column, especially when surgery is anticipated. CT myelography is used if MRI is not available. CT also allows for an examination of paraspinal soft tissues and paraspinal lymph nodes.[1]
Emergency myelography is still used in situations where an MRI is not available. The advantage of an MRI is its noninvasive nature, whereas myelography allows for cerebrospinal fluid (CSF) sampling. CSF sampling should be deferred if evidence of near-complete or complete spinal block is noted. The risk of neurologic deterioration after myelography is about 14% but is less likely with C1-2 puncture.
With MRI, the sagittal scout image is used for rapid screening of the entire spinal axis and its surrounding soft tissues. MRI is the imaging modality of choice. Contrast-enhanced fat-suppressed images help to differentiate metastasis from degenerative bone marrow. Diffusion-weighted images distinguish metastasis from osteoporotic bone. Osteoporotic fractures are hypointense, and metastases are hyperintense. See the image below.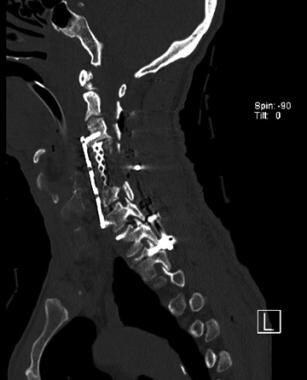 Spinal metastasis.
Bone scanning
Bone scans are positive in 60% of patients but they are not specific.
Lesions that activate bone metabolism increase technetium-99m uptake.
Nuclear studies are useful to determine cancer burden and are effective in scanning the entire axial and appendicular skeleton. The use of single photon emission CT (SPECT) and positron emission tomography (PET)–CT allow for rapid screening and staging of systemic disease. In many ways, this PET-CT is a standard modality to stage systemic disease and tumor burden, and it is extremely useful in guiding the aggressiveness of surgical management of metastatic disease to the spine.
References
Khan L, Mitera G, Probyn L, Ford M, Christakis M, Finkelstein J, et al. Inter-rater reliability between musculoskeletal radiologists and orthopedic surgeons on computed tomography imaging features of spinal metastases. Curr Oncol. 2011 Dec. 18(6):e282-7. [Medline]. [Full Text].

Wibmer C, Leithner A, Hofmann G, Clar H, Kapitan M, Berghold A, et al. Survival analysis of 254 patients after manifestation of spinal metastases: evaluation of seven preoperative scoring systems. Spine (Phila Pa 1976). 2011 Nov 1. 36(23):1977-86. [Medline].

Dwright et al. Dwright et al. Journal of Neurosurgery Spine. 2012. 17:11-8.

Fisher CG, DiPaola CP, Ryken TC, Bilsky MH, Shaffrey CI, Berven SH, et al. A novel classification system for spinal instability in neoplastic disease: an evidence-based approach and expert consensus from the Spine Oncology Study Group. Spine (Phila Pa 1976). 2010 Oct 15. 35(22):E1221-9. [Medline].

Patil CG, Lad SP, Santarelli J, Boakye M. National inpatient complications and outcomes after surgery for spinal metastasis from 1993-2002. Cancer. 2007 Aug 1. 110(3):625-30. [Medline].

Ibrahim A, Crockard A, Antonietti P, Boriani S, Bünger C, Gasbarrini A, et al. Does spinal surgery improve the quality of life for those with extradural (spinal) osseous metastases? An international multicenter prospective observational study of 223 patients. Invited submission from the Joint Section Meeting on Disorders of the Spine and Peripheral Nerves, March 2007. J Neurosurg Spine. 2008 Mar. 8(3):271-8. [Medline].

Wilson DA, Fusco DJ, Uschold TD, Spetzler RF, Chang SW. Survival and Functional Outcome After Surgical Resection of Intramedullary Spinal Cord Metastases. World Neurosurg. 2011 Nov 7. [Medline].

Ahmed KA, Stauder MC, Miller RC, Bauer HJ, Rose PS, Olivier KR, et al. Stereotactic Body Radiation Therapy in Spinal Metastases. Int J Radiat Oncol Biol Phys. 2012 Feb 11. [Medline].

Boehling NS, Grosshans DR, Allen PK, McAleer MF, Burton AW, Azeem S, et al. Vertebral compression fracture risk after stereotactic body radiotherapy for spinal metastases. J Neurosurg Spine. 2012 Jan 6. [Medline].

Wang XS, Rhines LD, Shiu AS, Yang JN, Selek U, Gning I, et al. Stereotactic body radiation therapy for management of spinal metastases in patients without spinal cord compression: a phase 1-2 trial. Lancet Oncol. 2012 Jan 26. [Medline].

Weitao Y, Qiqing C, Songtao G, Jiaqiang W. Open vertebroplasty in the treatment of spinal metastatic disease. Clin Neurol Neurosurg. 2011 Nov 14. [Medline].
Medscape Reference © 2011 WebMD, LLC