Status Epilepticus Workup
Author: Julie L Roth, MD; Chief Editor: Stephen A Berman, MD, PhD, MBA more...
Updated: Feb 19, 2016
What would you like to print?
Approach Considerations
The approach to potential status epilepticus (SE) should be conducted similarly to that for any self-limited seizure, but clearly in an expeditious fashion. Prompt diagnosis facilitates medical intervention to abort or limit SE.
The workup should include stat laboratory work. Fever should prompt a thorough search for sources of infection, with blood culture and urinalysis. Lumbar puncture (after neuroimaging to rule out potential cerebral herniation) is indicated if a CNS infection is suspected. Fever, stiff neck, headache, and photophobia are signs and symptoms that may suggest such infection.
The risk of lasting morbidity or mortality is usually lower with focal SE than with generalized convulsive SE. This affords extra opportunities to pursue tests that can confirm the diagnosis, reveal associated etiologic processes (some of which may be morbid), and provide insight into fruitful treatment strategies.
Simple partial status epilepticus/epilepsy partialis continua
In patients with preserved consciousness and sensory or motor symptoms compatible with focal SE, a history of epilepsy may help focus the workup tremendously. In particular, if seizures in SE are the same as previous focal seizures, the patient is not apt to have a newly acquired CNS lesion.
Instead, the SE episode may reflect subtherapeutic anticonvulsant levels, new toxic or metabolic derangements, intercurrent infection (usually outside of the CNS), recent stress, or sleep deprivation, as in any breakthrough seizure in a patient with known epilepsy. In some situations, no new precipitant can be found, though one should be sought aggressively.
In patients without a previous diagnosis of epilepsy, an aggressive search for a new or preexistent focal CNS lesion is paramount. Because patients with established epilepsy are not immune to new CNS lesions, a search for a new CNS process should be considered if their established epileptic focus does not seem to account for the ongoing SE.
Search for a new focal lesion early because certain acute processes pose high rates of morbidity and may require treatment independent of the SE. For example, quickly finding a new cardioembolic stroke due to atrial fibrillation is pivotal because this condition must be dealt with swiftly, in parallel with focal SE, if both apply.
Complex partial status epilepticus
The approach to a patient with a confusional or stuporous picture that suggests complex partial SE (CPSE) is similar to the approach in simple partial SE and epilepsy partialis continua. The first pivotal step is including CPSE in the differential diagnosis. Numerous authors report that CPSE is often overlooked and that correct diagnosis is often considerably delayed. This problem stems from the close clinical overlap between CPSE and other, more common encephalopathies in hospitalized patients.
When CPSE occurs in the setting of previous epilepsy, search for new medical stressors (eg, toxins, metabolic derangements, alcohol, proconvulsant medications, subtherapeutic anticonvulsants, intercurrent illness, hypoxemia) that may trigger its expression.[54]
Another common clinical scenario leading to CPSE, especially in patients without previous epilepsy, involves overt yet self-limited generalized convulsion, often in the context of a new serious medical illness, after surgery, or after an acute CNS process. In this familiar scenario, the patient does not have the expected timely recovery to neurologic baseline after the brief convulsion.
Anticonvulsants are often started in response to the overt seizure, though frequently with inconsistent attention to blood levels. The patient's persistent stupor is initially misattributed to the concomitant medical illness or a diminished recuperative ability (in older patients) to the newly acquired CNS process. Potentially diagnostic EEGs may be wrongly deferred after that new-onset convulsion in this setting because the overt seizure is long over and the diagnosis of CPSE is overlooked.
Numerous authors have highlighted the frequent association of CPSE with previous or late generalized convulsive seizures. This constellation of features includes the following sequence:
Serious medical, surgical, or neurological illness
A brief convulsive seizure
Protracted stupor with fluctuating neurologic findings, subtle nystagmus, or focal twitching
The presence of these elements should prompt consideration of CPSE and expedient EEG evaluation. After EEG results confirm CPSE, the workup proceeds as outlined for simple partial status epilepticus/epilepsy partialis continua.
Laboratory Studies
The presence of SE should prompt a search for its etiology, and in particular for potentially reversible conditions. Clinical information should guide the ordering of laboratory tests.
Laboratory studies that should be obtained on an emergency basis include the following:
Electrolytes

Calcium

Magnesium

Glucose

Complete blood count

Renal function tests

Toxicologic screening

Anticonvulsant levels

Liver function tests
Emergent glucose assessment is particularly important because both hyperglycemia and hypoglycemia can be associated with SE. Rapid turnaround of anticonvulsant drug levels may be particularly helpful in guiding treatment choices in patients with well-established epilepsy who on long-term therapy.
Arterial Blood Gases
Arterial blood gas (ABG) measurement may be useful to monitor oxygenation and ventilation efficacy and to discover any unexpected acid-base abnormalities. An episode of generalized seizures will typically result in a metabolic acidosis, but this should correct rapidly following seizure cessation as the lactate generated by vigorous muscle contractions is metabolized. Profound metabolic acidosis and continuing seizures might raise the possibility of isoniazid poisoning (see Isoniazid Toxicity in Emergency Medicine).
Electroencephalography
EEG is the criterion standard for diagnosing EEG, and some authors believe that EEG should be a routine part of management of SE.[2, 3] Nevertheless, EEG is rarely available in the acute-care setting; normally, it is obtained through neurologic consultation. When EEG is unavailable for the acute workup, presumptive treatment strategies must occasionally be started before EEG confirmation becomes available.
Because of the possibility of subtle SE, an EEG should be strongly considered if the patient is not starting to awaken within 20-30 minutes after seizure cessation. High clinical suspicion for continued unresponsiveness from this subtle SE is necessary, along with timely consultations and occasional insistence on obtaining EEG.
Several groups have shown that electrical SE often persists when clinical seizure activity has ceased.[38, 55] DeLorenzo et al prospectively examined 64 patients who clinically appeared to have controlled SE. These patients were comatose and had no overt clinical signs of convulsive activity. However, EEG demonstrated persistent seizures in 48%, and 14% of these patients had nonconvulsive SE (predominantly of the complex partial type).[55]
EEG is often helpful in solidifying the diagnosis of focal SE, and it may be crucial in differentiating focal SE from some of the other mimics. Simple partial seizure activity occasionally lacks an EEG correlate. The absence of ongoing epileptiform activity does not completely exclude simple partial SE. However, absence of an EEG correlate should at least call the diagnosis of focal SE into question. Many patients with EPC have a repetitive discharge on EEG that is time-locked to the motor activity.
Because recurring complex partial seizures without interval neurologic recovery constitutes CPSE, a single EEG lacking ongoing partial seizure activity does not entirely preclude the diagnosis; the study may have been performed between seizures. Repeated or prolonged EEG recordings may be crucial in confirming CPSE
Although not always required for the diagnosis of status, EEG can be extremely useful to validate the diagnosis and often helps in categorizing the type of status. See the images below.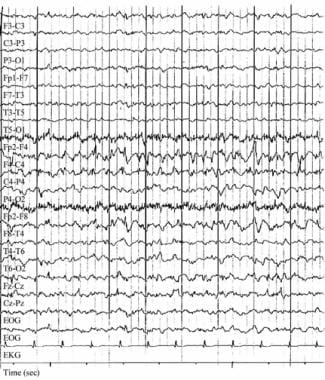 Focal status epilepticus. Electroencephalograph (EEG) in a patient with epilepsia partialis continua caused by Rasmussen encephalitis before hemispherectomy. The patient had long-standing, intractable partial epilepsy since the first decade of life. Seizures included complex partial with occasional secondary generalization and repetitive myoclonus involving the left side of the body. Note the frequent epileptiform discharges at 1-2 Hz involving the right frontocentral channels. These were evident on many of the patient's routine EEGs. Clinical myoclonus is often correlated with high-voltage bursts of such activity.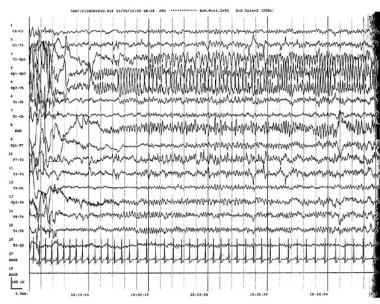 Focal status epilepticus. Electroencephalograph (EEG) in a 35-year-old patient with a history of intractable partial epilepsy, in complex partial status epilepticus. The patient underwent a rapid antiepileptic drug taper as an inpatient for long-term video/EEG monitoring as a presurgical candidate. On clinical observation, the patient abruptly stopped and stared, exhibiting automatisms. This first of 2 EEG fragments covers approximately 30 seconds and illustrates the start and evolution of a seizure in the right temporal lobe. The onset appears to be at Sp2 and T4. Note the time of the event, 18:35 on May 9.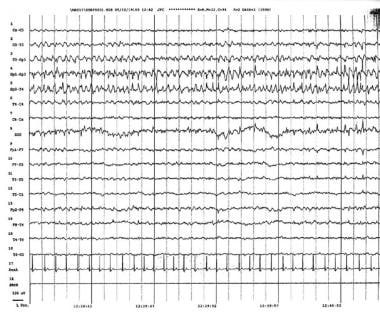 Focal status epilepticus. This electroencephalographic (EEG) fragment was obtained at approximately 12:39 on May 10, 18 hours after the onset of complex partial status epilepticus originating in the right temporal lobe, in a 35-year-old patient with a history of intractable partial epilepsy. Other EEG acquisitions over the interval were identical. On clinical observation, the patient was lethargic, sluggish, and vague, with variable responsivity to examiners. Note the persistent epileptiform discharges at 1.5-2.5 Hz with phase reversal mainly at Sp2 though infrequently shifting to Sp1 and F7. The bulk of the discharges are maximal at Sp2, reflecting their mesial temporal origin, with rare, subtle, and low-amplitude reflection from lateral neocortical channels (F8). Background activities are slow with admixed beta frequencies. This finding corresponds to complex partial status epilepticus.
Computed Tomography
CT scanning of the brain is often helpful in evaluating for a structural lesion (eg, brain tumor, infarction, abscess, hemorrhage) that may underlie SE. Noncontrast CT is the imaging procedure of choice for emergency department patients with SE. However, a neuroimaging study should never be allowed to impede rapid and aggressive treatment of the disorder. Imaging is often deferred if the patient is known to have epilepsy and the seizure pattern is not unusual for the individual.
Magnetic Resonance Imaging
Brain MRI is rarely indicated in the acute phase of generalized convulsive SE. Although MRI provides more information than CT, it is more time consuming, and the additional information rarely affects immediate treatment and evaluation.
In contrast, in a patient with simple partial SE that does not match previous seizures, the search for an epileptic focus should include brain imaging, preferably with MRI (or CT if MRI is unavailable) to look for a new lesion (eg, new stroke, mass lesion). Currently, many centers offer advanced MRI, such as diffusion-weighted, perfusion, and susceptibility-weighted imaging.[56] These newer methods can be particularly helpful in identifying acute cerebral ischemia.
Nevertheless, MRIs may be problematic in focal SE because the SE itself can cause a wide range of MRI abnormalities, many of which are transient. Repeat imaging over weeks to months may be helpful to clarify their interpretation.
Chest Radiography
Chest radiography may be used to assess for aspiration or endotracheal tube positioning.
If clinically indicated, other plain radiographs may be useful to assess fractures or dislocations.
Lumbar Puncture
If CNS infection is in the differential diagnosis, consider a lumbar puncture (after appropriate head imaging to ensure safety).
Initiate antibiotic therapy if CNS or systemic infection is strongly suspected.
References
Lüders HO, Rona S, Rosenow F, et al. A semiological classification of status epilepticus. Epileptic Disord. 2005 Jun. 7(2):149-50. [Medline].

Brenner RP. EEG in convulsive and nonconvulsive status epilepticus. J Clin Neurophysiol. 2004 Sep-Oct. 21(5):319-31. [Medline].

Kaplan PW. The EEG of status epilepticus. J Clin Neurophysiol. 2006 Jun. 23(3):221-9. [Medline].

D'Giano CH, Del C Garcia M, Pomata H, Rabinowicz AL. Treatment of refractory partial status epilepticus with multiple subpial transection: case report. Seizure. 2001 Jul. 10(5):382-5. [Medline].

Ma X, Liporace J, O'Connor MJ, Sperling MR. Neurosurgical treatment of medically intractable status epilepticus. Epilepsy Res. 2001 Jul. 46(1):33-8. [Medline].

Duane DC, Ng YT, Rekate HL, et al. Treatment of refractory status epilepticus with hemispherectomy. Epilepsia. 2004 Aug. 45(8):1001-4. [Medline].

Winston KR, Levisohn P, Miller BR, Freeman J. Vagal nerve stimulation for status epilepticus. Pediatr Neurosurg. 2001 Apr. 34(4):190-2. [Medline].

Proceedings and abstracts of the First London Colloquium on Status Epilepticus, University College London, April 12-15, 2007. Epilepsia. 2007. 48 Suppl 8:1-109. [Medline].

Shorvon SD, Trinka E, Walker MC. The proceedings of the First London Colloquium on Status Epilepticus--University College London, April 12-15, 2007. Introduction. Epilepsia. 2007. 48 Suppl 8:1-3. [Medline].

Kälviäinen R. Status epilepticus treatment guidelines. Epilepsia. 2007. 48 Suppl 8:99-102. [Medline].

Wilson JV, Reynolds EH. Texts and documents. Translation and analysis of a cuneiform text forming part of a Babylonian treatise on epilepsy. Med Hist. 1990 Apr. 34(2):185-98. [Medline].

Wolf P, Trinka E, Bauer G. Absence status epilepticus: the first documented case?. Epilepsia. 2007. 48 Suppl 8:4-5. [Medline].

Epilepsy Foundation of America. Treatment of convulsive status epilepticus. Recommendations of the Epilepsy Foundation of America's Working Group on Status Epilepticus. JAMA. 1993 Aug 18. 270(7):854-9. [Medline].

Lowenstein DH, Bleck T, Macdonald RL. It's time to revise the definition of status epilepticus. Epilepsia. 1999 Jan. 40(1):120-2. [Medline].

Lowenstein DH, Cloyd J. Out-of-hospital treatment of status epilepticus and prolonged seizures. Epilepsia. 2007. 48 Suppl 8:96-8. [Medline].

Geier S, Bancaud J, Bonis A, Enjelvin M. [Tele-E.E.G. recordings of three epileptic attacks classified as episodes of PM status (author's transl)]. Rev Electroencephalogr Neurophysiol Clin. 1977 Apr-Jun. 7(2):201-2. [Medline].

Ellis JM, Lee SI. Acute prolonged confusion in later life as an ictal state. Epilepsia. 1978 Apr. 19(2):119-28. [Medline].

Niedermeyer E, Fineyre F, Riley T, Uematsu S. Absence status (petit mal status) with focal characteristics. Arch Neurol. 1979 Jul. 36(7):417-21. [Medline].

Celesia GG. Modern concepts of status epilepticus. JAMA. 1976 Apr 12. 235(15):1571-4. [Medline].

Treiman DM. Generalized convulsive, nonconvulsive, and focal status epilepticus. In: Feldman E, ed. Current Diagnosis in Neurology. St. Louis: Mosby-Year Book. 1994:11-8.

Lennox W, Lennow MA. Epilepsy and Related Disorders. Boston, MA: Little Brown;. 1960.

Cascino GD. Nonconvulsive status epilepticus in adults and children. Epilepsia. 1993. 34 Suppl 1:S21-8. [Medline].

Shorvon S. The outcome of tonic-clonic status epilepticus. Curr Opin Neurol. 1994 Apr. 7(2):93-5. [Medline].

White PT, Grant P, Mosier J, Craig A. Changes in cerebral dynamics associated with seizures. Neurology. 1961 Apr. 11(4)Pt 1:354-61. [Medline].

Aminoff MJ, Simon RP. Status epilepticus. Causes, clinical features and consequences in 98 patients. Am J Med. 1980 Nov. 69(5):657-66. [Medline].

Meldrum BS, Horton RW. Physiology of status epilepticus in primates. Arch Neurol. 1973 Jan. 28(1):1-9. [Medline].

Naylor DE, Liu H, Wasterlain CG. Trafficking of GABA(A) receptors, loss of inhibition, and a mechanism for pharmacoresistance in status epilepticus. J Neurosci. 2005 Aug 24. 25(34):7724-33. [Medline].

Sloviter RS, Zappone CA, Bumanglag AV, Norwood BA, Kudrimoti H. On the relevance of prolonged convulsive status epilepticus in animals to the etiology and neurobiology of human temporal lobe epilepsy. Epilepsia. 2007. 48 Suppl 8:6-10. [Medline].

Goodkin HP, Sun C, Yeh JL, Mangan PS, Kapur J. GABA(A) receptor internalization during seizures. Epilepsia. 2007. 48 Suppl 5:109-13. [Medline].

Holmes GL. Influence of brain development on status epilepticus. Epilepsia. 2007. 48 Suppl 8:19-20. [Medline].

DeLorenzo RJ, Pellock JM, Towne AR, Boggs JG. Epidemiology of status epilepticus. J Clin Neurophysiol. 1995 Jul. 12(4):316-25. [Medline].

Shinnar S, Pellock JM, Moshe SL, et al. In whom does status epilepticus occur: age-related differences in children. Epilepsia. 1997 Aug. 38(8):907-14. [Medline].

DeLorenzo RJ, Hauser WA, Towne AR, et al. A prospective, population-based epidemiologic study of status epilepticus in Richmond, Virginia. Neurology. 1996 Apr. 46(4):1029-35. [Medline].

Shorvon S. Definition, classification and frequency of status epilepticus. In: Shorvon S, ed. Epilepticus: Its Clinical Features and Treatment in Children and Adults. Cambridge: Cambridge University Press; 1994. 21-33.

Waterhouse EJ, DeLorenzo RJ. Status epilepticus in older patients: epidemiology and treatment options. Drugs Aging. 2001. 18(2):133-42. [Medline].

Drislane FW, Blum AS, Lopez MR, Gautam S, Schomer DL. Duration of refractory status epilepticus and outcome: Loss of prognostic utility after several hours. Epilepsia. 2009 Jan 19. [Medline].

Rossetti AO, Oddo M, Liaudet L, Kaplan PW. Predictors of awakening from postanoxic status epilepticus after therapeutic hypothermia. Neurology. 2009 Feb 24. 72(8):744-9. [Medline].

Treiman DM, Meyers PD, Walton NY, et al. A comparison of four treatments for generalized convulsive status epilepticus. Veterans Affairs Status Epilepticus Cooperative Study Group. N Engl J Med. 1998 Sep 17. 339(12):792-8. [Medline].

Thomas P. How urgent is the treatment of nonconvulsive status epilepticus?. Epilepsia. 2007. 48 Suppl 8:44-5. [Medline].

Aicardi J, Chevrie JJ. Convulsive status epilepticus in infants and children. A study of 239 cases. Epilepsia. 1970 Jun. 11(2):187-97. [Medline].

Lowenstein DH, Alldredge BK. Status epilepticus. N Engl J Med. 1998 Apr 2. 338(14):970-6. [Medline].

Hauser WA. Status epilepticus: epidemiologic considerations. Neurology. 1990 May. 40(5 Suppl 2):9-13. [Medline].

Boggs JG, Marmarou A, Agnew JP, et al. Hemodynamic monitoring prior to and at the time of death in status epilepticus. Epilepsy Res. 1998 Aug. 31(3):199-209. [Medline].

Krumholz A, Sung GY, Fisher RS, Barry E, Bergey GK, Grattan LM. Complex partial status epilepticus accompanied by serious morbidity and mortality. Neurology. 1995 Aug. 45(8):1499-504. [Medline].

Treiman DM, Walton NY, Kendrick C. A progressive sequence of electroencephalographic changes during generalized convulsive status epilepticus. Epilepsy Res. 1990 Jan-Feb. 5(1):49-60. [Medline].

Treiman DM, Meyers PD, Walton NY. DVA Status Epilepticus Cooperative Study Group. Duration of generalized convulsive status epilepticus: relationship to clinical symptomatology and response to treatment. Epilepsia. 1992. 33(Suppl 3):66.

Treiman DM. Electroclinical features of status epilepticus. J Clin Neurophysiol. 1995 Jul. 12(4):343-62. [Medline].

Bien CG, Elger CE. Epilepsia partialis continua: semiology and differential diagnoses. Epileptic Disord. 2008 Mar. 10(1):3-7. [Medline].

Leis AA, Ross MA, Summers AK. Psychogenic seizures: ictal characteristics and diagnostic pitfalls. Neurology. 1992 Jan. 42(1):95-9. [Medline].

Jagoda A, Richey-Klein V, Riggio S. Psychogenic status epilepticus. J Emerg Med. 1995 Jan-Feb. 13(1):31-5. [Medline].

Holtkamp M, Othman J, Buchheim K, Meierkord H. Diagnosis of psychogenic nonepileptic status epilepticus in the emergency setting. Neurology. 2006 Jun 13. 66(11):1727-9. [Medline].

Kutluay E, Beattie J, Passaro EA, Edwards JC, Minecan D, Milling C, et al. Diagnostic and localizing value of ictal SPECT in patients with nonconvulsive status epilepticus. Epilepsy Behav. 2005 Mar. 6(2):212-7. [Medline].

Assal F, Papazyan JP, Slosman DO, Jallon P, Goerres GW. SPECT in periodic lateralized epileptiform discharges (PLEDs): a form of partial status epilepticus?. Seizure. 2001 Jun. 10(4):260-5. [Medline].

Karlov VA. Complex partial status epilepticus. Epilepsia. 2007 Sep. 48(9):1815. [Medline].

DeLorenzo RJ, Waterhouse EJ, Towne AR, et al. Persistent nonconvulsive status epilepticus after the control of convulsive status epilepticus. Epilepsia. 1998 Aug. 39(8):833-40. [Medline].

Szabo K, Poepel A, Pohlmann-Eden B, Hirsch J, Back T, Sedlaczek O, et al. Diffusion-weighted and perfusion MRI demonstrates parenchymal changes in complex partial status epilepticus. Brain. 2005 Jun. 128:1369-76. [Medline].

[Guideline] Glauser, T. et al. Treatment of Convulsive Status Epilepticus in Children and Adults: Report of the Guideline Committee of the American Epilepsy Society. Epilepsy Currents. Jan/Feb 2016. 16(1):48-61. [Full Text].

Rossetti AO. Which anesthetic should be used in the treatment of refractory status epilepticus?. Epilepsia. 2007. 48 Suppl 8:52-5. [Medline].

Arif H, Hirsch LJ. Treatment of status epilepticus. Semin Neurol. 2008 Jul. 28(3):342-54. [Medline].

Parviainen I, Uusaro A, Kalviainen R, et al. Propofol in the treatment of refractory status epilepticus. Intensive Care Med. 2006 Jul. 32(7):1075-9. [Medline].

Iyer VN, Hoel R, Rabinstein AA. Propofol infusion syndrome in patients with refractory status epilepticus: an 11-year clinical experience. Crit Care Med. 2009 Dec. 37(12):3024-30. [Medline].

Synowiec AS, Singh DS, Yenugadhati V, Valeriano JP, Schramke CJ, Kelly KM. Ketamine use in the treatment of refractory status epilepticus. Epilepsy Res. 2013 Jan 28. [Medline].

Blumkin L, Lerman-Sagie T, Houri T, Gilad E, Nissenkorn A, Ginsberg M, et al. Pediatric refractory partial status epilepticus responsive to topiramate. J Child Neurol. 2005 Mar. 20(3):239-41. [Medline].

Prasad M, Krishnan PR, Sequeira R, Al-Roomi K. Anticonvulsant therapy for status epilepticus. Cochrane Database Syst Rev. 2014 Sep 10. 9:CD003723. [Medline].

Misra UK, Kalita J, Patel R. Sodium valproate vs phenytoin in status epilepticus: a pilot study. Neurology. 2006 Jul 25. 67(2):340-2. [Medline].

Limdi NA, Shimpi AV, Faught E, Gomez CR, Burneo JG. Efficacy of rapid IV administration of valproic acid for status epilepticus. Neurology. 2005 Jan 25. 64(2):353-5. [Medline].

Rossetti AO, Bromfield EB. Levetiracetam in the treatment of status epilepticus in adults: a study of 13 episodes. Eur Neurol. 2005. 54(1):34-8. [Medline].

Patel NC, Landan IR, Levin J, Szaflarski J, Wilner AN. The use of levetiracetam in refractory status epilepticus. Seizure. 2006 Apr. 15(3):137-41. [Medline].

Hirsch LJ. Levitating Levetiracetam''s Status for Status Epilepticus. Epilepsy Curr. 2008 Sep-Oct. 8(5):125-6. [Medline]. [Full Text].

Bialer M. Clinical pharmacology of parenteral use of antiepileptic drugs. Epilepsia. 2007. 48 Suppl 8:46-8. [Medline].

Aggarwal P, Wali JP. Lidocaine in refractory status epilepticus: a forgotten drug in the emergency department. Am J Emerg Med. 1993 May. 11(3):243-4. [Medline].

Koubeissi MZ, Mayor CL, Estephan B, Rashid S, Azar NJ. Efficacy and safety of intravenous lacosamide in refractory nonconvulsive status epilepticus. Acta Neurol Scand. 2011 Feb. 123(2):142-6. [Medline].

Costello DJ, Simon MV, Eskandar EN, Frosch MP, Henninger HL, Chiappa KH, et al. Efficacy of surgical treatment of de novo, adult-onset, cryptogenic, refractory focal status epilepticus. Arch Neurol. 2006 Jun. 63(6):895-901. [Medline].

McIntyre J, Robertson S, Norris E, Appleton R, Whitehouse WP, Phillips B, et al. Safety and efficacy of buccal midazolam versus rectal diazepam for emergency treatment of seizures in children: a randomised controlled trial. Lancet. 2005 Jul 16-22. 366(9481):205-10. [Medline].

de Haan GJ, van der Geest P, Doelman G, Bertram E, Edelbroek P. A comparison of midazolam nasal spray and diazepam rectal solution for the residential treatment of seizure exacerbations. Epilepsia. 2010 Mar. 51(3):478-82. [Medline].
Medscape Reference © 2011 WebMD, LLC