Ramsay Hunt Syndrome
Author: Augusto A Miravalle, MD; Chief Editor: Niranjan N Singh, MD, DM more...
Updated: Oct 06, 2015
What would you like to print?
Background
Ramsay Hunt syndrome is defined as an acute peripheral facial neuropathy associated with erythematous vesicular rash of the skin of the ear canal, auricle (also termed herpes zoster oticus), and/or mucous membrane of the oropharynx.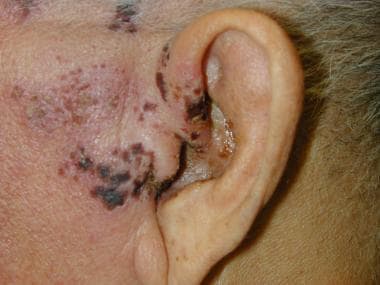 Herpes zoster oticus, day 6. Image courtesy of Manolette Roque, MD, ROQUE Eye Clinic.
This syndrome is also known as geniculate neuralgia or nervus intermedius neuralgia. Ramsay Hunt syndrome can also occur in the absence of a skin rash, condition known as zoster sine herpete.[1]
Ramsay Hunt syndrome was first described in 1907 by James Ramsay Hunt in a patient who had otalgia associated with cutaneous and mucosal rashes, which he ascribed to infection of the geniculate ganglion by human herpesvirus 3 (ie, varicella-zoster virus [VZV]).[2]
The following may be observed:
VZV auricularis

VZV in any of the zoster zones of the head and neck (herpes auricularis, herpes facialis, and herpes occipito-collairs) with facial palsy

VZV in any of the zoster zones with facial palsy and auditory symptoms (eg, tinnitus, deafness, vertigo, nystagmus, ataxia)
Pathophysiology
Ramsay Hunt syndrome is defined as VZV infection of the head and neck that involves the facial nerve, often the seventh cranial nerve (CN VII). Other cranial nerves (CN) might be also involved, including CN VIII, IX, V, and VI (in order of frequency). This infection gives rise to vesiculation and ulceration of the external ear and ipsilateral anterior two thirds of the tongue and soft palate, as well as ipsilateral facial neuropathy (in CN VII), radiculoneuropathy, or geniculate ganglionopathy.
VZV infection causes 2 distinct clinical syndromes. Primary infection, also known as varicella or chickenpox, is a common pediatric erythematous disease characterized by a highly contagious generalized vesicular rash. The annual incidence of varicella infection has significantly declined after the introduction of mass vaccination programs in most countries of the world.[3]
After chickenpox, VZV remain latent in neurons of cranial nerve and dorsal root ganglia. Subsequent reactivation of latent VZV can result in localized vesicular rash, known as herpes zoster. VZV infection or reactivation involving the geniculate ganglion of CN VII within the temporal bone is the main pathophysiological mechanism of Ramsay Hunt syndrome.
Epidemiology
Frequency
Ramsay Hunt syndrome is a rare complication of latent VZV infection.[4] As previously stated, Ramsay Hunt syndrome might occur in the absence of cutaneous rash (zoster sine herpete). Interestingly, VZV has been detected by polymerase chain reaction (PCR) in the tear fluid of patients diagnosed with Bell palsy.[5] Ramsay Hunt syndrome is estimated to account for 16% of all causes of unilateral facial palsies in children, and 18% of facial palsies in adults. Ramsay Hunt syndrome is rare in children younger than 6 years.[4]
Ramsay Hunt syndrome is thought to be the cause of as many as 20% of clinically diagnosed cases of Bell palsy.[5]
The incidence of Ramsay Hunt syndrome among patients with HIV infection is unknown. However, it may occur at a higher rate than in the general population because individuals with HIV infection have a higher risk of VZV infection.[2]
Mortality/Morbidity
Ramsay Hunt syndrome is not usually associated with mortality. It is a self-limiting disease; the primary morbidity results from facial weakness. Unlike Bell palsy, this syndrome has a complete recovery rate of less than 50%.
References
Bhupal HK. Ramsay Hunt syndrome presenting in primary care. Practitioner. 2010 Mar. 254(1727):33-5, 3. [Medline].

Goldani LZ, Ferreira da Silva LF, Dora JM. Ramsay Hunt syndrome in patients infected with human immunodeficiency virus. Clin Exp Dermatol. 2009 Jun 1. [Medline].

Kleinschmidt-DeMasters BK, Gilden DH. The expanding spectrum of herpesvirus infections of the nervous system. Brain Pathol. 2001 Oct. 11(4):440-51. [Medline].

Sandoval C C, Nunez F A, Lizama C M, Margarit S C, Abarca V K, Escobar H R. [Ramsay Hunt syndrome in children: four cases and review]. Rev Chilena Infectol. 2008 Dec. 25(6):458-64. [Medline].

[Guideline] Gilchrist JM. Seventh cranial neuropathy. Semin Neurol. 2009 Feb. 29(1):5-13. [Medline].

Ryu EW, Lee HY, Lee SY, Park MS, Yeo SG. Clinical manifestations and prognosis of patients with Ramsay Hunt syndrome. Am J Otolaryngol. 2011 Nov 8. [Medline].

Coffin SE, Hodinka RL. Utility of direct immunofluorescence and virus culture for detection of varicella-zoster virus in skin lesions. J Clin Microbiol. 1995 Oct. 33(10):2792-5. [Medline]. [Full Text].

Naganawa S, Nakashima T. Cutting edge of inner ear MRI. Acta Otolaryngol Suppl. 2009 Feb. 15-21. [Medline].

Uscategui T, Doree C, Chamberlain IJ, Burton MJ. Antiviral therapy for Ramsay Hunt syndrome (herpes zoster oticus with facial palsy) in adults. Cochrane Database Syst Rev. 2008 Oct 8. CD006851. [Medline].

Dworkin RH, Barbano RL, Tyring SK, et al. A randomized, placebo-controlled trial of oxycodone and of gabapentin for acute pain in herpes zoster. Pain. 2009 Apr. 142(3):209-17. [Medline].

Aizawa H, Ohtani F, Furuta Y, et al. Variable patterns of varicella-zoster virus reactivation in Ramsay Hunt syndrome. J Med Virol. 2004 Oct. 74(2):355-60. [Medline].

Aviel A, Marshak G. Ramsay Hunt syndrome: a cranial polyneuropathy. Am J Otolaryngol. 1982 Jan-Feb. 3(1):61-6. [Medline].

Byl FM, Adour KK. Auditory symptoms associated with herpes zoster or idiopathic facial paralysis. Laryngoscope. 1976. 86:372-9.

Furuta Y, Aizawa H, Ohtani F, et al. Varicella-zoster virus DNA level and facial paralysis in Ramsay Hunt syndrome. Ann Otol Rhinol Laryngol. 2004 Sep. 113(9):700-5. [Medline].

Furuta Y, Ohtani F, Kawabata H, et al. High prevalence of varicella-zoster virus reactivation in herpes simplex virus-seronegative patients with acute peripheral facial palsy. Clin Infect Dis. 2000 Mar. 30(3):529-33. [Medline].

Gnann JW Jr, Whitley RJ. Clinical practice. Herpes zoster. N Engl J Med. 2002 Aug 1. 347(5):340-6. [Medline].

Hunt JR. On herpetic inflammations of the geniculate ganglion: a new syndrome of its complications. J Nerv Ment Dis. 1907. 34:73-96.

Kohler A, Chofflon M, Sztajzel R, Magistris MR. Cerebrospinal fluid in acute peripheral facial palsy. J Neurol. 1999 Mar. 246(3):165-9. [Medline].

McKenna MJ, Rauch SD. Practical neurotology. The Practice of Neurosurgery. 1996. Vol: 199.

Pitkaranta A, Piiparinen H, Mannonen L, Vesaluoma M, Vaheri A. Detection of human herpesvirus 6 and varicella-zoster virus in tear fluid of patients with Bell''s palsy by PCR. J Clin Microbiol. 2000 Jul. 38(7):2753-5. [Medline]. [Full Text].

Robillard RB, Hilsinger RL, Adour KK. Ramsay Hunt facial paralysis: clinical analyses of 185 patients. Otolaryngol Head Neck Surg. 1986 Oct. 95(3 Pt 1):292-7. [Medline].

Whitley RJ. A 70-year-old woman with shingles: review of herpes zoster. JAMA. 2009 Jul 1. 302(1):73-80. [Medline].
Medscape Reference © 2011 WebMD, LLC