Subdural Empyema Workup
Author: Segun Toyin Dawodu, JD, MD, MS, MBA, LLM, FAAPMR, FAANEM; Chief Editor: Niranjan N Singh, MD, DM more...
Updated: Dec 08, 2015
What would you like to print?
Laboratory Studies
See the list below:
CBC count may show a toxic leukocytosis.

Erythrocyte sedimentation rate (ESR) may be elevated.

Blood should be cultured for aerobic and anaerobic organisms.

Preoperative tests should include electrolytes, BUN, liver function tests, and CBC count if surgical intervention is being considered.
Imaging Studies
Cranial MRI is now the imaging study of choice, being superior to cranial CT scan in outlining the extent of subdural empyema and demonstrating the convexity and interhemispheric collections.
MRI also shows greater morphological detail than CT scan.
The sensitivity of MRI is improved by using gadolinium contrast medium. See the image below.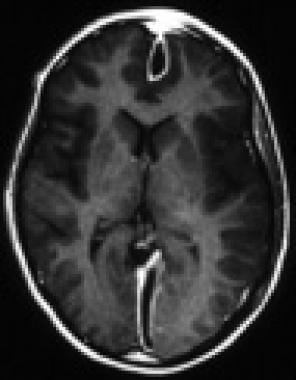 MRI scan of a subdural empyema in the left parietal area.
Cranial CT[1] scan was the standard technique for quick diagnosis before the advent of MRI. The use of high-resolution, contrast-enhanced CT scan increases diagnostic yield, although it sometimes gives equivocal or normal results.
On CT scan, subdural empyema shows as a hypodense area over the hemisphere or along the falx; the margins are better delineated with the infusion of contrast material. Cerebral involvement also is visible.
Cranial osteomyelitis may be seen.
CT scan is the modality of choice if the patient is comatose or critically ill and MRI is not possible or is contraindicated. See the image below.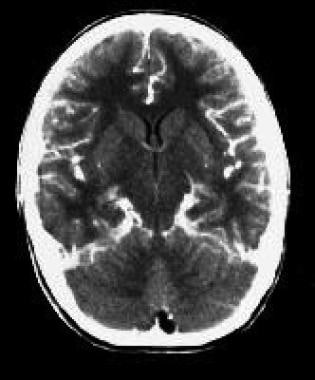 CT scan of a subdural empyema in the left temporal/parietal area.
Cranial ultrasound[2] has been helpful in differentiating subdural empyema from anechoic reactive subdural effusion in infants with meningitis accompanied by complex features (eg, increased echogenicity in the convexity collections, presence of hyperechoic fibrinous strands or thick hyperechoic inner membrane, and increases in echogenicity of the pia-arachnoid).
Other Tests
See the list below:
Preoperative - ECG, chest radiograph

Studies to define causes - Chest radiograph for pulmonary source, CT scan of paranasal sinuses and mastoid cells, sputum culture, nasal drip culture
Procedures
Lumbar puncture is currently contraindicated because of possible cerebral herniation from increased intracranial pressure.
Lumbar puncture may be performed in the course of a workup to rule out meningeal infection when increased intracranial pressure has been excluded.
CSF examination[3] is an adjunctive test in the diagnosis of subdural empyema and may be obtained in addition to the other diagnostic tests previously outlined. CSF findings include the following:
WBC count (predominantly polymorphonuclear neutrophils) is increased. A significant increase (>50/µL) may be seen, although a slightly elevated cell count of 5-20/µL (reference range, 0-5/µL) does not rule out the possibility of subdural empyema.

Increased protein level greater than 100 mg/dL may be seen (reference range, 20-40 mg/dL), although less substantial elevations (50-90 mg/dL) do not rule out the possibility of subdural empyema.

Decreased glucose levels of 40 mg/dL or less usually are seen (reference range, 50-80 mg/dL). CSF glucose levels should be normalized with a blood glucose level obtained concurrently.

Occasionally, the CSF is normal and sterile in these cases.

The specific CSF findings should be compared with the accepted normal values of the treating physician's laboratory.
References
Zimmerman RD, Leeds NE, Danziger A. Subdural empyema: CT findings. Radiology. 1984 Feb. 150(2):417-22. [Medline].

Chen CY, Huang CC, Chang YC. Subdural empyema in 10 infants: US characteristics and clinical correlates. Radiology. 1998 Jun. 207(3):609-17. [Medline].

Brennan MR. Subdural empyema. Am Fam Physician. 1995 Jan. 51(1):157-62. [Medline].

Greenlee JE. Subdural empyema. In: Mandell GL, ed. Principles and Practice of Infectious Diseases. Vol 1. 4th ed. New York: Churchill. 1994:900-903.

Feuerman T, Wackym PA, Gade GF. Craniotomy improves outcome in subdural empyema. Surg Neurol. 1989 Aug. 32(2):105-10. [Medline].

French H, Schaefer N, Keijzers G, Barison D, Olson S. Intracranial subdural empyema: a 10-year case series. Ochsner J. 2014 Summer. 14 (2):188-94. [Medline].

Sanford JP. Guide to antimicrobial therapy. Bethseda MD: Uniformed Services University Health Sciences. 1993. 3:

Delgado Tapia JA, Galera Lopez J, Santiago Martin J, et al. Subdural empyema due to Mycoplasma hominis after a cesarean section under spinal anesthesia. Rev Esp Anestesiol Reanim. 2005. 52(4):239-242. [Medline].

Dwarakanath S, Suri A, Mahapatra AK. Spontaneous subdural empyema in falciparum malaria: a case study. J Vector Borne Dis. 2004 Sep-Dec. 41(3-4):80-2. [Medline].

Foerster BR, Thurnher MM, Malani PN, Petrou M, Carets-Zumelzu F, Sundgren PC. Intracranial infections: clinical and imaging characteristics. Acta Radiologica. October 2007. 48(8):875-93. [Medline].

Hall WA, Truwit CL. The surgical management of infections involving the cerebrum. Neurosurgery. February 2008. 62 Supplement 2:519-30. [Medline].

Krauss WE, McCormick PC. Infections of the dural spaces. Neurosurg Clin N Am. 1992 Apr. 3(2):421-33. [Medline].

Mauser HW, Van Houwelingen HC, Tulleken CA. Factors affecting the outcome in subdural empyema. J Neurol Neurosurg Psychiatry. 1987 Sep. 50(9):1136-41. [Medline].

Migirov L, Eyal A, Kronenberg J. Intracranial complications following mastoidectomy. Pediatr Neurosurg. 2004 Sep-Oct. 40(5):226-9. [Medline].

Placeholder.

Moorthy RK, Rajshekhar V. Intracranial Abscess. Neurosurg Focus. 2008. 24 (6):E3.
Medscape Reference © 2011 WebMD, LLC