Neuroimaging in Neurocysticercosis Workup
Author: Arturo Carpio, MD; Chief Editor: Niranjan N Singh, MD, DM more...
Updated: Nov 12, 2014
What would you like to print?
Laboratory Studies
Laboratory studies are inferior to imaging in the diagnosis of cysticercosis but may play an adjunctive role.
On complete blood count (CBC), peripheral eosinophilia is usually not present, but eosinophils may comprise 10-15% of white blood cells (WBCs).
Immunoserologic assays may be useful.
Immunoserologic assays, such as EITB or enzyme-linked immunosorbent assay (ELISA) can detect antibodies against T solium or cysticercus and are useful in identifying the population at risk of contact with the parasite.
These assays demonstrate a potential impact of cysticercosis on public health, but clinicians should be aware that the presence of antibodies in the host against both T solium and/or cysticercus does not necessarily indicate that an individual has active neurocysticercosis.
In ELISA, cross-reactions with other helminthic infections may occur.
An EITB using specific glycoprotein antigens was developed for the immunodiagnosis of human cysticercosis, the sensitivity and specificity of which are reported to be high (98% and 100%, respectively). Another study confirmed these results in patients with 2 or more cysts shown by CT scan or MRI (94% sensitivity), but sensitivity was markedly low in patients with single enhancing cysts and calcifications (28%).
ELISA and EITB are performed in many (but certainly not all) laboratories in the United States.
Immunologic techniques for the detection of anticysticercal antibodies in the CSF are more reliable than those performed in serum. However, the accuracy depends on the viability of cysticerci and their location within the CNS.
EITB are used mainly in serum samples. The complement fixation test and the ELISA in the CSF are highly sensitive and specific in cases of subarachnoidal neurocysticercosis.
Sensitivity decreases considerably when the lesions are calcified or when viable parenchymal cysts are not in contact with the subarachnoid space.
Imaging Studies
The only truly reliable standard for diagnosing neurocysticercosis (NC) is pathologic confirmation through biopsy or autopsy. Nevertheless, even without definitive scientific data, CT scan and MRI are considered the main tools for the diagnosis of NC.[6, 7]
Multiple calcifications disseminated in the parenchyma simultaneously with viable cysts and transitional stage lesions are a typical finding on imaging studies in NC.
The relationship between imaging studies and the anatomopathologic changes has been well described. It can be summarized with the following recommendations:
Brain CT scan should be obtained as a first imaging study. CT is more widely available, less expensive, and has a faster imaging time than MRI. Contrast and noncontrast studies should be obtained.

Noncontrast studies will show calcification of inactive cysts, which is the most common disease form at presentation.

Contrast studies will show ring enhancement, signifying edema surrounding the involuting live cysticercus.
MRI is recommended as an adjunctive diagnostic tool.
Demonstration of viable cystic lesions with a mural nodule (ie, the invaginated scolex) associated with transitional or degenerative cysts and calcifications corresponds to a typical image of cysticercosis (see the image below). However, this typical imaging is not necessarily the most frequent one. Conversely, single enhancing lesions are probably more common, especially in children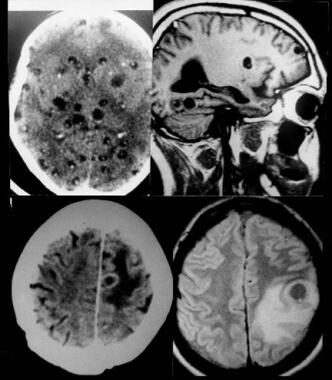 Neuroimaging in neurocysticercosis. CT scans showing different phases of neurocysticercosis. Top left: CT scan showing many calcifications and active cysts with scolices in both hemispheres. Top right: T1-weighted MRI showing 2 active cysts with the scolex in their interior (vesicular phase). Bottom left: Postcontrast CT scan showing a ring-enhancing cyst (colloidal phase) on left. Bottom right: Proton density-weighted MRI showing a thick capsule with adjacent scolex and perilesional edema (colloidal phase).
MRI is a superior imaging study for intraventricular or subarachnoid cysts, while CT is better for calcification of inactive lesions.
Lesions at different stages are not uncommon. Multiple calcifications disseminated in the parenchyma with viable cysts and transitional stage lesions are actually the rule as opposed to the exception in NC.
Soft tissue x-ray: Plain films may show calcification of inactive cysts.
Other Tests
See the list below:
Electroencephalography: EEG may be normal or may show focal or generalized abnormalities.

Stool for ova and parasites: Many patients will have simultaneous intestinal tapeworm infestation. The test is nonspecific for T solium species.

Serologic-based assay: An immunoblot assay, EITB-T, has been developed for detection of human taeniasis carriers. It uses coproantigens of adult T solium tapeworms. The results from studies that use coproantigen detection have indicated that these assays are considerably more sensitive than microscopy.
Procedures
See the list below:
Biopsy of a subcutaneous nodule or muscle lesion: Demonstration of the organism is diagnostic of cysticercosis.

Brain biopsy: Brain biopsy is not justified in a suspected NC lesion. In addition to the obvious morbidity (and possibly mortality) associated with this procedure, the cysts can reduce spontaneously. Moreover, cysts can resolve in response to anticysticercal therapy. Finally, waiting 1-2 months and repeating the CT scan or MRI can clarify the diagnosis.

Lumbar puncture

Lumbar puncture should be performed when arachnoiditis is suspected (ie, headache, cranial nerve palsies, cognitive changes).
Inflammatory changes in the CSF are largely related to the extraparenchymal location, especially with arachnoiditis. The most consistent finding is moderate mononuclear pleocytosis, usually not exceeding 200-300 cells/mm3. Protein levels are also raised to within the range of 50-200 mg/dL. CSF glucose levels are normal or moderately low. These CSF abnormalities may be difficult to distinguish from those of granulomatous infections such as tuberculosis meningitis.
This test is insensitive and nonspecific in the diagnosis of cysticercosis.

An imaging study should be done prior to lumbar puncture to exclude an intracranial mass lesion.
Histologic Findings
Macroscopic and microscopic pathology
Cysticercus cellulosae presents a characteristic rounded and ovoid form of about 4-20 mm in length (see the first image below) covered by a thin membrane surrounding hyaline liquid. It invaginates in some sites of the membrane, giving origin to the scolex (see the second image below), which is constituted by a neck, 4 suckers, and a double crown of hooks.
The cysts usually are located in the gray matter due to the richer vascularization of this tissue, and in the subcortical white matter (see the image below). In severe cases of parenchymal cysticercosis, the number of parasites may reach several hundreds, but commonly only a scattered few are seen. Cysts also may be found in the subarachnoidal location, and less frequently inside the ventricles and in the spinal cord.
The parasite produces an inflammatory reaction composed of a conglomerate of round mononuclear lymphocytic and plasma cells. Some of the inflammatory cells are found around the perivascular spaces in the adjacent nervous tissue. A variable number of eosinophils are also present; this eosinophilic reaction is highly variable and occurs in almost every patient (see the image below).
References
Nash TE, Garcia HH. Diagnosis and treatment of neurocysticercosis. Nat Rev Neurol. 2011 Sep 13. 7(10):584-94. [Medline].

Del Brutto OH. Neurocysticercosis. Neurohospitalist. 2014 Oct. 4(4):205-12. [Medline]. [Full Text].

Del Brutto OH. Neurocysticercosis. Handb Clin Neurol. 2014. 121:1445-59. [Medline].

Roy B, Verma S, Awasthi R, Rathore RK, Venkatesan R, Yoganathan SA, et al. Correlation of phase values with CT Hounsfield and R2* values in calcified neurocysticercosis. J Magn Reson Imaging. 2011 Nov. 34(5):1060-4. [Medline].

Saenz B, Ruiz-Garcia M, Jimenez E, Hernandez-Aguilar J, Suastegui R, Larralde C. Neurocysticercosis: clinical, radiologic, and inflammatory differences between children and adults. Pediatr Infect Dis J. 2006 Sep. 25(9):801-3. [Medline].

Shrestha B, Mainali P, Sayami S, Shrestha OK. Clinico-radiological Aspects of Neurocysticercosis in Pediatric Population in a Tertiary Hospital. JNMA J Nepal Med Assoc. 2013 Jul-Sep. 52(191):483-8. [Medline].

Hernández RD, Durán BB, Lujambio PS. Magnetic resonance imaging in neurocysticercosis. Top Magn Reson Imaging. 2014 Jun. 23(3):191-8. [Medline].

Das K, Mondal GP, Banerjee M, Mukherjee BB, Singh OP. Role of antiparasitic therapy for seizures and resolution of lesions in neurocysticercosis patients: an 8 year randomised study. J Clin Neurosci. 2007 Dec. 14(12):1172-7. [Medline].

Gogia S, Talukdar B, Choudhury V, Arora BS. Neurocysticercosis in children: clinical findings and response to albendazole therapy in a randomized, double-blind, placebo-controlled trial in newly diagnosed cases. Trans R Soc Trop Med Hyg. 2003 Jul-Aug. 97(4):416-21. [Medline].

Del Brutto OH, Roos KL, Coffey CS, García HH. Meta-analysis: Cysticidal drugs for neurocysticercosis: albendazole and praziquantel. Ann Intern Med. 2006 Jul 4. 145(1):43-51. [Medline].

Garcia HH, Pretell EJ, Gilman RH, Martinez SM, Moulton LH, Del Brutto OH. A trial of antiparasitic treatment to reduce the rate of seizures due to cerebral cysticercosis. N Engl J Med. 2004 Jan 15. 350(3):249-58. [Medline].

Carpio A, Kelvin EA, Bagiella E, Leslie D, Leon P, Andrews H. Effects of albendazole treatment on neurocysticercosis: a randomised controlled trial. J Neurol Neurosurg Psychiatry. 2008 Sep. 79(9):1050-5. [Medline].

Caplan LR. How to manage patients with neurocysticercosis. Eur Neurol. 1997. 37(2):124. [Medline].

Carpio A. Neurocysticercosis: an update. Lancet Infect Dis. 2002 Dec. 2(12):751-62. [Medline].

Carpio A, Escobar A, Hauser WA. Cysticercosis and epilepsy: a critical review. Epilepsia. 1998 Oct. 39(10):1025-40. [Medline].

Carpio A, Hauser WA. Prognosis for seizure recurrence in patients with newly diagnosed neurocysticercosis. Neurology. 2002 Dec 10. 59(11):1730-4. [Medline].

Carpio A, Hauser WA. Neurocysticercosis and epilepsy. Singh G, Prabhakar S, eds. Taenia Solium Cysticercosis. Oxon, UK: CABI Publishing; 2002. 211-20.

Carpio A, Placencia M, Santillan F. A proposal for classification of neurocysticercosis. Can J Neurol Sci. 1994 Feb. 21(1):43-7. [Medline].

Carpio A, Santillan F, Leon P. Is the course of neurocysticercosis modified by treatment with antihelminthic agents?. Arch Intern Med. 1995 Oct 9. 155(18):1982-8. [Medline].

Correa D, Medina-Escutia, E. Host-parasite immune relationship in Taenia solium taeniosis and cysticercosis. Garcia HH, Martinez, SM eds. Taenia solium Taeniasis/Cysticercosis. 1999. 15-24.

Davis L. Neurocysticercosis and seizures: Avoiding the cost of antihelminthic treatment. Neurology. 2002. 59:1669-71.

Dixon HBF, Lipscomb FM. Cysticercosis: an analysis and follow up of 450 cases. Med Res Council Special Reports. 1961. 299:1-58.

Escobar A. The pathology of neurocysticercosis. Cysticercosis of Central Nervous System. 1983:27-54.

Estanol B, Corona T, Abad P. A prognostic classification of cerebral cysticercosis: therapeutic implications. J Neurol Neurosurg Psychiatry. 1986 Oct. 49(10):1131-4. [Medline].

Flisser A, Correa D, Evans CAW. Taenia solium cysticercosis: New revisited immunological aspects. Singh G, Prabhakar S, eds. Taenia Solium Cysticercosis. Oxon, UK: CABI Publish; 2002. 24-44.

Garcia HH, Martinez M, Gilman R. Diagnosis of cysticercosis in endemic regions. The Cysticercosis Working Group in Peru. Lancet. 1991 Aug 31. 338(8766):549-51. [Medline].

Garg K, Singh K, Misra S. Single-enhancing lesions in Indians patients with seizures: a review. Epilepsy Res. 2002. 59:1730-1734.

Garg RK, Kar AM, Jain S. Failure of albendazole therapy in two common types of parenchymal neurocysticercosis. J Assoc Physicians India. 1995 Oct. 43(10):706-7. [Medline].

Goodman KA, Ballagh SA, Carpio A. Case-control study of seropositivity for cysticercosis in Cuenca, Ecuador. Am J Trop Med Hyg. 1999 Jan. 60(1):70-4. [Medline].

Kramer LD. Medical treatment of cysticercosis--ineffective. Arch Neurol. 1995 Jan. 52(1):101-2. [Medline].

Kramer LD, Locke GE, Byrd SE. Cerebral cysticercosis: documentation of natural history with CT [published erratum appears in Radiology 1989 Oct;173(1):286]. Radiology. 1989 May. 171(2):459-62. [Medline].

Manreza ML. Neurocysticercosis in children. Trends in Pediatric Neurology. 1993. 295-8.

Martinez HR, Rangel-Guerra R, Arredondo-Estrada JH. Medical and surgical treatment in neurocysticercosis a magnetic resonance study of 161 cases. J Neurol Sci. 1995 May. 130(1):25-34. [Medline].

McCormick GF, Zee CS, Heiden J. Cysticercosis cerebri. Review of 127 cases. Arch Neurol. 1982 Sep. 39(9):534-9. [Medline].

Mitchell WG, Crawford TO. Intraparenchymal cerebral cysticercosis in children: diagnosis and treatment. Pediatrics. 1988 Jul. 82(1):76-82. [Medline].

Padma MV, Behari M, Misra NK. Albendazole in single CT ring lesions in epilepsy. Neurology. 1994 Jul. 44(7):1344-6. [Medline].

Pal DK, Carpio A, Sander JW. Neurocysticercosis and epilepsy in developing countries. J Neurol Neurosurg Psychiatry. 2000 Feb. 68(2):137-43. [Medline].

Ramos-Kuri M, Montoya RM, Padilla A. Immunodiagnosis of neurocysticercosis. Disappointing performance of serology (enzyme-linked immunosorbent assay) in an unbiased sample of neurological patients. Arch Neurol. 1992 Jun. 49(6):633-6. [Medline].

Schantz PM. Cysticercosis in non-endemic countries: the example of United States. Teniasis/Cysticercosis por T. solium. 1996. 277-86.

Singhal BS, Salinas RA. Controversies in the Drug Treatment of Neurocysticercosis. Singh G, Prabhakar S, eds. Taenia Solium Cysticercosis. Oxon, UK: CABI Publish; 2002. 713-43.

Suss RA, Maravilla KR, Thompson J. MR imaging of intracranial cysticercosis: comparison with CT and anatomopathologic features. AJNR Am J Neuroradiol. 1986 Mar-Apr. 7(2):235-42. [Medline].

Teitelbaum GP, Otto RJ, Watanabe AT. MR imaging of neurocysticercosis. AJNR. 1989. 10:709-18.

Tsang VC, Brand JA, Boyer AE. An enzyme-linked immunoelectrotransfer blot assay and glycoprotein antigens for diagnosing human cysticercosis (Taenia solium). J Infect Dis. 1989 Jan. 159(1):100-2. [Medline].

White AC, Garcia HH. Recent Developments in the Epidemiology, Diagnosis, Treatment, and Prevention of Neurocysticercosis. Curr Infect Dis Rep. 1999 Dec. 1(5):434-440. [Medline].

Xiao ZX, Zhao CY, Liu YP. [Albendazole treatment in cerebral cysticercosis]. Chung Hua Nei Ko Tsa Chih. 1986 Feb. 25(2):100-2, 127. [Medline].

Zee CS, Segall HD, Destian S. MRI of intraventricular cysticercosis: surgical implications. J Comput Assist Tomogr. 1993 Nov-Dec. 17(6):932-9. [Medline].
Medscape Reference © 2011 WebMD, LLC