Iatrogenic Cushing Syndrome
Author: Ha Cam Thuy Nguyen, MD; Chief Editor: Romesh Khardori, MD, PhD, FACP more...
Updated: Jul 20, 2016
What would you like to print?
Background
Cushing syndrome, first described by Harvey in 1912, refers to signs and symptoms caused by excess free plasma glucocorticoids. Excess glucocorticoids can be from increased endogenous production or prolonged exposure to exogenous use of glucocorticoid products. While endogenous Cushing's syndrome is a rare disease, iatrogenic (drug-related or exogenous) Cushing syndrome from glucocorticoid products is commonly seen in clinical practice. This article will focuses on iatrogenic, or drug-related, Cushing syndrome.
Drugs that have been reported to result in hypercortisolism are glucocorticoids, megestrol acetate, and herbal preparations that contain glucocorticoids.
Individuals with Cushing syndrome can develop moon facies, facial plethora, supraclavicular fat pads, buffalo hump, truncal obesity, and purple striae, as shown in the image below.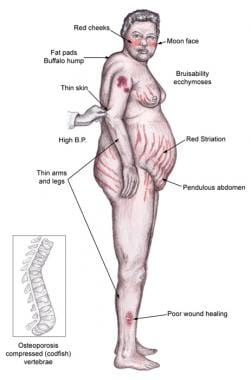 Physical findings in Cushing syndrome.
Individuals often experience proximal muscle weakness, easy bruising, weight gain, hirsutism, and, in children, growth retardation. Hypertension, osteopenia, diabetes mellitus, and impaired immune function may also occur.
Frequency
Most cases of Cushing syndrome are due to exogenous glucocorticoids. Prevalence of exogenous Cushing syndrome depends on the frequency and spectrum of medical conditions requiring glucocorticoid treatment in a given population. Considerable variation in this frequency is observed in populations of different cultural and ethnic backgrounds.
Mortality/Morbidity
Morbidity and mortality associated with Cushing syndrome are related primarily to the effects of excess glucocorticoids.
Two catastrophic medical crises that occur in glucocorticoid excess states are perforated viscera and opportunistic fungal infections. Exposure to excess glucocorticoids results in multiple medical problems, including hypertension, obesity, osteoporosis, fractures, impaired immune function, impaired wound healing, glucose intolerance, and psychosis.
Exogenous steroids suppress the HPA axis, with full recovery taking as long as a year after cessation of glucocorticoid administration. Thus, patients who are on or who have taken steroids are at risk for developing an adrenal crisis if steroids are stopped or not increased during an acute illness.
Pathophysiology
Glucocorticoids's bioavailability is between 60% and 100%. More than 90% of the circulating glucocorticoid binds to corticosteroid binding globulin (CBG).The unbound free hormone in the circulation binds to the glucocorticoid receptor (GR). GR consists of a carboxy terminal ligand binding domain, a DNA binding domain and an N terminal domain. Except for prednisolone, which has an affinity for CBG that is about half of cortisol. Other synthetic glucocorticoids, in comparison to cortisol, have much less affinity to CBG.
Binding of the glucocorticoid to GR results in several intracellular processes of gene transcription and translation that ultimately lead to several actions of glucocorticoids on tissues. Some glucocorticoids can have cross activity with mineralocorticoid receptor (MR) due to significant homology between GR and MR.[1]
Structural differences between glucocorticoid compounds result in different bioavailability, duration, onset of action, potency and metabolic profiles of each product. Downregulation of the nuclear factor-kappa B activation,[2] changes in the enzyme adenosine monophosphate-activated protein kinase activity,[3] and modulation of activator protein 1 (Fos/Jun)[4] are some of the important pathways that have been described. More research still needs to be conducted to fully understand the underlying signaling pathways and glucocorticoid tissue-specific responses.
Table 1. Glucocorticoid Equivalencies[5] (Open Table in a new window)
Type
Drug
Dose
Relative Glucocorticoid Potency
Relative Mineralocorticoid Potency
Plasma Half-Life



(mg)




Biologic Half-Life



(h)




Short-acting
Cortisol
20
1.0
2
90
8-12
Hydrocortisone‡
25
0.8
2
80-118
8-12
Intermediate-acting
Prednisone
5
4
1
60
18-36
Prednisolone
5
4
1
115-200
18-36
Triamcinolone
4
5
0
30
18-36
Methylprednisolone
4
5
0
180
18-36
Long-acting
Dexamethasone
0.5
25-50
0
200
36-54
Betamethasone
0.6
25-50
0
300
36-54
Mineralocorticoid
Aldosterone
0.3
0
300
15-20
8-12
Fludrocortisone
2
15
150
200
18-36
Desoxycorticosterone acetate
0
0
20
70
…
References
Melmed S, Polonsky KS, Larsen PR, Kronenberg HM. Williams textbook of endocrinology. 12th ed. Elsevier Health Sciences; May 12, 2011. 488-491.

Meduri GU, Muthiah MP, Carratu P, Eltorky M, Chrousos GP. Nuclear factor-kappaB- and glucocorticoid receptor alpha- mediated mechanisms in the regulation of systemic and pulmonary inflammation during sepsis and acute respiratory distress syndrome. Evidence for inflammation-induced target tissue resistance to glucocorticoids. Neuroimmunomodulation. 2005. 12(6):321-38. [Medline].

Christ-Crain M, Kola B, Lolli F, Fekete C, Seboek D, Wittmann G, et al. AMP-activated protein kinase mediates glucocorticoid-induced metabolic changes: a novel mechanism in Cushing's syndrome. FASEB J. 2008 Jun. 22(6):1672-83. [Medline].

Jonat C, Rahmsdorf HJ, Park KK, Cato AC, Gebel S, Ponta H, et al. Antitumor promotion and antiinflammation: down-modulation of AP-1 (Fos/Jun) activity by glucocorticoid hormone. Cell. 1990 Sep 21. 62(6):1189-204. [Medline].

Liapi C, Chrousos GP. Glucocorticoids. Jaffe SJ, Aranda JV, eds. Therapeutic Principles in Practice. 2nd ed. Philadelphia, Pa: WB Saunders; 1992. 466-475.

Tuel SM, Meythaler JM, Cross LL. Cushing's syndrome from epidural methylprednisolone. Pain. 1990 Jan. 40(1):81-4. [Medline].

Matos AC, Srirangalingam U, Barry T, Grossman AB. Cushing's syndrome with low levels of serum cortisol: the role of inhaled steroids. Clin Med. 2011 Aug. 11(4):404-5. [Medline].

Dutta D, Shivaprasad KS, Ghosh S, Mukhopadhyay S, Chowdhury S. Iatrogenic Cushing's syndrome following short-term intranasal steroid use. J Clin Res Pediatr Endocrinol. 2012 Sep. 4(3):157-9. [Medline]. [Full Text].

Gen R, Akbay E, Sezer K. Cushing syndrome caused by topical corticosteroid: a case report. Am J Med Sci. 2007 Mar. 333(3):173-4. [Medline].

Bolland MJ, Bagg W, Thomas MG, Lucas JA, Ticehurst R, Black PN. Cushing's syndrome due to interaction between inhaled corticosteroids and itraconazole. Ann Pharmacother. 2004 Jan. 38(1):46-9. [Medline].

Samaras K, Pett S, Gowers A, McMurchie M, Cooper DA. Iatrogenic Cushing's syndrome with osteoporosis and secondary adrenal failure in human immunodeficiency virus-infected patients receiving inhaled corticosteroids and ritonavir-boosted protease inhibitors: six cases. J Clin Endocrinol Metab. 2005 Jul. 90(7):4394-8. [Medline].

Kedem E, Shahar E, Hassoun G, Pollack S. Iatrogenic Cushing's syndrome due to coadministration of ritonavir and inhaled budesonide in an asthmatic human immunodeficiency virus infected patient. J Asthma. 2010 Sep. 47(7):830-1. [Medline].

Celik O, Niyazoglu M, Soylu H, Kadioglu P. Iatrogenic Cushing's syndrome with inhaled steroid plus antidepressant drugs. Multidiscip Respir Med. 2012 Aug 29. 7(1):26. [Medline]. [Full Text].

Duman AK, Fulco PP. Adrenal Insufficiency With Voriconazole and Inhaled/Intranasal Corticosteroids: Case Report and Systematic Review. J Pharm Pract. 2016 May 4. [Medline].

Epperla N, McKiernan F. Iatrogenic Cushing syndrome and adrenal insufficiency during concomitant therapy with ritonavir and fluticasone. Springerplus. 2015. 4:455. [Medline]. [Full Text].

Mann M, Koller E, Murgo A, Malozowski S, Bacsanyi J, Leinung M. Glucocorticoidlike activity of megestrol. A summary of Food and Drug Administration experience and a review of the literature. Arch Intern Med. 1997 Aug 11-25. 157(15):1651-6. [Medline].

Krapf R. Development of Cushing's syndrome after use of a herbal remedy. Lancet. 2002 Dec 7. 360(9348):1884. [Medline].

Abuchaibe C, Akhtar ON. SAT-0776:Exogenous Cushing's Syndrome after Use of OTC Joint Supplement. Adrenal Case Reports 1 - CAH and Adrenal Insufficiency. Endocrine Society's 96th Annual Meeting and Expo, June 21–24, 2014 – Chicago. Available at http://press.endocrine.org/doi/abs/10.1210/endo-meetings.2014.AHPAA.1.SAT-0776. Accessed: 4/2/15.

Newell-Price J, Trainer P, Besser M, Grossman A. The diagnosis and differential diagnosis of Cushing's syndrome and pseudo-Cushing's states. Endocr Rev. 1998 Oct. 19(5):647-72. [Medline].

Findling JW, Doppman JL. Biochemical and radiologic diagnosis of Cushing's syndrome. Endocrinol Metab Clin North Am. 1994 Sep. 23(3):511-37. [Medline].

Anastasopoulou C. Pseudo-Cushing Syndrome. Medscape Drugs & Diseases. Available at http://emedicine.medscape.com/article/124718-overview. Accessed: 4/3/15.

Eddy RL, Jones AL, Gilliland PF, Ibarra JD Jr, Thompson JQ, MacMurry JF Jr. Cushing's syndrome: a prospective study of diagnostic methods. Am J Med. 1973 Nov. 55(5):621-30. [Medline].

Kaye TB, Crapo L. The Cushing syndrome: an update on diagnostic tests. Ann Intern Med. 1990 Mar 15. 112(6):434-44. [Medline].

Carroll T, Raff H, Findling JW. Late-night salivary cortisol for the diagnosis of Cushing syndrome: a meta-analysis. Endocr Pract. 2009 Jul-Aug. 15(4):335-42. [Medline].

Kidambi S, Raff H, Findling JW. Limitations of nocturnal salivary cortisol and urine free cortisol in the diagnosis of mild Cushing's syndrome. Eur J Endocrinol. 2007 Dec. 157(6):725-31. [Medline].

Raff H. Utility of salivary cortisol measurements in Cushing's syndrome and adrenal insufficiency. J Clin Endocrinol Metab. 2009 Jul 14. [Medline].

Chrousos GP, Gold PW. The concepts of stress and stress system disorders. Overview of physical and behavioral homeostasis. JAMA. 1992 Mar 4. 267(9):1244-52. [Medline].

Corcept Therapeutics Incorporated announces FDA approval of Korlym (mifepristone) 300 mg tablets: First and only approved medication for Cushing's Syndrome Patients. Corcept Therapeutics. Available at http://www.corcept.com/news_events/pr_1329524335. Accessed: February 21, 2012.

Johanssen S, Allolio B. Mifepristone (RU 486) in Cushing's syndrome. Eur J Endocrinol. 2007 Nov. 157(5):561-9. [Medline].

Nieman L, Cutler GB Jr. Cushing's syndrome. In: Degroot LJ, Besser M, Burger HG, et al, eds. Endocrinology. 3rd ed. Philadelphia, Pa: WB Saunders; 1995. 1741-69.

Pavlatos FC, Smilo RP, Forsham PH. A rapid screening test for Cushing's syndrome. JAMA. 1965 Aug 30. 193:720-3. [Medline].

Plotz CM, Knowlton AI, Ragan C. The natural history of Cushing's syndrome. Am J Med. 1952 Nov. 13(5):597-614. [Medline].

Raff H, Findling JW. A physiologic approach to diagnosis of the Cushing syndrome. Ann Intern Med. 2003 Jun 17. 138(12):980-91. [Medline].

Yanovski JA, Cutler GB Jr. Glucocorticoid action and the clinical features of Cushing's syndrome. Endocrinol Metab Clin North Am. 1994 Sep. 23(3):487-509. [Medline].
Table 1. Glucocorticoid Equivalencies
[5]
Type
Drug
Dose
Relative Glucocorticoid Potency
Relative Mineralocorticoid Potency
Plasma Half-Life



(mg)




Biologic Half-Life



(h)




Short-acting
Cortisol
20
1.0
2
90
8-12
Hydrocortisone‡
25
0.8
2
80-118
8-12
Intermediate-acting
Prednisone
5
4
1
60
18-36
Prednisolone
5
4
1
115-200
18-36
Triamcinolone
4
5
0
30
18-36
Methylprednisolone
4
5
0
180
18-36
Long-acting
Dexamethasone
0.5
25-50
0
200
36-54
Betamethasone
0.6
25-50
0
300
36-54
Mineralocorticoid
Aldosterone
0.3
0
300
15-20
8-12
Fludrocortisone
2
15
150
200
18-36
Desoxycorticosterone acetate
0
0
20
70
…
Medscape Reference © 2011 WebMD, LLC