Pediatric Craniosynostosis
Author: Raj D Sheth, MD; Chief Editor: Amy Kao, MD more...
Updated: Sep 17, 2015
What would you like to print?
Background
Craniosynostosis consists of premature fusion of 1 or more cranial sutures, often resulting in an abnormal head shape. It may result from a primary defect of ossification (primary craniosynostosis) or, more commonly, from a failure of brain growth (secondary craniosynostosis). Simple craniosynostosis is a term used when only 1 suture fuses prematurely. Complex or compound craniosynostosis is used to describe premature fusion of multiple sutures. When children with craniosynostosis, usually complex, also display other body deformities, this is termed syndromic craniosynostosis.
Also see the Medscape Reference Neurosurgery article Surgery for Craniosynostosis.
Pathophysiology
Normal skull development
Ossification of the cranial vault starts in the central region of each cranial bone and extends outward toward the cranial sutures.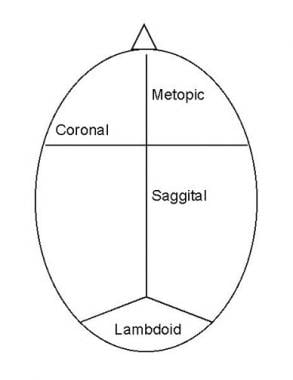 Diagram of a neonate's skull demonstrating the location of the sutures.
See the list below:
The coronal suture separates the 2 frontal bones from the parietal bones.

The metopic suture separates the frontal bones.

The sagittal suture separates the 2 parietal bones.

The lambdoid suture separates the occipital bone from the 2 parietal bones.

The primary factor that keeps sutures open is ongoing brain growth.

Normal skull growth occurs perpendicular to each suture.
Primary craniosynostosis [1]
When 1 or more sutures fuse prematurely, skull growth can be restricted perpendicular to the suture. If multiple sutures fuse while the brain is still increasing in size, intracranial pressure can increase.
Scaphocephaly - Early fusion of the sagittal suture

Anterior plagiocephaly - Early fusion of 1 coronal suture

Brachycephaly - Early bilateral coronal suture fusion

Posterior plagiocephaly - Early closure of 1 lambdoid suture
Secondary craniosynostosis [1]
More frequent than the primary type, secondary craniosynostosis can result from early fusion of sutures due to primary failure of brain growth. Since brain growth drives the bony plates apart at the sutures, a primary lack of brain growth allows premature fusion of all the sutures.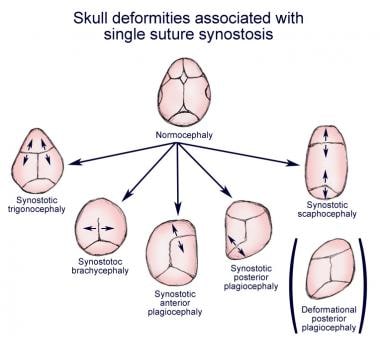 Skull deformities associated with single suture synostosis.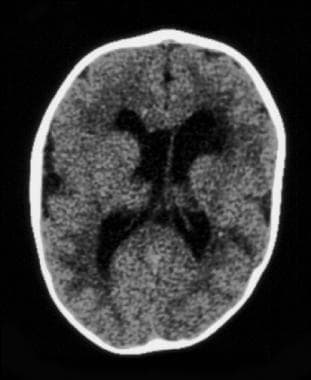 CT image demonstrating features of secondary craniosynostosis with cerebral atrophy. Cerebral atrophy is not present in primary craniosynostosis.
Intracranial pressure is usually normal, and surgery is seldom needed. Typically, failure of brain growth results in microcephaly. Premature suture closure does not compromise brain growth and does not require surgery to open sutures.
Intrauterine space constraints may play a role in the premature fusion of sutures in the fetal skull.[2] This has been demonstrated in coronal craniosynostosis. Other secondary causes of craniosynostosis include systemic disorders that affect bone metabolism such as rickets and hypercalcemia (see Causes).
Epidemiology
Frequency
United States
Incidence of craniosynostosis is 0.04-0.1%. Of affected individuals, 2-8% have primary craniosynostosis. The remaining cases are secondary craniosynostosis, which frequently is accompanied by microcephaly. The frequencies of the various types of craniosynostosis are as follows: sagittal 50-58%, coronal 20-29%, metopic 4-10%, and lambdoid 2-4%.[3]
Mortality/Morbidity
Raised intracranial pressure is rare with fusion of a single suture. It can occur in primary craniosynostosis when multiple sutures fuse.
Primary craniosynostosis: Although the major morbidity is due to the abnormal shape of the skull, intracranial pressure can be elevated. This occurs with a high frequency in multiple suture synostosis and rarely with single suture synostosis.

Secondary craniosynostosis: Typically no morbidity is noted, except that related to the underlying disorder. The lack of brain growth often is associated with neurodevelopmental delay.

[4, 5]

Craniosynostosis of 1-2 sutures: Cosmetic defect is the primary morbidity.
Sex
Craniosynostosis is equally distributed in both boys and girls.
Age
See the list below:
Neonatal period: Craniosynostosis is evident at birth when associated with other craniofacial abnormalities.

Infancy (0-18 mo): Secondary or primary craniosynostosis becomes evident as the child grows.
References
Jabs EW. Toward understanding the pathogenesis of craniosynostosis through clinical and molecular correlates. Clin Genet. 1998 Feb. 53(2):79-86. [Medline].

Higginbottom MC, Jones KL, James HE. Intrauterine constraint and craniosynostosis. Neurosurgery. 1980 Jan. 6(1):39-44. [Medline].

Kimonis V, Gold JA, Hoffman TL, Panchal J, Boyadjiev SA. Genetics of craniosynostosis. Semin Pediatr Neurol. 2007 Sep. 14(3):150-61. [Medline].

Sheth RD, Schaefer GB, Keller GM, Hobbs GR, Ortiz O, Bodensteiner JB. Size of the corpus callosum in cerebral palsy. J Neuroimaging. 1996 Jul. 6(3):180-3. [Medline].

Schaefer GB, Sheth RD, Bodensteiner JB. Cerebral dysgenesis. An overview. Neurol Clin. 1994 Nov. 12(4):773-88. [Medline].

Losee JE, Mason AC. Deformational plagiocephaly: diagnosis, prevention, and treatment. Clin Plast Surg. 2005 Jan. 32(1):53-64, viii. [Medline].

Robin NH. Molecular genetic advances in understanding craniosynostosis. Plast Reconstr Surg. 1999 Mar. 103(3):1060-70. [Medline].

Liu B, Yu HM, Hsu W. Craniosynostosis caused by Axin2 deficiency is mediated through distinct functions of beta-catenin in proliferation and differentiation. Dev Biol. 2007 Jan 1. 301(1):298-308. [Medline]. [Full Text].

Scott JR, Isom CN, Gruss JS, et al. Symptom outcomes following cranial vault expansion for craniosynostosis in children older than 2 years. Plast Reconstr Surg. 2009 Jan. 123(1):289-97; discussion 298-9. [Medline].

Shah MN, Kane AA, Peterson JD, Woo AS, Naidoo SD, Smyth MD. Endoscopically assisted versus open repair of sagittal craniosynostosis: the St. Louis Children's Hospital experience. J Neurosurg Pediatr. 2011/08. 8(2):165-70.

Jimenez DF, Barone CM. Multiple-suture nonsyndromic craniosynostosis: early and effective management using endoscopic techniques. J Neurosurg Pediatr. 2010 Mar. 5(3):223-31. [Medline].

Keshavarzi S, Hayden MG, Ben-Haim S, Meltzer HS, Cohen SR, Levy ML. Variations of endoscopic and open repair of metopic craniosynostosis. J Craniofac Surg. 2009 Sep. 20(5):1439-44. [Medline].

Oppenheimer AJ, Ranganathan K, Levi B, Strahle JM, Kapurch J, Muraszko KM, et al. Minimizing Transfusions in Primary Cranial Vault Remodeling: The Role of Aminocaproic Acid. J Craniofac Surg. 2013 Nov 14. [Medline].

Ettinger N, Williams M, Phillips JA 3rd. Variable expressivity and clinical heterogeneity can complicate the diagnosis and management of Pfeiffer syndrome. J Craniofac Surg. 2013 Sep. 24(5):1829-32. [Medline].

Jeong JH, Song JY, Kwon GY, Baek SH, Kim JC, Choi TH, et al. The results and complications of cranial bone reconstruction in patients with craniosynostosis. J Craniofac Surg. 2013 Jul. 24(4):1162-7. [Medline].

Knight SJ, Anderson VA, Spencer-Smith MM, Da Costa AC. Neurodevelopmental outcomes in infants and children with single-suture craniosynostosis: a systematic review. Dev Neuropsychol. 2014. 39(3):159-86. [Medline].

Maliepaard M, Mathijssen IM, Oosterlaan J, Okkerse JM. Intellectual, behavioral, and emotional functioning in children with syndromic craniosynostosis. Pediatrics. 2014 Jun. 133(6):e1608-15. [Medline].

Cunningham ML, Heike CL. Evaluation of the infant with an abnormal skull shape. Curr Opin Pediatr. 2007 Dec. 19(6):645-51. [Medline].

Dadure C, Sauter M, Bringuier S, Bigorre M, Raux O, Rochette A. Intraoperative tranexamic acid reduces blood transfusion in children undergoing craniosynostosis surgery: a randomized double-blind study. Anesthesiology. 2011 Apr. 114(4):856-61. [Medline].

Keshavarzi S, Hayden MG, Ben-Haim S, Meltzer HS, Cohen SR, Levy ML. Variations of endoscopic and open repair of metopic craniosynostosis. J Craniofac Surg. 2009 Sep. 20(5):1439-44. [Medline].

Miraoui H, Ringe J, Haupl T, Marie PJ. Increased EFG- and PDGFalpha-receptor signaling by mutant FGF-receptor 2 contributes to osteoblast dysfunction in Apert craniosynostosis. Hum Mol Genet. 2010 May 1. 19(9):1678-89. [Medline].

Sheth RD, Mullett MD, Bodensteiner JB, Hobbs GR. Longitudinal head growth in developmentally normal preterm infants. Arch Pediatr Adolesc Med. 1995 Dec. 149(12):1358-61. [Medline].

Stelnicki E, Heger I, Brooks CJ, et al. Endoscopic release of unicoronal craniosynostosis. J Craniofac Surg. 2009 Jan. 20(1):93-7. [Medline].
Medscape Reference © 2011 WebMD, LLC