Neonatal Injuries in Child Abuse Workup
Author: Nitin C Patel, MD, MPH, FAAN; Chief Editor: Amy Kao, MD more...
Updated: May 15, 2015
What would you like to print?
Laboratory Studies
Laboratory studies for shaken baby syndrome are nonspecific and are not diagnostic.
Serum chemistry findings are usually normal, but they may reveal evidence of acidosis.

Obtain urine for organic acids to rule out a diagnosis of glutaric acidemia.
Imaging Studies
According to the 2015 guidelines on child physical abuse from the American Academy of Pediatrics, a skeletal survey for any child < 2 years with suspicious injuries can identify occult injuries that may exist in abused children and is very useful in the evaluation of suspected abuse.[14]
The key to diagnosing shaken baby syndrome is neuroimaging. The true nature of the problem is often discovered only after CT is performed and evidence of intracranial pathology is found. CT scanning of the brain is sufficient to diagnose subdural hemorrhage (see the first image below), cerebral edema (see the second image below), and/or subarachnoid hemorrhage. CT is usually the first neuroimaging study obtained in the ED.
As a follow-up study, MRI can be used to determine the extent of the neurologic injury (see the images below). MRI may be helpful for continued management and prognosis.
Retinal hemorrhages can be seen as early as 48 hours before any intracranial lesions can be detected on brain CT or MRI. As long as the fontanelle is still open, ultrasonography can be performed to identify an intracranial hemorrhage. However, a negative head sonogram does not rule out intracranial pathology.
Other Tests
An ophthalmologic evaluation is extremely important and helpful in diagnosis.
A dilated eye examination is preferred. However, in the ED, all patients (regardless of the presenting complaint) should receive retinal examination with a direct ophthalmoscope.
Papilledema indicates increased intracranial pressure, and retinal hemorrhage strongly suggests shaken baby syndrome (see the image below).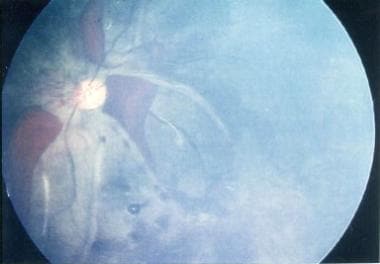 Funduscopic image shows intraretinal hemorrhages, subhyaloid hemorrhages, localized hemorrhagic choroid detachments, and thin retinal folds.
All patients in whom abuse is suspected must be given a long-bone skeletal survey to check for new or healing fractures, which help in the diagnosis.
References
Caffey J. Multiple fractures in long bones of infants suffering from chronic subdural hematoma. AJR Am J Roentgenol. 1946. 36:163-73.

Kempe CH, Silverman FN, Steele BF, et al. The battered-child syndrome. JAMA. 1962 Jul 7. 181:17-24. [Medline].

Gilkes MJ, Mann TP. Fundi of battered babies. Lancet. 1967. 2:468-9.

Caffey J. On the theory and practice of shaking infants. Its potential residual effects of permanent brain damage and mental retardation. Am J Dis Child. 1972 Aug. 124(2):161-9. [Medline].

Geddes JF, Hackshaw AK, Vowles GH. Neuropathology of inflicted head injury in children. I. Patterns of brain damage. Brain. 2001 Jul. 124(Pt 7):1290-8. [Medline].

Geddes JF, Vowles GH, Hackshaw AK, et al. Neuropathology of inflicted head injury in children. II. Microscopic brain injury in infants. Brain. 2001 Jul. 124(Pt 7):1299-306. [Medline].

HHS. U.S. Department of Health and Human Services: Administration for Children and Families. Child Maltreatment 2011. [Full Text].

Missouri Department of Social Services Children's Division. Missouri Child Fatality Review Program Annual Report from 2011. Available at http://www.dss.mo.gov/re/pdf/can/cancy11.pdf. Accessed: June 24, 2013.

Bates B. Abused Moms Are More Likely to Spank Infants. Pediatric News. July 2008. Available at www.pediatricnews.com.

Kanter RK. Retinal hemorrhage after cardiopulmonary resuscitation or child abuse. J Pediatr. 1986 Mar. 108(3):430-2. [Medline].

Brian Forbes, MD, MPH. Abusive head trauma in infants and young children: Ophthalmologic aspects. UpToDate. Available at http://uptodate.com/contents/abusive-head-trauma-in-infants-and-young-children-ophthalmologic-aspects. Accessed: July 27, 2011.

Cindy Christian, MD Erin E Endom, MD. Evaluation and diagnosis of abusive head traum in infants and children. UpToDate. Available at http://www.uptodate.com/contents/evaluation-and-diagnosis-of-abusive-head-trauma-in-infants-and-children. Accessed: July 27, 2011.

Madonna Behen. Abusive Head Trauma in Infants Doubled During Recession: Study. US News And World Report. Available at http://health.usnews.con/health-news/family-health/brain-and-behavior/articles/2011/04/13. Accessed: July 22, 2011.

Christian CW. The evaluation of suspected child physical abuse. Pediatrics. 2015 May. 135(5):e1337-54. [Medline].

Christian CW, Block R. Abusive head trauma in infants and children. Pediatrics. 2009 May. 123(5):1409-11. [Medline].

Ludwig S, Warman M. Shaken aby Syndrome: a reiew of 20 cases. Ann Emerg Med. 1984 Feb. 13 (2):104-7.

Alexander R, Sato Y, Smith W, Bennett T. Incidence of impact trauma with cranial injuries ascribed to shaking. Am J Dis Chld. 1990 June. 144(6):724-6.

Andreadou E. Yapijakis C, Paraskevas GP, et al. Hereditary neruopathy with liability to pressure palsies: the same molecular defect can result in diverse clinical presentation. J Neurol. 1996 Mar. 243 (3):225-30.

Bruce DA, Zimmerman RA. Shaken impact syndrome. Pediatr Ann. 1989 Aug. 18 (8):482-4, 486-9, 492-4.

Coody D, Brown M, Montgomery D, et al. Shaken baby synddrome: identification and prevention for nurse prctitioners. J Pediatr Health Care. 1994 Mar-Apr. 8(2):50-6.

Donohoe M. Shaken baby syndome (SBS) and non-accidential injuries (NAI). Vaccine Website. Available at http://www.whale.to/v/sbs.html. Accessed: March 18, 2009.

Duhaime AC, Alario AJ, Lewander WJ, et al. head injury in very young children: mechanisms, injury types, and ophthalmologic findings in 100 hospitalized patients younger than 2 years of age. Pediatrics. 1992 Aug. 90 (2 Pt 1):179-85.

Duhaime AC. Gennarelli TA, Thibault LE, et al. The shaken baby syndrome. A clinical, pathological, and biomechinical study. J Neurosurg. 1987 Mar. 66(3):409-15.

Ewigman B, Kivlahan C. Child maltreatment fatalities. Pediatr Ann. 1989. 18(8):476-8, 480-1.

Geddes JF, Plunkett J. The evidence base for shaken baby syndrome. BMJ. 2004 Mar 27. 328(7442):719-20.

Giardino AP, Christian CW, Guardino ER. A Practical Guide to the evaluation of Child Physical Abuse and Neglect. Thousand Oaks, Calif: Sage. 1997.

Hahn YS, Raimondi AJ, McLone DG, Yamanouchi Y. Traumatic mechanisms of head injury in child abuse. Childs Brain. 1983. 10(4):229-41.

Ingrahan FD, Matson DD. Subdural hematoma in infancy. J Pediatr. 1944. 24:1-37.

Lancon JA, Haines DE, Parnet AD. Anatomy of the shaken baby syndrome. Anat Rec. 1998 Feb. 253(1):13-8.

Manning SC, Casselbrant M, Lammers D. Otolaryngologic manifestations of child abuse. Int J Pediatr Otorhinolaryngol. 1990 Sep. 20(1):7-16.

Singer HS, Kossoff EH, Hartman AL, Crawford TO. Shaken baby syndrome (shaken-impact syndrome). Treatment of Pediatric Neurologic Disorders. Taylor& Francis; 2005. 329-344.

Spaide RF, Swengel RM, Scharre DW, Mein CE. Shaken baby syndrome. Am Fam Physician. 1990 Apr. 41(4):1145-52.

Truth Foundation. Shaken Baby Syndrome: Questions and Controversies. Truth Foundation. Available at http://sbstruth.com/Questions%20and%20controversies.htm.

US Department of Health and Human Services. Administration for Children and Families. Factsheets/Publications. Child Maltreatment Reports. Child Maltreatment 2006: Reports from the States to the National Child Abuse and Neglect Data Systems. Available at http://hyyp://www.acf/hhs.gov/programs/cb/publications/cmreports.htm..

Wilkinson WS, Han DP, Rappley MD, Owings CL. Retinal hemorrhage predicts neurologic injuryi n the shaken baby syndrome. Arch Ophthalmol. 1989 Oct. 107 (10):1472-4.
Medscape Reference © 2011 WebMD, LLC