Neonatal Seizures Workup
Author: Raj D Sheth, MD; Chief Editor: Amy Kao, MD more...
Updated: Apr 15, 2016
What would you like to print?
Approach Considerations
Tests to ascertain the cause of neonatal seizures include the following:
Serum glucose and electrolytes - Transient neonatal hypocalcemia is a cause of neonatal seizures during the first 3 weeks of life; hypocalcemia associated with chromosome 22q11 deletion syndrome may also be a consideration

TORCH (toxoplasmosis, rubella, CMV, herpes) infection studies

Urine organic acids

Serum amino acid assay

Renal function tests - These tests rule out posthypoxic renal dysfunction; hypoxic damage to multiple organ systems may also be suggested by elevated liver transaminase levels.
Cerebrospinal fluid analysis
This should include tests checking for the following:
Pleocytosis

Xanthochromia - Suggestive of blood breakdown products, particularly if jaundice is not present

Lactic acid and pyruvate - For evidence of mitochondrial cytopathies

Herpes virus - Using a polymerase chain reaction (PCR) assay

Glucose concentration - Low glucose concentration is suggestive of bacterial meningitis
In the absence of bacterial meningitis, persistently low CSF glucose concentrations may suggest a glucose transporter defect.
Electroencephalography
Electroencephalography plays a vital role in properly identifying and differentiating neonatal seizures from nonepileptic events.[10, 11] Video EEG monitoring may be helpful when infrequent neonatal seizures persist.[12] (See the images below.)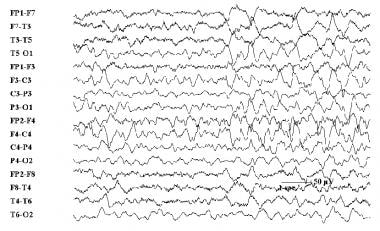 Onset of neonatal seizure demonstrating a focal onset in the right frontal (FP4) region. At this point, the child had head and eye deviation to the left.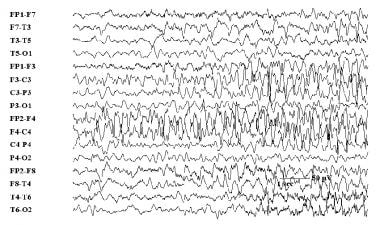 Twenty seconds into a seizure that had focal onset in the right frontal (FP4) region, the seizure shows a rhythmic buildup of activity in the right frontocentral region.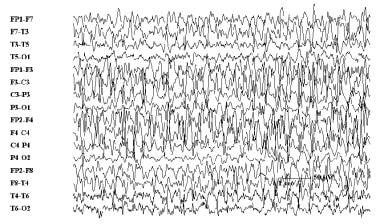 This seizure had focal onset in the right frontal (FP4) region and subsequent buildup of activity in the right frontocentral region. As the seizure evolves, the electroencephalogram shows diffuse involvement of both cerebral hemispheres.
Neonatal brain cooling for hypoxic ischemic encephalopathy [13, 14, 15]
Infants undergoing brain cooling for hypoxic ischemic encephalopathy are unable to undergo an EEG for 48 hours or longer following initiation of brain cooling. This renders concern for neonatal seizures. Amplitude-integrated EEG (aEEG) may be useful for monitoring such infants.
Therapeutic hypothermias (rectal temperature of 34C°) in infants older than conceptual age 36 weeks initiated within the first 6 hours following delivery may decrease mortality and neurodevelopmental disabilities. This period is also one during which neonatal seizures may occur, rendering diagnosis by EEG inaccessible, specially when cooling is isolated to the head by means of a Cool Cap". The neonatal EEG can be initiated only after completion of Cool Cap therapy, when the core temperature has been normalized. Otherwise, the EEG would assess a brain that is hypothermic and appear more suppressed than actual brain EEG activity.
Consultations
Neurology consultation is recommended to help with the evaluation of seizures, electroencephalography, video EEG monitoring, and management of anticonvulsant medications.
Transfer
Mothers in premature labor ideally should be transferred to a facility with a tertiary neonatal intensive care unit. This is more desirable than transfer after birth, since later transfers more commonly result in morbidity.
Monitoring
Neurology outpatient evaluation and follow-up are needed to decide when to discontinue seizure medications. Orthopedic evaluations may be appropriate in infants with joint deformities.
Patients require developmental evaluation for early identification of physical or cognitive deficits. Enrollment in a "birth to 3" program may be indicated. Patients must be monitored carefully for development of contractures; strongly consider a physical medicine/physical therapy referral.
Imaging Studies
Cranial ultrasonography
Cranial ultrasonography is performed readily at the bedside; it is a valuable tool for quickly ascertaining whether intracranial hemorrhage, particularly intraventricular hemorrhage, has occurred. A limitation of this study is the poor detection rate of cortical lesions or subarachnoid blood.
Cranial CT scanning
Cranial computed tomography (CT) scanning is a much more sensitive tool than ultrasonography in detecting parenchymal abnormalities. The disadvantage is that the sick neonate must be transported to the imaging site.
A distinct advantage is that with modern CT scan techniques, a study can be obtained in approximately 10 minutes.
Cranial CT scan can delineate congenital malformations. Subtle malformations may be missed on CT scan, requiring a magnetic resonance imaging (MRI) study.
MRI
Cranial MRI is the most sensitive imaging study for determining the etiology of neonatal seizures, particularly when electrolyte imbalance has been excluded as the seizures' cause.[16] A major disadvantage is that MRI cannot be performed quickly and, in an unstable infant, it is best deferred until the acute clinical situation resolves.
Echocardiography
This study can rule out cardiac hypomotility as a result of more diffuse hypoxia.
References
Volpe JJ. Hypoxic-Ischemic Encephalopathy: Biochemical and Physiological Aspects. Neurology of the Newborn. 4th ed. Philadelphia: WB Saunders; 2000. 217-276.

Lombroso CT. Neonatal seizures: gaps between the laboratory and the clinic. Epilepsia. 2007. 48 Suppl 2:83-106. [Medline].

Sheth RD. Electroencephalogram confirmatory rate in neonatal seizures. Pediatr Neurol. 1999 Jan. 20(1):27-30. [Medline].

Silverstein FS, Jensen FE. Neonatal seizures. Ann Neurol. 2007 Aug. 62(2):112-20. [Medline].

Sheth RD, Hobbs GR, Mullett M. Neonatal seizures: incidence, onset, and etiology by gestational age. J Perinatol. 1999 Jan. 19(1):40-3. [Medline].

Sheth RD. Frequency of neurologic disorders in the neonatal intensive care unit. J Child Neurol. 1998 Sep. 13(9):424-8. [Medline].

Sheth RD, Bodensteiner JB. Delayed postanoxic encephalopathy: possible role for apoptosis. J Child Neurol. 1998 Jul. 13(7):347-8. [Medline].

Pisani F, Sisti L, Seri S. A scoring system for early prognostic assessment after neonatal seizures. Pediatrics. 2009 Oct. 124(4):e580-7. [Medline].

Vigevano F. Benign familial infantile seizures. Brain Dev. 2005 Apr. 27(3):172-7. [Medline].

Sheth RD, Buckley DJ, Gutierrez AR, et al. Midazolam in the treatment of refractory neonatal seizures. Clin Neuropharmacol. 1996 Apr. 19(2):165-70. [Medline].

Cherian PJ, Deburchgraeve W, Swarte RM, De Vos M, Govaert P, Van Huffel S, et al. Validation of a new automated neonatal seizure detection system: a clinician's perspective. Clin Neurophysiol. 2011 Aug. 122(8):1490-9. [Medline].

Sheth RD. Electroencephalogram in developmental delay: specific electroclinical syndromes. Semin Pediatr Neurol. 1998 Mar. 5(1):45-51. [Medline].

Peliowski-Davidovich A,. Hypothermia for newborns with hypoxic ischemic encephalopathy. Paediatr Child Health. 2012 Jan. 17(1):41-6. [Medline].

Shah DK, de Vries LS, Hellström-Westas L, Toet MC, Inder TE. Amplitude-integrated electroencephalography in the newborn: a valuable tool. Pediatrics. 2008 Oct. 122(4):863-5. [Medline].

Natalucci G, Leuchter RH, Ulrich Bucher H, Latal B, Koller B, Hüppi PS, et al. Functional brain maturation assessed during early life correlates with anatomical brain maturation at term equivalent age in preterm infants. Pediatr Res. 2013 Apr 5. [Medline].

Scher MS, Trucco GS, Beggarly ME, et al. Neonates with electrically confirmed seizures and possible placental associations. Pediatr Neurol. 1998 Jul. 19(1):37-41. [Medline].

Sankar R, Painter MJ. Neonatal seizures: after all these years we still love what doesn't work. Neurology. 2005 Mar 8. 64(5):776-7. [Medline].

Painter MJ, Scher MS, Stein AD, et al. Phenobarbital compared with phenytoin for the treatment of neonatal seizures. N Engl J Med. 1999 Aug 12. 341(7):485-9. [Medline].

Sheth RD. Frequency of neurologic disorders in the neonatal intensive care unit. J Child Neurol. 1998 Sep. 13(9):424-8. [Medline].
Medscape Reference © 2011 WebMD, LLC