Neurofibromatosis Type 1 Workup
Author: David T Hsieh, MD, FAAP; Chief Editor: Amy Kao, MD more...
Updated: Jul 27, 2016
What would you like to print?
Laboratory Studies
The diagnosis of NF1 is usually made clinically, however, molecular testing may be helpful for younger patients with a single clinical finding, such as multiple café-au-lait spots in the absence of a positive family history.
Sequencing of the neurofibromin gene offers the highest detection rate and may approach 95% in clinically affected individuals.

97% of patients with NF1 are expected to meet clinical diagnosis by the age of 8 years. For those not meeting clinical criteria or for those that overlap with Legius Syndrome, molecular testing can be useful for confirmation.

[19]
Legius Syndrome should be suspected in patients with macrocephaly, café-au-lait spots and axillary freckling and no NF1 tumors (neurofibromas, lisch nodules, optic gliomas or plexiform neurofibromas). Given that NF1 is more common, testing should start with NF1 sequencing and reflexing to SPRED1 if negative.
Neurofibromatosis type 1 (NF1) may be diagnosed by either of 2 methods during the prenatal period.
In a family with multiple affected members, linkage analysis can track the NF1 gene through the generations to determine which chromosome 17 region the fetus received. However, with advances in molecular diagnosis, family studies are rarely necessary.

For a parent with NF1 who is the only affected family member, gene sequencing can be used to identify a specific gene mutation. Identification of the mutation in the affected parent would permit prenatal diagnosis via amniocentesis or chorionic villus sample (CVS).

When a specific mutation is known, preimplantation genetic diagnosis can also be offered to couples using in vitro fertilization with selection of unaffected embryos for transfer.
Urinary free catecholamines (norepinephrine and epinephrine) as well as their metabolites (normetanephrine, metanephrine and vanillyl-mandelic acid) measured on a 24-hour urine collection are good biochemical screening tests for a suspected pheochromocytoma.[20]
Plasma catecholamines may also be measured using liquid chromatography. Measurement of free plasma metanephrine is more sensitive in detection of a pheochromocytoma than plasma catecholamines.[21]
Imaging Studies
Radiography
Plain films may detect a variety of subtle and not so subtle bony abnormalities associated with NF1. See the image below.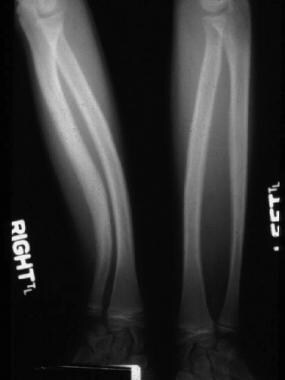 Radial and ulnar bowing and obliteration of the intramedullary spaces.
Radiographs should be obtained when clinical findings suggest possible modeling defects of the long bones or ribs, possible bony erosion secondary to an adjacent plexiform neurofibroma, signs of scoliosis, or bone pain.
MRI or CT scan
The use of routine screening brain neuroimaging in patients with NF1 is controversial. This is mainly due to the lack of consistent evidence that early detection reduces the rate of vision loss and that identifying and repeating interval imaging of asymptomatic optic pathway gliomas that never progress exposes young children to repeated sedations.[17] However, there is emerging evidence that early radiological identification prior to the development of vision loss may lead to improved future visual outcomes.[22] Furthermore, a negative MRI at a young age may predict the lack of the development of symptomtic optic nerve gliomas in the future.[22]
Some clinicians prefer to perform a baseline CT scan or MRI in children or adults at the time of diagnosis, subsequently recommending another imaging study only if neurological problems arise. Other clinicians feel that baseline studies are of limited value, since detecting an asymptomatic optic nerve glioma would probably not prompt medical intervention.
MRI is the preferred diagnostic head imaging study in NF1.
These bright spots seen on T2-weighted images generally do not enhance, cause no mass effect, and often resolve as the individual gets older.

They are believed to represent benign hamartomas in NF1 and, in some reports, are seen more often in children with NF1-related learning disabilities.
Brain CT scan or MRI should be considered to evaluate ventricular size when increasing head circumferences is noted in an infant or young child. Rarely, hydrocephalus and/or a Chiari type 1 malformation are seen in children and even adults with NF1.
MRI is also a valuable tool in evaluating the optic nerves or optic chiasm. See the image below.

Left optic nerve glioma with thickening of the nerve and proptosis.

See the list below:

It is indicated for patients with optic nerve pallor, visual changes, proptosis, or precocious puberty.
Thin cuts through the orbits and optic nerves are an ideal way to identify subtle optic nerve pathology.

Brain MRI should be considered in patients with headaches that are changing in quality or are increasing in frequency or intensity.

MRI has proven useful in evaluating internal lesions such as mediastinal masses, spinal cord tumors, deep plexiform neurofibromas, neurofibromas of the brachial or sacral plexus, and abdominopelvic lesions. Short T1-inversion recovery MR images can be used to accurately estimate the volume of a plexiform neurofibroma, which can be useful for both diagnosis and follow-up. In adults, unlike children where continued growth of plexiform lesions is quite common, rapid growth of a plexiform neurofibroma may portend malignant transformation.

[23]

Although MRI is not always helpful in differentiating benign peripheral nerve lesions from malignant lesions, central hypointense areas within a lesion noted on T2-weighted images (the so-called target sign) is more suggestive of a benign lesion.

[24]

On the other hand, MRI evidence of intratumoral lobulation or T1 high signal intensity are much more suggestive of malignancy.

[25]

Positron emission tomography: F-18 fluorodeoxyglucose (FDG) positron emission tomography (PET) may be used to stage and follow up MPNSTs before, during, and after therapy.

[27]

Gallium-67 scintigraphy may be used as a screening tool for patients with NF, especially patients with a large plexiform neurofibroma when there is concern about 1 or more areas having undergone malignant transformation.

[28]
Other Tests
Electroencephalogram (EEG) is indicated in patients with symptoms suggestive of seizures. Seizures are reported more often in patients with NF1 than in the general population, occurring in between 4 and 7%.
MRI alone is generally sufficient for medical and/or surgical decision making. Occasionally, myelography is needed to clarify the extent of a spinal cord tumor.
Procedures
Slit-lamp examination by an experienced ophthalmologist can provide key diagnostic information in older children and adults who have only a single clinical criterion such as multiple café-au-lait spots.
The occurrence of Lisch nodules appears to be age dependent; more than 95% of NF1-affected individuals older than 10 years have this iris finding.

This examination is invaluable in determining if parents of an affected child carry the NF1 mutation, even when the parent has no other signs of the condition.
Histologic Findings
Neurofibromas are generally well-differentiated tumors that contain elongated spindle-shaped cells as well as pleomorphic fibroblast-like cells. Rarely, inflammatory cells may be seen in these otherwise benign-appearing lesions.
Optic gliomas also are indolent, generally very low-grade lesions. In fact, optic nerve lesions associated with NF1 are less aggressive and respond more favorably to current therapies than optic nerve tumors in the general population.
Occasionally, a neurofibroma (typically large or deep plexiform neurofibroma or peripheral nerve sheath tumor residing within the brachial or pelvic plexus) undergoes malignant transformation to a neurofibrosarcoma. Unlike benign neurofibromas, neurofibrosarcomas are characteristically hypercellular with giant cells, increased numbers of mitoses, and vascular proliferation.
Because collections of malignant cells may be present between larger masses of benign cells in a plexiform neurofibroma, examining a plexiform tumor carefully (ie, taking samples from multiple regions to confirm that it is indeed benign) is essential.
References
Wilding A, Ingham SL, Lalloo F, et al. Life expectancy in hereditary cancer predisposing diseases: an observational study. J Med Genet. 2012. 49:264–9. [Medline].

Dugoff L, Sujansky E. Neurofibromatosis type 1 and pregnancy. Am J Med Genet. 1996 Dec 2. 66(1):7-10. [Medline].

Darrigo LG Jr, Geller M, Bonalumi Filho A, et al. Prevalence of plexiform neurofibroma in children and adolescents with type I neurofibromatosis. J Pediatr (Rio J). 2007 Nov-Dec. 83(6):571-3. [Medline].

Rodriguez FJ, Perry A, Gutmann DH, et al. Gliomas in neurofibromatosis type 1: a clinicopathologic study of 100 patients. J Neuropathol Exp Neurol. 2008 Mar. 67(3):240-9. [Medline].

Porter DE, Prasad V, Foster L, Dall GF, Birch R, Grimer RJ. Survival in Malignant Peripheral Nerve Sheath Tumours: A Comparison between Sporadic and Neurofibromatosis Type 1-Associated Tumours. Sarcoma. 2009. 2009:756395. [Medline]. [Full Text].

Basile U, Cavallaro G, Polistena A, Giustini S, Orlando G, Cotesta D. Gastrointestinal and Retroperitoneal Manifestations of Type 1 Neurofibromatosis. J Gastrointest Surg. 2009 Jun 3. [Medline].

Hegyi L, Thway K, Newton R, Osin P, Nerurkar A, Hayes AJ. Malignant myoepithelioma arising in adenomyoepithelioma of the breast and coincident multiple gastrointestinal stromal tumours in a patient with neurofibromatosis type 1. J Clin Pathol. 2009 Jul. 62(7):653-5. [Medline].

Yamamoto H, Tobo T, Nakamori M, Imamura M, Kojima A, Oda Y. Neurofibromatosis type 1-related gastrointestinal stromal tumors: a special reference to loss of heterozygosity at 14q and 22q. J Cancer Res Clin Oncol. 2009 Jun. 135(6):791-8. [Medline].

Garg S, Green J, Leadbitter K, Emsley R, Lehtonen A, Evans DG, et al. Neurofibromatosis Type 1 and Autism Spectrum Disorder. Pediatrics. 2013 Nov 4. [Medline].

Brunetti-Pierri N, Doty SB, Hicks J, et al. Generalized metabolic bone disease in Neurofibromatosis type I. Mol Genet Metab. 2008 May. 94(1):105-11. [Medline].

Stevenson DA, Schwarz EL, Viskochil DH, et al. Evidence of increased bone resorption in neurofibromatosis type 1 using urinary pyridinium crosslink analysis. Pediatr Res. 2008 Jun. 63(6):697-701. [Medline].

Seitz S, Schnabel C, Busse B, Schmidt HU, Beil FT, Friedrich RE, et al. High bone turnover and accumulation of osteoid in patients with neurofibromatosis 1. Osteoporos Int. 2010 Jan. 21(1):119-27. [Medline].

Tucker T, Schnabel C, Hartmann M, Friedrich RE, Frieling I, Kruse HP. Bone health and fracture rate in individuals with neurofibromatosis 1 (NF1). J Med Genet. 2009 Apr. 46(4):259-65. [Medline].

Smith A, Araoz PA, Kirsch J. Coronary arterial aneurysms in neurofibromatosis 1: case report and review of the literature. J Thorac Imaging. 2009 May. 24(2):129-31. [Medline].

Diggs-Andrews KA, Brown JA, Gianino SM, et al. Sex is a major determinant of neuronal dysfunction in neurofibromatosis type 1. Ann Neurol. 2014. 75:309-16. [Medline].

Gutmann DH, Aylsworth A, Carey JC, et al. The diagnostic evaluation and multidisciplinary management of neurofibromatosis 1 and neurofibromatosis 2. JAMA. 1997. 278:51-7. [Medline].

Listernick R, Ferner RE, Liu, GT, Gutmann DH. Optic pathway gliomas in neurofibromatosis-1: Controversies and recommendations. Ann Neurol. 2007. 61:189-98. [Medline].

Spurlock G, Bennett E, Chuzhanova N, Thomas N, Jim HP, Side L. SPRED1 mutations (Legius syndrome): another clinically useful genotype for dissecting the neurofibromatosis type 1 phenotype. J Med Genet. 2009 Jul. 46(7):431-7. [Medline].

Shah KN. The diagnostic and clinical significance of café-au-lait macules. Pediatr Clin North Am. 2010. 57:1131-53. [Medline].

Karagiannis A, Mikhailidis DP, Athyros VG, et al. Pheochromocytoma: an update on genetics and management. Endocr Relat Cancer. 2007 Dec. 14(4):935-56. [Medline].

Lenders JW, Pacak K, Walther MM, et al. Biochemical diagnosis of pheochromocytoma: which test is best?. JAMA. 2002 Mar 20. 287(11):1427-34. [Medline].

Prada CE, Hufnagel RB, Hummel TR, et al. The use of magnetic resonance imaging screening for optic pathway gliomas in children with neurofibromatosis type 1. J Pediatr. 2015. 167:851-6. [Medline].

Tucker T, Friedman JM, Friedrich RE, Wenzel R, Fünsterer C, Mautner VF. Longitudinal study of neurofibromatosis 1 associated plexiform neurofibromas. J Med Genet. 2009 Feb. 46(2):81-5. [Medline].

Iannicelli E, Rossi G, Almberger M, et al. Integrated imaging in peripheral nerve lesions in type 1 neurofibromatosis. Radiol Med (Torino). 2002 Apr. 103(4):332-43. [Medline].

Matsumine A, Kusuzaki K, Nakamura T, Nakazora S, Niimi R, Matsubara T, et al. Differentiation between neurofibromas and malignant peripheral nerve sheath tumors in neurofibromatosis 1 evaluated by MRI. J Cancer Res Clin Oncol. 2009 Jul. 135(7):891-900. [Medline].

Pacak K, Eisenhofer G, Ahlman H, et al. Pheochromocytoma: recommendations for clinical practice from the First International Symposium. October 2005. Nat Clin Pract Endocrinol Metab. 2007 Feb. 3(2):92-102. [Medline].

Benz MR, Tchekmedyian N, Eilber FC, Federman N, Czernin J, Tap WD. Utilization of positron emission tomography in the management of patients with sarcoma. Curr Opin Oncol. 2009 Jul. 21(4):345-51. [Medline].

Levine E, Huntrakoon M, Wetzel LH. Malignant nerve-sheath neoplasms in neurofibromatosis: distinction from benign tumors by using imaging techniques. AJR Am J Roentgenol. 1987 Nov. 149(5):1059-64. [Medline].

Wojtkowiak JW, Fouad F, LaLonde DT, et al. Induction of apoptosis in neurofibromatosis type 1 malignant peripheral nerve sheath tumor cell lines by a combination of novel farnesyl transferase inhibitors and lovastatin. J Pharmacol Exp Ther. 2008 Jul. 326(1):1-11. [Medline].

Ambrosini G, Cheema HS, Seelman S, et al. Sorafenib inhibits growth and mitogen-activated protein kinase signaling in malignant peripheral nerve sheath cells. Mol Cancer Ther. 2008 Apr. 7(4):890-6. [Medline].

Johansson G, Mahller YY, Collins MH, et al. Effective in vivo targeting of the mammalian target of rapamycin pathway in malignant peripheral nerve sheath tumors. Mol Cancer Ther. 2008 May. 7(5):1237-45. [Medline].

Slomiany MG, Dai L, Bomar PA, Knackstedt TJ, Kranc DA, Tolliver L, et al. Abrogating drug resistance in malignant peripheral nerve sheath tumors by disrupting hyaluronan-CD44 interactions with small hyaluronan oligosaccharides. Cancer Res. 2009 Jun 15. 69(12):4992-8. [Medline].

Hari Kumar KV, Shaikh A, Sandhu AS, Prusty P. Neurofibromatosis 1 with pheochromocytoma. Indian J Endocrinol Metab. 2011 Oct. 15 Suppl 4:S406-8. [Medline]. [Full Text].

Gerszten PC, Burton SA, Ozhasoglu C, et al. Radiosurgery for benign intradural spinal tumors. Neurosurgery. 2008 Apr. 62(4):887-95; discussion 895-6. [Medline].

Bravo EL, Tagle R. Pheochromocytoma: state-of-the-art and future prospects. Endocr Rev. 2003 Aug. 24(4):539-53. [Medline].

AAP Committee on Genetics. Health supervision for children with neurofibromatosis. American Academy of Pediatrics Committee on Genetics. Pediatrics. 1995 Aug. 96(2 Pt 1):368-72. [Medline].

Chander S, Westphal SM, Zak IT, et al. Retroperitoneal malignant peripheral nerve sheath tumor: evaluation with serial FDG-PET. Clin Nucl Med. 2004 Jul. 29(7):415-8. [Medline].

DeClue JE, Cohen BD, Lowy DR. Identification and characterization of the neurofibromatosis type 1 protein product. Proc Natl Acad Sci U S A. 1991 Nov 15. 88(22):9914-8. [Medline].

Deliganis AV, Geyer JR, Berger MS. Prognostic significance of type 1 neurofibromatosis (von Recklinghausen Disease) in childhood optic glioma. Neurosurgery. 1996 Jun. 38(6):1114-8; discussion 1118-9. [Medline].

Denckla MB, Hofman K, Mazzocco MM, et al. Relationship between T2-weighted hyperintensities (unidentified bright objects) and lower IQs in children with neurofibromatosis-1. Am J Med Genet. 1996 Feb 16. 67(1):98-102. [Medline].

Drouet A, Wolkenstein P, Lefaucheur JP, et al. Neurofibromatosis 1-associated neuropathies: a reappraisal. Brain. 2004 Sep. 127:1993-2009. [Medline].

Evans DG, Baser ME, McGaughran J, et al. Malignant peripheral nerve sheath tumours in neurofibromatosis 1. J Med Genet. 2002 May. 39(5):311-4. [Medline].

Ferner RE, Hughes RA, Hall SM, et al. Neurofibromatous neuropathy in neurofibromatosis 1 (NF1). J Med Genet. 2004 Nov. 41(11):837-41. [Medline].

Gutmann DH, Collins FS. The neurofibromatosis type 1 gene and its protein product, neurofibromin. Neuron. 1993 Mar. 10(3):335-43. [Medline].

Habiby R, Silverman B, Listernick R, et al. Precocious puberty in children with neurofibromatosis type 1. J Pediatr. 1995 Mar. 126(3):364-7. [Medline].

Hughes RJ, Scoble JE, Reidy JF. Renal angioplasty in non-atheromatous renal artery stenosis: technical results and clinical outcome in 43 patients. Cardiovasc Intervent Radiol. 2004 Sep-Oct. 27(5):435-40. [Medline].

Karadimas P, Hatzispasou E, Bouzas EA. Retinal vascular abnormalities in neurofibromatosis type 1. J Neuroophthalmol. 2003 Dec. 23(4):274-5. [Medline].

Korf BR. Malignancy in neurofibromatosis type 1. Oncologist. 2000. 5(6):477-85. [Medline].

Levy AD, Patel N, Abbott RM, et al. Gastrointestinal stromal tumors in patients with neurofibromatosis: imaging features with clinicopathologic correlation. AJR Am J Roentgenol. 2004 Dec. 183(6):1629-36. [Medline].

Listernick R, Ferner RE, Piersall L, et al. Late-onset optic pathway tumors in children with neurofibromatosis 1. Neurology. 2004 Nov 23. 63(10):1944-6. [Medline].

Nakakura S, Shiraki K, Yasunari T, et al. Quantification and anatomic distribution of choroidal abnormalities in patients with type I neurofibromatosis. Graefes Arch Clin Exp Ophthalmol. 2005 Oct. 243(10):980-4. [Medline].

Neurofibromatosis. Conference statement. National Institutes of Health Consensus Development Conference. Arch Neurol. 1988 May. 45(5):575-8. [Medline].

North KN, Riccardi V, Samango-Sprouse C, et al. Cognitive function and academic performance in neurofibromatosis. 1: consensus statement from the NF1 Cognitive Disorders Task Force. Neurology. 1997 Apr. 48(4):1121-7. [Medline].

Riccardi VM. Neurofibromatosis. Phenotype, Natural History and Pathogenesis. 2nd ed. Johns Hopkins University Press; 1992.

Scott RM, Smith JL, Robertson RL, Madsen JR, Soriano SG, Rockoff MA. Long-term outcome in children with moyamoya syndrome after cranial revascularization by pial synangiosis. J Neurosurg. 2004 Feb. 100(2 Suppl Pediatrics):142-9. [Medline].

Solomon J, Warren K, Dombi E, et al. Automated detection and volume measurement of plexiform neurofibromas in neurofibromatosis 1 using magnetic resonance imaging. Comput Med Imaging Graph. 2004 Jul. 28(5):257-65. [Medline].

Zacharia TT, Jaramillo D, Poussaint TY, et al. MR imaging of abdominopelvic involvement in neurofibromatosis type 1: a review of 43 patients. Pediatr Radiol. 2005 Mar. 35(3):317-22. [Medline].

Zöller M, Rembeck B, Akesson HO, et al. Life expectancy, mortality and prognostic factors in neurofibromatosis type 1. A twelve-year follow-up of an epidemiological study in Göteborg, Sweden. Acta Derm Venereol. 1995 Mar. 75(2):136-40. [Medline].
Medscape Reference © 2011 WebMD, LLC