Toxic Anterior Segment Syndrome Treatment & Management
Author: Ahmed R Al-Ghoul, MD, FRCSC; Chief Editor: Hampton Roy, Sr, MD more...
Updated: Sep 09, 2014
What would you like to print?
Medical Care
Patients should be treated as if infectious endophthalmitis is present if the clinical picture is unclear as to the exact etiology of the inflammation.
Once TASS is confirmed, patients should be started on topical steroids. The usual regimen is 1 drop every 30-60 minutes for the first 3 days with gradual tapering.
The response is typically rapid once patients are started on topical steroids. Patients should be reassessed later the same day or the next day to help confirm that the condition is indeed TASS versus infectious endophthalmitis, in which case, steroids alone would worsen the condition.
Careful assessment and treatment of elevated intraocular pressure is important to prevent optic nerve damage.
Nonsteroidal anti-inflammatory drops have been shown to be a helpful adjunct in several cases of TASS.
Surgical Care
No clear benefit has been demonstrated for immediate anterior chamber washout. In cases of a severe and refractory fibrin reaction due to TASS, intracameral recombinant tissue plasminogen activator (r-tPA) may be beneficial.[3]
In cases where the intraocular lens is suspected to be the cause of the inflammation, an intraocular lens exchange may be needed if no response to medical treatment is demonstrated.
If corneal edema persists for more than 6 weeks despite medical treatment, the corneal decompensation is likely permanent and a corneal transplantation is required. See the image below.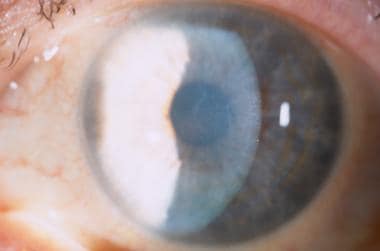 Long-term sequelae of toxic anterior segment syndrome (TASS) with persistent corneal edema.
If intraocular pressure cannot be controlled medically, seton valve procedures may be required.
Table 1. Differentiating Toxic Anterior Segment Syndrome and Infectious Endophthalmitis
| | | |
| --- | --- | --- |
| Signs and Symptoms | TASS | Infectious Endophthalmitis |
| Onset | 12-24 hours usually | 2-7 days usually |
| Pain | Usually none but can be mild to moderate | Usually severe |
| Corneal edema | Limbus to limbus | Specific to area of trauma |
| Intraocular pressure | May increase suddenly | Usually not elevated |
| Anterior chamber inflammation | Moderate-to-severe anterior chamber reaction with increased white blood cells and fibrin. Hypopyon may be noted. | Moderate-to-severe anterior chamber reaction. Fibrin is variable. Hypopyon often present (75% of the time). |
| Vitritis | Very rare | Always present |
| Pupil | Fixed and dilated | Reactive |
| Lid swelling | Usually not evident | Often present |
| Visual acuity | Decreased | Decreased |
| Response to steroids | Dramatic improvement | Equivocal |
Medscape Reference © 2011 WebMD, LLC