Peripheral Ulcerative Keratitis Treatment & Management
Author: Ellen N Yu-Keh, MD; Chief Editor: Hampton Roy, Sr, MD more...
Updated: May 13, 2016
What would you like to print?
Medical Care
Local treatment of peripheral ulcerative keratitis (PUK) is aimed at preventing or reducing corneal damage. Systemic therapy is aimed at controlling the underlying disease. A goal is reepithelialization of the epithelial defect to halt progressive corneal ulceration.
Surgical care may be combined with adjunctive local therapy with topical 1% medroxyprogesterone (which inhibits collagenase synthesis) or topical 20% N -acetylcysteine (a competitive inhibitor of collagenase). Lubricating drops, gels, and ointments and antibiotic drops or ointments can be helpful in aiding reepithelialization.
Topical steroid use is not recommended and should be used with caution in the treatment of patients with PUK associated with systemic disease because it may aggravate corneal melt due to collagen synthesis inhibition. However, some physicians would recommend its use only if the extent of corneal involvement is less than two quadrants and/or if stromal thickness is not less than 50%.[30]
Systemic collagenase inhibitors (tetracycline 250-mg tab qid or doxycycline 100-mg tab bid) may help slow the progression.
Some physicians recommend oral vitamin C given at 500 mg four times a day to facilitate corneal healing.[30]
There is limited experience in the use of topical cyclosporine[31] and topical tacrolimus.[32] Topical cyclosporine combined with lamellar keratoplasty (see Surgical Care) was noted to improve the healing rate in Mooren ulcer.[33] However, an underlying systemic vasculitis is not addressed with this route of treatment.
Many studies have documented that patients with PUK who have associated systemic diseases have recurrences following localized temporizing treatment unless they are given adequate systemic immunosuppressive therapy. To address the underlying problem, both systemic steroid and cytotoxic immunosuppressive medications have been used, alone or in combination, and are effective at controlling ocular and systemic inflammation. Immunosuppressive agents have been indicated for management of the following:
PUK associated with potentially lethal systemic vasculitic syndromes, such as PAN, RA, SLE, RP, WG, PSS, Sjögren syndrome, allergic angiitis of Churg-Strauss, and giant cell arteritis

PUK associated with necrotizing scleritis with vasculitis based on histopathologic analysis

Bilateral and/or progressive Mooren ulcer

PUK unresponsive to aggressive conventional medical and surgical therapy
Cyclophosphamide is the drug of choice for almost all PUK associated with a connective tissue disorder. The intravenous route has been used with success in PUK associated with rheumatoid arthritis.[34] Methotrexate (MTX), azathioprine, cyclosporine A, and chlorambucil have been found to be effective.[8] High-dose oral prednisone may be started, while the chemotherapeutic agents take effect after 4-6 weeks. When local or systemic infectious causes are suspected, therapy must be aimed at eliminating the infectious organism using the appropriate antibiotic medications based on clinical presentation or culture.
The use of the tumor necrosis factor alpha (TNF-alpha) antagonist infliximab has been reported to be effective in rheumatoid arthritis-associated PUK cases refractory to the above conventional immunomodulatory therapy.[35, 36] For its use in treating PUK in Crohn disease, see Pham et al.[37]
Rituximab, a chimeric monoclonal antibody directed against the CD20 protein found in B cells, has been used in treatment-resistant PUK in WG[38] and RA.[39]
Surgical Care
Tissue adhesives, such as cyanoacrylate glue, are recommended for use in impending perforation and perforation size smaller than 1-2 mm.[6] Adhesive application follows keratectomy and conjunctival resection to remove sources of collagenase, cytokines, and inflammatory cells from the ulcerated cornea, temporarily preventing further stromal loss.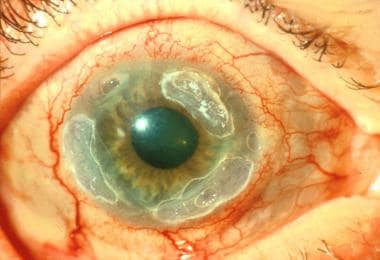 Peripheral ulcerative keratitis in the right eye of a patient with rheumatoid arthritis. Glue has been placed.
Application of a bandage contact lens prevents discomfort and dislodging of the adhesive.[6]
Amniotic membrane transplantation has been used in the management of Mooren ulcer.[40] Amniotic membranes have properties that promote rapid healing and reduce inflammation by sequestering inflammatory cells infiltrating the ocular surface.[41, 42] However, they may have a limited role in treating eyes with severe ischemia (eg, rheumatoid arthritis).[43] .
In severe cases of peripheral ulcerative keratitis (PUK) associated with membranous endothelial exudation, anterior chamber washout may be combined with amniotic membrane transplantation.[44]
Tectonic procedures, including lamellar keratoplasty, penetrating keratoplasty, and corneoscleral patch grafts, are performed as needed to maintain the integrity of the globe when corneoscleral perforation is imminent or has occurred.
The corneoscleral rim of donor grafts have been used in partial lamellar keratoplasty and may be an alternative in areas where donor corneas are scarce.[45]
Visual results of corneal transplantation may be disappointing. However, corneal clarity may be maintained with good visual outcomes when accompanied by aggressive systemic anti-inflammatory therapy in selected patients.[13]
Consultations
Referral to an appropriate specialist may be necessary. In patients with connective tissue diseases, comanagement with a rheumatologist is necessary to address the systemic disease. Pulmonary, nephrology, cardiac, hematology, and infectious disease consults may be necessary depending on the patient's symptoms and laboratory findings. Regular consultation with an oncologist may be necessary for those patients who are receiving chemotherapy.
Activity
Decreased visual acuity and systemic disorders may be limiting factors.
References
Mondino BJ. Inflammatory diseases of the peripheral cornea. Ophthalmology. 1988 Apr. 95(4):463-72. [Medline].

Shiuey Y, Foster CS. Peripheral ulcerative keratitis and collagen vascular disease. Int Ophthalmol Clin. 1998 Winter. 38(1):21-32. [Medline].

Messmer EM, Foster CS. Vasculitic peripheral ulcerative keratitis. Surv Ophthalmol. 1999 Mar-Apr. 43(5):379-96. [Medline].

Foster CS, Sainz de la Maza M. Immunological considerations of the sclera. Foster CS, ed. The Sclera. 1st ed. New York: Springer-Verlag; 1993:33-58.

Gregory JK, Foster CS. Peripheral ulcerative keratitis in the collagen vascular diseases. Int Ophthalmol Clin. 1996 Winter. 36(1):21-30. [Medline].

Eiferman RA, Carothers DJ, Yankeelov JA Jr. Peripheral rheumatoid ulceration and evidence for conjunctival collagenase production. Am J Ophthalmol. 1979 May. 87(5):703-9. [Medline].

Brown SI, Grayson M. Marginal furrows. A characteristic corneal lesion of rheumatoid arthritis. Arch Ophthalmol. 1968 May. 79(5):563-7. [Medline].

Tauber J, Sainz de la Maza M, Hoang-Xuan T, et al. An analysis of therapeutic decision making regarding immunosuppressive chemotherapy for peripheral ulcerative keratitis. Cornea. 1990 Jan. 9(1):66-73. [Medline].

Hoang-Xaun T, Foster CS, Rice BA. Scleritis in relapsing polychondritis. Response to therapy. Ophthalmology. 1990 Jul. 97(7):892-8. [Medline].

Watson PG, Hazelman BC. The Sclera and Systemic Disorders. Philadelphia: WB Saunders Co; 1976. 241.

Sangwan VS, Zafirakis P, Foster CS. Mooren's ulcer: current concepts in management. Indian J Ophthalmol. 1997 Mar. 45(1):7-17. [Medline].

Tabbara KF. Mooren's ulcer. Int Ophthalmol Clin. 1986 Winter. 26(4):91-8. [Medline].

Knox Cartwright NE, Tole DM, Georgoudis P, Cook SD. Peripheral ulcerative keratitis and corneal melt: a 10-year single center review with historical comparison. Cornea. 2014 Jan. 33(1):27-31. [Medline].

Mattern RM, Ding J. Keratitis with Kocuria palustris and Rothia mucilaginosa in Vitamin A Deficiency. Case Rep Ophthalmol. 2014 Jan. 5(1):72-7. [Medline].

Lange AP, Moloney G, Sheldon CA, Sasaki S, Holland SP. Bilateral Corneal Ulceration Caused by Vitamin A Deficiency in Eosinophilic Gastroenteropathy. Case Report Ophthalmol. 2011 Sep. 2(3):302-306. [Medline]. [Full Text].

Papathanassiou M, Zampeli E, Kaplanoglou T, Theodossiadis P. Peripheral ulcerative keratitis in a patient with systemic-onset juvenile idiopathic arthritis. J Pediatr Ophthalmol Strabismus. 2010 Oct 21. 47 Online:e1-3. [Medline].

Ji YS, Yoon KC. A rare case of peripheral ulcerative keratitis associated with Behçet's disease. Int Ophthalmol. 2014 Feb 4. [Medline].

Imbernón-Moya A, Vargas-Laguna E, Aguilar A, Gallego MÁ, Vergara C, Nistal MF. Peripheral Ulcerative Keratitis with Pyoderma Gangrenosum. Case Rep Dermatol Med. 2015. 2015:949840. [Medline].

Papavasileiou E, Prasad S, Freitag SK, Sobrin L, Lobo AM. Ipilimumab-induced Ocular and Orbital Inflammation-A Case Series and Review of the Literature. Ocul Immunol Inflamm. 2016 Apr. 24 (2):140-6. [Medline].

Iovieno A, Anand S, Dart JK. Late-onset peripheral ulcerative sclerokeratitis associated with alkali chemical burn. Am J Ophthalmol. 2014 Dec. 158 (6):1305-1309.e4. [Medline].

Papaconstantinou D, Georgopoulos G, Kalantzis G, Krassas A, Georgalas I. Peripheral ulcerative keratitis after trabeculectomy in a patient with rheumatoid arthritis. Cornea. 2009 Jan. 28(1):111-3. [Medline].

Kiire CA, Srinivasan S, Inglis A. Peripheral ulcerative keratitis after cataract surgery in a patient with ocular cicatricial pemphigoid. Cornea. 2011 Oct. 30(10):1176-8. [Medline].

Chawla B, Agarwal P, Tandon R, et al. Peripheral ulcerative keratitis with bilateral optic nerve involvement as an initial presentation of acute lymphocytic leukemia in an adult. Int Ophthalmol. 2007 Nov 16. [Medline].

Morjaria R, Barge T, Mordant D, Elston J. Peripheral ulcerative keratitis as a complication of acute myeloid leukaemia. BMJ Case Rep. 2014 Oct 31. 2014:[Medline].

Carson DA. Rheumatoid factor. Kelley WN, Harris ED Jr, Ruddy S, Sledge CB, eds. Textbook of Rheumatology. 3rd ed. Philadelphia: WB Saunders Co; 1989. 664-679.

Lüdemann G, Gross WL. Autoantibodies against cytoplasmic structures of neutrophil granulocytes in Wegener's granulomatosis. Clin Exp Immunol. 1987 Aug. 69(2):350-7. [Medline].

Savage CO, Winearls CG, Jones S, et al. Prospective study of radioimmunoassay for antibodies against neutrophil cytoplasm in diagnosis of systemic vasculitis. Lancet. 1987 Jun 20. 1(8547):1389-93. [Medline].

Nolle B, Specks U, Ludemann J, et al. Anticytoplasmic autoantibodies: their immunodiagnostic value in Wegener granulomatosis. Ann Intern Med. 1989 Jul 1. 111(1):28-40. [Medline].

Squirrell DM, Winfield J, Amos RS. Peripheral ulcerative keratitis 'corneal melt' and rheumatoid arthritis: a case series. Rheumatology (Oxford). 1999 Dec. 38(12):1245-8. [Medline].

Sharma N, Sinha G, Shekhar H, Titiyal JS, Agarwal T, Chawla B, et al. Demographic profile, clinical features and outcome of peripheral ulcerative keratitis: a prospective study. Br J Ophthalmol. 2015 Nov. 99 (11):1503-8. [Medline].

Liegner JT, Yee RW, Wild JH. Topical cyclosporine therapy for ulcerative keratitis associated with rheumatoid arthritis. Am J Ophthalmol. 1990 May 15. 109(5):610-2. [Medline].

Miyazaki D, Tominaga T, Kakimaru-Hasegawa A, et al. Therapeutic effects of tacrolimus ointment for refractory ocular surface inflammatory diseases. Ophthalmology. 2008 Jun. 115(6):988-992.e5. [Medline].

Chen J, Xie H, Wang Z, et al. Mooren's ulcer in China: a study of clinical characteristics and treatment. Br J Ophthalmol. 2000 Nov. 84(11):1244-9. [Medline].

Clewes AR, Dawson JK, Kaye S, et al. Peripheral ulcerative keratitis in rheumatoid arthritis: successful use of intravenous cyclophosphamide and comparison of clinical and serological characteristics. Ann Rheum Dis. 2005 Jun. 64(6):961-2. [Medline].

Thomas JW, Pflugfelder SC. Therapy of progressive rheumatoid arthritis-associated corneal ulceration with infliximab. Cornea. 2005 Aug. 24(6):742-4. [Medline].

Atchia II, Kidd CE, Bell RW. Rheumatoid arthritis-associated necrotizing scleritis and peripheral ulcerative keratitis treated successfully with infliximab. J Clin Rheumatol. 2006 Dec. 12(6):291-3. [Medline].

Pham M, Chow CC, Badawi D, Tu EY. Use of infliximab in the treatment of peripheral ulcerative keratitis in Crohn disease. Am J Ophthalmol. 2011 Aug. 152(2):183-188.e2. [Medline].

Huerva V, Sanchez MC, Traveset A, Jurjo C, Ruiz A. Rituximab for peripheral ulcerative keratitis with wegener granulomatosis. Cornea. 2010 Jun. 29(6):708-10. [Medline].

Albert M, Beltrán E, Martínez-Costa L. [Rituximab in rheumatoid arthritis-associated peripheral ulcerative keratitis]. Arch Soc Esp Oftalmol. 2011 Apr. 86(4):118-20. [Medline].

Lambiase A, Sacchetti M, Sgrulletta R, et al. Amniotic membrane transplantation associated with conjunctival peritomy in the management of Mooren's ulcer: a case report. Eur J Ophthalmol. 2005 Mar-Apr. 15(2):274-6. [Medline].

Prabhasawat P, Tesavibul N, Komolsuradej W. Single and multilayer amniotic membrane transplantation for persistent corneal epithelial defect with and without stromal thinning and perforation. Br J Ophthalmol. 2001 Dec. 85(12):1455-63. [Medline].

Shimmura S, Shimazaki J, Ohashi Y, Tsubota K. Antiinflammatory effects of amniotic membrane transplantation in ocular surface disorders. Cornea. 2001 May. 20(4):408-13. [Medline].

Tseng SC. Amniotic membrane transplantation for persistent corneal epithelial defect. Br J Ophthalmol. 2001 Dec. 85(12):1400-1. [Medline].

Jia Y, Gao H, Li S, Shi W. Combined anterior chamber washout, amniotic membrane transplantation, and topical use of corticosteroids for severe peripheral ulcerative keratitis. Cornea. 2014 Jun. 33 (6):559-64. [Medline].

Gao H, Wang X, Echegaray JJ, Li S, Wang T, Shi W. Partial lamellar keratoplasty for peripheral corneal disease using a graft from the glycerin-preserved corneoscleral rim. Graefes Arch Clin Exp Ophthalmol. 2014 Jun. 252 (6):963-8. [Medline].

Jia Y, Gao H, Li S, Shi W. Combined Anterior Chamber Washout, Amniotic Membrane Transplantation, and Topical Use of Corticosteroids for Severe Peripheral Ulcerative Keratitis. Cornea. 2014 Apr 23. [Medline].

Bullen CL, Liesegang TJ, McDonald TJ, et al. Ocular complications of Wegener's granulomatosis. Ophthalmology. 1983 Mar. 90(3):279-90. [Medline].

Foster CS, Forstot SL, Wilson LA. Mortality rate in rheumatoid arthritis patients developing necrotizing scleritis or peripheral ulcerative keratitis. Effects of systemic immunosuppression. Ophthalmology. 1984 Oct. 91(10):1253-63. [Medline].

Jabs DA, Rosenbaum JT, Foster CS, et al. Guidelines for the use of immunosuppressive drugs in patients with ocular inflammatory disorders: recommendations of an expert panel. Am J Ophthalmol. 2000 Oct. 130(4):492-513. [Medline].

Robin JB, Schanzlin DJ, Verity SM, et al. Peripheral corneal disorders. Surv Ophthalmol. 1986 Jul-Aug. 31(1):1-36. [Medline].

Watson PG, Hayreh SS. Scleritis and episcleritis. Br J Ophthalmol. 1976 Mar. 60(3):163-91. [Medline].
Medscape Reference © 2011 WebMD, LLC