Ophthalmologic Manifestations of Atopic Dermatitis
Author: R Scott Lowery, MD; Chief Editor: Hampton Roy, Sr, MD more...
Updated: Mar 13, 2014
What would you like to print?
Background
Atopy is the hereditary predisposition to allergy or hypersensitivity. Symptoms may present as a dermatitis, hay fever, or asthma. According to Rapoza, Besnier first characterized atopic dermatitis, and many Europeans still use his name to describe the disease (prurigo Besnier).[1] This disease was labeled eczema for many years in the United States until Coca and Cooke coined the term atopy as a skin hypersensitivity seen in patients with hereditary allergies. Wise and Sulzberger have been credited with the term atopic dermatitis to describe a group of diseases associated with atopic conditions that may be seen in all age groups.[2]
See the image below.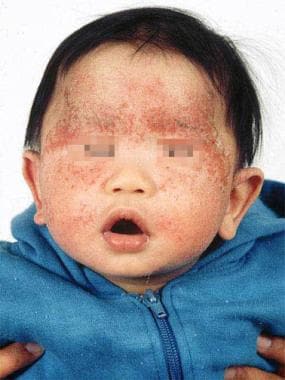 Typical atopic dermatitis on the face of an infant.
Pathophysiology
Atopic dermatitis is primarily caused by cellular immune deficiency and elevated immunoglobulin E (IgE). The pathogenesis can be traced to a genetically inherited, bone marrow–derived cell associated with chromosome 11q. Abnormal skin reactivity also plays a major role in the development of the disease. Irritants to the skin are believed to predispose an individual to develop dermatitis more often than simply exposure to an allergenic trigger. Nonetheless, patients frequently have a history of food or inhalant allergies or eventually develop them.[3]
Epidemiology
Frequency
United States
An estimated 3-12% of the population will be affected at some point during their lifetime.
Race
The highest incidence is in urban areas and in cooler temperature zones, although no clear racial predisposition appears to exist.
Sex
According to Bezan, males appear to be affected more frequently by vernal and atopic conjunctivitis than females.[4]
Age
Children most commonly are affected, with 80% developing the disease before age 7 years. Less than 2% will have an onset after age 20 years. Most sources agree that persistence after age 20 years is uncommon. Only an estimated 10% of patients older than 20 years continue to be symptomatic.[5]
References
Rapoza PA, Chandler JW. Atopic dermatitis. Weingeist T, Gould D, eds. The Eye in Systemic Disease. Philadelphia: Lippincott; 1990. 606-609.

Shen CP, Xing H, Ma L. [Research advances in atopic dermatitis]. Zhongguo Yi Xue Ke Xue Yuan Xue Bao. 2009 Feb. 31(1):103-6. [Medline].

Jung T, Stingl G. Atopic dermatitis: therapeutic concepts evolving from new pathophysiologic insights. J Allergy Clin Immunol. 2008 Dec. 122(6):1074-81. [Medline].

Bezan DJ. Eye itch. Bezan DJ, Larussa FP, Nishimoto JH, et al, eds. Differential Diagnosis in Primary Eye Care. Boston: Butterworth-Heinemann; 1999. 67-71.

Brenninkmeijer EE, Legierse CM, Sillevis Smitt JH, Last BF, Grootenhuis MA, Bos JD. The course of life of patients with childhood atopic dermatitis. Pediatr Dermatol. 2009 Jan-Feb. 26(1):14-22. [Medline].

Bielory B, Bielory L. Atopic dermatitis and keratoconjunctivitis. Immunol Allergy Clin North Am. 2010 Aug. 30(3):323-36. [Medline].

Cornish KS, Gregory ME, Ramaesh K. Systemic cyclosporin A in severe atopic keratoconjunctivitis. Eur J Ophthalmol. 2010 Sep-Oct. 20(5):844-51. [Medline].

Anderson PC, Dinulos JG. Atopic dermatitis and alternative management strategies. Curr Opin Pediatr. 2009 Feb. 21(1):131-8. [Medline].

Ricci G, Dondi A, Patrizi A, Masi M. Systemic therapy of atopic dermatitis in children. Drugs. 2009. 69(3):297-306. [Medline].

Kaujalgi R, Handa S, Jain A, Kanwar AJ. Ocular abnormalities in atopic dermatitis in Indian patients. Indian J Dermatol Venereol Leprol. 2009 Mar-Apr. 75(2):148-51. [Medline].

Clark RAF, Kristal L. Atopic dermatitis. Sams J, Lynch PJ, eds. Principles and Practice of Dermatology. 2nd ed. New York: Churchill Livingstone Inc; 1996. 403-418.

Friedlander MH. Diseases affecting the eye and the skin. Allergy and Immunology of the Eye. 2nd ed. 1993. 75-106.

Friedlander MH. Atopic dermatitis. Current Ocular Therapy. 5th ed. Philadelphia: WB Saunders Co; 2000. 143-144.

Furue M, Terao H, Moroi Y, et al. Dosage and adverse effects of topical tacrolimus and steroids in daily management of atopic dermatitis. J Dermatol. 2004 Apr. 31(4):277-83. [Medline].

Guin JD. Eyelid dermatitis: experience in 203 cases. J Am Acad Dermatol. 2002 Nov. 47(5):755-65. [Medline].

Hanifin JM. Atopic dermatitis: broadening the perspective. J Am Acad Dermatol. 2004 Jul. 51(1 Suppl):S23-4. [Medline].

Kanski JJ. Disorders of the conjunctiva. Clinical Ophthalmology. 4th ed. Boston: Butterworth-Heinemann; 1999. 69-71.

Liesegang TJ. Atopic keratoconjunctivitis. Pepose JS, Holland GN, Wilhelmus KR, eds. Ocular Infection and Immunity. St. Louis: Mosby; 1996. 376-390.

Roy FH. Ocular Differential Diagnosis. 7th ed. Philadelphia: Williams & Wilkins; 2002.

Shelley WB, Shelley EB. Atopic dermatitis. Advanced Dermatologic Diagnosis. Philadelphia: WB Saunders Co; 1992. 285-291.

Uchio E, Miyakawa K, Ikezawa Z, Ohno S. Systemic and local immunological features of atopic dermatitis patients with ocular complications. Br J Ophthalmol. 1998 Jan. 82(1):82-7. [Medline].

Weisbecker CA, Fraunfelder FT, Rhee D. Physicians' Desk Reference for Ophthalmology. 28th ed. Oradell, NJ: Medical Economics Co; 2000.

Zimmerman TJ, Kulkarni PS, Meredith TA. Steroids in ocular therapy, antibiotics and antifungals, antiallergic therapies. Zimmerman TJ, Kooner KS, Shariv M, Fechtner RD, eds. Textbook of Ocular Pharmacology. Philadelphia: Lippincott-Raven; 1997. 61-74, 363-385, 609-633,683-701, 801-804.
Medscape Reference © 2011 WebMD, LLC