Pituitary Apoplexy
Author: Michael S Vaphiades, DO; Chief Editor: Hampton Roy, Sr, MD more...
Updated: Mar 23, 2015
What would you like to print?
Background
The word apoplexy is defined as a sudden neurologic impairment, usually due to a vascular process. Pituitary apoplexy is characterized by a sudden onset of headache, visual symptoms, altered mental status, and hormonal dysfunction due to acute hemorrhage or infarction of a pituitary gland. An existing pituitary adenoma is usually present. The visual symptoms may include both visual acuity impairment and visual field impairment from involvement of the optic nerve or chiasm and ocular motility dysfunction from involvement of the cranial nerves traversing the cavernous sinus.[1] It is important to note that pituitary apoplexy may be divided into hemorrhagic or ischemic, each with unique neuroimaging findings.
See the image below.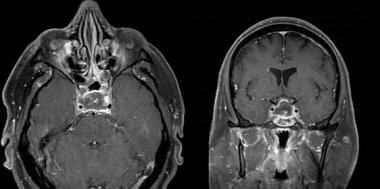 Enhanced T1-weighted axial and coronal MRI showing a large pituitary tumor that has recently undergone ischemic apoplexy showing a necrotic (hypointense) center and ring of gadolinium enhancement (hyperintense), ie, the "pituitary ring sign." There is a small area of hemorrhagic blush in the center of the necrosis.
Pathophysiology
This condition stems from an acute expansion of a pituitary adenoma or, less commonly, in a nonadenomatous gland, from infarction or hemorrhage. The anterior pituitary gland is perfused by its portal venous system, which passes down the hypophyseal stalk. This unusual vascular supply likely contributes to frequency of pituitary apoplexy.
Some postulate that a gradual enlarging pituitary tumor becomes impacted at the diaphragmatic notch, compressing and distorting the hypophyseal stalk and its vascular supply. This deprives the anterior pituitary gland and the tumor itself of its vascular supply, apoplectically causing ischemia and subsequent necrosis.
Another theory stipulates that rapid expansion of the tumor outstrips its vascular supply, resulting in ischemia and necrosis. This explanation is doubtful, since most tumors that undergo apoplexy are slow growing.
Epidemiology
Frequency
International
This condition results in an estimated 1.5-27.7% of cases of pituitary adenoma, although the figure is probably closer to 10%.
Mohr and Hardy reviewed hospital records of 664 patients who had surgery for pituitary adenomas.[2] They noted typical symptomatic pituitary apoplexy to occur in only 0.6% of patients with significant hemorrhagic and necrotic changes in 9.5% of surgical specimens.
Frequency of intratumoral hemorrhage increases to 26% if using only MRI criteria without clinical evidence of apoplexy. However, hemorrhagic pituitary apoplexy may be fatal. Kurisu et al reported a 68-year-old man who developed pituitary apoplexy resulting in massive intracerebral hemorrhage and death 1 month later.[3]
Sex
The male-to-female predominance is 2:1.
Age
The age range is 37-57 years.
References
Nawar RN, AbdelMannan D, Selman WR, Arafah BM. Pituitary tumor apoplexy: a review. J Intensive Care Med. 2008 Mar-Apr. 23(2):75-90. [Medline].

Mohr G, Hardy J. Hemorrhage, necrosis, and apoplexy in pituitary adenomas. Surg Neurol. 1982 Sep. 18(3):181-9. [Medline].

Kurisu K, Kawabori M, Niiya Y, Ohta Y, Mabuchi S, Houkin K. Pituitary apoplexy manifesting as massive intracerebral hemorrhage. Case report. Neurol Med Chir (Tokyo). 2012. 52(8):587-90. [Medline].

Mou C, Han T, Zhao H, Wang S, Qu Y. Clinical features and immunohistochemical changes of pituitary apoplexy. J Clin Neurosci. 2009 Jan. 16(1):64-8. [Medline].

Bahmani Kashkouli M, Khalatbari MR, Yahyavi ST, Borghei-Razavi H, Soltan-Sanjari M. Pituitary apoplexy presenting as acute painful isolated unilateral third cranial nerve palsy. Arch Iran Med. 2008 Jul. 11(4):466-8. [Medline].

Hori A. Suprasellar peri-infundibular ectopic adenohypophysis in fetal and adult brains. J Neurosurg. 1985 Jul. 63(1):113-5. [Medline].

Okuda O, Umezawa H, Miyaoka M. Pituitary apoplexy caused by endocrine stimulation tests: a case report. Surg Neurol. 1994 Jul. 42(1):19-22. [Medline].

Silberstein L, Johnston C, Bhagat A, Tibi L, Harrison J. Pituitary apoplexy during induction chemotherapy for acute myeloid leukaemia. Br J Haematol. 2008 Oct. 143(2):151. [Medline].

Thurtell MJ, Besser M, Halmagyi GM. Pituitary apoplexy causing isolated blindness after cardiac bypass surgery. Arch Ophthalmol. 2008 Apr. 126(4):576-8. [Medline].

Brar KS, Garg MK. High altitude-induced pituitary apoplexy. Singapore Med J. 2012 Jun. 53(6):e117-9. [Medline].

Kumar V, Kataria R, Mehta VS. Dengue hemorrhagic fever: A rare cause of pituitary tumor hemorrhage and reversible vision loss. Indian J Ophthalmol. Jul-Aug /2011. 59:311-2. [Medline].

Kruljac I, Cerina V, Pecina HI, et al. Pituitary metastasis presenting as ischemic pituitary apoplexy following heparin-induced thrombocytopenia. Endocr Pathol. 2012 Dec. 23(4):264-7. [Medline].

Vaphiades M. The "pituitary ring sign": An MRI sign of pituitary apoplexy. Neuro-ophthalmology. 2007. 31:111-6.

Weisberg LA. Pituitary apoplexy. Association of degenerative change in pituitary ademona with radiotherapy and detection by cerebral computed tomography. Am J Med. 1977 Jul. 63(1):109-15. [Medline].

Ahmed SK, Semple PL. Cerebral ischemia in pituitary apoplexy. Acta Neurochir. 2008. 150:1193-6.

Chokyu I, Tsuyuguchi N, Goto T, Chokyu K, Chokyu M, Ohata K. Pituitary apoplexy causing internal carotid artery occlusion--case report. Neurol Med Chir (Tokyo). 2011. 51:48-51. [Medline].

Madhusudhan S, Madhusudhan TR, Haslett RS, Sinha A. Pituitary apoplexy following shoulder arthroplasty: a case report. J Med Case Rep. 2011 Jul 5. 5:284. [Medline]. [Full Text].

Mohindra S, Kovai P, Chhabra R. Fatal Bilateral ACA Territory Infarcts after Pituitary Apoplexy: A Case Report and Literature Review. Skull Base. 2010 Jul. 20(4):285-8. [Medline]. [Full Text].

Briet C, Salenave S, Chanson P. Pituitary Apoplexy. Endocrinol Metab Clin North Am. 2015 Mar. 44(1):199-209. [Medline].

Binning MJ, Liu JK, Gannon BS, Osborn AG, Couldwell WT. Hemorrhagic and nonhemorrhagic Rathke cleft cysts mimicking pituitary apoplexy. J Neurosurg. 2008. 108:3-8.

Kaplun J, Fratila C, Ferenczi A, Yang WC, Lantos G, Fleckman AM. Sequential pituitary MR imaging in Sheehan syndrome: report of 2 cases. AJNR Am J Neuroradiol. 2008 May. 29(5):941-3. [Medline].

Liu S, Wang X, Liu YH, Mao Q. Spontaneous disappearance of the pituitary macroadenoma after apoplexy: a case report and review of the literature. Neurol India. 2012 Sep-Oct. 60(5):530-2. [Medline].

Bills DC, Meyer FB, Laws ER Jr, et al. A retrospective analysis of pituitary apoplexy. Neurosurgery. 1993 Oct. 33(4):602-8; discussion 608-9. [Medline].

Thomason K, Macleod K, Eyres KS. Hyponatraemia after orthopaedic surgery - a case of pituitary apoplexy. Ann R Coll Surg Engl. 2009 Apr. 91(3):3-5. [Medline].

Muthukumar N, Rossette D, Soundaram M, Senthilbabu S, Badrinarayanan T. Blindness following pituitary apoplexy: timing of surgery and neuro-ophthalmic outcome. J Clin Neurosci. 2008 Aug. 15(8):873-9. [Medline].

Harrington DO, Drake NV. Chiasm. The Visual Fields, Text and Atlas of Clinical Perimetry. 1990. 290-6.

Krisht AF, Tindall GT. Pituitary apoplexy. In: Clinical Decisions in Neuro-ophthalmology. 1999. 295-301.

Rose-Innes AP. Sheehan syndrome. Gilman S, ed. Neurology Medlink. 2001.
Medscape Reference © 2011 WebMD, LLC