Demodicosis
Author: Manolette R Roque, MD, MBA, FPAO; Chief Editor: Hampton Roy, Sr, MD more...
Updated: Nov 05, 2015
What would you like to print?
Background
Observation of the arachnid, Demodex folliculorum, has been reported since 1840. This hair follicle mite is the only metazoan organism commonly found in the pilosebaceous components of the eyelid of humans. Coston "opened the eyes" of ophthalmologists when he described 22 patients with demodectic eyelid signs and symptoms.[1]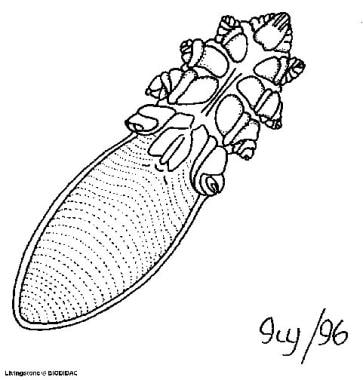 Illustration of Demodex folliculorum. Reprinted from BIODIDAC, Arthropoda Chelicerata Demodex, submitted by Livingstone, with permission from Antoine Morin, Biodidac, University of Ottawa.
Pathophysiology
D folliculorum (all stages) is found in small hair follicles and eyelash hair follicles. In all forms, immature and adult, it consumes epithelial cells, produces follicular distention and hyperplasia, and increases keratinization leading (in eyelashes) to cuffing, which consists of keratin and lipid moieties. Demodex brevis (all stages) is present in the eyelash sebaceous glands, small hair sebaceous glands, and lobules of the meibomian glands. Adults and immature forms consume the gland cells in all of these loci and, when infestations are heavy, can affect the formation of the superficial lipid layer of the tear film coacervate. Demodectic mites produce histologically observable tissue and inflammatory changes, epithelial hyperplasia, and follicular plugging.
Infestation of the eyelash hair follicle results in easier epilation and more brittle cilia. These mites also serve as vectors of infective elements and interrupt tissue integrity. They have been implicated in meibomian granulomas and are associated with certain dermatologic changes. All reported histologic sections of lid follicles infested with D folliculorum show distention and thickening. Coston claims that less than one half of the specimens he observed showed perifollicular lymphocytic infiltration.[1]
Follicular inflammation produces edema and results in easier epilation of the eyelashes. It also affects cilia construction, and lashes are observed to be more brittle in the presence of demodicosis. Madarosis (loss of lashes) is associated with abundant mites, the loss of eyelashes as a result of intercellular edema in the hair shaft, and loss of hair resiliency. Although epithelial hyperplasia associated with follicular plugging is often encountered, dermal changes seldom extend beyond the perifollicular epidermal area. Once believed to be mite excreta, this plugging is now known to be epithelial hyperplasia with interspersed layers of lipid. The formation of a collar of tissue around the base of the lashes is observed clinically. This occurs significantly more often in follicles infected with D folliculorum. The epithelial hyperplasia is hypothesized to be most likely a product of the abrasive action of the mite's claws.
Accumulation of waste material of the follicle mite may occur in affected follicles or sebaceous glands. Electron micrographs of the mite surface and feces show bacterial, viral, and rickettsial elements. Specific reports have revealed that both species pierce epithelial cells and consume cytoplasm. Only D brevis has been observed with channels burrowed to the germinal epithelium in the sebaceous glands.
Demodex species-induced pathologic changes have been implicated in dry eye conditions. When follicular plugging involves the meibomian gland (D brevis) or the gland of Zeis (D folliculorum or D brevis), reduction of the superficial lipid layer of the tear film occurs. The effect of D brevis on the meibomian structure has been implicated in chalazion formation. Chalazia are granulomatous inflammation of the meibomian glands, made of an organized core of epithelioid cells and histocytes surrounded by fibroblasts, lymphocytes, and plasma cells. These defense cells encircle particles too large for normal macrophages to engulf. D brevis has been observed in the center of these meibomian granulomas. Lid infestation by the Demodex species may or may not accompany dermatologic changes of the nose, the cheek, or the forehead.
D folliculorum has been suggested as a factor in pityriasis folliculorum. This dermal inflammation manifests itself as a diffuse erythema of the affected areas; scaly, dry skin; and, in certain cases, rosacealike lesions. The dry skin cycle described by Ayres is initiated when the demodectic mite plugs the follicle and reduces the sebaceous outflow, which leads to scaling as well as rough and dry skin texture.[2] Sebaceous outflow is further reduced when patients inadvertently decide to apply facial cream. The mite flourishes in this environment of oily additives, leading to an increase in the population of the mites and a continuation of the dry skin cycle.
Epidemiology
Frequency
International
Several individuals have attempted to estimate the prevalence of D folliculorum in the eyelash follicles. The initial report in 1961 suggested a prevalence of 95%.[3]
Mortality/Morbidity
Madarosis (loss of lashes) may result from untreated demodicosis.
Race
No racial predilection has been observed.
Sex
Infestation by these parasites is equal in males and females. Infestation is correlated to the number of sebaceous glands but not to the density of the hair follicles.
Age
Post reported that D folliculorum was observed in 84% of the sample population with a mean age of 61 years and in 100% of those older than 70 years.[4] Liang L et al[5] reported in 2010 that ocular demodicosis should be considered as a potential cause of pediatric (2.5-11 years) refractory blepharoconjunctivitis.
References
Coston TO. Demodex folliculorum blepharitis. Trans Am Ophthalmol Soc. 1967. 65:361-92. [Medline].

Ayres S Jr. Demodex folliculorum as a pathogen. Cutis. 1986 Jun. 37(6):441. [Medline].

Spickett SG. Studies on Demodex folliculorum, Simon (1842). I. Life history. Parasitology. May 1961. 51:181-192.

Post DF, Juhlin E. Demodex folliculorum and blepharitis. Arch Dermatol. 1963. 88:298-302.

Liang L, Safran S, Gao Y, Sheha H, Raju VK, Tseng SC. Ocular demodicosis as a potential cause of pediatric blepharoconjunctivitis. Cornea. 2010 Dec. 29(12):1386-91. [Medline].

Moravvej H, Dehghan-Mangabadi M, Abbasian MR, Meshkat-Razavi G. Association of rosacea with demodicosis. Arch Iran Med. 2007 Apr. 10(2):199-203. [Medline].

Kheirkhah A, Blanco G, Casas V, Tseng SC. Fluorescein dye improves microscopic evaluation and counting of demodex in blepharitis with cylindrical dandruff. Cornea. 2007 Jul. 26(6):697-700. [Medline].

Celerio J, Fariza-Guttman E, Morales V. Pilocarpine as a coadjuvant treatment of blepharoconjunctivitis caused by Demodex folliculorum. Invest Ophthalmol Vis Sci. 1989. 30 (Suppl):40.

Gao YY, Di Pascuale MA, Elizondo A, Tseng SC. Clinical treatment of ocular demodicosis by lid scrub with tea tree oil. Cornea. 2007 Feb. 26(2):136-43. [Medline].

Lacey N, Kavanagh K, Tseng SC. Under the lash: Demodex mites in human diseases. Biochem (Lond). 2009 Aug 1. 31(4):2-6. [Medline]. [Full Text].

Gao YY, Di Pascuale MA, Li W, Baradaran-Rafii A, Elizondo A, Kuo CL, et al. In vitro and in vivo killing of ocular Demodex by tea tree oil. Br J Ophthalmol. 2005 Nov. 89(11):1468-73. [Medline]. [Full Text].

Gao YY, Xu DL, Huang lJ, Wang R, Tseng SC. Treatment of ocular itching associated with ocular demodicosis by 5% tea tree oil ointment. Cornea. 2012 Jan. 31(1):14-7. [Medline].

Cliradex instructional video. Available at http://www.youtube.com/v/OljcnbghoR8?hl=en&fs=1.

Beaver PC, Jung RC, Cupp EW. Clinical parasitology. Clinical Parasitology. 9th ed. Philadelphia, Lea & Febiger: 1984. 596.

Forton F, Germaux MA, Brasseur T, De Liever A, Laporte M, Mathys C, et al. Demodicosis and rosacea: epidemiology and significance in daily dermatologic practice. J Am Acad Dermatol. 2005 Jan. 52(1):74-87. [Medline].

Gao YY, Di Pascuale MA, Li W, Baradaran-Rafii A, Elizondo A, Kuo CL, et al. In vitro and in vivo killing of ocular Demodex by tea tree oil. Br J Ophthalmol. 2005 Nov. 89(11):1468-73. [Medline].

Kheirkhah A, Casas V, Li W, Raju VK, Tseng SC. Corneal manifestations of ocular demodex infestation. Am J Ophthalmol. 2007 May. 143(5):743-749. [Medline].

Cheng AM, Sheha H, Tseng SC. Recent advances on ocular Demodex infestation. Curr Opin Ophthalmol. 2015 Jul. 26 (4):295-300. [Medline].

Hirsch-Hoffmann S, Kaufmann C, Bänninger PB, Thiel MA. Treatment options for demodex blepharitis: patient choice and efficacy. Klin Monbl Augenheilkd. 2015 Apr. 232 (4):384-7. [Medline].

Filho PA, Hazarbassanov RM, Grisolia AB, Pazos HB, Kaiserman I, Gomes JÁ. The efficacy of oral ivermectin for the treatment of chronic blepharitis in patients tested positive for Demodex spp. Br J Ophthalmol. 2011 Jun. 95 (6):893-5. [Medline].
Medscape Reference © 2011 WebMD, LLC